How One Couple Keeps Traveling Despite End-Stage Kidney Failure
Technology and dialysis centers around the country help make it possible
In the spring of 2019, Roy and Jeanette Henderson cleaned out their 2,000-square-foot home in Altamont, Tenn., and hit the road in their new horse trailer with living quarters, eager to ride at horse camps around the United States.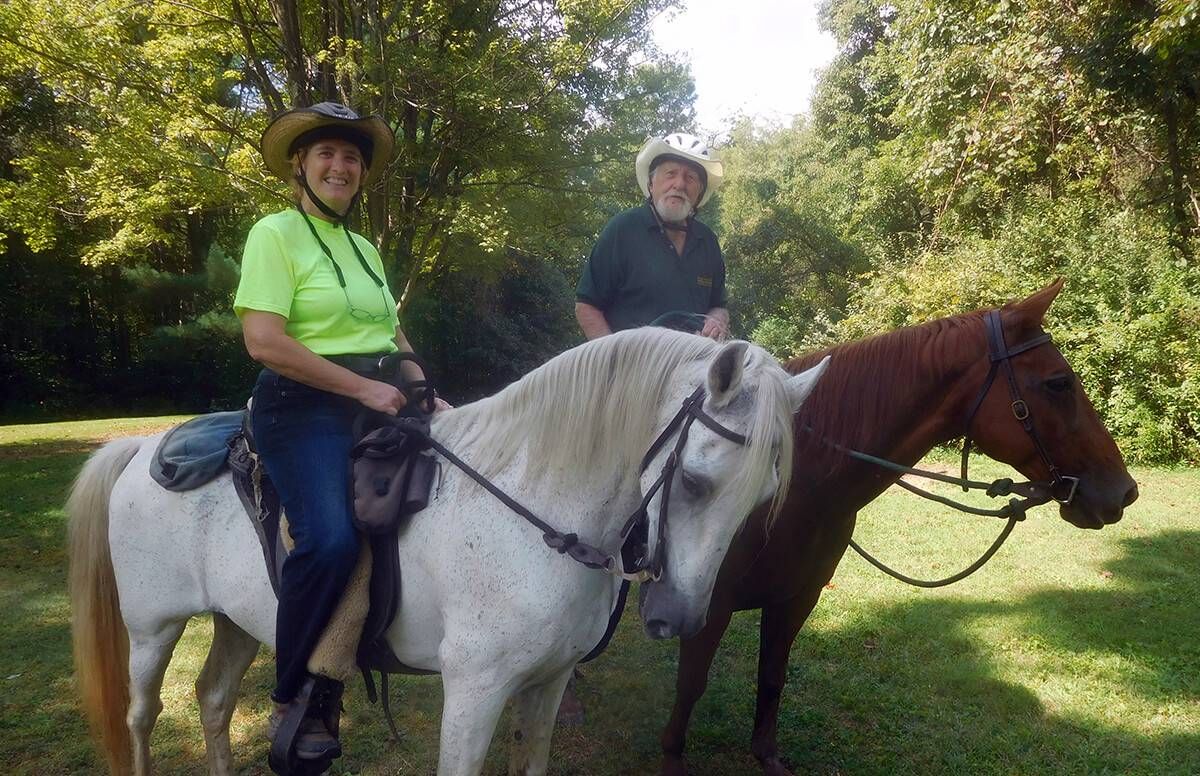 "We love it," Jeanette says. "It's basically a one-bedroom apartment on wheels." With the amenity of a couple of horses whinnying in adjacent quarters, of course.
On the surface, Roy, 85, and Jeanette, 61, appear to be galloping toward retirement. Yet their life together isn't as carefree as it seems. Roy has end-stage kidney failure, the final stage of chronic kidney disease in which the kidneys can no longer function on their own. This means he requires dialysis, a procedure that removes waste from the blood and maintains safe levels of certain chemicals, such as potassium, sodium and bicarbonate.
Most people receive dialysis treatments in a hospital or clinic dialysis unit. However, thanks to advances in home dialysis treatment, along with access to a network of kidney care clinics throughout the U.S., the Hendersons aren't letting this medical challenge fence them in.
Diagnosis Hampered Their Travels
For nearly a decade, the couple rode scenic trails atop two horses, an Appaloosa and a quarter horse, staying at private or public horse camps with amenities, campsites and riding trails. Eventually, they stayed at camps in each of the 48 contiguous United States.
"No way was I going to sit for the rest of my life looking at four walls."
Then, Roy received his end-stage kidney failure diagnosis in 2017. Determined to give Roy dialysis at home, the couple took a three-week home health training class at a kidney care clinic in Nashville. This enabled Jeanette to assist with Roy's home hemodialysis, a type of dialysis that uses an artificial kidney machine.
The couple still traveled occasionally, but had to return to their kidney care clinic in Nashville each month to replenish supplies and monitor Roy's condition. Once, on a trip to Las Vegas for the couple's public-speaking consulting business, Roy had to arrange for dialysis at a clinic during their stay. The only available appointment was at 4 a.m.
"There were sixty chairs, and every one was full," Roy says. "The clinic was probably the most depressing place I could go. No way was I going to sit for the rest of my life looking at four walls."
If there was a way the couple could still travel with Roy on hemodialysis, they vowed to find it. "We both wanted to go back on the road and figure out a way to travel with Roy on dialysis," says Jeanette.
Home Dialysis in the U.S.
An estimated 37 million Americans are affected by chronic kidney disease, according to the Centers for Disease Control and Prevention. More than 726,000 have end-stage renal disease (ESRD), and around 500,000 ESRD patients receive dialysis at least three times per week, according to the National Kidney Foundation. The average life expectancy of a person on dialysis is five to 10 years, but many patients have lived well on it for 20 or even 30 years, the foundation says.
Research links home-based dialysis with substantially lower mortality rates, better quality of life and reduced costs, compared to clinic dialysis. Yet, the number of U.S. patients practicing home dialysis is far lower than in other countries, says Dr. Holly Kramer, president of the National Kidney Foundation's board of directors and a board-certified nephrologist at Loyola University Medical Center in Chicago.
Nephrologist training programs in the U.S. don't focus heavily on home-based dialysis, says Kramer, who hopes that a July 2019 executive order signed by President Donald Trump could improve kidney care. The order directs federal agencies to create alternative payment models for kidney treatment coverage and increase the number of kidney transplants and people using home dialysis. The administration also aims to raise awareness of kidney disease.
"This [order] will push us to emphasize better training for our young nephrologists and incentivize us to get more nurses involved in home dialysis therapies and training," Kramer says.
Solutions to Keep Them on the Trail
Technology, in conjunction with smaller, more portable dialysis equipment, makes home dialysis more convenient than in the treatment's early days, when dialysis machines were as bulky as refrigerators, says Dr. Dinesh Chatoth, associate chief medical officer for Fresenius Kidney Care, which has a network of home programs as part of its 2,600 dialysis centers across the U.S.
The Hendersons switched from their original home dialysis clinic in Nashville to Fresenius so they could access the company's home dialysis clinic network. Traveling back to Nashville once a month was "onerous for us and our gypsy ways," Jeanette says. Fresenius provides dialysis equipment that they can keep while traveling, and delivers supplies to their current, or next, destination.
Is life perfect? Of course not, but it's better than if they were stuck at home, the couple says. "I'm staying alive, living my life the way I like to live it and riding my horse," Roy says. "There are thousands of people on dialysis. Why should I complain?"
With proper training, home dialysis isn't as complex as many people assume and can often provide the same or better care than the person would receive in a clinic, Chatoth says.
"Almost everybody sits down and watches TV for three hours," says Roy. "To me, that's what I do. I sit for three hours and this cleans my blood, often while we're watching a movie."
Home Dialysis Is Not For Everyone
Some people aren't good medical candidates for home dialysis, however, and others may prefer a dialysis clinic. Those considering dialysis may benefit from taking the survey at My Life, My Dialysis Choice, a program of the Medical Education Institute, a nonprofit dedicated to helping people manage chronic diseases.
The survey identifies lifestyle and health values that matter most to the person deciding on dialysis. "Knowing the values that matter to you — wanting more time at home playing with your grandkids, for example — allows you to choose the right modality for yourself," Chatoth says.
Staying in the Saddle
In August, the Hendersons clip-clopped along the trails at Jefferson Lake State Park, a combined horse camp and campground near Steubenville, Ohio. Before that, the pair visited horse camps in Tennessee and Kentucky. Now they plan to meander for as long as they are able, probably saving desert terrains for a later date.
"I like to stay where the grass is green," Roy says. His dialysis, administered every other day for three and a half hours, is a blessing, not a curse, the couple says.
"My attitude is whatever happens, you have to live with it," says Roy. "We know that dialysis will be a factor for the rest of my life, but I'm not waiting to die. I'm waiting for the next ride on my horse."
Deb Hipp
is a Kansas City, Mo.-based freelance writer who covers elder and caregiving issues, personal finance and popular culture. Her work can be found at www.debhipp.com.
Read More