11 Tips for Traveling With a Dog
With a little planning, bringing a canine along can be anything but 'ruff'
The days of family road trips with small kids in tow might be behind you, but iconic, even offbeat destinations may ignite your wanderlust. According to the American Pet Products Association (APPA), 32 percent of boomers own dogs, and the idea of leaving furry friends behind on a vacation can transform the idea of a fun trip into a guilt trip. Another survey by the APPA revealed that 37 percent of pet owners take their pets along when they travel.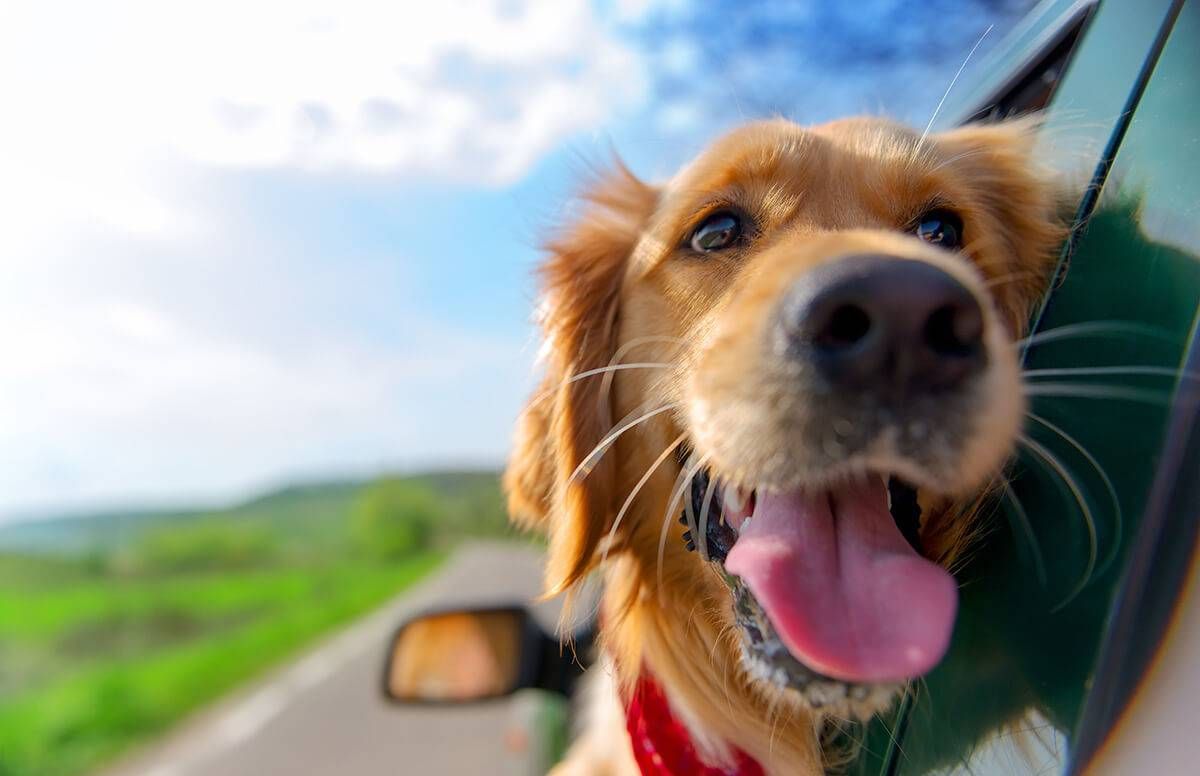 Especially as we get older, trekking to new places with our dogs sows the seeds of connection with others, inviting us to make friends. Sharing an adventure with our dogs encourages spontaneity, too. Have you noticed it's impossible to visit a dog park without starting a conversation with others? Happily, many destinations and activities across the country now accommodate pets.
11 Tips for Traveling With a Dog
But traveling with a dog can be tricky. So here are 11 tips to do it right on any budget:
1. Preparation is essential. Well ahead of your trip, train your dog to be well-mannered on a leash and tolerant of strangers, as well as of other dogs. My husband, animal behaviorist Corey Cohen, suggests making sure your dog looks to you for guidance. "You need to be able to divert her attention to avoid unwanted barking or jumping at your suggestion," he says. "This can keep her emotional thermostat on an even level." Teaching the stay command is a helpful tool . Hotels and motels insist that pet guests are housebroken, too.
Pack copies of your dog's vaccination records (or keep a snapshot of them on your smartphone). Spring for reliable pet car seats or harnesses, collapsible water bowls and tick spray. Purchase new chew toys for your dog when he is resting in the car or at the hotel.
2. Hiking lovers, look for state parks. As a general rule, they will allow dogs that are leashed. Standout choices for moderate hikes include Corona Arch in Moab, Utah and Goblin Valley nearby, especially if your dog appreciates climbing exotic rock formations. National parks usually don't allow dogs, but there are a few great exceptions, including the Grand Canyon's South Rim and Acadia National Park in Maine. Do your research well before you book your trip to avoid disappointment.
3. Seek out beach destinations. If you and your dog are big fans of splashing around or walking on the beach, six beaches on Cape Cod allow leashed dogs. So do Assateague Island in Md. and Va., and Cannon Beach on the Ore. coastline.
4. Do your research to find ideal lodging with your dog. The La Quinta, Best Western and Marriott hotel chains accommodate dogs. Book well in advance, and speak with someone at the individual hotel to ensure availability and rates. It's always a good idea to ask for a room on the first floor, preferably close to a door that leads to a grassy area.  For a real treat, book a casita at Goulding's Lodge in Monument Valley on the Ariz./Utah border. You can explore the Navajo Tribal park and its eerie sandstone buttes where John Ford Westerns were once filmed.
5. Visit spots that are especially interesting for dog lovers. History buffs might enjoy Oliver Bentley's nighttime Historic Dog Walk Tour in Savannah, Ga. You and your dog could visit the AKC Museum of the Dog in St. Louis, where art and sculpture pay homage to canines throughout the ages. Or take a dog-centric haunted night tour of Gettysburg, Pa., hosted by writer and ghost enthusiast Bob Wasel. If your bliss is simply being in the company of others who celebrate dogs at the highest level, include Dog Mountain in St. Johnsbury, Vt. in your travels. You'll find a private mountaintop where artist Stephen Huneck and his wife built a dog chapel with acres of trails and swimming ponds that any dog and his human would appreciate.
6. Check out dog-friendly wineries and breweries. Trips with Pets or Corkhounds can provide a nationwide listing of ones where you can sample libations with your well-behaved dog sitting beside you. New York's Seneca Lake Wine Trail, for example, has more than 15 wineries that allow dogs in their buildings. After wine tasting, you can hike nearby at Letchworth State Park to round out your day.
7. Share a Major League Baseball game with your furry friend. GoPetFriendly.com lists Bark in the Park scheduled games with seats reserved just for fans and their dogs.
8. Go star-gazing. In Moab, Utah, RedRock Astronomy's host will give you a tour of the cosmos through a telescope, gazing at the wonders of a dark sky setting with your dog by your side.
9. Getting your pup exercise will make him or her calm and happy puppy on the road. Every vacation with your pet should include a visit or two to a local dog park, letting your dog burn some energy off-leash. One of the best is the Frank Ortiz Park —135 miles of dedicated dog trails that overlooks the beautiful Sangre de Cristo mountains in Santa Fe, N.M. Visit BringFido.com for a full listing of off-leash dog parks nationwide.
10. Find restaurants where you can go with your dog. Outdoor dining options with pets have become popular in many places. New York, for example, has acknowledged dogs as members of the tribe, enacting its Dining with Dogs Bill in 2015, allowing calm dogs to accompany owners in outdoor dining areas. Wherever you go, simply ask any restaurant if it's OK to bring your dog along for patio dining.
11. Finally, look for destinations that not only allow dogs but truly welcome them. It is a vacation, after all. Instead of wondering how your dog fared while you were gone, you'll look back on a great experience shared between you and your dog.
Phyllis L. Cohen
has been an executive recruiter for Fortune 50 firms for over 25 years as well as a freelance writer specializing in how boomers navigate their careers.
Read More