Turning Discarded Pianos Into New Treasures
This Wisconsin craftsman strikes a key through his remarkable restorations
When West Bend, Wisc. craftsman Jeff Gutschenritter gets a phone call about an unwanted piano headed to the landfill, he feels invigorated. A lifelong music lover, Gutschenritter hates to see any piano discarded. But he's energized, knowing he can not only save it, but bring joy to new owners by turning the instrument into something glorious.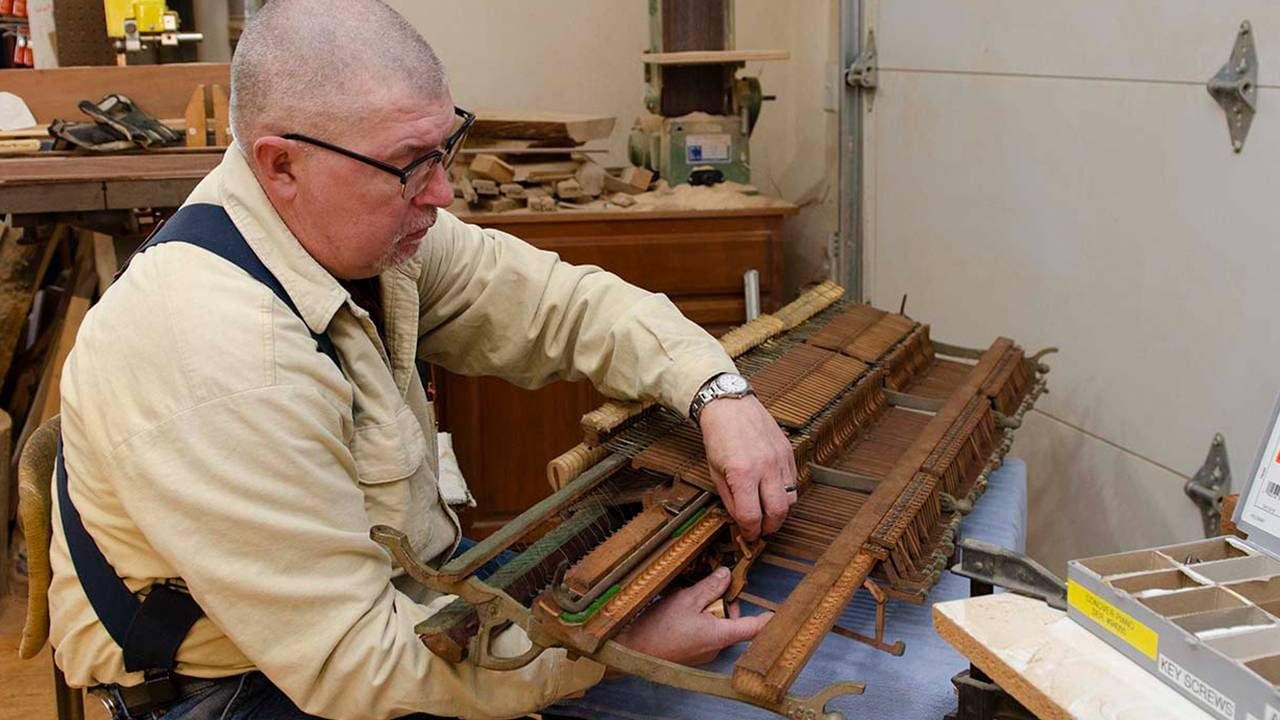 Gutschenritter, owner of Good Knight Woodwork, knows he can repurpose the entire piano or turn its components into works of art — whether that's a bar, a desk, a shelf or jewelry. He gets most of his buyers through word of mouth, past customers or from his social media pages.
"I started taking them in thinking it's not worthy of saving as a piano, but what else can we do with it?"
Making a profit isn't what drives him.
What motivates Gutschenritter is the chance to create one-of-a-kind pieces while preventing the instruments from being abandoned or, worse, winding up in landfills, where many go these days because their owners can't find family members who'd like to inherit them.
"They're beautiful works of art, in my opinion," he said. "I started taking them in thinking it's not worthy of saving as a piano, but what else can we do with it?"
From Piano Wood to a Beautiful Shelf
Here's an example that answers that question: Using wood from a mahogany baby grand, Gutschenritter made a shelf showing off the keys from a Baldwin that had been junked at a Habitat Restore store in Fond du Lac after its owner couldn't sell it. He posted a picture of it on his Facebook page and received five messages about his handiwork within an hour. One person placed an order for a similar, custom bookshelf in a darker wood. Gutschenritter obliged and sold it for $375, plus shipping.
Gutschenritter's odyssey began five years ago, when he suffered a series of migraines stemming from too much computer screen time. So, at 51, the journeyman tool and die maker retired. That's when he launched his custom woodwork business, repairing and restoring furniture and repurposing abandoned pianos as well as the occasional pump organ (he's drawn to the overall aesthetic of this smaller version of a church pipe organ).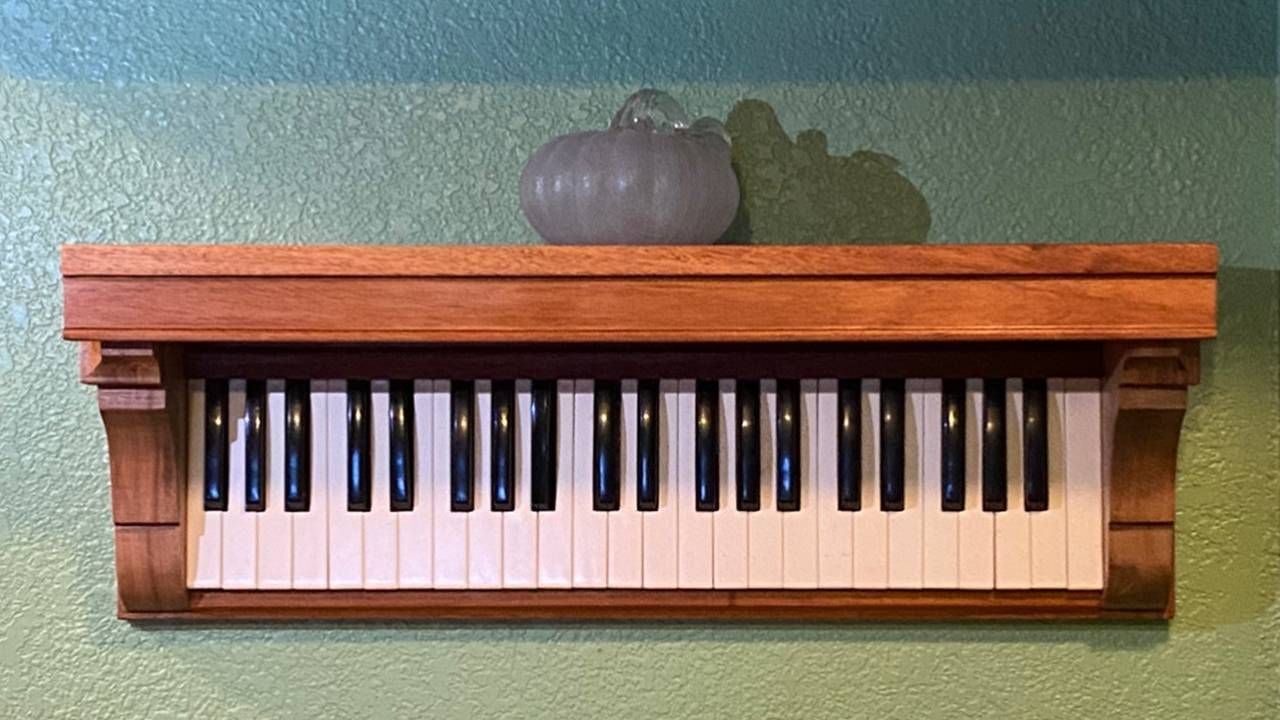 Craig Ormson initially contacted Gutschenritter to restore his great-grandmother's 1880s oak table. But after learning of the craftsman's passion for repurposing pianos, Ormson thought of his stepfather's pipe organ that had been passed down to his family. He became interested in giving it a new life. 
"It has the inherent value of it being a great piece," Ormson said. "It's not a working piece at the moment, but then it could be repurposed [to] preserve it, to have something that's not disposable."
The two men are talking about converting Ormson's pump organ into a desk or a bar.  "It has so much character that it can be repurposed into something that can be used, like a conversation piece in a house," Ormson said.
The growth in piano disposals is something Teresa Drews, piano department chair and director of education at the Wisconsin Conservatory of Music (WCM), has seen all too often. Her conservatory often receives calls offering to donate pianos akin to Grandma's spinet from the 1960s. But since the WCM only accepts grand pianos in working condition, it usually can't accept such offers.
Turning down donations is never easy, said Drews. "We get to hear lots of stories about the piano — where it's been and where it's lived. [People say] 'You know, I could just put [the piano] out on the curb,'" Drews lamented.
A Birthday Present Search Turns Into a New Passion
That's where Gutschenritter comes in.
A search for his wife Jackie's birthday present in July 2018 led him to the world of repurposing pianos. Through a buy-and-sell trade group, he found an 1872 upright Steinway that, if not claimed, was headed for the dump. The piano was 70 miles away, in Neenah, Wisc., but it would be free for the taking. So, Gutschenritter spent $800 hiring a moving company  to pick up the piano and bring it to his West Bend farm.
He started looking into the Steinway's mechanics to see what might be salvageable. While doing this research, Gutschenritter learned that many families are trying to get rid of their uprights and spindles, with an occasional baby grand going unclaimed. That struck a chord.
"It's telling me that somebody is thinking enough of the piece that they don't want to throw it out. They want somebody to do something with it," Gutschenritter said.
"People started calling me up and asking if I took pianos. It just blew up from there."
Gutschenritter couldn't contain his excitement. Then, his newfound interest took on a life of its own.
"People started calling me up and asking if I took pianos. It just blew up from there," Gutschenritter said. He then began thinking about what he could make out of the pianos' old-growth wood and ivory keys.
Since then, he often gets into his 2016 Dodge Ram half-ton pick-up truck, pulling an 8' x 10'  snowmobile trailer, and tows away pianos, usually with help from a friend and his wife. "They are just happy not to have to pay to get them hauled away," said Gutschenritter.
Then, his genius renovation begins.
He's currently rebuilding a 1905 Conover Upright Grand into a "statement piece" desk. The process takes about 70 hours. An entire rebuild starts at $1,500 for a spinet and $2,000 for an upright.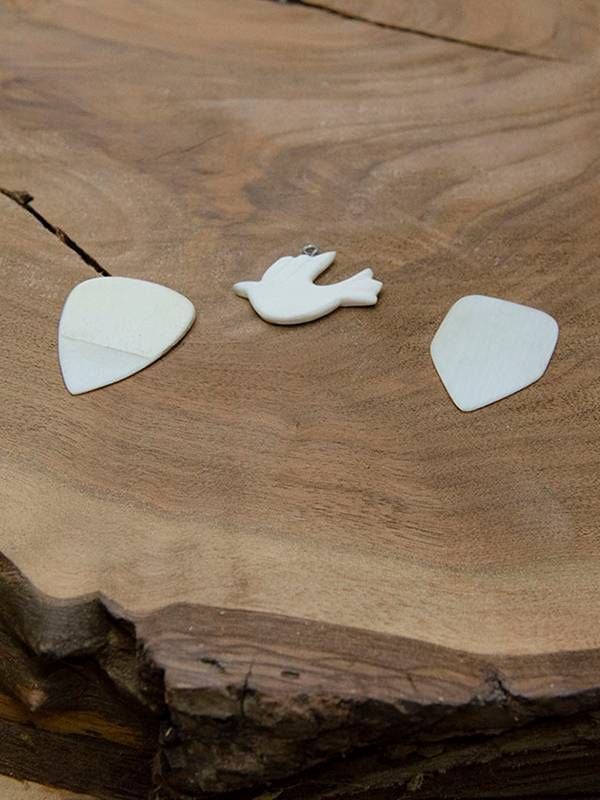 New Pendants and Guitar Picks
Often, though, the piano components — the wood covering the keyboard, the music wire making the piano string and the ivory key covers — are more marketable products as things like shelves, coat hooks and jewelry. They're more affordable than an entire rebuild.
Selling new ivory pieces is largely illegal, to protect elephants and other tusked animals. Said Gutschenritter: "I'm very much an animal rights advocate. You can't do anything with [ivory]. [You] can't harvest it anymore, which is a good thing. But what about all this old stuff that's out there? Are we just going to throw it in the landfill?"
Gutschenritter has turned existing ivory key covers from old pianos into pendants (typical price: $65) and guitar picks.
No two of Gutschenritter's pianos are alike, and he's always brimming with ideas for their best reuse.
"When I look at those pieces, I think about [how] this thing is a hundred-plus years old," Gutschenritter said. "I'm touching things that somebody was doing over a hundred years ago by hand. It gives me a really nice feeling to connect with the original creation of it, and now I'm helping it to live on."
Kelly Feng
Kelly Feng is a writer focusing on sports, health, fitness and family life. She writes feature stories, blogs and content marketing copy. You can reach her at [email protected] or KellyFengLinkedIn.        
Read More