Why the U.S. Isn't in This Retirement Index's Top 10
For retirement security, Iceland and New Zealand fare better than America
In the just-released 2016 Natixis Global Retirement Index, a data-driven ranking of retirement security in 43 countries, the United States scores a middling No. 14, right after Luxembourg and several notches below No. 3 Iceland and No. 4 New Zealand. (Norway and Switzerland ranked No. 1 and 2; Brazil, Greece and India were cellar-dwellers.)
What gives? And more importantly, what could America do better to crack the Top 10 and help ensure that its residents have a more secure retirement?
For the answers to those questions, I pored over the numbers the annual index's creators (Natixis Global Asset Management and CoreData Research) poured in and spoke with Ed Farrington, executive vice president of retirement strategies at Natixis.
"I personally would like to see us in the Top 10, and I think we can," said Farrington.
The Intent of the Global Retirement Index
That said, Farrington was quick to tell me that the "intent of the index was not to come up with a list of who's best and who's the worst." It's more about "learning from what is working and the drawbacks from the retirement systems around the world and to give individuals, policymakers and employers the best amount of knowledge to help people retire in a more secure fashion."
Fair enough. But, still: No. 14? (Did I mention that The Netherlands is No. 8 and Finland is No. 11?)
The Global Retirement Index considers four main factors: Health (life expectancy and per capita health expenditures); Finances in Retirement (macro factors such as government debt, taxes and interest rates); Qualify of Life (a smattering of criteria from "happiness" to climate change) and Material Wellbeing (income equality, income per capita and unemployment).
Although I'm concerned about climate change, I wouldn't have expected to find it among criteria for retirement security. Said Farrington: "The quality of the environment has a direct impact on health and state of mind."
Where the U.S. Scored Well and Poorly
The United States scored especially well for Health, primarily because the country spends so much on health care per person. But our nation's Material Wellbeing number wasn't healthy at all — primarily because of America's low numbers on income equality.
"If income inequality remains at this level," said Farrington, "lots of people won't have the ability to save at the rate they need to for their likely 30 to 35 years in retirement."
By contrast, Norway was practically off the charts for Material Wellbeing and Iceland, Switzerland and Germany fared very well, too.
Also nicking us: America's high public debt, which cut into the country's Finances in Retirement score.
"High public debt puts pressure on government-funded social safety nets," said Farrington. "Combine that with the demographic issue of fewer people paying into the [Social Security] system going forward, and you understand why people wonder if they can rely on that Social Security check."
A striking 17 of the Top 25 countries are in Europe, due to especially strong quality of life and material wellbeing scores, with low levels of income inequality, high access to retirement programs from their employers and governments and broad-based health care coverage.
A Flawed 401(k) System
Another reason Americans have a less secure retirement than residents of some other countries: our less-than-ideal employer-based retirement plan system. In many of the Top 10 countries, a higher percentage of their populations than ours had access to employer-sponsored retirement plans, tax incentives to invest in them and automatic enrollment in the plans.
Millions of U.S. workers lack access to 401(k)-type plans — roughly 50 percent of them, by some estimates. "We need to think about how to increase access to those plans," said Farrington.
And many Americans who have the plans don't manage them especially well: they contribute very little and tap them too often before retirement through loans and withdrawals.
Natixis found that 40 percent of Americans with 401(k)-type plans only contribute between 1 and 4.99 percent of pay. Only 36 percent of those over 50 take advantage of the catch-up rules allowing them to contribute $6,000 more to the plans due to their age.
"A lot of Gen X'ers are using their 401(k)s like a checking account — a third have either taken a 401(k) loan, taken a lump-sum withdrawal or, when they changed jobs, took a withdrawal instead of rolling the money over," said Farrington.
And 19 percent of Gen X'ers that Natixis surveyed said high levels of student debt kept them from participating in employer-sponsored retirement plans; 34 percent of Millennials said the same.
Where Workplace Savings Programs Work
Norway, by contrast, has had a compulsory workplace savings program since 2006. In Iceland, everyone between age 16 and 70 must have 12 percent contributed to their retirement plans — 4 percent from the employee and 8 percent from the employer.
Farrington pointed to the mandated retirement systems in Australia (the "Superannuation" program I wrote about for Next Avenue, which has been around since 1992) and New Zealand (the nine-year-old KiwiSaver plan with automatic enrollment for all) as examples of ones the United States could emulate.
"Are they perfect? No, but they are successful. Australia and New Zealand benefit very much from compulsory plans and incentives," said Farrington. "It's worth considering those things."
Natixis, he added, favors broadening access to savings programs for all workers in the United States. "That would put the U.S. on a level playing field with many of the leading countries," Farrington noted.
How Advisers Could Help
Something else that could help Americans, he noted: using financial advisers.
"The people we surveyed who had advisers are saving more than those who don't and are more likely to have a financial plan and short-term goals to match the plan," said Farrington. "We believe that access to quality financial advice is a piece to this puzzle for solving this problem."
Now if we could just get more financial advisers to take more middle-income people as clients, rather than limiting their clientele to the wealthiest, which gets back to income inequality and why America is No. 14.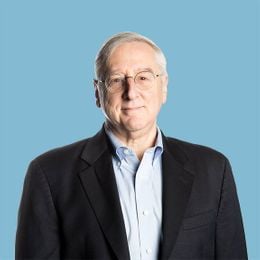 Richard Eisenberg
is the former Senior Web Editor of the Money & Security and Work & Purpose channels of Next Avenue and former Managing Editor for the site. He is the author of "How to Avoid a Mid-Life Financial Crisis" and has been a personal finance editor at Money, Yahoo, Good Housekeeping, and CBS MoneyWatch.
Read More