The Ukulele: A Four-Stringed Phenomenon
The sweet sound of this little instrument attracts all ages
The ukulele — which has surged and receded in popularity for more than 135 years — is here to stay. So says Marianne Brogan of Portland, Ore., and she would know. Brogan plays the ukulele, teaches ukulele and organizes musical events in celebration of the instrument.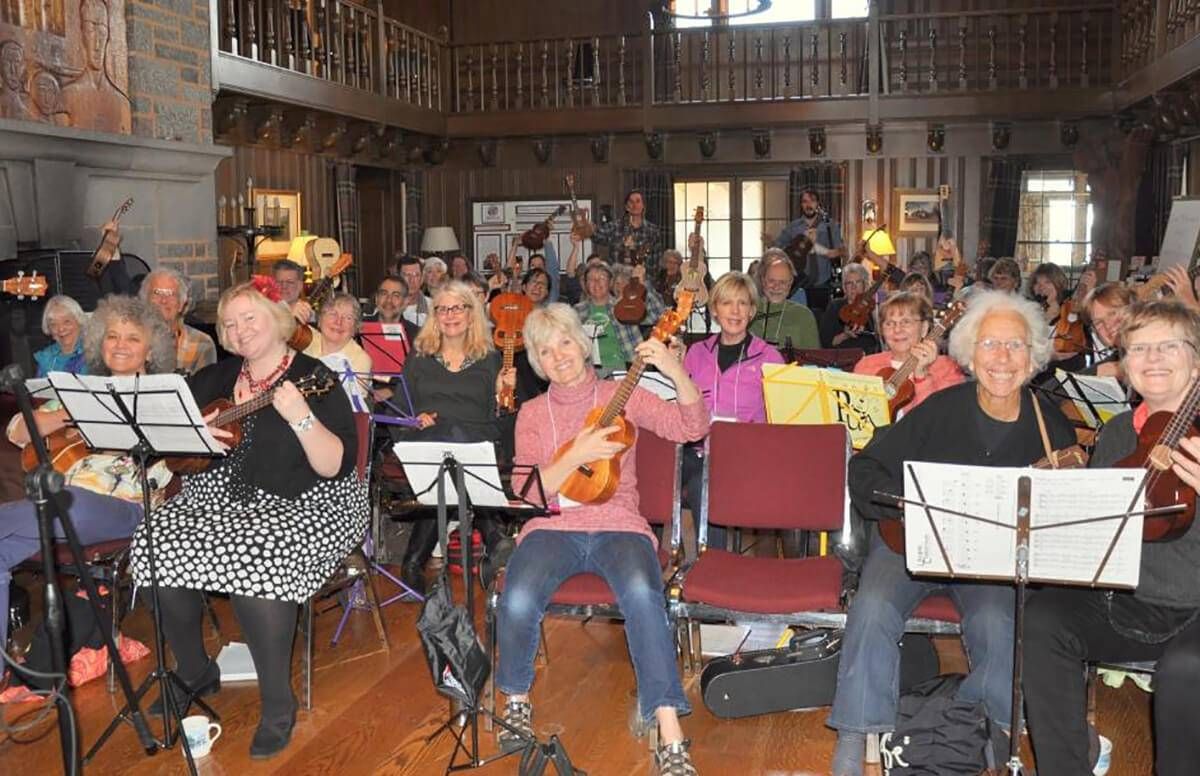 "I keep reading that this new wave of interest in ukuleles just started. It didn't," said Brogan. "There was a resurgence in the 1920s and again in the 1950s, and the ukulele started to catch on again around 2000 or 2001." At that time, Brogan worked as director of alumni relations at a college and was part of a ukulele band she started with colleagues.
"We bought $20 ukuleles, found a teacher and played in my living room, laughing at the ridiculousness of it all," she recalled. In 2002, Brogan founded the Portland Ukulele Association, which initially drew about 10 people. The group expanded after holding the first of five ukulele festivals in 2004, and today, about 65 members meet once a month to play and sing together.
"Now the list of ukulele festivals around the world is as long as your arm and any city of a certain size has a ukulele scene," Brogan said. "It's mind-blowing. I think this time the ukulele is here to stay."
More than 1.4 million ukuleles were sold in the U.S. in 2016. Music schools around the country are teaching toddlers, teens, young professionals and retirees to play the ukulele; some people seek out camps and festivals that offer extended opportunities to learn and jam. Many others are simply fans of the little stringed instrument with the sweet, light sound.
The History and Popularity of Ukuleles
Based on four other small guitar-like instruments of Portuguese origin, the ukulele was developed in the 1880s. The story goes that in 1879, Portuguese immigrants brought ukuleles to Hawaii, where The Hawaiian Gazette newspaper quickly reported, "Madeira Islanders recently arrived here have been delighting the people with nightly street concerts." Hawaii's King Kalākaua, known as "The Merrie King," promoted the instrument and helped establish it in the islands.
Fast forward to 1915, when the 17 million visitors to the Panama–Pacific International Exposition in San Francisco heard ukulele tunes played in the Hawaiian Pavilion. Tin Pan Alley songwriters and vaudevillians took an interest; later, the instrument was an icon of the Jazz Age. Soon after, makers of country music picked up ukuleles and Arthur Godfrey played one on his popular television show in the 1950s.
Tiny Tim came on the scene in 1968, strumming as he sang Tiptoe Through the Tulips. In the early 1990s, Jim Beloff developed some two dozen ukulele music books featuring modern and classic pieces. Around that same time, Israel "IZ" Kamakawiwo'ole also helped bring attention to the ukulele, most notably with his poignant medley of Over the Rainbow and What a Wonderful World. Maybe you are one of the 15 million people who have watched Jake Shimabukuro's ukulele rendition of George Harrison's While My Guitar Gently Weeps on YouTube.
Eddie Vedder released his "Ukulele Songs" album in 2011. Cybill Shepherd, William Macy, and Pierce Brosnan all are said to play, as are Tony Blair and Warren Buffett, among other famous people.
But Is the Ukulele for You?
The case could be made that the ukulele is for you, too. Making music enhances brain health — you've read about that on Next Avenue. You don't have to read music to pick up the instrument. Ukuleles come in four different sizes (soprano, concert, tenor and baritone) making them comfortable for everyone. Plus, ukulele teachers insist that the instrument is easy to play, easy to carry around and easy to fall in love with.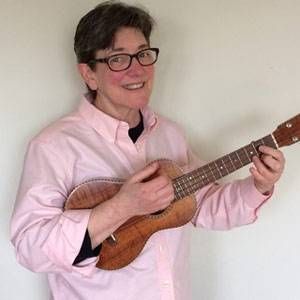 "My wife bought me a ukulele for Christmas in 2002. I figured it would end up in the back of the closet, but I've never put it down since," said Don Sadler, a retired architect who lives in San Francisco. He first became enchanted with the instrument while on vacation in Hawaii. Sadler studied on his own for about a year, picking out chords while listening to Kamakawiwo'ole's recordings. Then he enrolled in a ukulele class at the Japanese Cultural and Community Center of Northern California, located a few blocks from Sadler's home.
For the past five years, Sadler has taught ukulele classes there. His students include teachers, engineers, real estate agents and lawyers. "Some people come because of an interest in Hawaiian music and culture and some are from Hawaii, rediscovering the instrument from their childhood," he said. Sadler also leads his advanced students at community events in the city.
Sadler pronounces the instrument "oo-koo-leh-leh," different from the Anglicized version, which is "yuk-ah-lay-lee." He said, "I have no connection to Hawaii — I grew up in Amarillo, Texas — but I try to use the Hawaiian pronunciation. It's important to me to approach the instrument with respect and to learn about the history of the songs, the composers and the places the songs are written about."
'There's Always Some Magic There'
In Chicago, the Old Town School of Folk Music serves about 15,000 students in on-campus programs and 4,000 additional students in outreach programs. Students in the ukulele classes learn everything from traditional Hawaiian songs to Tin Pan Alley tunes to the contemporary numbers found in folk, rock and pop music.
"Our student base skews a little bit on the older side, but the ukulele is popular with all ages," said Ian Wilson, a program manager at the school. "We also have a monthly open mic for teens and more and more of them are coming in with ukuleles. Our most advanced class, which meets once a week, is more like a band and focuses on playing."
Jessica Leigh, who teaches at the Fiddler's Green Music Shop in Austin, Texas, embraces the social aspects of playing the ukulele. "You get a lot of joy from playing with a group of other people. There's always some magic there, and the ukulele has the sound of a happy instrument," she said.
Leigh's students include a lot of young professionals and also retirees. "The ukulele is so accessible. In a 90-minute class, I can take a student who has never picked one up to playing a three-chord song." Leigh said. "It's just a short distance from zero to cruising speed. Plus, the nylon strings are easy on the fingers."
Leigh started playing ukulele as a teen in 1999, on an instrument her great-grandmother bought in Hawaii in the 1950s. Now she is part of the Love Leighs, a band that plays all styles of ukulele music. "A Michael Jackson tune is our closing song at honky-tonk joints, and the reaction is always 'Oh, wow.'"
Clay Levit, the owner of Fiddler's Green, said he sells more ukuleles than any other instrument, sometimes one or two a week. "They aren't real expensive. Our cheapest one is $56 and they go up to just under $400," he said. "A ukulele has some hip aspects to it, and it's so much fun to play."
Ukulele Camp Attracts Aficionados
How much fun? 2018 marked the eighth season for the five-day Ukulele Band Camp at the Menucha Retreat and Conference Center, located on 102 acres in Corbett, Ore., some 700 feet above the Columbia River. The First Presbyterian Church of  Portland owns the Center, which is open to everyone.
"This is about music. The idea is to get away and focus on something that enriches your life," said Lauren Deming, director of marketing for the camp. "When we opened registration last September for the March camp session, we sold out all 60 spaces in two weeks." In 2017, the camp attracted enthusiasts from nine states, Canada and Great Britain, most of them 40 or older. All participants must have mastered 10 chords before enrolling.
Ukulele Band Camp is known for its beautiful surroundings and its excellent instructors, noted Deming. The artistic director also has some chops — Marianne Brogan organized the camp. She also founded the Port Townsend Uke Fest, now in its seventh year.
"It's always been my feeling, ever since I first wanted to spread the joy of playing, that perhaps we could find world peace through playing the ukulele," Brogan said. "I fell in love with it, and it has kept music in the forefront of my life."
Patricia Corrigan
is a professional journalist, with decades of experience as a reporter and columnist at a metropolitan daily newspaper, and also a book author. She has written for Next Avenue since February 2015. Read more from Patricia at latetothehaight.blogspot.com.
Read More