Unconventional Career Advice You Need to Hear
Life coach Stephen Pollan, author of 'Die Broke,' offers his provocative take on how to keep your job or find a new one
Stephen Pollan is an iconoclastic life coach and personal finance mentor. He's also a lawyer. But I think the engraved sign on his New York City office desk offers the best description of what he does: "Professional Fear Eliminator."
 
Pollan, 83, meets with clients for 45 minutes to an hour to help them deal with knotty career issues they're facing or fearing, from bouncing back after a layoff to dealing with a gnarly boss to squeezing out more money from a severance agreement. Often, his advice is provocative, unconventional and even blunt. (Full disclosure: I'm a former client.)
 
"I've found that the most significant things people bring to me are their fears," Pollan says. "Careers are the biggest creators of fear because they're our stream of income."
 
After reading his new compendium of commentaries, The Gospel According to Stephen, I sat down with the author of the best-sellers Die Broke and Live Rich — and father of author Michael Pollan and actress Tracy Pollan — to hear his latest advice about keeping your job or finding a new one in your 40s, 50s and 60s. You can find some of Pollan's career tips on his website, Stephenpollan.com.
 
Highlights from our free-wheeling conversation:
 
Next Avenue: You tell people not to be preoccupied with the concept of a career because that's gone. What do you mean?
 
Pollan: We were all taught that your job should afford you fulfillment. That idea should be gone out of your mind.
 
Why?
 
You should focus on a career only as a stream of income. Your employer is not concerned about your fulfillment. Anyone looking for career fulfillment is going to be frustrated because employers are not out there to make us happy.
 
Look for fulfillment through your romantic life, through travel, through personal relationships, not on the job. It ain't there.
 
You believe employees need to understand that they work for their supervisors, not their companies. What do you mean?
 
Companies are never aware of who you are or what you do. I'm more interested in helping you make your supervisor look good than making you look good. You should be more preoccupied with your supervisor's status rather than your own.
 
The person you report to is your spokesperson and your connection to your employer. You've got to become your own propagandist — and you do that through your supervisor.
 
If your supervisor wants somebody to take on responsibility at work, you've got to look like you're protecting his back and front. That's your most important job. Then you'll get recognition.
 
How should employees use their supervisors to keep their jobs and get ahead?
 
Have a dialogue with your supervisor at least once a month. One type of dialogue is showing your gratitude for the professional growth you've received from their teachings. Go there and say thank you. That's a good thing to do.
 
Another positive thing to do: Come up with an idea for the company. Even better than that is coming up with an idea for your supervisor because that will make him or her look good.
What should employees in their 50s and 60s do to convince their employers that they're not too old for their jobs?
 
Employers consider younger people cheaper and more productive than older people. When you get older, if it's discernable at work, that's a problem.
 
(MORE: A CEO's Advice for the Third Chapter of Your Career)
 
You can counter this with enthusiasm, by being passionate about what you do at work. Become a fountain of intelligence about your job and the industry. People who appear to be experts in their field have cloaked themselves with great armor.
 
You have to maintain your exuberance and open your windows. Old age is self-imposed.
 
Look, I'm 83. That's considered a little bit old. I believe I counter my age with my exuberance. You've got to be excited about life. Age is a metric. Take the metric out of your life. Stop counting.
 
What do you say to people who think their job is in jeopardy?
 
Renew your vows at work and make a conscious, larger contribution. And show gratitude to your employer for your professional growth; expressing gratitude is magic.
 
You say professional competence is about the last thing employers consider when they're picking people to fire. What are the first things they consider?
 
Generally, it's financial. It's rarely about you. You fire the person who costs you the most.
 
(MORE: 7 Keys to a Successful Job Search)
 
And yet you think being fired could be the best thing that ever happens to someone's career. Why?
 
Being fired gets you off your ass and makes you less sanguine.
 
I was fired once at age 39 for political reasons when I was CEO and president of a closed-end investment company on the American Stock Exchange. It was a jolt. At the moment of being fired, I heard an explosion between my ears that didn't exist.
 
But it was also like a graduate degree in life.
 
What did you learn from the experience?
 
Be more careful about trusting people.
 
Let's talk about finding a job. You believe that someone who wants to get hired has to go about it without looking like a job hunter. Why?
 
If you're looking for a job, you have the lean and hungry look of a job seeker. When people see you, they think they're in a hospital ward. People looking for jobs are treated as second-class citizens.
 
Looking for a job has got to be a goal you keep to yourself and do incidentally. You could do it by getting face time with people, making presentations at trade conferences and networking there, maybe writing an article to show your expertise. You want to get other people titillated about you.
 
And you say the most important thing to do when you're unemployed is to get a job — that it almost doesn't matter what the job is.
 
Unemployed job seekers get a quarter of the jobs that employed job seekers get. I don't care if you're a soda jerk, you've got to be doing something.
 
(MORE: How Women Should Plot Their Careers After 50)
 
When you go on a job interview and you're asked, "What are you doing now?" and your response is "I'm looking for a job," that's not good. You want to say, "I've got a job and I'm looking for one that's much better."
 
Any advice for someone who wants to switch fields but is having trouble getting hired because of a lack of experience in that world?
 
You can't ask employers to take a chance on you. You have to convince them to hire you by filling yourself up with a huge amount of knowledge and demonstrating that you're an expert.
 
Why do you keep working?
 
What I do allows me to make money and serve people at the same time. That's a job with a nice layer of whipped cream. Once or twice a month, people say I've changed their life. That makes me feel very good.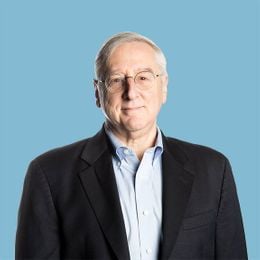 Richard Eisenberg
is the former Senior Web Editor of the Money & Security and Work & Purpose channels of Next Avenue and former Managing Editor for the site. He is the author of "How to Avoid a Mid-Life Financial Crisis" and has been a personal finance editor at Money, Yahoo, Good Housekeeping, and CBS MoneyWatch.
Read More