Universal Design Products for Kitchen and Bath
9 great ideas to simplify life in the busiest rooms of the house
1 of 10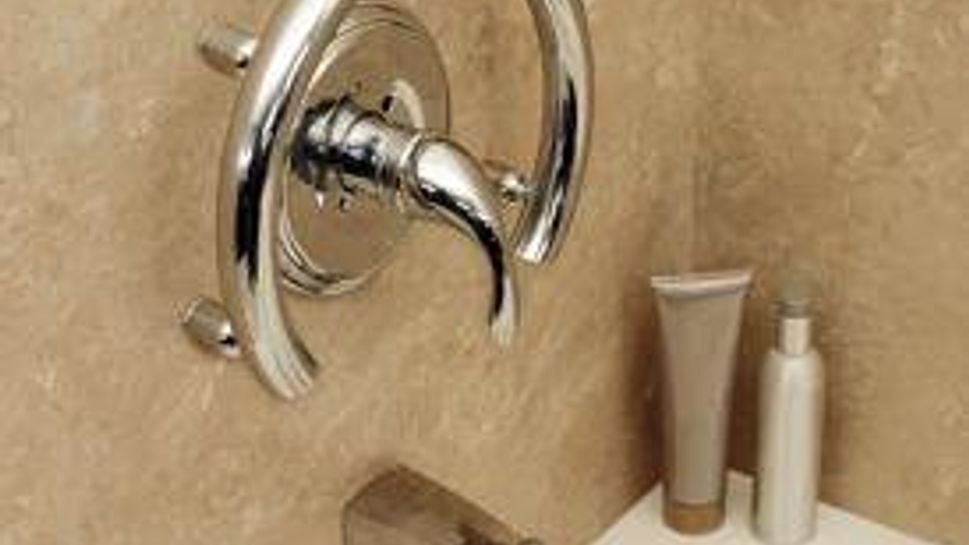 Courtesy of Invisia
This rounded rail from Invisia has four wall-contact points (instead of the standard two), can support 500 pounds and wraps around popular circular shower valves. $195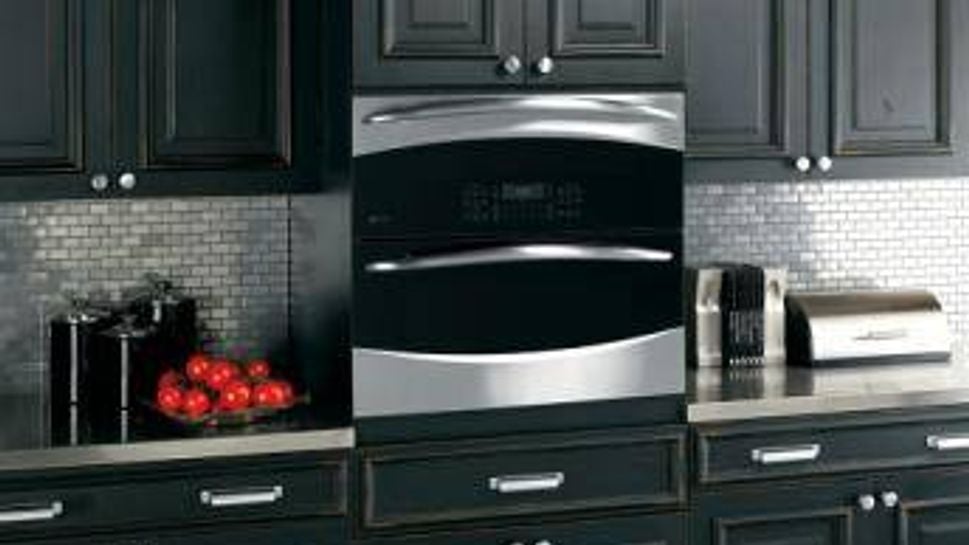 Courtesy of GE
This 30-inch-wide GE convection wall oven can be installed at a comfortable height. With two cavities in a single appliance, its doors are shorter — and thus less of an obstacle when opened. $3,099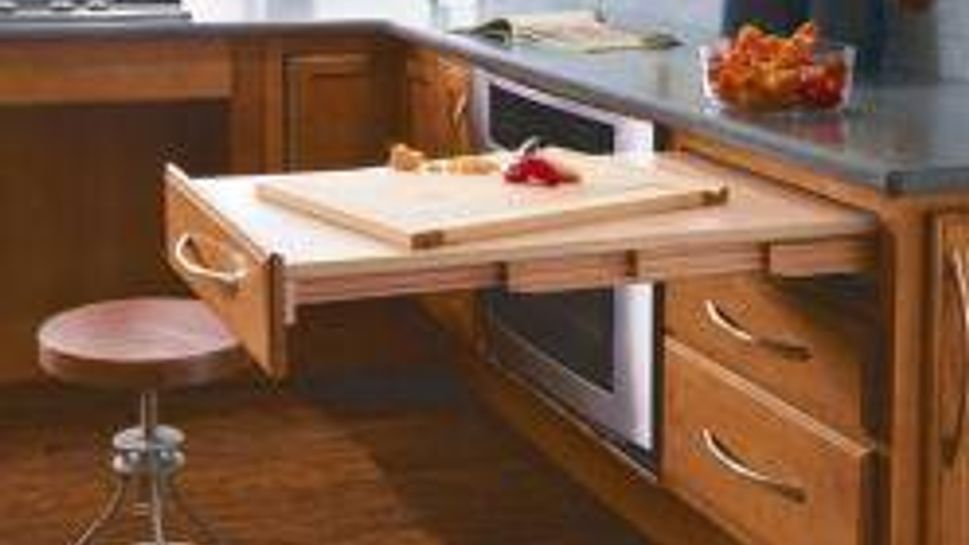 Courtesy of Kraftmaid Cabinetry
When fully extended from the base cabinets, this Kraftmaid table/work surface is comfortable for cooks of all physical abilities to use. Price upon request.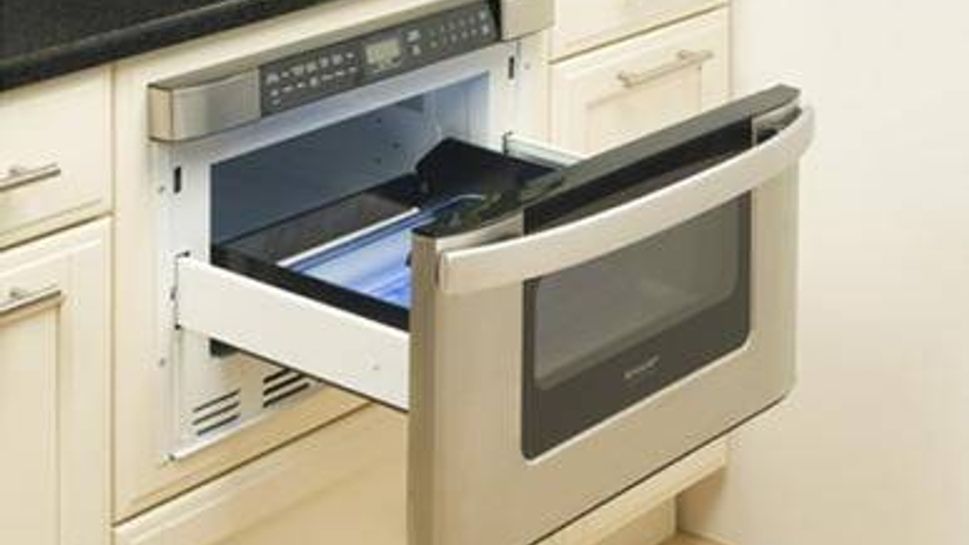 Courtesy of Sharp
The drawer-style configuration of Sharp's 1,000-watt microwave eliminates stretching to reach the food within. $899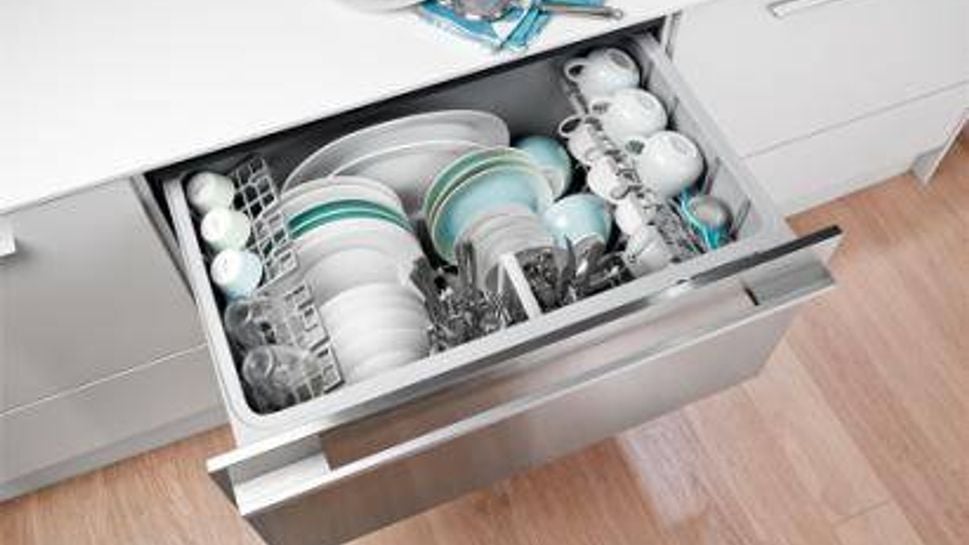 Courtesy of Fisher & Paykel
Loading and unloading dishes is less of an ergonomic aggravation thanks to the double-drawer-style design of Fisher & Paykel's smartly designed, 24-inch appliance. $1,399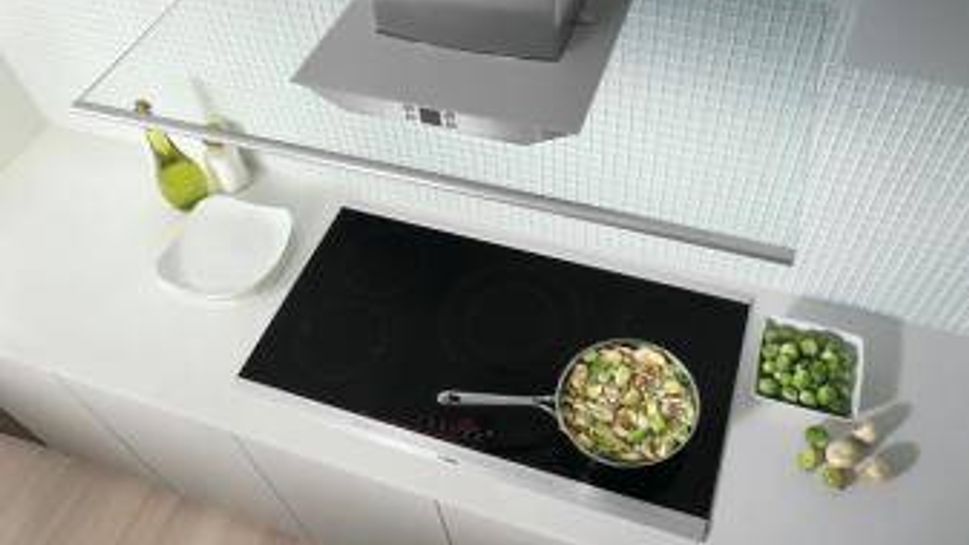 Courtesy of Bosch Home Appliances
With no open flames or hot cooking surfaces, this Bosch induction cooktop poses fewer burn hazards than a gas unit or conventional electric model. Touch controls require no gripping or twisting. $2,999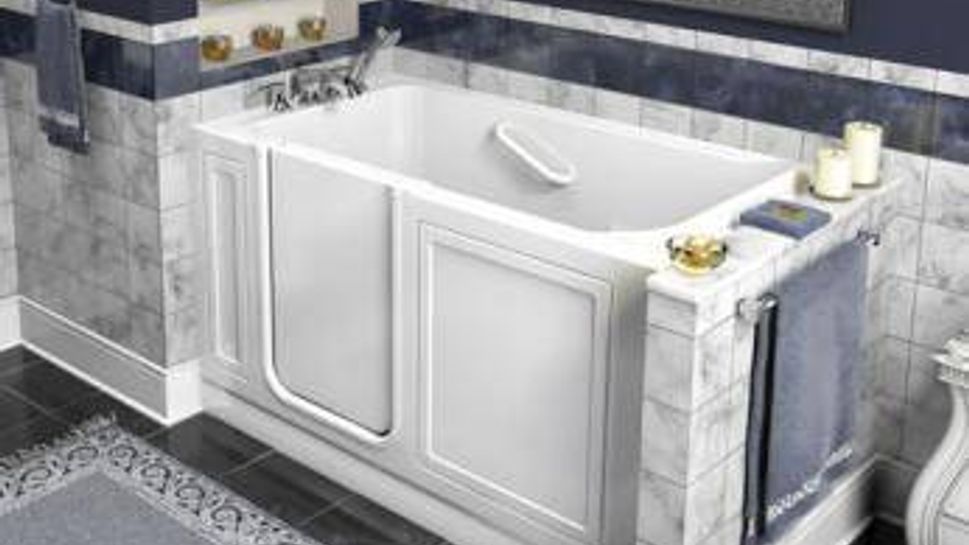 Courtesy of Safety Tubs
Walk-in bathtubs incorporate a swinging door, which eliminates the need to climb in.  This unit from Safety Tub has a pump-assisted drain feature that empties the bath quickly. $5,670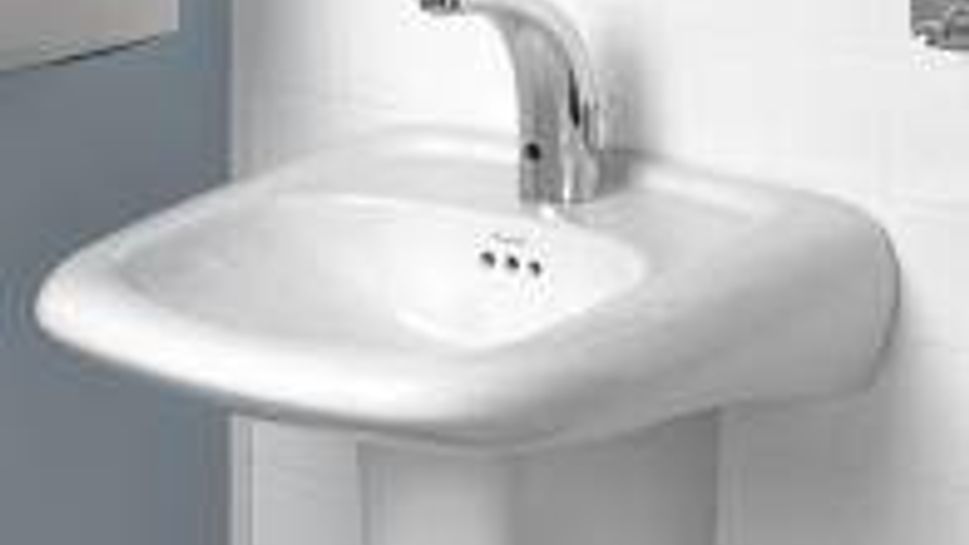 Courtesy of American Standard
Pedestal sinks and vanities can keep wheelchair users at bay. Wall-hung basins are more approachable. With this sink from American Standard, an optional ceramic knee guard keeps open plumbing under wraps, preventing clothing snags. Sink, $220; knee guard, $185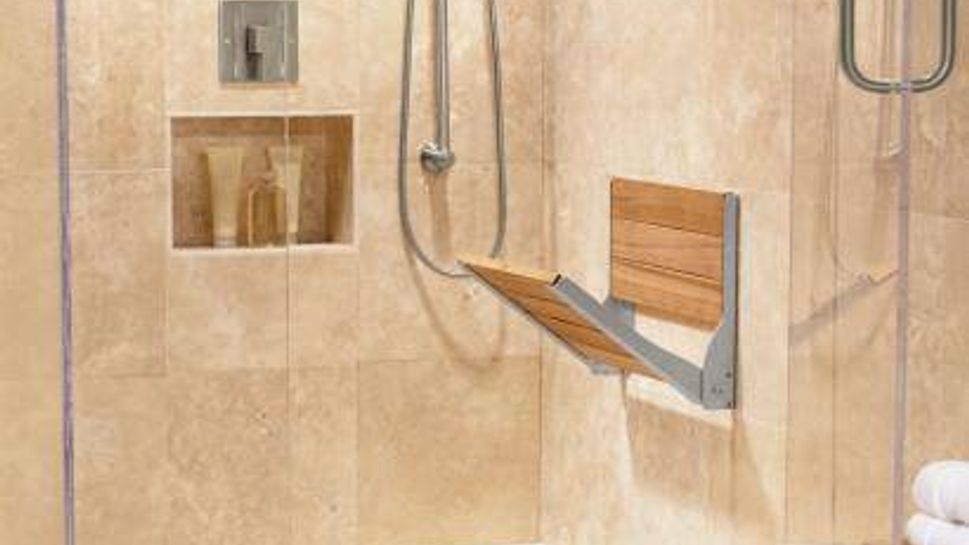 Courtesy of Moen
Moen's water-resistant teak seat folds up and out of the way when not in use — a smart, space-saving feature. The model supports up to 400 pounds. $472.50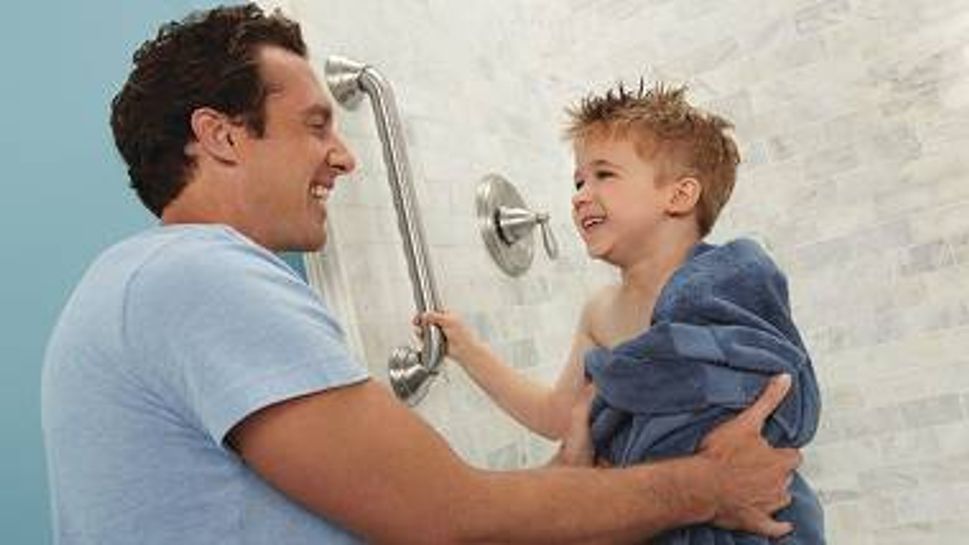 Courtesy of Moen HomeCare
Universal design is a smart approach for people of all ages and abilities and is the best way to age in place.
Whether you call it accessible design, universal design, inclusive design or human-centered design, the movement to create home environments that are safe, attractive and easy for everyone to use has gone mainstream.
 
Today, the market for universal design is expanding in unexpected ways. The spike in multigenerational households, plus the large number of wounded warriors returning from military duty, have expanded the interest — and the need — to adapt living spaces for people of all ages and abilities.
This approach to creating or modifying living spaces isn't just for seniors looking to gracefully cope with arthritic knees (or wheelchairs) or not-what-it-used-to-be eyesight — although that market is certainly substantial. Universal design is something that should be taken into account by everyone who presently has or will likely soon need to accommodate some measure of physical change and or decline.
The number of new housing units built in communities for people over age 55 will increase 22 percent (to 74,302) this year, and it will jump another 20 percent in 2014, says Paul Emrath, vice president of the National Association of Home Builders. And while there are plenty of retrofit opportunities to do so, there's no better time to equip a home with "aging in place" devices than during construction.
(MORE: Why Universal Design Makes Beautiful Sense When Renovating)
 
Smart and Stylish Design
 
Universal design doesn't mean ugly and institutional-looking: Consumers are demanding aesthetically sophisticated products. And today's wares often cost no more than their conventional counterparts
In addition to choosing adaptable products that fit in with your environment, it's important to consider how you'll use them and how you might deviate from typical installation standards (if code allows). For instance, you may wish to place light switches lower down on walls so people in wheelchairs can reach them; 42 inches above floor level is considered accessible.
Another bright idea is adding motion-activated light fixtures in stairwells so pathways are always lighted and there's no need to reach for a switch.
Even though every area of the home can integrate universal design solutions, the kitchen and bath often require particular attention, because they are typically the most frequently used rooms and those in which safety is particularly key.
Kitchen Considerations
 
There are a few basic rules for an accessible kitchen. Keeping equipment and storage within reach makes a kitchen comfortable for all to use. Lowered sections of countertops and open space beneath sinks and cook tops can accommodate both seated and standing chefs. Hinged cabinet doors eat up circulation space and can make navigating a room a challenge; drawers, sliding doors and open shelves are more suitable design options. 
 
When shopping for appliances, select models that have touch-pad controls rather than knobs. People who have limited hand strength or dexterity often find knobs difficult to use. Additionally, make sure display screens are brightly lighted and legible.
 
Tap-operated and touch-free faucets are starting to come on strong in the kitchen. If that's too high-tech (or weird) for any Luddites in the family, select lever- or blade-style handles that can be turned with a simple push of the wrist.
 
(MORE: Kitchen Lighting: Is It Time for an Overhaul?) 
Bathroom Benefits
 
This room has long been a focus for all kinds of accessible-product developers. Toilets standing at what's called "comfort height," with the seat 16 to 17 inches from the floor, might be a little tall for a small child to use, but adults with week knees or who have difficulty lowering their body will appreciate the extra elevation.
 
Locating the shower valve outside of the stall, or choosing a system that has remote, digital controls, allows bathers to avoid scalding themselves by setting the water temperature before stepping under the stream.
 
Curbless showers with linear drain systems eliminate the need for a standard floor slope — an important factor for people with balance issues. (There's also no need to step or wheel over a curb.) Inside the enclosure, a detachable, handheld shower wand allows for versatile washing. If gripping the fitting is a strain, look for models that slip securely over the palm.
 
Author and editor Leslie Clagett lives in Englewood, N.J., where she produces the blog kbculture.com, which focuses on kitchen and bath design.