U.S. Retirement Poll: The Big Lie and the Big Fantasy
A new survey suggests that when it comes to retirement planning many Americans are either making excuses or deluding themselves
The Employee Benefit Research Institute just rolled out its 23rd annual Retirement Confidence Survey and before you roll your eyes — another retirement survey?! — let me mention that it's the mother of them all.
That's why I think attention must be paid.
 
(The institute interviewed 1,003 workers, as well as 251 retirees, by phone in January.)
But the survey findings you'll be hearing a lot about aren't the ones I think are most illuminating. I expect these will be the headline grabbers:
57 percent of U.S. workers (and 47 percent of those 45 and older) said they have less than $25,000 in savings and investments, excluding their homes.
49 percent are not confident about being able to afford a comfortable retirement, the highest level in the survey's history.
 
(MORE: The Latest Insider Views on Retirement)
As I see it, though, the highlights of the Retirement Confidence Survey are what I'd call the Big Lie and the Big Fantasy.
 
The Big Lie
 
The Big Lie is my view of what the respondents say about their inability to save for retirement.
 
Only 57 percent of workers are actively saving for retirement, according to the survey, down from 65 percent in 2009.
 
Employees eligible to contribute to 401(k) or similar savings plans at work cited the cost of living and day-to-day expenses as the top reasons why they don't invest in those plans or don't invest more. Roughly 1 in 5 (18 percent) said they cannot afford to save more. Workers age 45 or older who aren't confident about having enough money for a comfortable retirement said they think they need to save an (absurdly high) average of 43 percent of their income.
 
But the head of Mathew Greenwald & Associates, the research firm that conducts the annual survey, says Americans' explanation for their saving troubles is "not really true."
 
Greenwald says that in previous surveys when people were asked if they could afford to save $25 a week more for retirement or start saving $25 a week, most said they could. When asked what they'd have to give up, Greenwald says, "the main thing cited was eating out." Others identified various "minor ways of cutting back," he adds, like spending less on entertainment, clothes and impulse buys.
 
"While people feel the pressures of maintaining their lifestyles, which is real, they also know after a little introspection that there are some things they can relatively easily cut back on that would permit more saving for retirement," Greenwald says.
(MORE: The Record Stock Market and Your Retirement Portfolio)
 
I have no doubt that economic times are so tough for some, especially lower-income Americans, that saving for the future is impossible, or nearly so. Indeed, only 24 percent of workers with household incomes under $35,000 have saved for retirement, down sharply from 49 percent in 2009.
 
But, otherwise, I'm with Greenwald: Many Americans could save more for retirement if they committed themselves to this goal.
 
The Big Fantasy
One reason they don't sock away money for the future is what I call the Big Fantasy.
 
According to the latest Employee Benefit Research Institute survey, 7 in 10 workers (69 percent) said they will work for pay after they retire.
 
Many currently in the workforce said they now think they'll stay employed longer than they thought a year earlier. Planning to delay retirement, Greenwald says, is "the most significant trend in the 23-year history of the Retirement Confidence Survey."
 
In 1991, 84 percent of workers said they planned to retire at 65 or earlier. In the latest survey, just 23 percent expect to retire before 65 and 26 percent expect to work until 70 or beyond.
 
If their plans come true, they'll need less in savings than if they retire from work earlier.  
 
But interviews with retirees in the current survey and recent ones paint a very different picture of the reality of working in retirement.
 
The Retirement Confidence Survey has consistently found that workers are far more likely to expect to earn employment income in retirement than retirees actually do.
(MORE: How to Avoid Living Unhappily Ever After in Retirement)
 
Year after year, 2 in 5 retirees or more said they had to stop working before they planned, mostly due to factors they couldn't control (like poor health or the inability to land a job after losing one).
 
That problem was even more pronounced this year.
 
In the latest survey, almost half the retirees surveyed (47 percent) said they entered retirement sooner than they had expected. Only 14 percent of retirees worked past 65; just 25 percent currently have any employment income.
 
"Those 69 percent expecting to earn money from work after they retire, probably to make up for low savings, are taking a substantial risk," Greenwald says.
 
I'd like to believe that anyone who wants to work part-time in retirement will be able to do so, but I doubt that'll happen. That's' why I think it's time we give up the Big Lie and the Big Fantasy and try harder to save more year after year — just in case.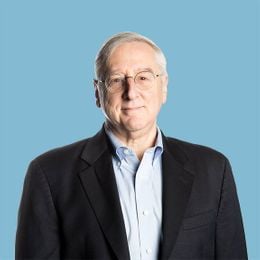 Richard Eisenberg
is the former Senior Web Editor of the Money & Security and Work & Purpose channels of Next Avenue and former Managing Editor for the site. He is the author of "How to Avoid a Mid-Life Financial Crisis" and has been a personal finance editor at Money, Yahoo, Good Housekeeping, and CBS MoneyWatch.
Read More