Using Technology to Chart a Course for Care
Smartphone apps and focused technology for caregivers can help with care management and communication
Crystal Bailey, who lives in the Chicago area, noticed that her 86-year-old mother Editha Walker had begun to have problems managing technology. "As my mother continued to age, it became obvious that the traditional applications and phones were too small for her arthritic fingers to manipulate," Bailey says. "In addition, her eyes were not able to read text messages or to select the appropriate buttons."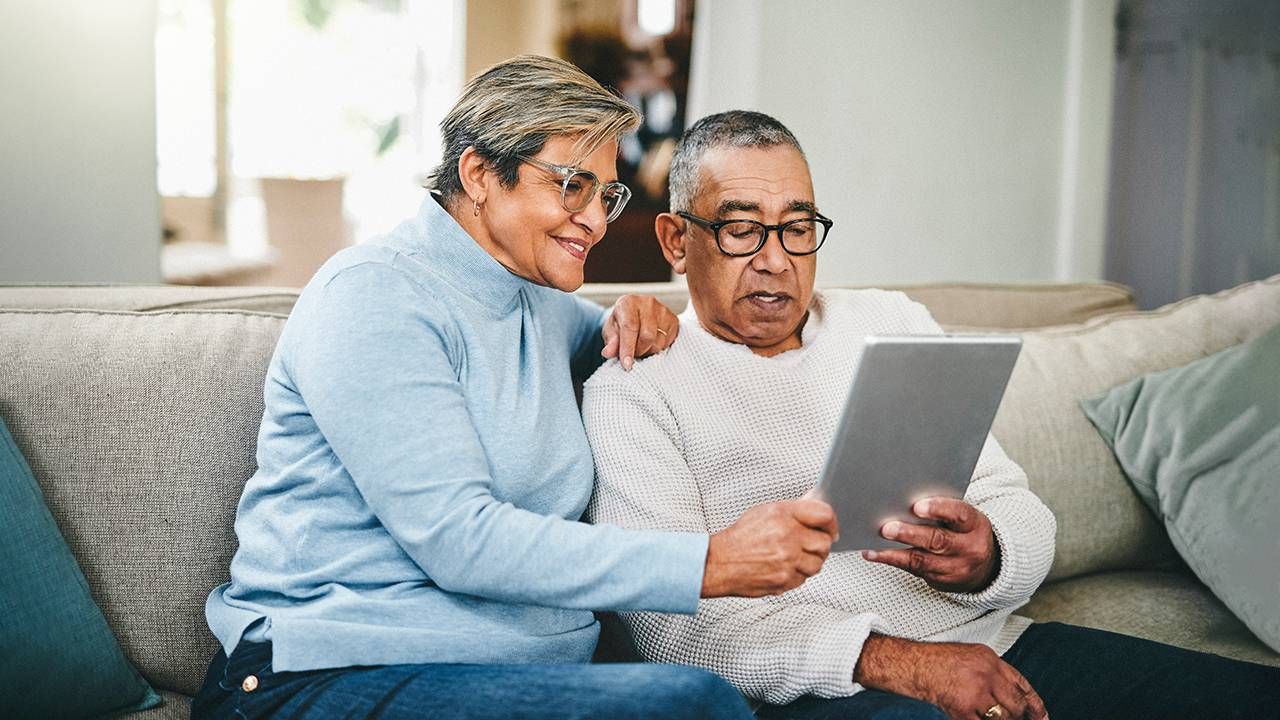 Many older adults are keen to incorporate technology into their daily lives, but they may face physical challenges that make it difficult to use or manipulate devices. According to a Pew Research Center analysis in 2021, adults 65 and older still lag behind the younger demographic when it comes to internet use.
The good news is that the gap is closing; 75% of those 65 and older report being internet users, and 64% of that group has home broadband.
Vision loss, hearing loss, and dexterity issues can make even the simplest computer-related task frustrating.
But about a third of U.S. adults ages 65 and older report they have physical issues that keep them from participating fully in some form of daily activity, and that can trickle down to technology use. Vision loss, hearing loss, and dexterity issues can make even the simplest computer-related task frustrating.
It is a problem that faces many caregivers and their loved ones. Although technology has offered speedy, secure ways to communicate, some members of the older population struggle with confusing apps, small icons, or unlabeled buttons. But companies have stepped up to offer solutions, including apps that help caregivers manage the daily needs of patients or loved ones.
Overcoming Obstacles
A few companies are realizing the importance of modifications or innovations to available technology. For instance, The Virtual Caregiver is a program implemented by CareBuilders at Home. The company installs a small box that plugs into the television, turning the device into a video call that can be activated by voice and on demand.
"In the wake of COVID, this program has provided clients the opportunity to connect visually with loved ones. This technology delivers peace of mind to families who aren't geographically close to their loved ones by allowing them to see and engage with their aging parents to verify they are okay," says Lori Yount, vice president of operations, CareBuilders at Home.
"For CareBuilders, this program allows us to take a more proactive approach to care. By engaging daily with our clients during our check-in and chat services, we are able to monitor for changes in condition, patterns, or behavior, so that we can alert the family and medical providers of any potential issue they may require medical intervention," she says. "By addressing these changes early, we provide our clients a better chance for swift resolutions and positive outcomes."
In her search to make technology easier for her mother, Bailey found GrandPad, a tablet and telehealth platform that targets adults over the age of 75. The program is used by 71 centers in PACE (Programs of All-Inclusive Care for the Elderly).  
The tablet works on a secure platform with built-in LTE (long-term evolution) and web applications on the cloud. Caregivers and relatives can communicate with the user without using Wifi, which is a boon for people who live in rural areas or places that utilize security blocks. A family member serves as administrator, managing the GrandPad through a web portal or smartphone app. Icons are simple, easy to see and use.
Because Bailey's mother is comfortable using the device, she will send an email or a text to one of her family members if she wants to share news or ask a question. And if there is a communication roadblock with caregivers or staff at her assisted living building, she can connect with Bailey to help her through it.
Apps That Can Help Older Loved Ones
For individuals managing the care of a loved one, smartphone apps can help with appointment setting, daily health monitoring, pill schedules, and more. Smart doorbells and door locks can help secure the homes of older adults. GPS tracking devices are available as wearable jewelry or even shoe soles and have apps to find a wandering adult.
Some apps are part of a larger health care program and available to patients; others can be used on an individual basis.
Some apps are part of a larger health care program and available to patients; others can be used on an individual basis. Talk to your family member's doctor or health organization about apps that can streamline the doctor/patient relationship and manage chronic issues. Find the app that works for you, your loved one, and the medical team.
Here are several other examples: