How to Keep Vintage Items Relevant by Repurposing Them
Tips on ways to upcycle linens, lace and more through the generations
Estate sales and thrift shops offer a unique peek into the handwork and art created over the generations. But the changing pace of society means fewer of these precious things are used anymore. For convenience, linen tablecloths and napkins gave way to cotton and polyester, if not paper. Old china sets and crystal were packed away for safekeeping. Heirlooms passed on through the generations no longer hold place of pride.
But that doesn't mean those items are useless. Nor does it mean they should never be seen, used and appreciated again. It means we need to find a new purpose for them.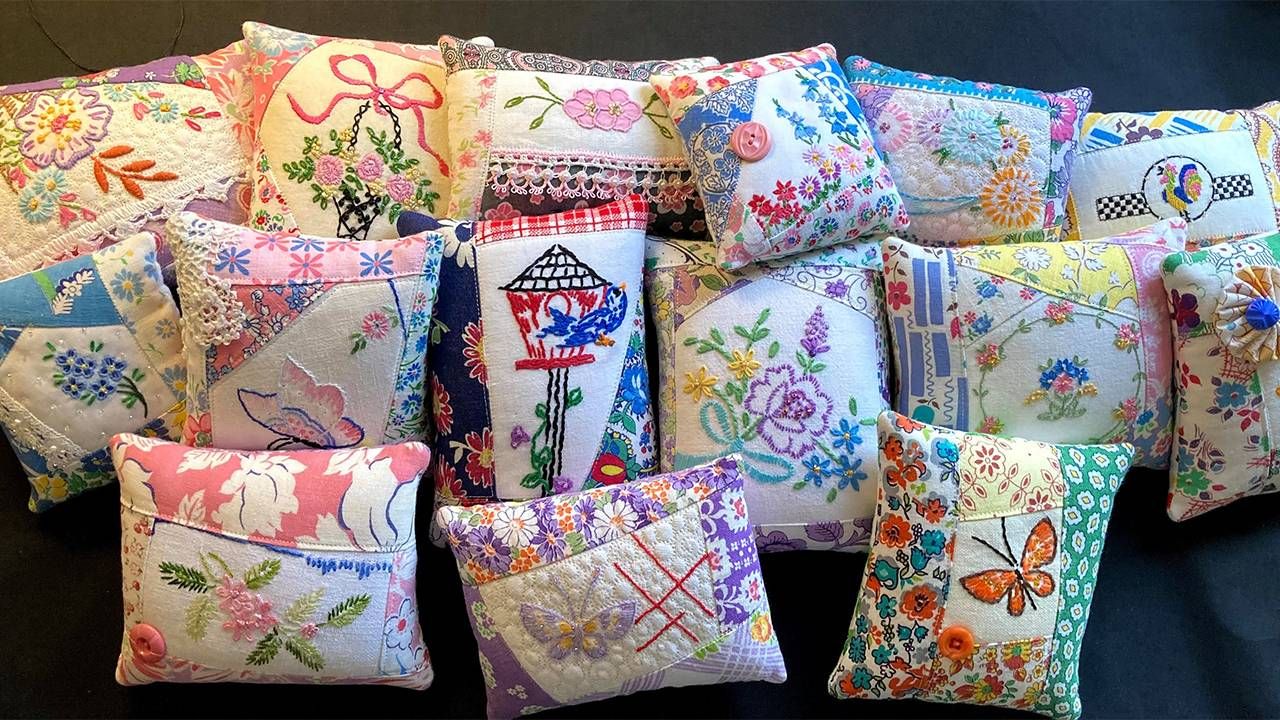 From Dinner Table to Garden
Ron Helps, an engineer from Ontario, Canada, has long enjoyed working with his hands, tinkering and fixing things. For many years, most of his work was with wood. But a few years ago, Helps began making garden flowers from glass plates.
His sister-in-law had received one as a gift and it caught Helps' interest. He traveled a lot for work and took advantage of visiting different thrift stores to discover treasures waiting to be transformed.
"They're old glass plates and different things that a lot of your parents and grandparents had back then," Helps said. "But no one really used them unless it was Christmas Day or something like that. Nobody wants them anymore." Turning these glass plates into garden flowers gives these pieces a new life.
In a nod to his son, an avid reader, Helps got an encyclopedia set and made it into a coffee table.
To create the flowers, Helps collected a large assortment of dishes with various colors, shapes and sizes, which gave him the ability to mix and match to best suit the design.
"Once I was happy with the design, I used an outdoor, water-resistant, clear silicone caulking to glue them together," he explained. The pipe is placed in the garden soil to support the weight of the design and allow it to shine above, or along with, a complimentary arrangement of flowers.
Helps, who no longer sells the glass flowers, enjoys working on other upcycling or repurposing projects, too. In a nod to his son, an avid reader, Helps got an encyclopedia set and made it into a coffee table.
New Purpose for Vintage Linens and Lace
Vintage linens and lace are gaining in popularity again, not so much for their original use, but for their potential. Quilters find antique tablecloths, napkins, handkerchiefs and other linens, and transform them into fabric art, cushions, table toppers and other useful items.
Kelly Cline, a quilter and entrepreneur from Lawrence, Kansas, began quilting about 10 years ago. Her years doing different types of crafts and arts, especially calligraphy, made longarm quilting (using a sewing machine that moves on a frame) a natural fit. As she learned how to use the machine, Cline began to purchase vintage quilt tops to give her something to practice on.  "That's what hooked me, just working on what I thought was just practice," she said.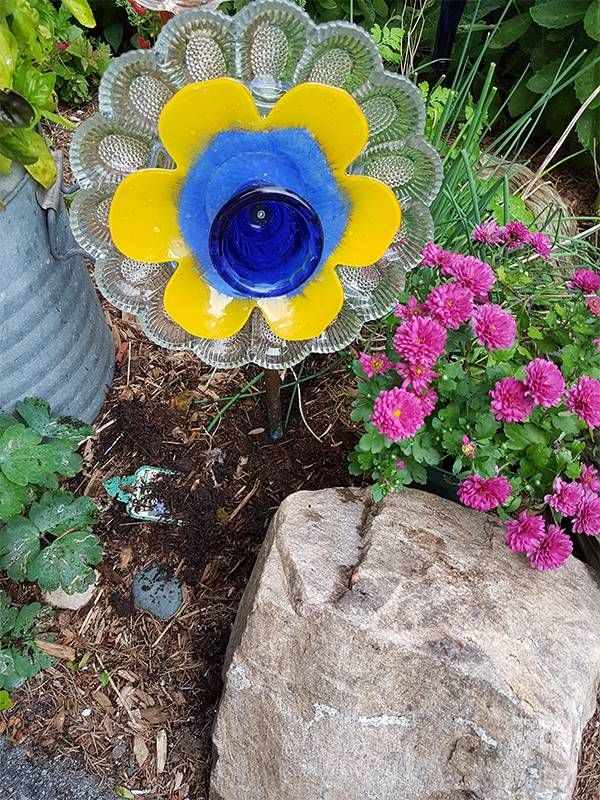 Now, Cline believes the important thing is that these precious linens are used, even if in a form different from the original creation. She travels across the country to give talks about using vintage linens.
"I hold up doilies and [similar items], and everybody's eyes light up. They're like, 'Yeah, but what do I do with them?' But that is part of the adventure," said Cline. "They want to get them out to be seen and not have them stored away."
Cline runs a Facebook group that focuses on quilting vintage items, including her own specialty: pincushions from vintage linens. More information about her wares is available on her website.
But there are other ways to use older items, too.
Diane Selkirk, a writer from Vancouver, Canada, had a beloved twin-size quilt made by her grandmother in the 1960s, using fabric swatches Selkirk's dad had given her.
"When I was growing up, my nana always had a flowery scrap-quilt she'd made on her bed," Selkirk said. "It was peak-sixties psychedelic, and I loved looking at all the bright patterns and choosing my favorites. After she died ten years ago, [the quilt] was passed along to me. Every few years, I'd pull it out and ponder. It was too small for my bed and, in its sixth decade, it was too frayed and fragile for the couch. Gradually my love for the quilt was replaced by guilt. I felt stuck with an inheritance I may have outgrown."
Her solution was to take out the quilting stitches that held the quilt together and hire a quilter to use the two full sides as new fabric to make a new, larger quilt top. She was thrilled with the end product.
"Every time I see it, it makes me smile. It makes me think of my nana, but now without guilt. I actually think she'd love it and be amused by my efforts to save it. But also really touched. She was shy and insecure, so she'd be quite thrilled that I found something of hers this important," said Selkirk.
Jewelry Through the Years
Rings, necklaces and other pieces of jewelry are another set of items that are ripe for repurposing. Rachel Weingarten, an author and co-founder of the national non-profit RWR Network in Brooklyn, N.Y., makes new pieces from leftover or broken pieces of costume jewelry that her late father learned how to make decades ago.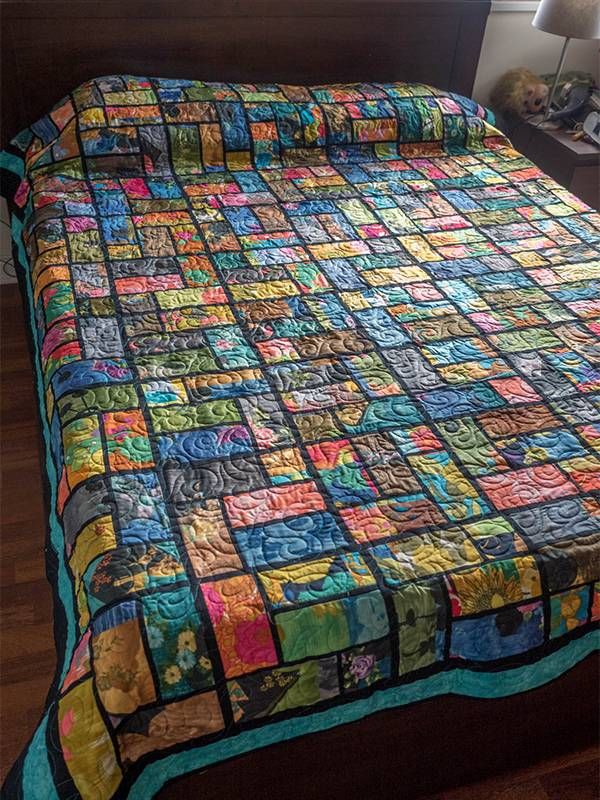 "It was absolutely gorgeous stuff, hand-set; the stones were all just beautifully made," she said. "I started to squirrel away the pieces — an odd earring here, a piece of a tiara, a piece of a gorgeous necklace. Then I would look at them and figure out what I could do with the pieces."
Weingarten made buttons for fancy evening outfits or used them to as a focal point on a crocheted evening bag, for example.
"Sometimes I would make entirely different things, like collages, and I would hide a piece inside. These tiny things are very precious to me," she said. Now, Weingarten uses many other older items to make new ones, from old keyboards and even mix tapes.
"When I make collages, I sometimes hide words in them [with the keyboard tabs]," she noted.
Honoring History or Destroying It
Not everyone is on board with repurposing older objects, though. Some people believe it is almost sacrilegious to take apart or purposefully break a vintage item, even to create something new. Helps understands why people may be reluctant to repurpose their older items.
"What purpose does it serve if it's hidden away and no one gets to see it?"
"If you are attached to it and you have a memory, such as it being a wedding gift, that could be problematic," he said.
The thing is, vintage pieces were themselves often made from scraps of other things. Selkirk's original quilt was made from fabric swatches. Older quilts may have been made from feed sacks and worn-out clothing, furniture from leftover bits. Jewelry was reset in more up-to-date styles. Humans have been repurposing things for generations. 
Weingarten pointed out that these objects are often meant to be loved, but if hidden away, that love is missing. She asks: "What purpose does it serve if it's hidden away and nobody gets to see it?"
Selkirk learned a similar lesson from her grandmother.
"One day, she had us pack up some good china and we headed to a secondhand store. She sold hers and bought a different set. I was surprised she'd sell what I thought of as an heirloom," Selkirk said. "But she shrugged and said the pattern had stopped making her smile. I think if something vintage has more emotional meaning and financial value, but it no longer fits your life, it's worth exploring if you can remake it and keep the good feelings, but increase its usability."
Marijke Vroomen Durning
is a Montreal-based writer and RN who writes about health, medicine, and life in general. She recently cofounded DecipherYourHealth.com to help people understand the healthcare system and be more confident acting as their patient advocate.
Marijke's work has appeared in Costco Connection, CURE Magazine, Forbes.com, Oncology Live, and many other publications. She also runs a quilting website, MyCreativeQuilts.com.
Read More