Watch Older Couples Ask Each Other Questions Meant for Falling in Love
In this 'Modern Love' video, three pairs show the beauty of aging with a partner
If you're in need of a pick-me-up, look no further than this New York Times video featuring three older couples asking each other simple, ubiquitous questions that inspire tender and moving responses and interactions.
The video's questions originate from one of the most popular essays to ever run in the New York Times' "Modern Love" column: To Fall in Love With Anyone, Do This, featuring 36 questions written by psychologist Dr. Arthur Aron that "lead to love," or at the very least are meant to bring strangers closer together.
So imagine three older couples who likely know almost everything about each other — and have undoubtedly asked one another thousands of questions — inquiring about things like "What would be important for a new friend to know about your partner?" and "What is your most terrible memory?" The results are touching, meaningful and show what it's like when two people nurture a lifelong relationship through all of life's many ups and downs. You can see and feel the love these couples carry for each other, so profound that they can communicate with just a gesture or a look.
One woman in the video, Josefa Rodriguez, puts it well — in Spanish, translated: "You can always learn something, even if you know a person very well. Maybe there's something that you don't know."
For Older Couples, A Deeper Understanding
The couples sit face to face with stacks of questions in between them, taking turns asking their most loved one a serious, silly or thought-provoking question.
Domingo Rodriguez tells his partner, Josefa, that his most precious memory was the first day he met her. Barbara Pilgrim reveals to her partner, Geraldine, that she wishes she had more patience. Lucille King wishes she could do five pirouettes, and Josefa wishes for good health.
Two of the couples take time to appreciate the support and caretaking they've received from their partner through loss and sickness.
The couples talk greatest accomplishments, what they have in common and what they like about each other.
The video does a brilliant job underlining the beauty and wisdom that comes with aging. It closes with lovely moments of peaceful silence where the couples take a moment to really see and appreciate one another. Josefa and Domingo exchange warm thank yous.
If you think you know everything about your partner or a loved one, try this exercise yourself. You might be surprised to find a new level of depth and understanding — or just find out something quirky and new.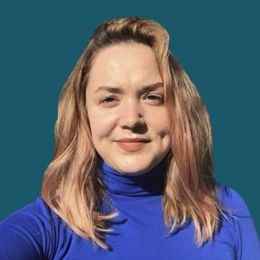 Grace Birnstengel
was an editor, reporter and writer for Next Avenue. She focused on in-depth storytelling and the intersections of identity and aging.
Read More