Wedding Dress Reboot: When Your Daughter Wears Your Gown
Whether as dress or decoration, there are ways to rejuvenate the memories
If you're a married woman over 50, your wedding dress brings back treasured memories of walking down the aisle and saying "I do." Most likely your gown has sat untouched for years. And if you have a daughter, you might even dream of her wearing it someday.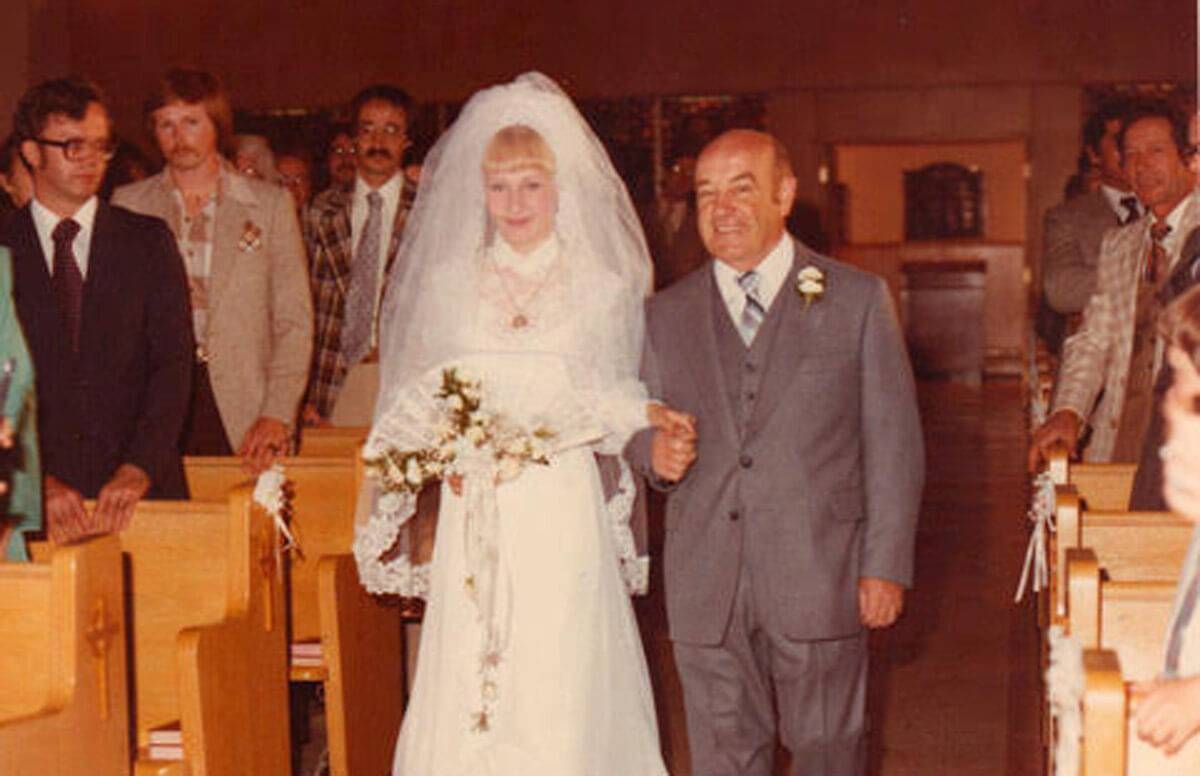 Candace Johnson from Portland, Ore. is having her dress remade for one of her daughters' wedding. Johnson has two daughters and says, "I always hoped at least one might be interested in using even a piece of it one day."
Mary Ann Logue from Youngstown, Ohio has three daughters. Only one wore Logue's wedding dress and she was happy with everyone's decisions. Logue had her limits about how the dress could be used.
"I was taken off guard when Sarah said, 'Mom, if this can be altered, would you let me wear it?'"
"I do know of people that have had their dresses made into christening outfits, but I knew I did not want to cut it up to be used in that way," she said.
Your daughter might surprise you. Kathy McLaughlin from St. John, New Brunswick never expected her daughter to wear her wedding dress.
"When she put on my old, tired looking gown, it had many of the features she wanted! I was shocked and pleasantly surprised," said McLaughlin. "The gown had been laughed at and teased about, so I was taken off guard when Sarah said, 'Mom, if this can be altered, would you let me wear it?'"
Sometimes, Great Expectations
Helping your daughter choose a wedding gown is an emotional process. Hoping she will wear your dress adds another layer of expectations.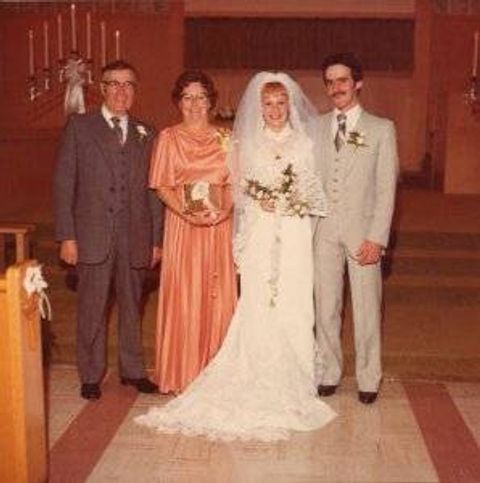 Katherine Frost, a luxury wedding planner at A Frosted Affair in Denver, points out, "The most critical part of navigating this is to avoid feeling obligated. Mom should not feel obligated to give her wedding dress to her daughter. The daughter should not feel obligated to wear her mom's wedding dress."
Frost cautions, "Before anyone takes a sea​m ripper out, there should be a frank conversation about expectations. The entire dress-altering effort should be approached with the understanding that it may not go as planned. Both mother and daughter need to agree that if the bride doesn't like the dress, she does not have to wear it."
Frost says if you can't bear to see your dress dramatically changed, don't offer it.
Johnson embraced this opportunity: "I told my daughter the dress was hers to use in any way she wanted, and that I didn't care if she wanted to wear it as is, cut it up and use only pieces or have it reconstructed in some way." She feels strongly that she had her turn to wear the dress she wanted and it is now her daughter's turn.
Wedding Dress Roadblocks to Overcome
If the gown is a go, the first step is a professional assessment.
Jenna Lang, owner of Lily Shane Bridal in Irvine, Calif., warns that even if it looks fine, old fabric may be prone to tearing or may not hold up for reconstruction.
Color is also a concern. "Many gowns oxidize and change color through the years, even when properly preserved," says Lacy Pool, bridal stylist at Unfussy Hussy in Austin, Texas.  In this situation, take it to a high-end dry cleaner to determine if the color can be restored.
When Logue got her dress out for her daughter, it had yellowed with age. A dry cleaner was able to restore it. (There are workarounds for stubborn stains.) Johnson discovered her gown had changed color, so the seamstress is using only lace and the satin under-fabric for the remade version.
If your gown has glue, it may not stand up to washing or chemical processes. When McLaughlin's dress was handwashed, "some of the beads and lace appliqués on the bottom of the dress fell off! Apparently, 40-year-old glue gets dry."
Making the Cut
Once you know your dress will hold up, alterations are next.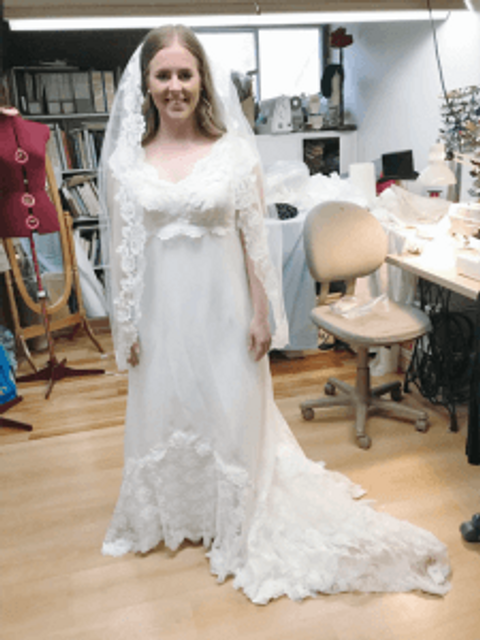 According to Pool, the easiest alterations are hemlines and taking the gown in at the seams. More complex alterations include taking off the sleeves or changing the bustline.
She points out that while many brides today want a strapless gown, your gown probably had sleeves. Altering this is possible. "The most difficult part of this transformation is ensuring that there is ample boning inside the bust of the dress for a secure fit," Pool says.
Letting a gown out can be very challenging, though, because matching a vintage fabric is difficult. But if the sleeves are being removed, they can be used to create side gussets. Altering the style of the waistline can also prove to be a significant challenge.
Work With the Right Person
To alter a wedding gown, find a specialist. Ask for referrals on Facebook or search for "wedding alterations" in your area and read reviews. Make sure the person has experience with vintage gowns.
For a remake, Pool highly recommends "going to a designer and having them sketch some concepts before allowing any transformation to take place. Ask if they have worked with your gown's material and ask to see some of their work. Schedule several appointments and request that the work be done bit by bit."
You can supervise the process and step in if things are going wrong.
Dollars and Dreams
You may be unpleasantly surprised by the cost of alterations or a remake. "If it is just small sizing alterations, (a hem, a dart) it's probably $100 to $300," says Frost. If the dress needs major sizing alterations, (such as the waist, bust, and shoulders), however, plan on $300 to $1,000. Or maybe much more.
Lang is currently completely remaking Johnson's wedding gown for Johnson's daughter. She estimates about 80+ hours of labor, at $25 an hour. The complete remake will cost $4,000 to $5,000.
She points out that there is a "misconception is that it's cheaper to get someone to make or reconstruct a dress, but in actuality, it can be a lot more expensive."
Getting Creative
If the dress can't be altered or remade or just isn't your daughter's dream, there are other ways to incorporate it into her day.
Fabric or lace from your gown can be used as a bouquet wrap, handkerchief or added to the inside of the hem as something old.
Lisbeth Levine, co-author of The Wedding Book: An Expert's Guide to Planning Your Perfect Day, says you "may be able to remove lace or fabric and turn it into flutter sleeves, a shrug or an inset on the bride's train."
Your gown could be used to make a ring bearer's pillow or a reception table runner, too.
Pool also suggests using parts of the dress in a photo opp background at the reception. Levine says the gown can be used in the chuppah [a canopy the marrying couple stands under] for a Jewish wedding.
For an option that doesn't involve deconstruction, your daughter could incorporate the dress into her photo session. No alterations are needed when the dress is just clipped to fit on the back.
A Dress for the Future
Once your daughter's day has happened, the gown remains an important family heirloom.
Logue says, "My oldest granddaughter has already asked me if she can wear the dress. She will soon be twenty-one, but does not have a boyfriend at this point. Who knows? My hope is that I will live long enough to see it happen."
Brette Sember
Brette Sember is the author of many books about divorce, child custody, business, health, food, and travel. She writes online content and does indexing and editing.
Read More