What a Financial Gerontologist Can Do For You
Merrill Lynch just hired one to help clients with holistic, long-term planning
The problem with many financial advisers is that they're myopic, which the dictionary defines as "difficult to see objects that are far away." They typically feel that helping clients in their 50s and 60s means finding investments that will perform well.
But planning for the next 20 or 30 years really means so much more — it involves dealing with vital issues such as caregiving, working in retirement, long-term care costs, legacy planning and the psychological aspects of aging. It's assisting midlifers with what 21 century retirement means now that the average 65-year-old will live to the mid-80s.
 
Help for the 'Longevity Revolution'
 
That's why I was cheered to learn that Bank of America Merrill Lynch just hired a financial gerontologist to help its Merrill Lynch advisers and, more importantly, clients deal with "the longevity revolution." She is Cyndi Hutchins, a 28-year wealth management and retirement industry veteran based in Bel Air, Md., with a Masters in Gerontology from the University of Southern California.
 
(MORE: What Aging Means Today)
 
"I'll provide education and training on a national level and meet with financial advisers so they're equipped to have the tools to understand the issues that are important to boomers as they approach retirement and take the conversations deeper than they can today," Hutchins, 53, told me.
 
Gerontologist Advises Advisers
 
As best as I can tell, Merrill is the first financial firm to appoint as an exec a gerontologist — someone who specializes in the study of the social, psychological and biological aspects of aging. As a financial gerontologist, Hutchins is an expert on the financial impacts of aging.
 
When I contacted other firms to see if they had anyone similar, I learned that Prudential has an M.D. who's a VP in its life insurance business and Wells Fargo Private Bank has "several trust and fiduciary staff members with backgrounds in gerontology and social work." Other leading brokerages didn't respond.
 
For the sake of middle-aged and older Americans, I hope Merrill is far from the last to appoint a gerontologist who'll help broaden the expertise and usefulness of advisers. And I'm not the only one.
 
(MORE: How Aging Impacts Our Family Decisions)
 
Steve Vernon, a Consulting Research Scholar at the Stanford Center on Longevity, told me he views the move as "a very progressive step."
 
A Long Overdue Step
 
It's also long overdue. As David Tyrie, head of retirement & personal wealth solutions for Bank of America Merrill Lynch, has said: "Longevity is a miracle, but it's also people's biggest fear."
 
When I spoke last year with Ron Cordes, former Chief Executive of Genworth Wealth Management and now Executive Co-Chairman at the Assetmark investment firm, about the need for advisers to take a more holistic approach, he said: "The retirement business has been all about 'The Number." You tell me when you want to cease being productive and I'll tell you how much money you'll need."
 
Needed: Life Plans, Not Financial Plans
 
Next Avenue writer George H. Schofield, 65, ran into just that recently, when two financial professionals met with him offering a "free financial assessment."
 
Schofield's response: "You've come to sell me something I don't want. Why not sell me something I do want?"  That is, financial planning as one component of an integrated, ambitious, adaptable life plan that will take him into his early 90s.
 
(MORE: Embracing the Japanese Approach to Aging)
 
What the Gerontologist Will and Won't Do
 
I asked Hutchins, who spent 20 years as a financial adviser, what types of things she hopes Merrill's 14,000 advisers will start talking with boomer clients about — especially ones she calls members of the "Club Sandwich Generation," caring for three generations of their family.
 
"Things like how do you see yourself as a caregiver, what are the issues for you and your family that could derail your retirement or make you need to plan for retirement differently," she said.
 
What Hutchins won't do, however, is meet with clients one-on-one. "I won't be advising a particular client on how to apply for Medicare or recommend a long-term care facility for a parent," she said.
 
A Personal Perspective on Aging
 
Hutchins comes at the job with a very personal take. "My mother changed jobs four times since she retired at 55," she said. And her grandmother, who died last year at 96, was retired for 41 years.
 
"We're looking at a longer retirement than in the past and there's a real need for financial advisers to be aware of the changing issues that happen over 30 years and plan for them," she said. "My goal is to make financial advisers aware of the need to change the conversation with clients."
 
What Merrill Has Planned
 
Hutchins has predicted that Merrill could have a team of gerontology specialists in place within five years.
 
But right now, she said, "I have 28 meetings on my calendar for the next year and plan to publish White Papers on topics around aging." And in the next few months, Merrill plans to introduce a "broader set of interactive resources" to assist clients.
 
A Stretched Tapestry
 
Speaking about the longevity "bonus" at the Merrill Lynch event in New York City February 18 I attended, The End of 'Old': How Living Longer is Transforming Society — and Your Life, Age Wave consulting firm President and CEO Ken Dychtwald (who's partnered with Merrill Lynch on some excellent retirement surveys) said: "The tapestry of life is stretching out."
 
Clearly, millions of us could use assistance making that tapestry, as Carole King famously sang, "a rich and royal hue; an everlasting vision of the ever-changing view."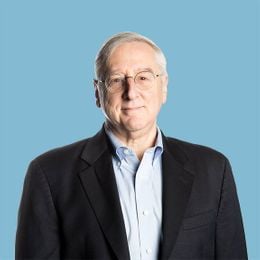 Richard Eisenberg
is the former Senior Web Editor of the Money & Security and Work & Purpose channels of Next Avenue and former Managing Editor for the site. He is the author of "How to Avoid a Mid-Life Financial Crisis" and has been a personal finance editor at Money, Yahoo, Good Housekeeping, and CBS MoneyWatch.
Read More