What's Your Money Mind?
A new best seller, 'The Money Code,' says there are three types of financial mindsets — knowing yours might bolster your dollars and sense
Personal finance books rarely make it onto The New York Times best-seller list, so when one does — like The Money Code, right now — I'm intrigued.
 
Turns out, this breezy, unconventional book by Joe John Duran, the Zimbabwan-raised chief executive of the equally unconventional United Capital financial planning firm, is actually best suited to people who'd normally never read a personal finance book.
Written in parable form — think Who Moved My Cheese? — The Money Code tells the story of Jack and the Alchemist, who reveals the secrets that will help Jack live his "best financial life."
 
Duran told me he wrote The Money Code for his sister, in her late 30s. "She was having a lot of financial struggles and found the topic of money boring — and all the books I found were about investing or how to go on a debt diet," said Duran, a chartered financial analyst who lives in Laguna Beach, Calif. "She read The Money Code in one day. Now she's making smart, tough choices; she sold the BMW, moved to a smaller apartment and is eating out less."
 
I think you ought to get Duran's book, too, even if you actually like personal finances. (Or visit its parable-free online cousin at the Honest Conversations area of United Capital's site.) All the book's proceeds, incidentally, will go to charity, mostly to help underprivileged children in the United States.
 
(MORE: Tool: What's Behind Your Financial Decisions?)
 
The 3 Money Minds
 
The premise of The Money Code is that there are three types of "money minds": Fear, Happiness and Commitment. Once you know which of those minds applies to you, Duran believes, you'll be able to manage your finances and make decisions about them a whole lot better. The book offers advice on how to make your Money Mind work for you.
 
"I'm not telling people to change their money mind or who they are," Duran said. "This isn't therapy. You just need to understand yourself."
 
If you're married or have a partner, it's a good idea to know each other's money mind, since that'll help you talk about finances together in a meaningful way. Both of you may want to read the book or take the online quiz. (Next Avenue has a somewhat similar Life Values quiz from SmartAboutMoney.org, a site from the National Endowment for Financial Education.)
 
Each of the three money minds has pros and cons, as you'll see.
 
Fear Duran says people with this money mind are "protectors." They're driven by a quest for security and peace of mind, but never feel secure or satisfied, no matter how much success they attain. These are control freaks who dwell on what could go wrong. They typically live within their means, are well prepared for the unexpected and are cautious, careful decision makers.
 
But they're slow to act, which means they often miss opportunities.
 
(MORE: Do You Worry Too Much?)
 
"If you're fear-based, you tend to wait to buy stocks until after they've gone up and then you sell once they start going down," Duran said. Not what you'd call the "buy low, sell high" strategy.
 
If I seem to be dwelling on the Fear money mind, it's because after completing the book's quiz and the interactive Money Mind Analyzer version on United Capital's site, I discovered I have one. Duran told me he does, too.
 
Of the 50- to 64-year-old people who took the money mind online quiz, 61 percent of men and 57 percent of women fell into the Fear category.
 
Happiness Duran says these money minds are "pleasure seekers." They're all about enjoying today. Thinking about the need to save often makes them frustrated and impatient, though — and, as a result, they frequently feel they don't have enough money.
 
If you have a Happiness money mind, Duran says, you're probably not too anxious about the future, but you don't spend enough time evaluating financial decisions.
 
About 1 in 5 people (18 percent) of the 50- to 64-year-olds who took Duran's online quiz were classified under Happiness.
 
Commitment Duran says people with this money mind are "givers." When making a financial decision, they care mostly about how it will affect the people they love — and believe there's always more they can give.
 
(MORE: The Holistic Approach to Retirement Planning)
 
If you have the Commitment money mind, however, you often neglect to consider the effect that your financial decisions will have on you.
 
A quarter of the 50- to 64-year-old women who completed the quiz were categorized under Commitment, a bit more than the 21 percent of men that age.
 
My Wife's Money Mind
After reading The Money Code, I asked my wife to take the money mind quiz, too. She was apprehensive, but agreed to go along.
Interestingly, her answers split pretty evenly. That means she doesn't have one dominant money mind, but a balanced one, slightly leaning toward Commitment.
 
"About 15 percent of people have balanced money minds. They see all perspectives," Duran said. "You should cherish your wife."
 
I do. Every day.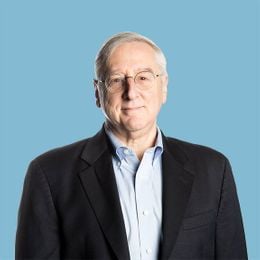 Richard Eisenberg
is the former Senior Web Editor of the Money & Security and Work & Purpose channels of Next Avenue and former Managing Editor for the site. He is the author of "How to Avoid a Mid-Life Financial Crisis" and has been a personal finance editor at Money, Yahoo, Good Housekeeping, and CBS MoneyWatch.
Read More