What to Do When An Airline Loses or Damages Your Wheelchair
Custom-made wheelchairs are lost every day, and some disability activists are calling for accountability and reform
Every time Asim Dietrich, a staff attorney for the Arizona Center for Disability Law, has flown with his custom, motorized wheelchair, the airline has damaged it.
The damage, however, is the least of his problems.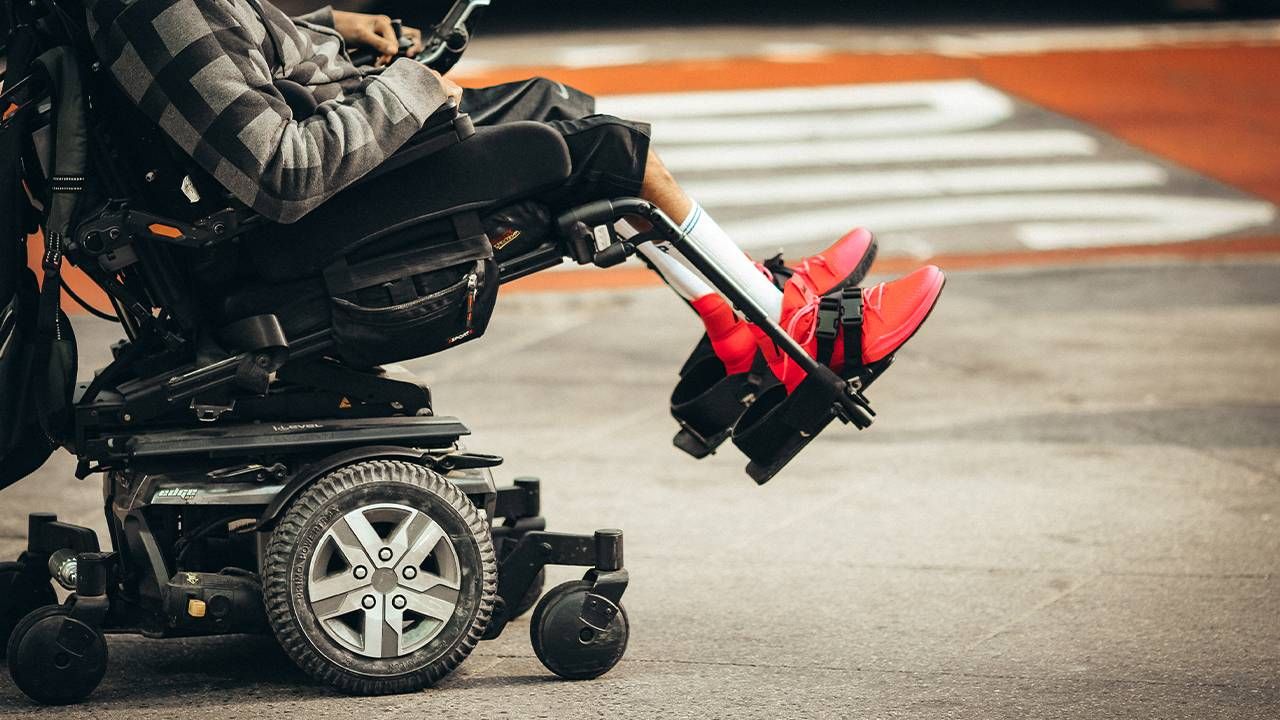 "Most people with disabilities have custom wheelchairs because we are all different and have different conditions," said Dietrich, who has relied on a ventilator and motorized wheelchair for 20 years so he can lead an independent life.
Although airlines are obligated by federal law to repair or replace damaged chairs, "scheduling repairs can be very time consuming because there are a limited number of companies that actually provide and service wheelchairs," he said. "So, an individual with a damaged wheelchair can often wait for weeks, or even months, for the repair to be scheduled and completed."
"It was the equivalent of taking my legs away from me again."
Dietrich recalled a time when his wheelchair was damaged on a flight from his home in Phoenix to Baltimore, where he was scheduled to attend a weeklong conference.
"The airline told me they would not be able to get the item repaired for several weeks, so I spent the week in Baltimore unable to drive my chair," Dietrich said.
He was forced to rely on his caregiver to navigate him around the conference. His chair was finally repaired about two weeks after he returned home.
Lost or Damaged Property and No Accountability
Roughly 5.5 million people rely on wheelchairs, but those who take to the skies to travel report that airlines often seem to have little regard for the importance of their wheelchairs to their mobility and independence.
Wheelchair-reliant flyers generally must surrender their chairs to airline baggage claim representatives, who are responsible for delivering them intact to their destination. But that doesn't always happen.
According to the U.S. Department of Transportation (DOT), roughly 29 wheelchairs and scooters were either damaged or lost every day in 2019. That was the first full year such complaints were compiled. And an average of 32 chairs and scooters were damaged or lost every day in January and February 2020, according to DOT figures, the most-recent time periods before the COVID-19 pandemic caused travel to plummet.
"We acknowledge that we are not where we want to be on this as an industry."
The Federal Aviation Administration (FAA) was charged with compiling data beginning in 2011, but it took a 2018 funding amendment by Illinois Democratic Senator Tammy Duckworth for information about wheelchair and scooter damage to finally be collected and released.
Duckworth lost both legs and some use of her right arm when the helicopter she piloted crashed in 2004 while she was deployed with the U.S. Army in Iraq.
"I know from personal experience that when an airline damages a wheelchair, it is more than a simple inconvenience — it's a complete loss of mobility and independence," Duckworth said in a 2018 statement. "It was the equivalent of taking my legs away from me again."
Avoiding Air Travel
And just knowing that risk exists has led some to avoid traveling by plane. Dietrich said the combination of the damage that's been done to his chair while flying, the delays in getting it repaired and the difficulty he faces being seated in the aircraft's cabin means he hasn't flown in five years.
"I cannot cite any statistics, but I do believe the frequent damage to wheelchairs by airlines and the difficulty and amount of time it takes to get the items repaired can deter some people with disabilities from air travel," he added.
Advocates and officials have long worked toward more accountability and less damage to wheelchairs by airlines. After a 2012 car accident cost John Morris, then 22, his legs and right arm, he began searching, largely in vain, for information about traveling in a wheelchair. Five hundred flights later with his motorized wheelchair, Morris is now the author of Wheelchair Travel, a blog offering advice to travelers with disabilities.
"The reality is, more than 1% of the world's population uses a wheelchair," he wrote on his blog. "And nearly 20% have a disability that limits one or more activities of daily living."
Although DOT statistics show that only about 1.5% of wheelchairs are lost or damaged by airlines annually, Morris thinks the actual number is closer to 50%. He encourages flyers with wheelchairs to report all damage.
Pushing for Remedies and Reforms
In addition to Duckworth, organizations and advocates are working to improve accessible air travel. An amendment to the 1968 Air Carriers Access Amendment Act (ACAA) is now before the U.S. Senate and would allow passengers and the Department of Justice to file civil lawsuits for discrimination and establish minimum standards related to: boarding and deplaning wheelchairs and other equipment; seating accommodations; restroom accessibility and proper storage of wheelchairs to minimize damage.
The Rehabilitation Engineering and Assistive Technology Society of North America is also working with airline industry experts, disability organizations, consumers, government officials, mobility device manufacturers and testing labs to develop standard labeling and education to inform airlines about how to properly and safety transport and stow wheelchairs.
"Air travel currently is a nightmare for us, and many don't even fly because of bad experiences."
The International Air Transport Association (IATA) — which represents about 290 airlines, announced in early July the formation of the first-of-its-kind coalition to examine and improve how mobility aids are transported. When wheelchairs are damaged in transit, "it is devastating to passengers, as these devices are more than equipment — they are extensions of their bodies and essential to their independence," said Willie Walsh, IATA's director general, in the announcement. "We acknowledge that we are not where we want to be on this as an industry."
The coalition will provide advice and recommendations to airlines and other stakeholders about needed policies, processes and standards.
Another Way
Meanwhile, All Wheels Up is the only organization compiling research to support passengers bringing their wheelchairs into aircraft cabins and sitting in them while flying.
"Air travel currently is a nightmare for us, and many don't even fly because of bad experiences," wrote Michele Erwin on the organization's website. She founded All Wheels Up in 2011 after trying to arrange a trip to Disney World for her young son Greyson, who has spinal muscular atrophy.
In 2016, All Wheels Up funded the first wheelchair crash test and presented the findings to Congress, prompting a National Academies of Sciences, Engineering, and Medicine's review of the research, which is expected to be released September 23, Erwin said.
"All Wheels Up is not waiting for this Congressional study to move forward with research," Erwin said. "There are several companies that already have taken steps and are working on solutions for a wheelchair spot on planes."
All Wheels Up is now working with SAE, a globally recognized professional standards organization for industries including aviation, to create specifications for an FAA-approved wheelchair and FAA-approved wheelchair docking station.
Practical Advice Until Reforms Are Enacted
While these reform efforts continue, John Morris offers tips for wheelchair users who are about to travel by plane on his blog, Wheelchair Travel (he also has other tips depending on the mode of transportation and destination):
Stow manual wheelchairs in aircraft cabins. Most airplanes have a closet that can accommodate one collapsible wheelchair. Because wheelchairs stored in cargo compartments are far more likely to be damaged, travelers with manual wheelchairs should ask for them to be stowed in the airplane cabin closet.

If a wheelchair must be stored in the cargo hold, remove loose objects. Remove attachments before checking a wheelchair, including seat cushions, cupholders, foot and arm rests and side guards and carry them onto the plane to be stored in an overhead bin.

Attach instructions on how to handle and operate power wheelchairs. Particularly important to note are how to: turn the motor on and off; set it to "free-wheel mode," which allows a chair to be manually pushed and noting from which part the chair can be safely lifted. "I've seen my two-hundred-pound power wheelchair lifted from its plastic armrests many times," Morris noted. Because multiple people may handle a wheelchair, Morris recommends attaching laminated instructions.

Bring tools needed to disassemble the wheelchair. If a wheelchair's seatback must be folded forward to fit into the cargo hold, bring the tools needed to disassemble it and instruct airline representatives on how to do so (they are required to help under the ACAA). If baggage handlers are unable to fit a wheelchair in the cargo hold upright, it will have to be stowed on its side, and disassembling it will help to prevent damage.
Steps to Take if Damage Occurs
Despite the best preventive efforts, some wheelchairs will be damaged. If that occurs, passengers should take these six steps, according to Morris and Cory Lee, an advocate for travelers with disabilities who also runs a blog called Curb Free with Cory Lee:
Know your rights. The ACAA makes airlines legally responsible for fixing or replacing damaged or lost mobility devices on flights within the U.S. or originating or ending in the country. If you have problems, call the DOT's Disability Hotline at 800-778-4838. 

Don't panic! Be firm, but calm and collected.

Document damage. For evidence in reports a passenger will likely want to file later, take pictures or videos demonstrating unseen mechanical damage as soon as possible, appended with date and time stamps.

Ask for the airlines' complaints resolution officer (CRO). Airlines must have CROs on duty during airport operating hours. Airlines may try to do quick fixes immediately, but if a fix is inadequate or the airline doesn't compensate a traveler adequately, they will need to file official complaints.

File reports immediately, if possible. Airlines have different reporting deadlines. For example, United Airlines asks travelers to submit initial reports immediately, but travelers have 24 hours for domestic flights and seven days for international flights to do so, according to Lee. If asked, a CRO is supposed to assist travelers in filing a complaint.

File a formal complaint with the DOT. Disability rights advocates estimate that for every 100 informal complaints filed with airlines about wheelchair damage or loss, only one is followed up with a formal DOT complaint. After an airline responds to a traveler's complaint, Morris recommends following up through the DOT's Air Travel Complaint/Comment Form. "Until violations of the ACAA become bad for business, airlines will continue to skirt regulations," Morris noted. "The DOT has the power to levy substantial fines against airlines, but only in response to clear, repetitive violations of passenger rights. If your rights have been violated by an airline, report it to the Department of Transportation."