When Dogs, Cats and Even Hamsters Fly For New Lives
Pet rescue missions give shelter animals and retired pilots a new leash on life
I am belted into the cockpit of a Cessna 182, a four-seater single-engine plane, flying 5,000 feet above the North Carolina/Virginia border. The pilot, Thomas Hendrickson, points to the silhouette of the Appalachians and the blue-gray rivers fanning through miles of farmland. The flight from Horace Williams airport in Chapel Hill, N.C., to Tappahannock-Essex Airport in Virginia is an hour and a half, much quicker than what would have been a four-hour car ride, meaning less stress for our passenger. Heather, a fawn-colored collie rescued from a kill shelter, is normally skittish, but as we fly over those rivers, she is sprawled Zen-like in the Cessna's back seat.
When we land in Tappahannock, a rat terrier with a surgically wired jaw is waiting to board Heather's connecting flight. Pilot Bernie Frankowiak, 50, CFO of a car dealership, will take Rocky, the terrier, to Redding, Penn., where another pilot will fly the dog to his adoptive home in New Hampshire. Meanwhile, Frankowiak will continue with Heather to Brandywine airport. There, a representative of Rescue Express will take her to her foster home.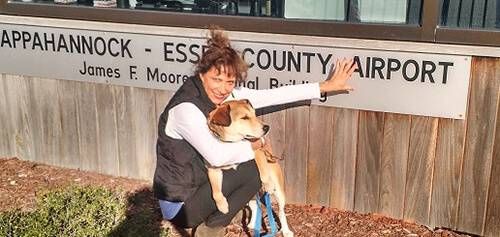 Hendrickson and Frankowiak are part of a network of thousands of volunteers who fly dogs and cats—and sometimes hamsters, snakes and birds — thousands of miles for organizations with names like Paws N Pilots, Flying Fur Rescue, Dog Is My Co Pilot, and Animal Rescue Flights (ARF). The animals are on the euthanasia list at kill shelters located mostly in the South. In Idaho, Montana, New Jersey, New York, Utah and other states that enforce spay neuter laws, rescue groups and adopters await them.
Who's Saving Who?
The pilots receive no pay and, in fact, dig into their own pockets to fund flights. Victor Girgenti, a Long Island businessman in his 50s, has flown his Piper Meridian on 750 "missions" for Animal Rescue Flights; he spends about $1,000 in jet fuel per flight.
For these animal-loving flying buffs, mission trumps cost.
"We bring animals from places they will die to places that want them, where they will live," says Dr. Peter Rork. The 62-year-old retired orthopedic surgeon founded Dog Is My Co-Pilot shortly after the death of his wife in 2012. Three times a week, he flies upwards of 50 dogs from western kill shelters to safe havens. "You save animals, but I feel they save me," he says.
Businessman and amateur pilot Jon Wehrenberg found himself languishing in retirement when an animal rescuer asked him to fly a dog interstate, fast. At 64, he co-founded Pilots N Paws, which now has over 5,000 pilots flying 15,000 animals to rescue each year.
Flying for rescues provides a renewed sense of purpose to these hobbyist pilots who, like their passengers, are moving into a new stage of life.
"I feel useful and appreciated," says retired lab technician Frank Walters, 62. Jerry Perleman, a retired music teacher from Roslyn, N.Y., values the camaraderie: "You're stepping up to the plate as part of a team."
A Need for Speed
Each day, 10,000 animals are euthanized in shelters across the county; that's about 4 million dogs and cats every year. In many cases, the otherwise healthy dogs and cats could have found adopters in other states, but transportation is the challenge. Animal rescue groups network with ground transporters, but long hauls are stressful on crated animals and animals in kill shelters don't have time to wait for scheduled transport. Pilots, on the other hand, can fly with little advance notice.
"It's terrible to think an animal is going to die because he has no transportation," says Jeff Bennett. The retired Florida businessman has flown more than 4,000 animals in the past four years on Pilots N Paws missions. Twice a month, he loads up his Cirrus SR22 with dogs and cats from the South and brings them to Florida rescues.
For Bennett, 56, the most poignant moments are on landing, when adopters first greet their new companions. "Especially the military personnel with PTSD, when they first meet their dogs, it brings tears to your eyes," says Bennett.
Pilots N Paws and similar networks do not arrange the flights; they simply post a rescue group's need for transport:
Blind lab needs ride from Lake City, FL to Franklin, MA. Distance 1039 miles.
Transport PTSD Service Dog to FL from Rochester, MN. Distance 925 miles.
Within a day, several pilots responded to the request to fly Heather, each offering a leg of the journey; within two days, the schedule was set.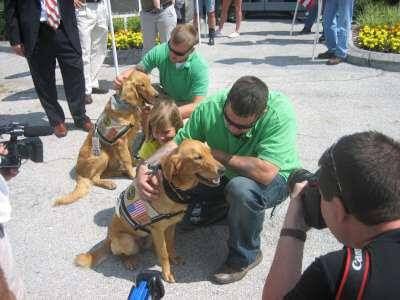 Happy Passengers
Most of the time, the dogs and cats are crated. Sometimes they are tethered to a seat or get a first-class ride with the pilot.
Rork flies his Cessna 206 with the largest dog in the passenger seat. Victor Girgenti recalls flying a nervous 175-pound mastiff/Great Dane named Sam who was too big for a crate. The dog occupied himself in the back of the jet with a bag of dog food…until he found his way to the passenger seat where he settled in, calmly gazing out the window. Layla, a rescued black lab on her way from North Carolina to service training in Ohio, sat on the lap of Pilot.dog's co-founder Pam Rhodes, while her husband piloted.
"The animals know you are saving them," says retired international airlines pilot Keith Becker, 69. Becker has flown 107 missions and over 450 dogs and cats for Pilots N Paws over the past few years. On one trip, he had tethered a large Doberman behind his seat. "When we landed, that dog gave me a big wet kiss on the back of my neck," he recalls. "You can't find a more grateful — or affectionate, passenger."
Most of the pilots are men. But several woman have been among the trailblazers. Debi Boies, an animal rescuer, founded Pilots N Paws in 2008 with Jon Wehrenberg in 2008. Pat Picornell, 55, a wealth adviser, began a Bahama route for that organization when shelters there began closing. She herself has flown more than 1,000 island dogs to mainland rescue groups.
"It's something to look forward to," Picornell says. "When the weather is beautiful, why not make a flight and pick up some dogs?"
Judith Reitman-Texier
founded CrisisDogs NC, a nonprofit matchmaker for shelter dogs at imminent risk of euthanasia and ideal adoptive homes.
Read More