When Parents Go Too Far to Help Their Kids Land Jobs
Helicopter parenting has reached the workplace, with some moms and dads even going to their kids' interviews
When it comes to helping your kid get a job after college graduation, just how far is too far? 
How about going along with him to the job interview?
That's exactly what one couple did for their son who was applying for a position at a financial software firm, according to the SmartMoney article Job Hunting: When Parents Run the Show. The young man told the interviewer his parents were there to make sure he got "a fair opportunity to get this job."
Yes, helicopter parenting has come to the office.
But it's not entirely bad news. Although showing up for your child's job interview clearly crosses the line, trying to prep him or her for the job market is a good idea — especially these days.
After all, the unemployment rate for 20- to 24-year-olds stands at a staggering 13.8 percent. And it's 15.6 percent for men in that age group, nearly twice the 8.3 percent U.S. unemployment rate.
But some parents aren't just wishing to be helpful. They're taking military control of their kids' job searches and spending huge sums to do it, according to SmartMoney.
Janine Guaraino McKown, the article says, wrote her 25-year-old daughter Megan's resumé and cover letter, crafted her "branding statement," conducted mock interviews with her, and networked on her behalf. Megan felt she lacked the job-hunting expertise to do it on her own. "It wasn't my department," Megan said. (Her mom's work paid off: Megan landed a job as a physician's assistant, earning more than $70,000.) Another involved mom, Kathleen McGinn, spent $4,500 to hire a career coach and a consultant for her 23-year-old son, Brian.
The SmartMoney story is stirring up a beehive of comments from 20-somethings and their parents.
Speaking to the kids in the article, one young blogger commented: "Seriously??!! letting mommy and daddy take charge in what is supposed to be 'your life.' As a fellow Gen-Yer, you're a disgrace and making the rest of us look unbelievably bad."
On the other hand, one helicopter parent, who is also a recruiter, admitted to lending a hand: "I think it is great when my kids ask me to review their job applications or resumé. As a recruiter, I am happy to provide insights and advice. But that's where it stops. The ideas need to be theirs and they need to be able to not only explain, but in some cases defend, their positions. So, help — yes. Showing up to an interview or putting words in their mouths — no!"
I agree. Why not coach your son or daughter to become the strongest candidate possible, assuming you're up to speed with today's job market strategies? (If you haven't looked for a job in 20 years, your advice could be out-of-date and even detrimental.)
But you need to know where to draw the line. Stay behind the scenes, offer advice, then let your kids take it from there.
As Lemov told me: "Kids have to grow up and make their own real-world decisions. Hopefully, as parents, we've taught them how to do that."
Whatever you do, Lemov says, never let your recently graduated kids see how anxious you are about the job hunt. "The anxiety message is: 'I'm afraid you're going to fail,' when the message you want to send is: 'You'll get there,'" she says.
"After all, you can have their back," she adds. "But how can they be independent grownups if you're out in front?"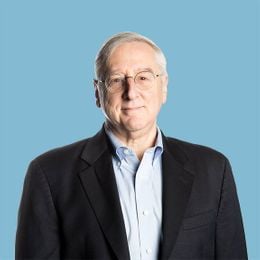 Richard Eisenberg
is the former Senior Web Editor of the Money & Security and Work & Purpose channels of Next Avenue and former Managing Editor for the site. He is the author of "How to Avoid a Mid-Life Financial Crisis" and has been a personal finance editor at Money, Yahoo, Good Housekeeping, and CBS MoneyWatch.
Read More