Who Says You Need Talent to Be on Broadway?
How anyone, including you, can work with pros and star in a show
Seven hoofers huddled around an upright piano in a bare-bones rehearsal studio on Manhattan's Upper West Side. They looked like cast members in any other Broadway musical.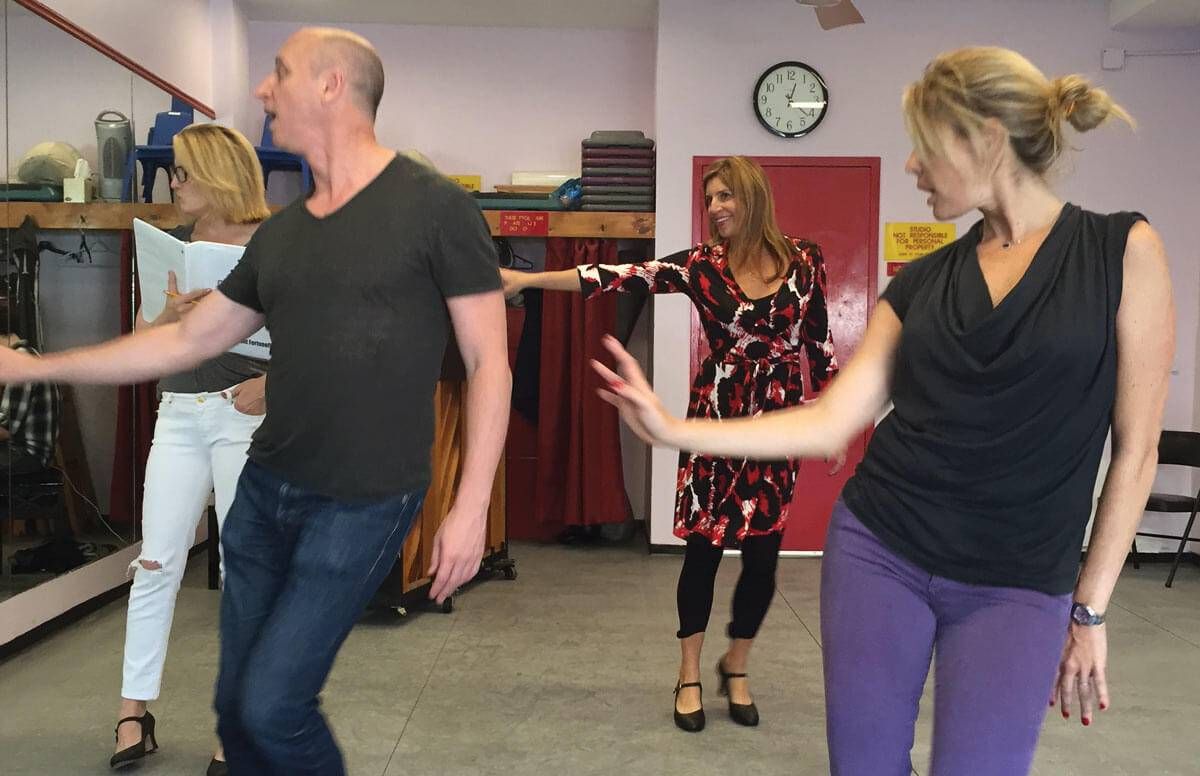 First they sang, under guidance of musical director Andy Roninson. Then they ran through Time Warp fromThe Rocky Horror Picture Show, the closing number of their upcoming revue.
Director/choreographer Nick Demos stood in front of the mirror, simultaneously demonstrating and cuing the number, doing jumps, pelvic thrusts and circles as Roninson ripped through the score at the piano.
As various cast members took center stage for cameos, Demos helped them phrase the words, some of which had made no sense until he emphasized the meaning behind them. He gave them broad theatrical movements, which helped the lyrics jump off the page and come alive.
They were getting it. But unlike experienced Broadway gypsies, this cast had not auditioned. There was no singing eight bars or performing a dance routine before a table at which steely-eyed creative team members sat in judgment.
All they needed to be part of this Voices Carry production was the yen to shine, a commitment to the rehearsals and the $995 fee.
Anything Goes
The brainchild of producer Kristen Stein and actress and vocal coach Nanne Allecia, Voices Carry gives amateur actor/singer/dancers a chance to perform on Broadway with expert coaching from veterans of the Great White Way.
"I have absolutely no formal training," says Millicent Fortunoff, a busy mom of two who runs a communications company and is making her Broadway debut at age 45. "Yet the professionals at Voices Carry have given me the confidence and guidance to get on the stage and really give it my all."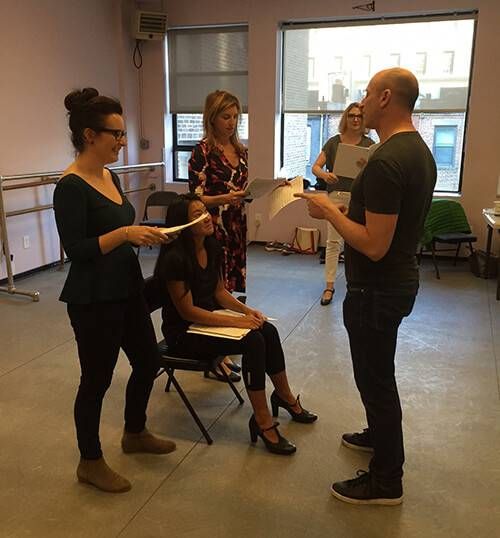 Demos says Voices Carry lets people to do theater for the reason most professionals get into show biz in the first place: because they love it. Veteran performers are often very concerned about their next job and other realities that can cloud the pure pleasure of performing. Voices Carry casts don't have that pressure.
No Business Like Show Business
Still, this is hardly a school recital. The cast needed to learn, perfect and perform 14 routines for its upcoming review — numbers from Cabaret, Chicago, Avenue Q, Gypsy and Rent. And even if the audience consisted of lots of friends, it would still be a New York audience.
There were lots of starts and stops.
There were also questions: Someone in the back asked what she was supposed to do during other people's solos. "Keep your motor running," Nick replied. Read: Keep making rhythmic moving movements with your body — a hip snap, a shoulder shrug, a steady ball change from foot to foot — so you're primed to jump in at your next cue.
Over and over, the cast repeated the moves, and — taking Demos' instruction — each time, improved their performances. Sometimes it was a little scary. One cast member was directed to jump off a stool. "Ooh, I don't know," she murmured.
A hand was offered, and this small hurdle overcome. The actors on stage were in this together, and nobody said pursuing a lifelong dream would be easy. And with the show opening in six weeks, there would surely be more hurdles to overcome.
Gotta Dance
For David Vinyon,  a software engineer turned stand-up comic who happened to be the only guy in this cast of seven, learning to dance was the biggest challenge.
"I hadn't sung in a musical since high school, though I am a big fan of my own voice," he says. "My singing was mostly confined to me playing piano and singing along by myself, in the shower, or at karaoke." Vinyon adds, jokingly: "I knew I wasn't much of a dancer. Now I have the proof." But under the guidance of a professional choreographer, even Vinyon was able to master the Time Warp well enough to perform it on Broadway.
Try It at Home
Whether or not you intend to take Time Warp to the stage, Demos says the steps to it are simple enough for anyone can try at home. Just download the cast recording on iTunes, listen to lyrics that cue the steps, and have fun:
Jump to the left
Step to the right (three times with your right foot)
Put your hands on your hips
Bring your knees together tight
Do three pelvic thrusts
Pulse your pelvis in a circle on "drive me insane"
On the chorus ("Let's do the time warp again") jump a half-turn to the right while your arms fan to the side
On the second repeat, jump a half-turn to the left.
On the second repeat, jump facing front and fan your arms to the side on the last verse of the chorus.
Deborah Quilter
is an ergonomics expert, a certified Feldenkrais practitioner, a yoga therapist and the founder of the Balance Project at the Martha Stewart Center for Living at Mount Sinai Hospital in New York. She is also the author of Repetitive Strain Injury: A Computer User's Guide and The Repetitive Strain Injury Recovery Book.
Read More