Why Aging Is the Next Big Investment Opportunity
Global Conference experts see profits where others see problems
Everybody talks about the problems the aging of America is creating, real and otherwise (stress on Social Security, older workers keep younger employees from moving up…). But some noted experts say we're looking at it all wrong.
Aging, they say, is the next big investment opportunity. Entrepreneurs, businesses and employees who hop on this trend, they believe, stand to profit enormously.
That's what I heard today at the Milken Institute Global Conference 2014 in Los Angeles, a massive gathering of Big Thinkers, Big Names and the journalists who cover them. (The panelists didn't talk about specific investments to buy, but reading between the lines, you might want to look at firms catering to boomers.)
A Remarkable Opportunity
"We hear scary stories about aging routinely," said Paul Irving, President and a board member of the Milken Institute. "I say there's a remarkable opportunity." The way Irving sees it, "we are at the early stages of a gigantic global, cultural shift and you can't underestimate the importance of it."
(MORE: How Are We Supposed to Grow Older?)
Panelist Jody Holtzman, AARP Senior Vice President for Thought Leadership, said "older people and their consumer demand is the primary driver of economic growth, accounting for $7.1 trillion in economic activity."
You might stand to gain from the longevity economy by making an investment in yourself.
Roger Baumgart, CEO of Home Instead, the leading provider of home-care services for older adults (1,000 franchise offices around the world), says one of his company's biggest challenges is finding enough caregivers.
There may be a spot for you working for companies like Home Instead.
Or perhaps running one of their local operations, especially if you're in your 60s or so. After all, as Global Conference panelist John Beard, Director of Aging and Life Course for the World Health Organization, noted: "The most successful entrepreneurs in the United States today are over 60."
Said Baumgart: "Seniors make great entrepreneurs because of their life experience, emotional intelligence and experience working with and managing different types of people."
(MORE: Do Plans We Make for Retirement Match Reality?)
What a New Retirement Survey Found
Citing a national survey her nonprofit Transamerica Center for Retirement Studies released today, Transamerica Institute President Catherine Collinson said 65 percent of boomers either plan to work past age 65 or don't plan to retire. "Is the word retirement even appropriate anymore?" she asked.
But the Transamerica survey also revealed a problem: Few employers are helping their older employees transition to semi-retirement. Only 21 percent of survey respondents said their firms have a program to help employees shift from full- to part-time. "Frankly, it's a huge disconnect," said Collinson.
This survey also found that only 41 percent of boomers said they've kept their skills up to date, which suggested another area ripe for profits. "There's a huge business opportunity in helping people stay current with their skills," said Holtzman.
Collinson agreed. "America's workforce wants to continue working," she said. "There's an opportunity for educators to update their continuing education programs. And there are fantastic opportunities for employers to work with employees to maximize their value as they shift to part-time, train and mentor younger workers — even to help with succession planning."
Better Benefits for Eldercare
Global Conference panelist Michael Hodin, Executive Director of the Global Coalition on Aging and Managing Partner at High Lantern Group (a global strategy firm), said companies would be wise to work harder helping employees with eldercare needs.
"I am convinced that, in the next several years, eldercare will be what childcare was in the '70s and '80s," said Hodin. "Companies that begin designing benefits programs to facilitate this will be very competitive."
Irving offered advice for all of us: "Think about all the things we can do, to invest, build, create, and develop to serve this dramatically expanded audience for products and services."
Smart thinking. I'll have more from the Milken Institute Global Conference in coming days.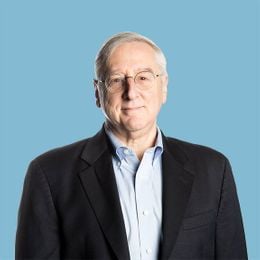 Richard Eisenberg
is the former Senior Web Editor of the Money & Security and Work & Purpose channels of Next Avenue and former Managing Editor for the site. He is the author of "How to Avoid a Mid-Life Financial Crisis" and has been a personal finance editor at Money, Yahoo, Good Housekeeping, and CBS MoneyWatch.
Read More