Why Cook With Cannabis?
Recipes for those in places where this nouveau cuisine might be helpful
(Editor's note: Pot became a symbol of the 1960s and 1970s. When you smoked it, you were saying: I'm not The Man. You could wear its leafy symbol on a T-shirt, imbibe it from a bong or bake it into brownies.
Now, decades later, marijuana has become legal for adults in some states as a recreational drug and in others as a legitimate medication to combat everything from chronic pain to seizures to nausea caused by cancer treatment.
With legalization has come a shift in society's attitudes. Instead of being anti-establishment, the new laws have created not only treatment options but also opportunity for growers, sellers and distributors.
And now, cookbook authors.
Robyn Griggs Lawrence, a Next Avenue contributing writer, lives in Colorado and has reported for this site about "potrepreneurs," how marijuana might help Alzheimer's patients, and whether boomers are still interested in it as a recreational drug.
As someone who was prescribed marijuana for pain, Lawrence had an ah-ha moment one day when selecting her medication. To her, pot smelled like herbs to be used for cooking. From that moment, she began experimenting with how to use it in foods to get its full pain-relieving effects while finding good flavors.
Below is the introduction of her new Cannabis Cookbook and some recipes for those living in places where this nouveau cuisine might be helpful.)
The Idea Behind the Cannabis Cookbook
I grew up in a Midwestern town where the sweet stink of corn sugars being processed into syrup was a daily reminder of the industry our region was built on — the price we paid for prosperity. Today I live in Boulder, Colo., where the tropical aroma of cannabis plants releasing volatile oils — difficult for warehouse walls to completely contain — hovers over certain areas. Herbaceous and far more pleasant than my hometown's fragrance, this new smell is also a by-product of prosperity.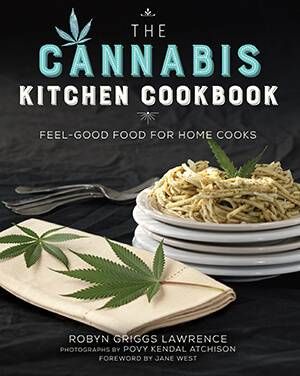 Boulder is one of a handful of places in the world where cannabis can be legally produced, sold and consumed, and the industry is booming as people discover the plant's culinary and medicinal value. Cannabis is part of many Coloradoans' fanatically healthy lifestyles, a source of inspiration and pleasure for a diverse group of professionals, carpenters, outdoor enthusiasts, yogis and soccer moms. It has brought tax and tourism dollars, worldwide attention and a deep responsibility.
If we do this right, the world will follow. People will no longer rot in jail for possessing a plant, and the plant will no longer need to be hidden behind warehouse walls. Fields of can­nabis could surround Boulder — and cities around the world — like the cornfields that ring my Midwestern hometown. And if we do this right, we will never modify or adulterate this herb to make anything resembling high-fructose corn syrup.
I became part of the cannabis economy in 2009 when my gynecologist prescribed medi­cal marijuana to ease the symptoms of dysmenorrhea. I wasn't unaware that it could round my corners when stress and hormones threatened my symmetry. I'd self-medicated before I'd had kids, but I was a newbie when Doctor Joe's prescription (and registration with the state of Colorado) unlocked the gates to my neighborhood medical marijuana dispensary, where shelves were lined with as many varieties of cannabis as there are cheeses at Dean & DeLuca. (And how do you know how many types of cheese — or can­nabis, wine, chocolate, coffee — there can be until you see them all in one place?)
The deep green herbs in this wonderland had names ranging from mouthwatering (Plush­berry) to scary (Green Crack?). After a short consultation about my needs and usage (polite and discreet), the "budtender" pulled down a few jars for me to look at and sniff. When he opened those jars, the essential oils from those nuggets filled my nostrils — oaky eucalyptus, cheesy lemon, musky blueberry — the way garlic hits your nose when you walk into Rao's. The genie was out of the bottle. Cannabis revealed itself to me as food — to be simmered, sautéed and savored rather than smoked.
Using Cannabis in the Kitchen
Trouble was, I didn't have a Joy of Cooking or Better Homes & Gardens (the two cookbooks on my counter) to tell me how to utilize the flavor of this complicated herb while also extracting its psychoactive chemical compounds — which were key to my doctor's orders. I went online and found everyone's opinions about how to cook with cannabis, and I ended up a little bit terrified: I could burn up three hundred dollars worth of cannabis in butter or send a friend on a bad trip!
And I actually knew nothing about how this new ingredient was grown, processed and delivered to me. The budtender said it was "organic hydroponic" and had a list of chemicals that weren't used in its cultivation, but what about the nutrients and fertilizers that were used to grow it in warehouses around Boulder? And why did it all have to be hydroponically grown, anyway? Most kale isn't grown that way.
The answers weren't online, so I turned to experts — real people who know the plant from years of study and experimentation. Matt Davenport, consultant and sustainable cannabis grower who's introducing permaculture principles and techniques to the industry, schooled me on how to buy (and eventually grow) the healthiest, safest and most sustainable canna­bis. Medicine hunter and ethnobotanist Chris Kilham gave me his primer, based on decades of tracking cannabis around the world and finding ways to incorporate it into exquisite food. And chefs from coast to coast — masters of flavor who share my passion for organic, nutritionally balanced food as medicine — taught me foolproof techniques for infusing but­ter and oil, how to pace myself (and friends) with cannabis food, and how to find personal dosage levels (very slowly).
They gave me the tools I needed to cook with cannabis — safely, responsibly and elegantly. They helped me fill my kitchen with the nutty bite of herbs slow-roasting into winter squash and simmering into mushrooms, and the fresh, green smell (so Boulder) of leaves from heirloom plants (grown from seeds that my sweetheart, Dennis, has been saving for decades, nurtured among the tomatoes and zucchini in his mountainside garden) being ground up into pesto. Friends gather for insightful, memorable, hilarious evenings around plates of Pottanesca sauce made with peppery cannabis-infused olive oil and wild-caught salmon with cannabis cream. Mixologist Rabib Rafiq taught me to shake up a mean can­nabis cocktail—the limit is one, only one—and caterer Jane West shared secrets for making everyone comfortable at cannabis-infused dinners and parties, learned from years of throw­ing such events in Denver.
Learning to cook with and share cannabis is a great gift — empowering, enlightening, elevating — and one that must be shared. The chefs encouraged me to compile their wisdom and recipes in this cookbook because they've seen cannabis work miracles on themselves and others, and they're doing everything they can to ensure that everyone who wants them has these tools. They sent me iPhone photos of recipes scribbled on napkins between lunch and dinner shifts, flew to Colorado for photo shoots (and feasts) and made themselves available to answer technical questions and look over recipes, even when they had a full house for Valentine's Day.
They made this cookbook happen. And as it crescendoed into existence, with a publishing deadline looming, chef and caterer Andie Leon (who had just stepped away from the chaos in the kitchen at her new restaurant to answer a recipe question) summed up for me why everyone did it. "God put this plant on the planet for a reason," Andie said. "I'll do every­thing I can so that everyone, everywhere, can use it in their own healing journeys."
Salmon and Rice Cheese Risotto with Sesame and Chia Seeds
Andie Leon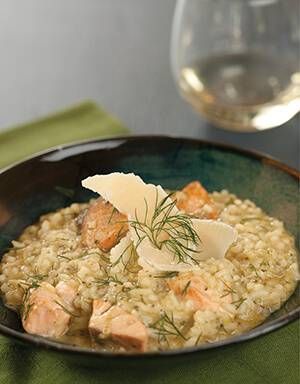 Risotto, the creamy slow-cooked rice that can take on a range of flavors from pumpkin to mushroom, is relatively quick and easy to make, but Andie Leon warns that it isn't for multi-taskers. You can't walk away from stirring the rice, even for a quick text. You have to stand at the stove, keep the stockpot hot and stir while you add fish stock a slow cup at a time, letting the rice absorb flavors and dissolve slowly into garlic, leek and onion sautéed in a quarter cup of cannabis butter to make a creamy sauce. If you skip this part and dump in all the broth at once, you'll make a tasty but gloppy cannabis rice casserole that will get you high but won't impress your friends.
Andie finishes this risotto with chunks of Alaskan, chum, sockeye, coho, pink or Chinook salmon seared in another quarter cup of cannabis butter along with a handful of healthy seeds and spices for a potent main dish that should be served as an appetizer if you're new to cannabis food. (You can cut the dosage in half or more by searing the salmon in regular butter or olive oil.)
Instead of throwing away the omega-3-packed salmon skin when she trims the fillets, Andie brushes them lightly with olive oil, sprinkles on a little salt and bakes them on a parchment-lined baking sheet in a 375-degree oven for about 10 minutes. Andie tosses the toasted skin pieces into a simple salad of greens and pomegranate seeds and serves it with this risotto for a quick, complete meal.
Serves 6
With Bonzo Butter: 8 milligrams THC
With Beginner's Butter: 6 milligrams
With Cannabis Ghee: 9 milligrams
4 4-ounce salmon fillets
½ cup cannabis-infused butter
3¾ cups fish stock
3 garlic cloves, finely chopped
1 leek, white part only, sliced
1 small red onion, finely chopped
2 cups white Arborio or Bomba rice, washed
½ cup white wine
¼ cup fresh dill
2 tablespoons sesame seeds
2 tablespoons chia seeds
1 cup mozzarella-flavor rice cheese (or mozzarella)
1–2 tablespoons plain yogurt
Himalayan sea salt, to taste
Pepper, to taste
Parchment paper
Remove skin from salmon (save it to toast later) and cut fillets into cubes. Lightly salt both sides of salmon.
Heat ¼ cup of the butter in a large, nonstick sauté pan. When butter is just starting to bubble, sear salmon chunks for 1 minute on each side. Set aside.
Bring fish stock to boil in a medium saucepan. Lower heat to keep warm.
In a large saucepan, heat remaining ¼ cup of butter. Add garlic, leek and onion. Lightly sauté, stirring occa­sionally, over medium heat for 30 seconds.
Add rice, stirring thoroughly to coat with butter. Add wine and stir continually until fully absorbed into rice.
Raise heat to high. Add 1 cup of fish stock and stir constantly until stock has been completely absorbed. Continue to add stock 1 cup at a time, stirring over medium-high heat until stock is absorbed, about 20 minutes.
Add seared salmon with the last of the stock.
Turn heat to low and add dill, sesame seeds, chia seeds, cheese and yogurt. Stir thoroughly.
Serve immediately, topped with salt and freshly ground cracked pepper.
Sweet Bonzo Butter
Chris Kilham
In 1983, Chris Kilham made his first cannabis-infused butter as a way to get extremely high. Over the years, as he came to understand the plant's healing qualities, his intentions and techniques have evolved. His but­ter has become more delicious and nutritious, boosting cannabis's health benefits with the antibacterial and anti-inflammatory properties of honey. To make his butter, Chris simmers a third of an ounce of cannabis with a stick of butter over low heat for about 20 minutes, strains it, whisks in honey and lets it solidify. Chris prefers to use a sativa for this staple, which he shares with many friends. It's lovely as a dab on toast or a dollop in a smoothie, and it works well in many recipes.
Makes about 1 cup
THC per cup: 93.6 milligrams
1/3 ounce cannabis flowers
1 stick butter (1 cup)
½ cup organic honey
1 dash vanilla extract
Coffee grinder
Place cannabis into a coffee grinder and grind until powdered. The cannabis will stick to the insides of the grinder. Scrape it out thoroughly; you don't want to waste that.
Place butter in a 6-inch, shallow frying pan or saucepan. Melt butter slowly over low heat.
Slowly add ground cannabis to butter. Stir constantly with a wooden spoon while butter simmers at very low heat for 10–20 minutes.
Pour butter and cannabis mixture into a small bowl. Let cool until butter starts to solidify, about 20 minutes in the refrigerator.
Whisk in honey.
Let cool for about an hour and whisk again, ensuring butter and honey are fully blended.
Transfer to a jar, label and store in refrigerator for up to 2 months or freezer for up to 6 months.
Roasted Garlic, Cannabis and White Bean Dip
Herb Seidel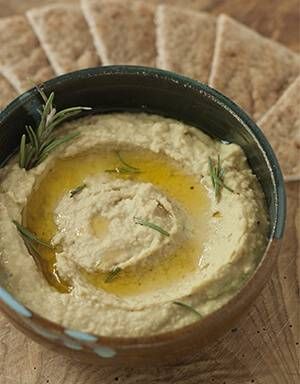 Herb Seidel says this dip made with 5 tablespoons of cannabis olive oil is an incredible start to any party, and it's great to have around for snacking. Whether served with toasted bread, baked pita wedges, celery sticks or red pepper wedges, this dip is a tasty alternative to hummus. Incorporate it into sandwiches, stir a spoonful into scrambled eggs or spread it on pizza. Herb uses an entire garlic bulb, which gives the dip antioxidant and anti-inflammatory properties. With about a tablespoon of cannabis-infused olive oil per serving, it delivers a nice buzz and a hint of cannabis flavor. Oil infused with a lemony sativa such as Super Lemon Haze or Lemon Thai is perfect in this dip.
Serves 4–6
THC per serving:
With Cannabis-Infused Coconut or Olive Oil (page 101): 28 milligrams
With 20-Minute Cannabis Olive Oil (page 103): 18 milligrams
With Beginner's Oil (page 100): 2 milligrams
1 19-ounce can cannellini beans
1 large head garlic, roasted
5 tablespoons cannabis-infused extra-virgin olive oil
1 teaspoon lemon juice
Dash hot red pepper flakes (optional)
Salt, to taste
Pepper, to taste
Chicken broth, as needed
2 tablespoons chopped tomatoes or red peppers, to garnish
Food processor
Drain beans in a strainer and rinse with water. Drain well.
Place beans in a food processor and squeeze roasted head of garlic on top. Add olive oil, lemon juice, red pep­per flakes (if using), salt and pepper.
Pulse until smooth, adding as much chicken broth as needed to create a smooth dip.