Why Your Workplace May Be Bad for Your Health
Ergonomic experts suggest smart ways to avoid straining your back, arms and eyes
Is your work killing you?
 
OK, it probably isn't. But if you're over 50, there's a pretty good chance the way you work is hurting your health.
 
And if your employer or you (if you're self-employed) don't make some changes in your workplace, you could soon be paying the price in increased sick days, higher medical bills and plain old fatigue.
 
That's my takeaway from a fascinating webinar I attended this week, called "Designing the Workplace for an Aging Population," conducted by experts at the workplace ergonomic consulting firm, Humantech.
 
To keep health costs and absenteeism down, employers will undoubtedly need to make their workplaces more inviting and suitable for older employees over the next decade or two.
Today, roughly 19 percent of the U.S. workforce is 55 or older; by 2025, 25 percent will be, according to the U.S. Bureau of Labor Statistics. "And the largest increase in the workforce population will be small-framed, older women," Humantech ergonomic engineer Kent Hatcher said in the webinar.
 
Preventing work-related injuries is especially important if you're in your 50s or 60s, because older workers heal more slowly than younger ones. "Older muscles have a reduced capacity to regenerate after tissue injury stemming from overexertion," Hatcher said. (One company that understands the need to alter its workplace is BMW, which has been redesigning assembly lines for its older workers, as I recently blogged.)
Here are three suggestions from Hatcher and his colleague Christy Lotz to reduce your health risks at work if you're in your 50s or 60s:
 
Sit less and stand (or walk) more while you're working. You'll reduce the chance of lower back pain and might also lose weight, which could benefit your health overall. Standing for 2½ hours burns 350 extra calories, Hatcher said. So if you have a desk job, try alternating between sitting and standing, if you can.
 
If you work from home and you're ambitious, you could do what author A.J. Jacobs (Drop Dead Healthy) did and build yourself a treadmill desk. This contraption, invented by Dr. James Levine of the Mayo Clinic, lets you walk on a treadmill while working on your desktop computer. Jacobs estimates he walked 1,200 miles while writing his book on his treadmill desk.
 
Focal Upright Furniture is about to start selling a workstation called Locus that allows you to select a posture halfway between sitting and standing, according to the website PSFK.com. The seat, perched atop an adjustable vertical support, looks like a standing unicycle and lets you choose the degree of verticality.
 
Be good to your eyes.  As we age, there's a decrease in our visual acuity, our ability to focus on objects of different depths, our ability to detect color contrast. So adjust the font, monitor brightness, monitor contrast, and magnification levels on your computer. For specific tips on avoiding computer vision strain, read the Next Avenue article, "Is Your Computer Killing Your Eyes?"
Master your mouse. Dr. Hillel Finestone, author of The Pain Detective: Every Ache Tells A Story, recently told The Globe and Mail that he's seeing many patients with injuries from using a computer mouse, because the constant small contractions in the hand and arm create strain. Finestone recommends taking a five-minute break from your mouse every 30 minutes.
 
Hatcher also suggests slowing your mouse's tracking speed to help avoid computer strain. "You don't want to fly past your targets," Hatcher said. The Diversity Role Models website has a good article on how to adjust your mouse tracking speed on a PC or a Mac.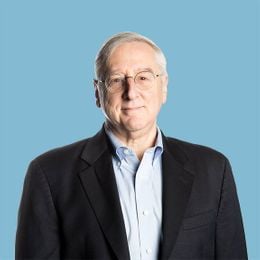 Richard Eisenberg
is the former Senior Web Editor of the Money & Security and Work & Purpose channels of Next Avenue and former Managing Editor for the site. He is the author of "How to Avoid a Mid-Life Financial Crisis" and has been a personal finance editor at Money, Yahoo, Good Housekeeping, and CBS MoneyWatch.
Read More