How Widows Can Avoid Undue Financial Hardship
These strategies can help women manage their finances on their own
Editor's note: This article is part of a Next Avenue special section about women age 50+ managing their money.
As if losing a spouse wasn't hard enough, a new New York Life survey says that many widows confront years of undue financial hardship after their husbands die. (Some widowers face similar woes, the study notes, but not nearly as much.)
 
A few specifics from this survey of 897 widows and widowers who were within 10 years of their loss:
39 percent of widows said financial concerns made dealing with the loss of their spouses more difficult (only 19 percent of widowers felt this way)
32 percent of widows said they had less financial security in the first year after their husbands died; just 15 percent of widowers said they were less financially secure after their wives died
About a third of widows were no longer able to continue saving for retirement (33 percent) or contribute to their children's college fund (37 percent) after their husbands died
40 percent of widows said they had a "negative lifestyle change" in the first year after the loss; 24 percent of widowers said they did
 
To me, the painful findings only provide more evidence how essential it is for husbands and their wives to be knowledgeable about their household finances, especially their investments.
(MORE: The Money Perils Facing Widows)
 
The Moral Obligation of Husbands
"Women's financial involvement, especially with investments, is not what it needs to be," says Chris Blunt, co-president of the Insurance and Agency Group, New York Life. "For many couples, investing is still the purview of the husband. The survey points out that this is a mistake."
 
If anything, Blunt told me, women need to be more involved as investors because the odds are they're likely to outlive their husbands and will then need to manage their investments. Men, Blunt advises, "should treat their spouses as financial partners — which they are." He calls this a "moral obligation."
 
Many of the widows surveyed said they regretted not being more prepared financially when their husbands died: 22 percent said they wish they'd had detailed conversations about what might happen financially if one of them died and 22 percent were sorry they hadn't talked about other aspects of life alone.
 
This survey echoed Prudential's Financial Experience & Behaviors Among Women poll, which Next Avenue blogger Kerry Hannon wrote about. In that one, just 20 percent of women said they felt prepared to make smart money moves.
(MORE: Financial Steps to Take After Losing a Spouse)
 
Preparing for the Death of a Spouse
Of course, as the National Foundation for Financial Education notes, "it's almost impossible to be emotionally or financially prepared for the death of a spouse."
 
This is especially true for women, I think. In an earlier Women's Institute for a Secure Retirement (WISER) survey of women who'd become widows during the previous five years, half the widows said they'd lost at least 50 percent of their income when their husbands died.
 
But one reason widows often wind up bereft is because they and their late husbands never had financial planning discussions about the possibility of life without one of them.
 
"We tend to shy away from conversations about what life would be like, how much money would you need and where would it come from," says Blunt.
To ease into these talks, you can start with high-level conversations, such as "Here are the names and numbers of our insurance agents, broker, financial planner and estate planner."
(MORE: How to Handle Finances When a Close Relative Dies)
 
Organizing Documents Is a Must
Some of the widows' financial concerns might've been eliminated if they and their late husbands and organized their key financial documents in one place. In the New York Life survey, 18 percent of widows regretted they hadn't done this.
 
In a Next Avenue blog I wrote last year, one of my colleagues, Terry O'Reilly, told me he was having a tough time putting the financial pieces of his marriage together after his wife Donna died unexpectedly at 59. He wished that he and Donna had assembled all their financial information together. "If I had died before Donna, she'd be in the same place I am. I am sure of it," Terry said.
 
It's fine for spouses to lead independent financial lives, to some extent. But that doesn't mean you can afford to be ignorant about investments each other made or your husband's or wife's bank and credit card accounts and online passwords. (After I wrote my blog about Terry, I updated "The List" I'd created for my wife, Liz, with information about our investments and insurance and my bank accounts and credit cards and asked her to give a list of her bank accounts and credit cards with the passwords. Now, everything's together.)
 
Blunt says husbands should ask (and then answer) this question: "If you weren't around, what would your partner struggle with?" A file with "after I'm gone" instructions could be an emotional and financial lifesaver.
 
Financial Advisers for Both Spouses
Another takeaway from the survey: couples who use a financial planner need to ensure that the money pro is working with both spouses, not just one. New York Life found that 18 percent of widows who dropped the couple's financial adviser after their husbands died did so because they didn't have a relationship with him or her.
 
Whether women have financial advisers or not, if they'd like to better educate themselves about finances and investing, they might want to visit sites such as Smartaboutmoney.org or Wiserwomen.org (from the nonprofit WISER group). Kerry Hannon's blogs on Next Avenue also offer excellent financial advice for women.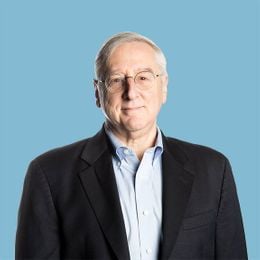 Richard Eisenberg
is the former Senior Web Editor of the Money & Security and Work & Purpose channels of Next Avenue and former Managing Editor for the site. He is the author of "How to Avoid a Mid-Life Financial Crisis" and has been a personal finance editor at Money, Yahoo, Good Housekeeping, and CBS MoneyWatch.
Read More