Worth Watching: PBS's 'When I'm 65' Retirement Show
This documentary has smart ideas on how to avoid outliving your money
Maybe you've seen the new, hysterical Nationwide commercial about the many ways we come up with to put off retirement planning. It's pretty dead-on. But the fact is, we really do need to take steps to help secure our financial futures.
A terrific, new one-hour TV documentary from Detroit Public TV, called When I'm 65: Rethinking Retirement in America, is a great way to get some smart ideas on how to do it. It's beginning to air across the country on PBS stations (Cleveland, April 9; Los Angeles, April 12; Indianapolis, Nashville and Seattle, April 13) and you can also watch the show free anytime online.
(Full disclosure: Next Avenue is produced by Twin Cities PBS — TPT — but I'd recommend the show no matter where it aired.)
Don't be put off by the show's title, which might make you think the program is a dull economic treatise.
What When I'm 65 Is About
When I'm 65 is actually a groundbreaking, entertaining look at why so many of us are having a tough time financing retirement (thanks, 2008 crash!), how to keep Social Security solvent and, most importantly, a source of suggestions on what we can do to get on track — from automatic 401(k)s to target-date funds to reverse mortgages to annuities. It's wholly appropriate that the "8 Ball" we're behind is the running design element of the show.
Narrated by David Brancaccio, the host of American Public Media's Marketplace Morning Report, the When I'm 65 program features an all-star lineup of retirement smarties including: Dan Ariely, the entertaining Duke University behavioral economist; Ken Dychtwald, president and CEO of Age Wave; Kerry Hannon, a top Next Avenue personal finance and career blogger and author; Cindy Hounsell, president of Women's Institute for a Secure Retirement (WISER); Knight Kiplinger, editor-in-chief of Kiplinger's Personal Finance; Robert Merton, an MIT finance professor; and Alicia Munnell, director of the Center for Retirement Research at Boston College. Sprinkled throughout the program are workers of various ages talking about their retirement challenges, hopes and dreams.
In setting up When I'm 65, Brancaccio notes that today's longer life expectancies mean our "golden years are stretching into golden decades" and that we're left with the DIY Retirement — "an economically secure retirement beginning and ending with the person in the mirror."
Why Saving for Retirement Is So Hard
Ariely says the person in the mirror has a problem. Saving for retirement, he notes on the show "is probably the toughest thing for people to do. Retirement is not just about [choosing between] now versus later; it's now versus very, very much later."
I asked Hannon, my colleague and friend, why she wanted to be part of this documentary. "I speak frequently to audiences around the country who are over 50 and the fear in their eyes of outliving their savings is palpable," she said. "Education, like this documentary film, can and does pave the way for people to become more comfortable with the financial jargon and aware of the consequences of not taking action."
Don Blandin, president and CEO of the nonprofit Investor Protection Trust (which partnered with Detroit Public TV on When I'm 65), said that one of the key points of the show is that "saving is not enough; you need to become a wise and safe investor."
A Show for All Ages
Blandin also wanted people to know that the documentary isn't exclusively for pre-retiree boomers. "It's for people of all ages to watch together. There are messages for Millennials, Boomers and Gen X'ers," he told me.
On the show, Hannon — who confesses to viewers that she cashed out of a 401(k) at age 30 — says: "I think that boomers did see the rug pulled out from them a little bit, but I don't think it's too late to make choices and get going." Dychtwald is interviewed saying that believes the Gen X generation "has kind of been taking notes," seeing what boomers have done wrong in their retirement planning. "And so they've set a little bit more modest expectations for retirement. Then you've got the Millennials. They've watched their own baby boomer parents hit hardships financially, and so they're a little bit more cautious."
When I'm 65 is brutally honest about the retirement-funding struggles many Americans now face, particularly the 75 million who lack access to employer-sponsored savings programs, many of whom are self-employed or small-business employees.
The Challenges Ahead
"This idea that we think we can work from 22 to 62 and then support ourselves for at least 20 years, which is the average — the arithmetic doesn't work," Munnell says on the show. Adds Ariely: "We're not too far from a day where maybe every year that you live, you have to fund this year plus another year in the future."
Although President Obama has continually proposed an auto-IRA for all workers, so no working American would be without easy access to an automatic savings plan, Brancaccio says on the show that this is still "just an attractive idea languishing in the halls of Congress."
Speaking about America's retirement challenge on When I'm 65, Merton says: "We have a big task ahead of us to do this right and it has to be done right. I'm cautiously optimistic in the sense that this is not a science problem. We know how to solve it. It's an engineering problem. And that's always good, knowing that you can solve it."
When I'm 65 is from Detroit Public Television, the Investor Protection Trust and the Investor Protection Institute, along with the Alabama Securities Commission, the Iowa Insurance Division, the Michigan Department of Licensing and Regulatory Affairs and the Pennsylvania Department of Banking and Securities.
In a few weeks, the When I'm 65 site is expected to also feature resource materials on some of the topics in the show.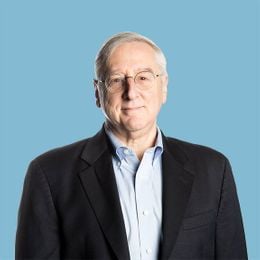 Richard Eisenberg
is the former Senior Web Editor of the Money & Security and Work & Purpose channels of Next Avenue and former Managing Editor for the site. He is the author of "How to Avoid a Mid-Life Financial Crisis" and has been a personal finance editor at Money, Yahoo, Good Housekeeping, and CBS MoneyWatch.
Read More