How Young Adults Feel About Financial Independence From Their Parents
Surprising findings from a new survey of Americans age 18 to 34
Boomer and Gen X parents sometimes fret about all they're still doing to provide financial support to their grown children. But how do the millennial and Gen Z kids feel about getting that support? Merrill Lynch and the research firm Age Wave just asked more than 2,700 of the nation's 18-to-34 year olds. You'll likely be surprised by much of what they heard. I was, and I 'm the father of a 28- and a 30-year-old.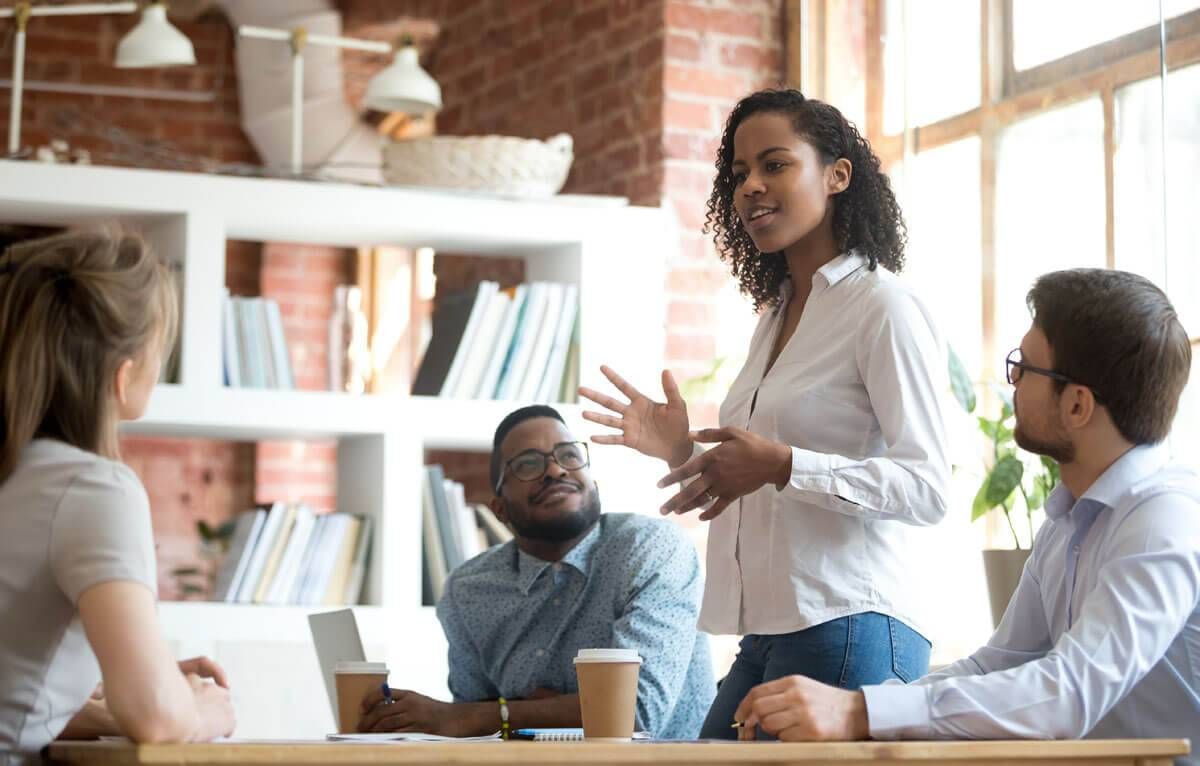 A full 70% of the early adults in the Merrill Lynch Age Wave survey said they've received financial support from their parents in the past year and 58% said they couldn't afford their current lifestyles without it. The most common types of financial support: cell phone plans; food; school costs and car expenses. Parental financial support of early adults, said Ken Dychtwald, CEO of Age Wave, is "the new normal." An earlier Next Avenue story about a Merrill Lynch Age Wave survey of parents, last year, documented that.
When Young Adults Think Financial Support Is a Bad Thing
But nearly two thirds (64%) of the young adults just surveyed said parents' financial support to children age 25 to 34 is "a bad thing," because it makes those kids dependent. By contrast, only 29% thought supporting men and women age 18 to 24 was bad; the remaining 71% thought that assistance "helps the adult children get ahead."
Dychtwald believes the young women and men surveyed were saying that by 25, young adults ought to be financially independent. In fact, the respondents said, financial independence defines adulthood — more than owning a home or starting a family.
"Financial independence is something they were struggling with and challenged by. And it scared them a bit," Dychtwald said.
One big reason they're struggling: college loans, which total $1.6 trillion. Average amount: $37,000.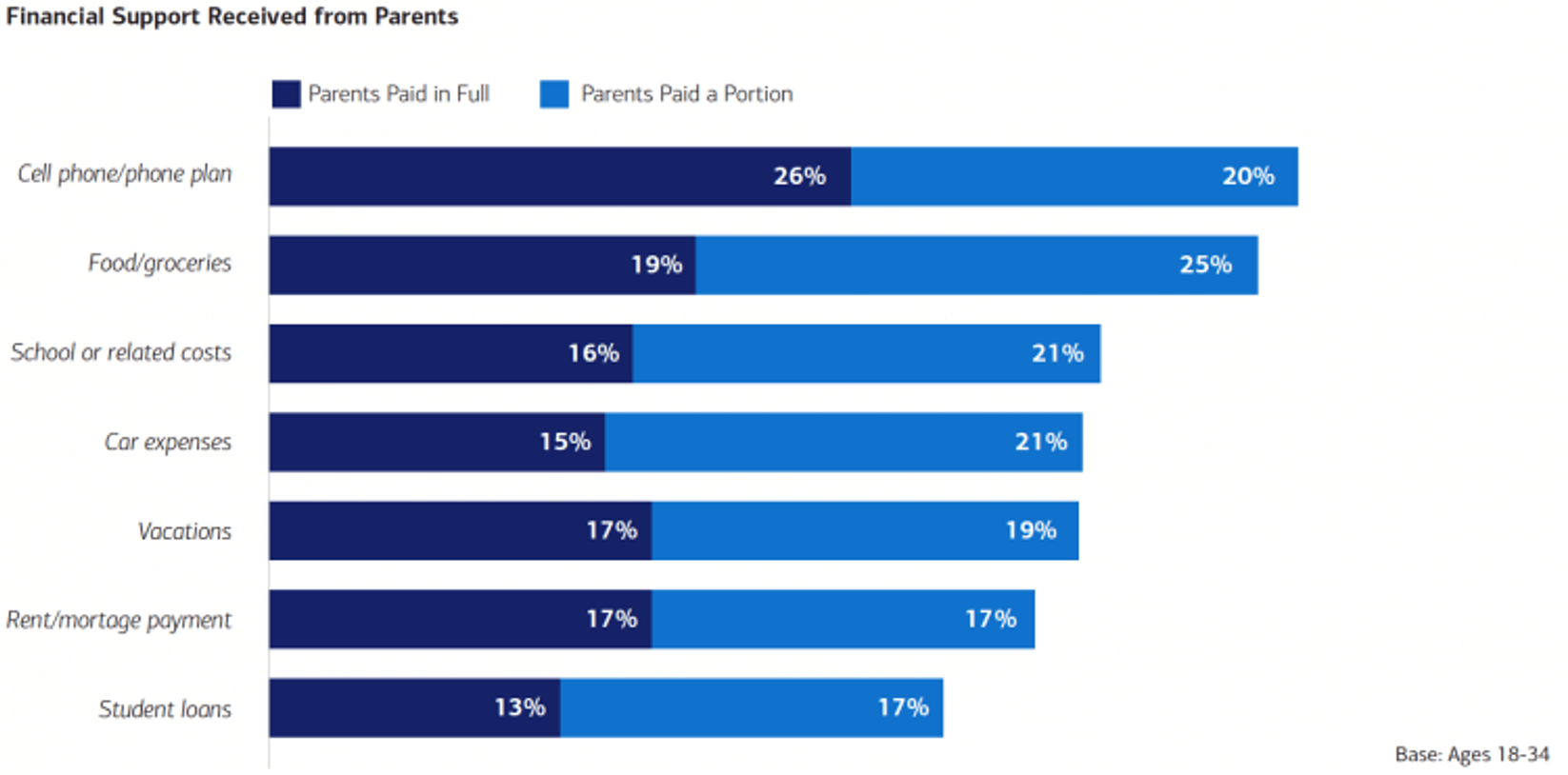 Parents Sacrificing Their Retirement
Many of the parents have taken on college loans for the kids, too, sometimes at the expense of their own finances. "I have two clients who have completely sacrificed their retirement for their kids' college education, financial planner Jeffrey E. Edwards, of Atlas Financial Planning, told Investment News in a story last week called "College Costs Can Sink Parents, Too."
In the survey, 60% of early adults define financial success as being debt-free. Whether that's likely, or even possible, anytime soon is anyone's guess.
A stunning story in Bloomberg Businessweek just noted that some students are reducing their college debt load by selling off a piece of their futures to investors. Income-share agreements have students at Purdue University, Lackawanna College and Norwich University turning over a percentage of their salary to investors instead of taking out loans. Amy Wroblewski, a higher-education recruiter in Winchester, Va. who graduated from Purdue last year, gives investors $279 a month from her $50,000 annual income, the story said.
"Debt is such a fierce part of the lives of early adults," said Dychtwald. After seeing the survey responses, he said, "I felt a lot more empathy and concern. I have more respect for the complexity and challenges of being a younger person today than I've ever felt."
The Stunning Split Between Young Men and Young Women
One finding that surprised Dychtwald, and surprised me too, however, was the split between what the young men said their financial priorities were and what the young women did. Spoiler alert: kudos to the women and raspberries to the men.
While 72% of the women said saving the future and paying down debt was a financial priority for them, only 60% of the men did. On the flipside, 40% of men said enjoying life now was a financial priority and just 28% of the women did.
"That made us stop and take a deep breath," said Dychtwald. "Women are expressing more long-term minded, responsible thinking and men are not quite as woke on that theme."
The women surveyed also believe more strongly than men — 70% to 57% — that parents' continued financial support for older early adults is a bad idea.
And, Merrill Lynch and Age Wave found, more of the women are gaining greater independence earlier than the men. Among those 30 and older, 62% of men still get financial help from parents, while just 49% of women do.
To me, that's a gap that needs closing.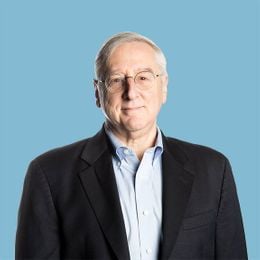 Richard Eisenberg
is the former Senior Web Editor of the Money & Security and Work & Purpose channels of Next Avenue and former Managing Editor for the site. He is the author of "How to Avoid a Mid-Life Financial Crisis" and has been a personal finance editor at Money, Yahoo, Good Housekeeping, and CBS MoneyWatch.
Read More