Your Honeymoon, Take 2
8 super-romantic destinations for grown-ups who are (still) in love
1 of 15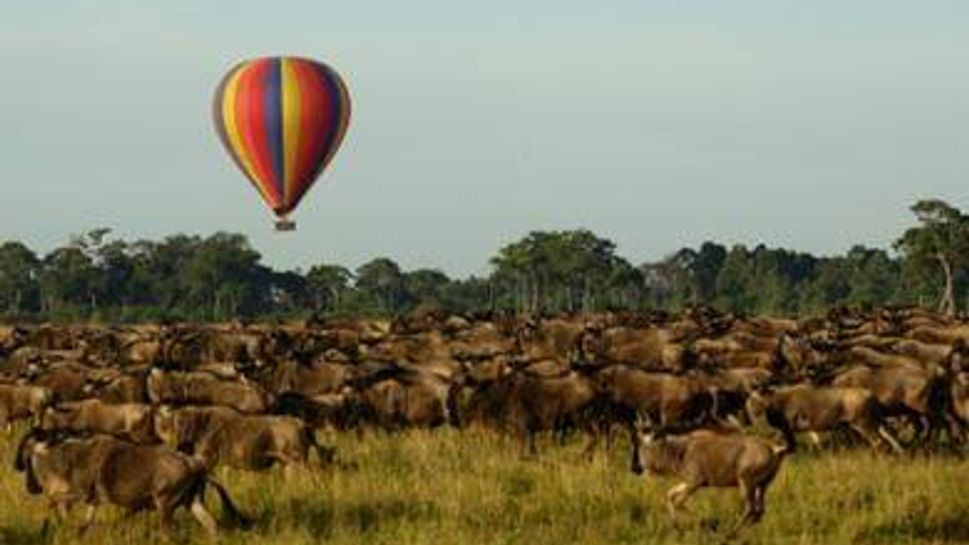 Courtesy of Micato Safaris
A superhighway for immense and beautiful beasts, Kenya can feel like a literal dream honeymoon. Real-life hallucinations include leopards climbing trees, zebras that fall into Escher-like formations and herds of wildebeest (shown here) that run for the hills as if being chased by a lone, hungry cheetah. (Unfortunately for the wildebeest, of course, the cheetah is often all too real.)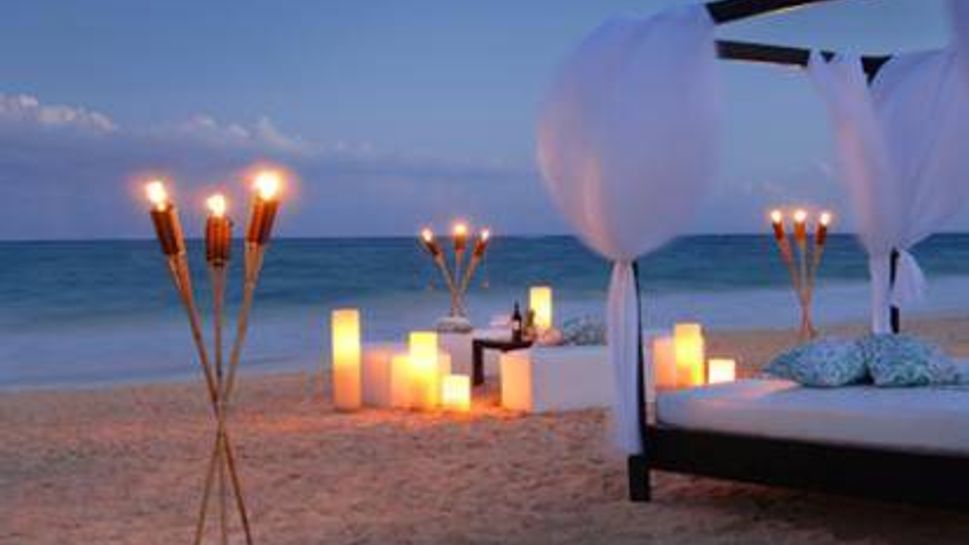 Courtesy of Fairmont
Giving the Incan universe a run for its money, the Mayan world is not only gorgeous but closer to home. Get to Cancun, and from there, you're within an hour's drive of heaven (or at least several earthly versions thereof). On the Mayakoba reserve, you'll find mangrove forests, thatch-roofed-cabanas and warm aqua seas. One of the best places to stay in the reserve, the Fairmont Mayakoba (shown here) is also close to a few sights you shouldn't miss, from the ruins at Tulum to the cenote of your chosing.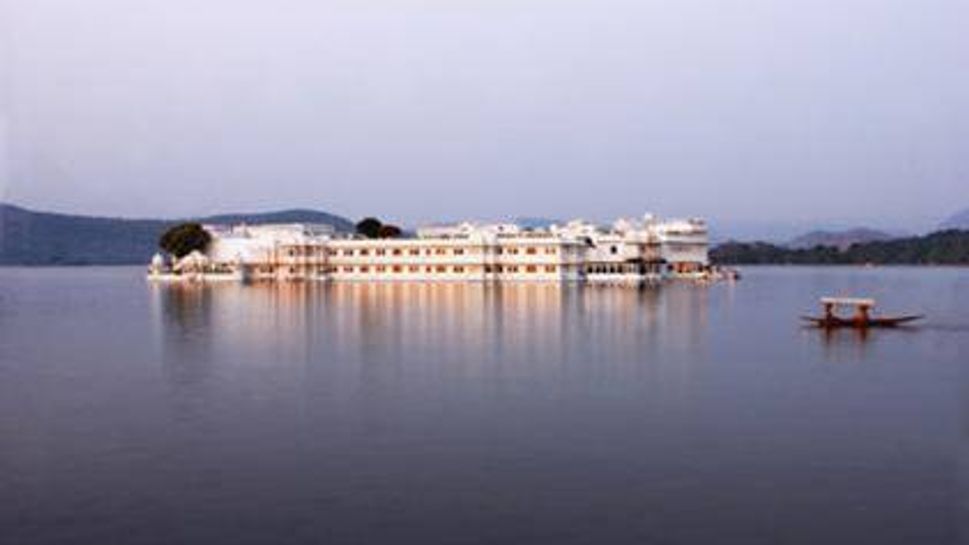 Courtesy of Taj
Kaleidoscopic, bejeweled Rajasthan — a seat of old Maharajan excess — can feel like something of an apparition, and nowhere more so than at the Taj Lake Palace in the middle of Lake Pichola, in northwestern India. Every one of the rooms is amazing, but try to book the Khush Mahal, in the rear of the palace, which was once the queen's chamber.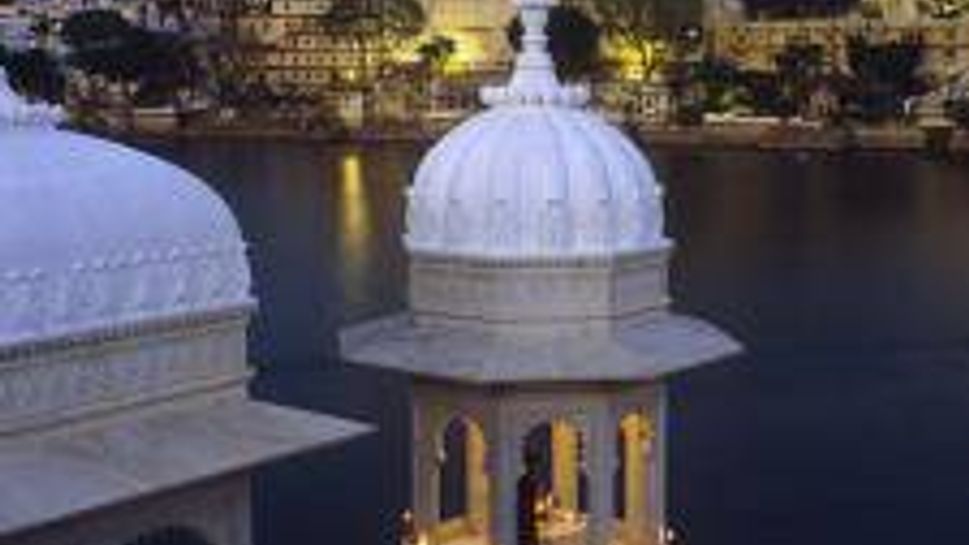 Courtesy of Taj
Udaipur, which you'll survey from your palatial lake digs, is only one of the places you should explore while in the Rajasthan. Jaipur lives up to its rep as the Pink City (and Jodphur, in turn, the Blue City), but the roadsides in between are at least as colorful, with pedestrians and scooter riders swathed in fuchsias and oranges so bright, you'll almost require protective goggles.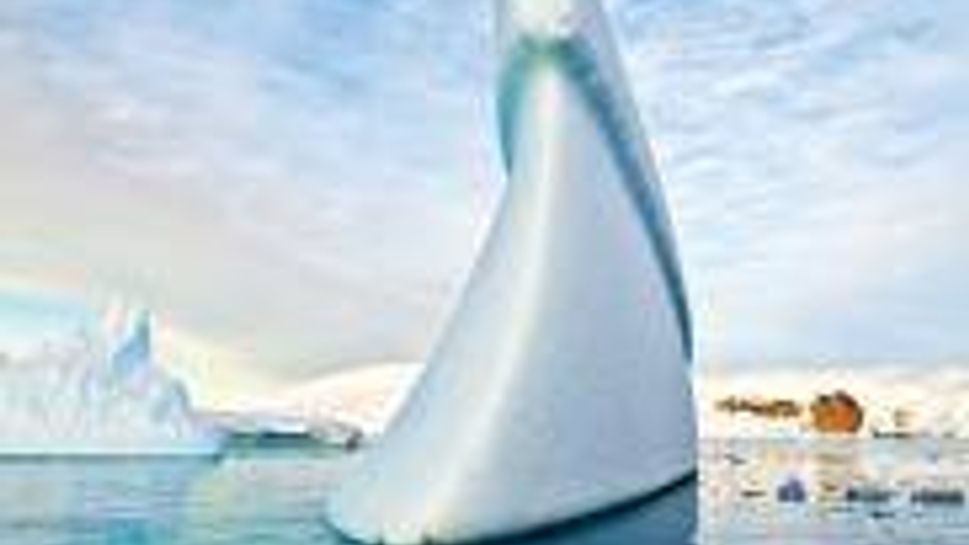 Courtesy of Lindblad
Ideally, any vow renewal is going to be magical, but here's one that simply can't help itself. You're sailing around Antarctica on Lindblad's National Geographic Explorer, and all your fellow guests receive formal invitations to the big event. At the appointed hour, after the ship has been positioned just so (think backdrop of glaciers and ice fields), the captain performs the ceremony and gives the order for the ship's horn to sound. Champagne soon follows — and flows 'til the penguins come marching home.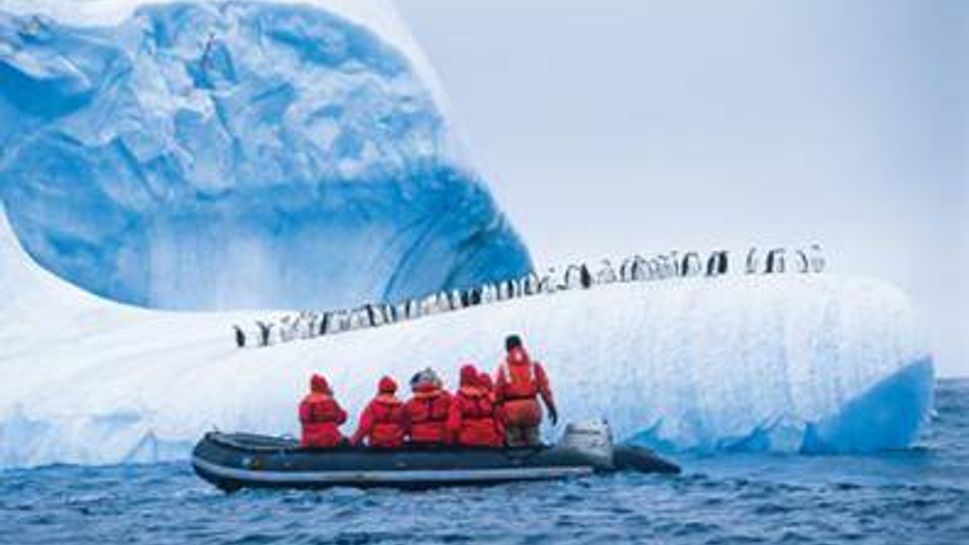 Courtesy of Lindblad
Beyond all the onboard merriment you experience sailing around Antarctica on Lindblad's National Geographic Explorer, getting off the ship once or twice a day to commune with the locals on Antarctica is at least as much fun. And, if your love is burning hot, can be a good way to cool off.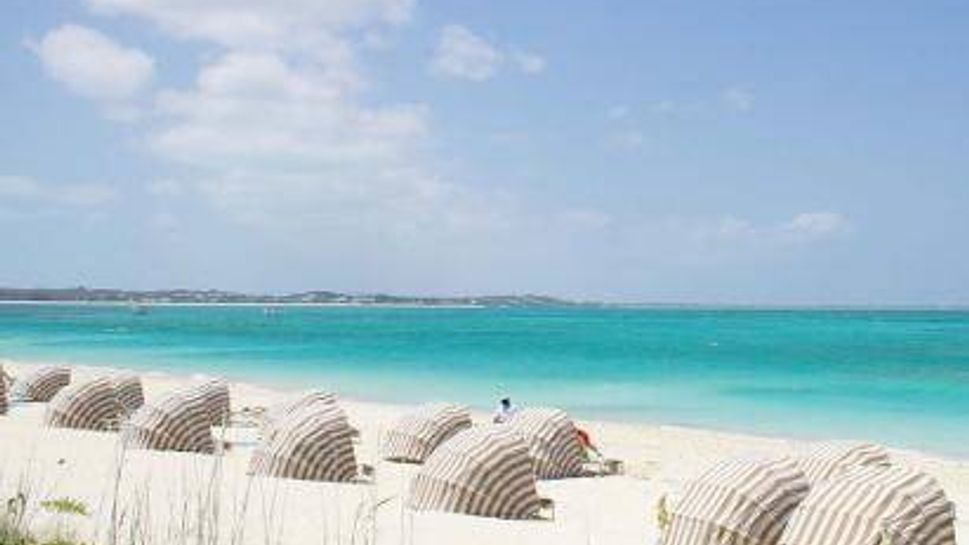 Courtesy of the Regent Palms
Sometimes all a honeymooning couple craves are blue skies, crystal-clear waters and powdered-sugar beaches — in which case, the Turks & Caicos fit to a T (&C). Though the swimming, snorkeling and diving are beautiful, the truth is you need not breach the surface to see what lies beneath. Even from a kayak, you'll often have unobstructed views to the sand (or reef) below — unless, of course, you count the billions of colorful creatures in between as obstructions.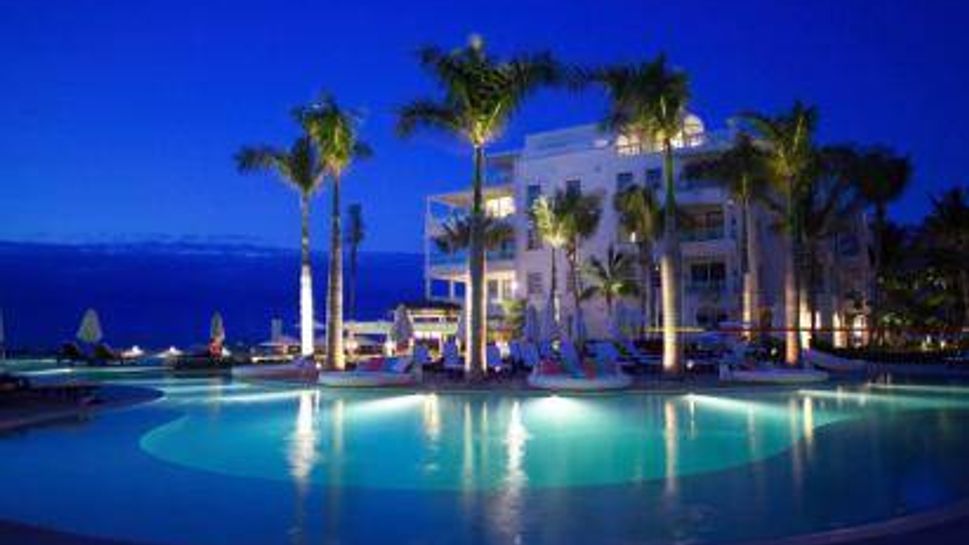 Courtesy of the Regent Palms
Although the Turks & Caicos Regent Palms is inherently romantic — situated, as it is, on the famed Grace Bay beach — ante-uppers abound, from the Harlequinesque (you can ride horses in the water as the sun is setting) to the sybaritic (the couples treatments at the spa are to swoon for).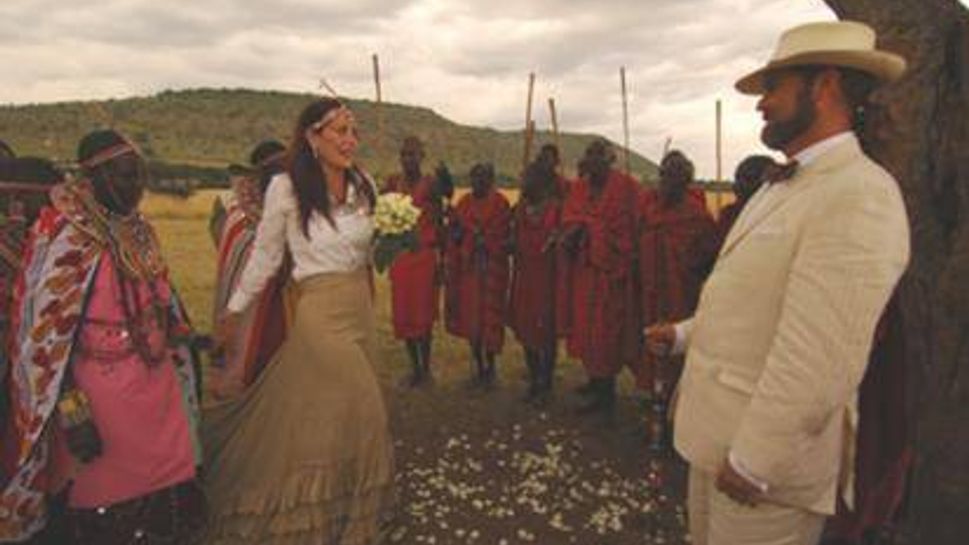 Courtesy of Micato Safaris
Micato Safaris, with its decade-long reign as Travel + Leisure's World's Best Tour Operator & Safari Outfitter, adds personal and unusual touches throughout. You can even request a ceremony among the Masai, as did Elizabeth Keegan-Phillips, 48, and Michael Phillips, 49. The company's local ties extend beyond village life and into Nairobi's Mukuru slum, where the nonprofit arm of AmericaShare funds education and health programs with a percentage of every safari's proceeds.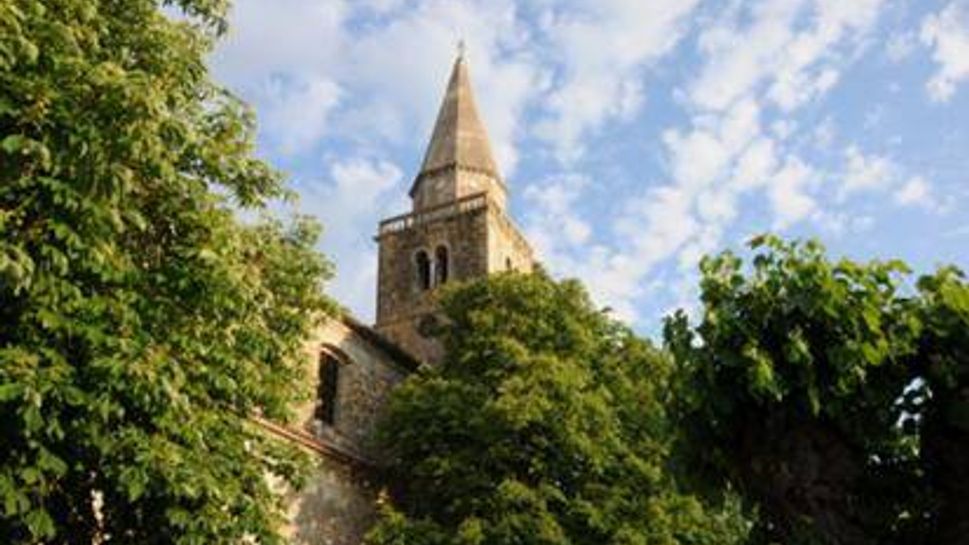 By Abbie Kozolchyk
Between its medieval hill towns and craggy coast, Istria is easily one of the most romantic places on earth. Although simple to get to (and drive around in), this part of Croatia still flies below the mass tourism radar and remains blessedly free of crowds. Give yourselves at least a few days to explore. You'll want to visit gallery-filled Groznjan (shown here), the film festival-hosting Motovun, and a thousand tiny clusters of civilization (or ex-civilization, in the case of the abandoned hilltops) in between.
By Abbie Kozolchyk
The see-through turquoise water along the Istrian Coast of Croatia is best beheld — or jumped into — from the perfectly placed rocks. While the fish is clearly fresh at any given restaurant, never pass up the opportunity for truffles and/or olive oil. Even on the coast, you're never far from the interior, where both items are specialties that rival their neighboring Italian counterparts.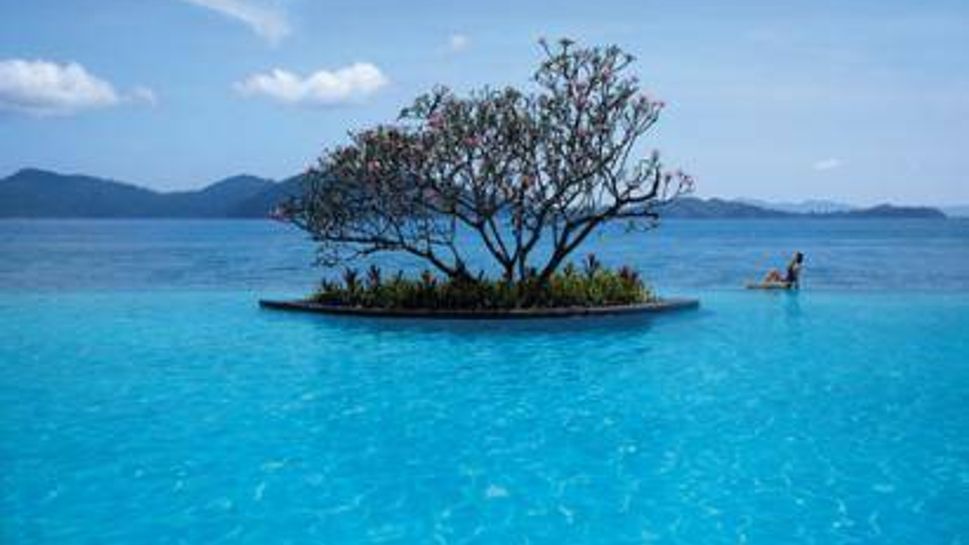 Courtesy of Shangri-La
One of those places that seems purely mythic until you arrive — and actually, even once you arrive — Borneo is like nature's sampler platter, with diveable seas, trekkable jungles, visit-able orangutan reserves and inimitable flora.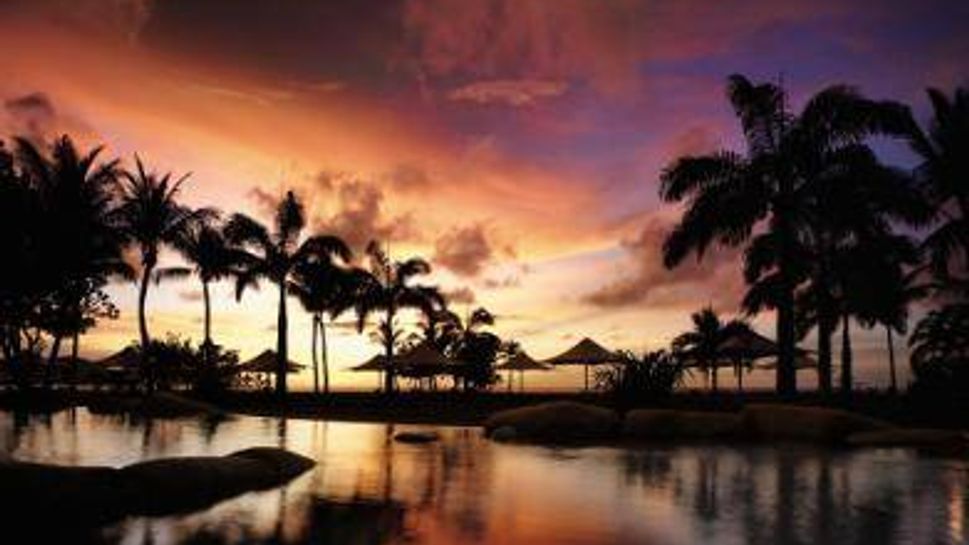 Courtesy of Shangri-La
The local digs on Borneo aren't bad either — especially when you're staying at one of the Shangri-La resorts, where the views, service and spas are so otherworldly you may never want to leave the property. You'll miss out if you don't, though. Not only does the aforementioned nature beckon, but an embarrassment of cultural and historical riches does, too.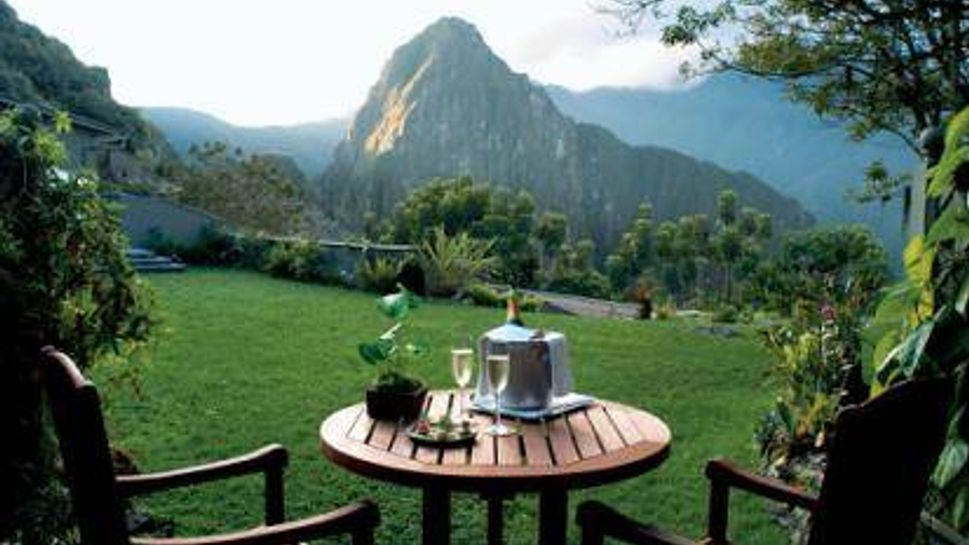 Courtesy of Orient-Express
It resides at the top of not only an Andean slope but also everybody's bucket list. And as a result, Machu Picchu can get a bit overrun — even by mid-morning. So the best way to see the Incas' most gorgeous gift to humanity is to stay nearby. Or in the case of the Machu Picchu Sanctuary Lodge, literally next door, where you have the earliest and latest possible access.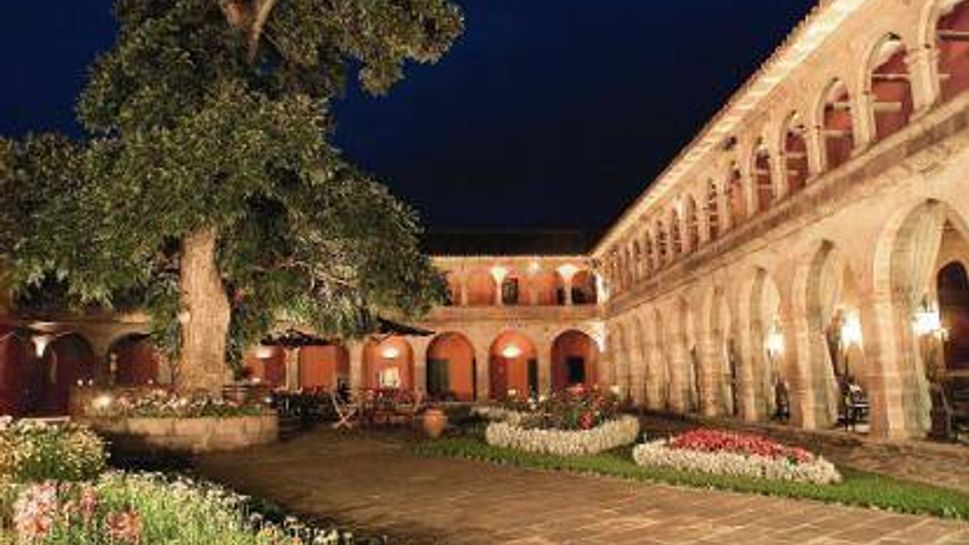 Courtesy of Orient-Express
Connected to Machu Picchu via the Sacred Valley, Cusco was once the seat of the Inca Empire and remains central to any Peruvian sojourn. Worth the trip for the Inca-Colonial architecture alone, the city is also home to various indigenous groups who've moved down from the mountains. Here you'll find innumerable variations on the Novoandina cuisine theme and, if you go in June, more or less daily festivals. One of the city's most iconic buildings, Hotel Monasterio — a cloistered, garden-filled onetime monastery — is also one of the world's best hotels. 
Hopeless romantics might rightly note that when you're in love, a Red Roof Inn off I-75 could make for a dreamy getaway. And yet when you're thinking about a second honeymoon — or the one you never had, or a vow renewal, or another marriage, or any trip intended not only to rekindle the flames but to throw incautious quantities of accelerant on them — you're generally thinking a bit bigger.
 
Yes, as magical as being a couple of love-crazed kids in Niagara Falls, Key West or Acapulco may have been, the picture is probably different now. The nest is empty, your savings account is showing signs of post-college life, you can get away for more than a week — and your bucket list is full to overflowing.
 
In other words, the moment is right. To seize it in ways you never could (or would) have before, click through this slideshow for some romantic inspiration.
 
But First: Some Tips to Save While You Splurge
 
Although "dream trip" and "budget travel" rarely go hand-in-hand, a little insider intel can save you money in even the poshest of places, according to Aimee N. Monihan–Greening, owner and event planner at Tropical Occasions, Mountain Occasions and Santa Teresa Beach Weddings.
Here are her dos and don'ts:
DO: Score freebies on your honeymoon simply by announcing you're on your honeymoon. "People love love, and often want to lavish you with all sorts of little extras — or big extras," says Monihan–Greening. "The best views, the best balconies: If the hotel staff has it, chances are, they'll give it to you."
DON'T: Assume that just because you're a twosome — or a small group, in cases of vow renewals or second weddings — you don't qualify for a hotel discount. "You don't need to occupy a massive block of rooms," says Monihan-Greening. "Just ask how many 'room nights' are necessary for a reduction. If the answer is 12, for example, it doesn't matter how you get to that number: the two of you for 12 nights, you and another couple for six nights, three couples for four nights, and so on." You could pay 10 to 15 percent less in high season and 20 to 25 percent in low season.
DO: Inform your hotel if you're booking directly and bypassing a travel agent. "When a hotel gets business through a third party, they pay an average commission of 20 percent," says Monihan-Greening. "Sometimes just noting this will get you a discount."
DON'T: Book activities through your hotel's (commission-making) concierge or activity desk. Get a guidebook before you go and pick up the free local tourism magazines on arrival so you can do this on your own. "Again, 'I'm booking directly' are the magic words," says Monihan-Greening, "so don't be shy about saying them."
Abbie Kozolchyk is a New York–based writer and editor who contributes to Conde Nast Traveler, Travel + Leisure, The San Francisco Chronicle, World Hum, Martha Stewart Living and other publications.