Your Parent or Kid Moved In: Are You Covered?
Multigenerational living may mean amending home and auto policies
A record 57 million Americans now live in multigenerational family households — double the number in 1980, according to a new Pew Research Center study. And I bet many of them have the wrong homeowner's or renters coverage and the wrong automobile insurance coverage.
I'm thinking particularly of cases where either the elderly parent (or parents) or the adult child has moved back in. At that point, here's what could happen:
Your new arrival may bring along jewelry, furniture, art, antiques, electronics or musical instruments that need insuring.
You may need to retrofit one or more rooms in your home — turning a den into a bedroom, converting a closet into a bathroom, making a bathroom safer for an elderly inhabitant. This could increase the home's value and the need for higher coverage to match.
Your dad or grown son might start driving your car, which would affect your auto coverage and premiums.
Your mother might require home care, which means you might need to get workman's compensation coverage.
"If your parents or your adult child have moved in, that should trigger a call to your insurance company," says Jeanne Salvatore, a spokeswoman for the Insurance Information Institute. "You always want to let your insurer know if things are now different."
(MORE: Surviving Your Adult Child's Move Home)
If you don't adjust your coverage to match your new living situation and suddenly face a calamity, "you could have a potential nightmare," says Rick Albers, Senior Appraisal Specialist at Chubb Group of Insurance Companies, who's based in Washington, D.C.
A few words to the wise that could save you some grief:
Homeowner's or Renter's Insurance
The first matter to deal with is: Do I have enough contents coverage? If your parent or kid brought along anything of value, there's a good chance you don't.
As a rule, insurers cover a home's contents up to between 50 and 75 percent of the home's value. Your contents limit may have made sense before your household went multigenerational. But you may need to buy a valuable-articles rider or floater to insure the new belongings.
When you do this, the "special" contents won't be subject to your policy's standard deductible; they'll have their own deductible.
(MORE: 4 Costly Homeowner's Mistakes to Avoid)
"Actual cash value policies [the typical kind] don't cover antiques," notes Albers. If your parents are bringing heirlooms, ask them whether they're also bringing coverage with them. If the answer is "no," you'll need to get some.
A tip: Take inventory of all the possessions you now have in your home by using the Insurance Information Institute's free software and iPhone/Android app that you can get at KnowYourStuff.org. Then discuss them with your agent to be certain you have enough coverage.
If you'll be renovating your home for your parent or adult kid, you definitely need to talk to your agent, says Albers. "A lot of the industry is now saying 'we won't insure an addition unless you let us know,'" he adds.
Structural changes, Salvatore says, need to be noted on your policy.
Converting a room into a bedroom also means you'll want to put up a smoke detector there, too — to help keep everyone safe in a fire.
(MORE: 7 Things About Your Homeowner's Policy)
If your frail mom brings a nurse with her into your home, "you've gone from being an empty nester to a domestic employer," says Jim Fiske, a Vice President for Chubb, based in Whitehouse Station, NJ. Then, he adds, "you've got a whole new set of issues — worker's comp, umbrella liability coverage and maybe Employment Practices Liability Coverage."
If paid home care is necessary, you really need to speak with your homeowner's agent to see which types of policies and coverage are required or recommended where you live.
Auto Insurance
Things get a little tricky when you start dealing with automobile coverage for a two- or three-generation household.
The first issue to grapple with, which affects your coverage and your premiums is: Will you put your parent or adult child on your auto policy or will they keep the one they had?
The answer will likely depend on what kind of driver they are and whether your new housemate can afford to pay the premiums.
"The least expensive driving years are age 35 to 60," says Fiske. "So as you add your parent or young adult to your policy, you can expect a potential impact to your premiums."
If your dad or adult son has had a series of driving accidents and you now need to add him to your policy, you could see a serious hike in the size of your payments.
Premiums aside, you may need to give serious thought as to whether you want your elderly parent driving your car. "As all of us age, we suffer from cognitive decline," says Fiske. "Your parent may be moving in for that reason."
Finally, this may be the time to consider getting an umbrella liability policy with $1 million or more in coverage —  or increasing the coverage you have in an umbrella lpolicy you own.
As the name suggests, umbrella insurance offers extra protection beyond what you get from your homeowner's or renter's and automobile policies. It's especially valuable protection against potential lawsuits — which you might face if, say, your dad or daughter cause a serious automobile accident.
Getting the right coverage now could save you heartaches — and money — later.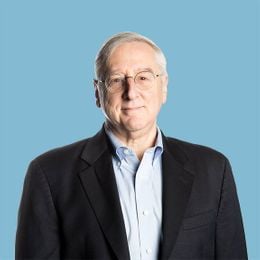 Richard Eisenberg
is the former Senior Web Editor of the Money & Security and Work & Purpose channels of Next Avenue and former Managing Editor for the site. He is the author of "How to Avoid a Mid-Life Financial Crisis" and has been a personal finance editor at Money, Yahoo, Good Housekeeping, and CBS MoneyWatch.
Read More