3 Social Media Tips to Help Women's Careers
Contrary to reports, LinkedIn and other social networking sites aren't male-dominated resources
Most of my fiftysomething female friends are hip to social media as a way of advancing their careers. Many midlife women are getting better at using LinkedIn, Twitter, Facebook and other social media to get ahead at work and when job hunting. A recent Pew Internet and American Life Project study found that women have been significantly more likely to use social networking sites than men since 2009. 
 
All of this explains why I've been pained by articles this year in Time, Huffington Post Women and other media declaring that although women may be avid adapters of social media sites, like Pinterist, we're wimps when it comes to career and business outlets like LinkedIn.
 
Women's Use of LinkedIn
The articles frequently cite a 2010 Pew survey that said nearly twice as many men (63 percent) as women (37 percent) use LinkedIn. An infographic on Informationisbeautiful.net showed similar results.
 
I don't get it.
 
All my female pals (and I) have LinkedIn profiles. Maybe those online resumés aren't as sharp or search-optimized as they could be, but they're there. Many of us belong to LinkedIn groups to share ideas — even if just with other alumni from our colleges or former employers.
 
Many of us have Twitter accounts to follow people and companies in our field.
 
We're nearly all regulars on Facebook. Although we use the social media gorilla primarily to connect with friends, some of us also take advantage of it as a platform to promote our businesses. That's what I do.
 
For fun, we're starting to dabble with Pinterest. Tumblr? Not so much, though our daughters and nieces are somewhat obsessed, especially the teenagers.
 
These are the results of my unscientific poll of a few dozen 50+ women who I contacted in October via e-mail.
 
Social Media's Importance for Your Career
Using social media for work, especially if you'll be looking for a job, isn't just smart--it's essential.
 
When I spoke about this tactic with Miriam Salpeter, author of Social Networking for Career Success and owner of Keppie Careers (a social media consulting and job coaching site), she referred me to a recent Jobvite study showing that 92 percent of U.S. companies are using social networks and media to find talent, up from 78 percent just five years ago.
 
"There's no easier way to showcase what you know to a broad audience of potential colleagues, networking contacts and hiring managers than via social media," Salpeter told me.
 
(MORE: How Are Women Really Doing on the Job Front?)
 
As I have written in my new book, Great Jobs for Everyone 50+, and in a recent Forbes column, most professional job searches these days are at least started on social media platforms, like LinkedIn and Twitter. Simply put, social media makes it easy for people to learn about you, which is vital to landing a job. For workers over 50, social media is an ideal way to show prospective employers that you're not a technophobe.
 
I don't even have a resumé in the traditional sense. When someone asks me for one, I send them two URLs: my LinkedIn profile and my website.
How Women Use Social Media For Work
So what gives with these surveys and articles? Are my friends and female colleagues the only non-Luddites out there?
 
Nope.
 
For proof, I introduce this evidence: an August 2012 article by Pingdom, an Internet tracking site whose research supports my own informal survey. Pingdom's findings, which contradict the earlier Pew survey: "When you look at all the data together, it becomes clear that women rule social media, including LinkedIn." Facebook and Twitter are both 60 percent female, 40 percent male; LinkedIn is about 54 percent female. It's the tech-focused sites that have more male users than female.
 
But just in case you're a woman who has yet to leverage social media to promote your personal brand, here's what I recommend you do straightaway:
 
1. Set up a free LinkedIn account. LinkedIn is where recruiters go when they have a job to fill. It's a fast way for you to build a far-flung professional network.
 
"Your job is to be where the recruiters and hiring managers look," Salpeter says, "and they are clearly looking at LinkedIn."
 
Next Avenue has a helpful article on how to create a winning LinkedIn profile. In general, it should be well-rounded and include a professional-looking headshot. You can even add a PowerPoint presentation, a video clip of yourself and a link to a WordPress blog, if you have one.
 
(MORE: 6 Ways Small Business Owners Should Use LinkedIn)
 
Once you're on LinkedIn, stay active. Join its alumni and industry groups. Search for people you know and connect with them. Try connecting to a few new people each day to continually broaden your network. When you ask someone to connect with you, include a personal note. Otherwise, you'll come off as a moocher.
 
2. Open a Twitter account. Follow people or companies who interest you and ones you might want to interview with for a job someday. You can learn quite a bit about a company and industry trends just by following tweets.
 
Consider connecting your LinkedIn updates with your Twitter account stream, as I do. That lets you keep current with social media more quickly.
 
And add your LinkedIn and Twitter handles on your e-mail signature so anyone getting an email from you will know how to find you through those social media outlets.
 
3. Share, ask and engage. Identify an online community of "thought leaders" who discuss your field through social media and share information regularly, Salpeter suggests.
 
Depending on your expertise, your community could be in LinkedIn, Twitter or even Pinterest. Go where the buzz is and begin to engage by sharing your knowledge, asking questions and contributing to the conversation.
 
The underlying purpose of these professional social media maneuverings is to gradually expand your business network and open up potential opportunities, whether you're looking for a new job or not.
 
Feel free to incorporate news about your personal life.
In my view, there's nothing wrong with posting on Facebook a picture of an Irish castle where you're vacationing if the spirit moves you. (That's me on the left.)
You never know. The snaps just might make for an interesting job interview discussion one day, if the hiring manager checks out your page.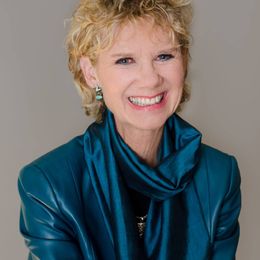 Kerry Hannon
is the author of Great Pajama Jobs: Your Complete Guide to Working From Home. She has covered personal finance, retirement and careers for The New York Times, Forbes, Money, U.S. News & World Report and USA Today, among others. She is the author of more than a dozen books including Never Too Old to Get Rich: The Entrepreneur's Guide to Starting a Business Mid-Life, Money Confidence: Really Smart Financial Moves for Newly Single Women and What's Next? Finding Your Passion and Your Dream Job in Your Forties, Fifties and Beyond. Her website is kerryhannon.com. Follow her on Twitter @kerryhannon.
Read More