The 3-Step Plan to Recalibrate Yourself in Midlife
Advice from the author of 'Recalibrate for Life 2.0'
(The following is excerpted from Recalibrate for Life 2.0: Transition Stories for Business Leaders by Susan Spaulding.)
It wasn't in my business plan to be a consulting resource for senior leaders and business owners moving toward retirement. I'm a business consultant — and boomer — with my own questions about what I now call Life 2.0. But after having a series of "what's going on here" moments, I realized there were stories that needed to be shared.
After selling my own market research company to become a partner in a larger business, I found the 80-hour-a-week work schedule and life lived on airplanes had gotten old. So I left the partnership for more flexibility and peace. My consulting startup generated the opportunity for meetings with business colleagues who were not wondering about my exit plans; they were wondering about theirs.
They seemed to be asking, "What should I do now that I'm grown up?" And, as importantly, "How will I decide?"
In Recalibrate for Life 2.0, I offer stories of 14 senior leaders who are writing their version of Life 2.0. But how can you recalibrate yourself?
Here's how:
I've found these five key questions quickly identify a person's state of readiness for Life 2.0:
1. What are three things that are dominating your thinking about your transition?
2. Do you have a transition strategy?
3. Do you have a transition timeline?
4. How have you envisioned your transition?
5. How long have you been thinking seriously about your exit from the organization?
You may find that simply answering these questions will provide an excellent reason to start transition planning. Once you've clarified your transition strategy, a simple three-step plan will get you started. You will assess, then plan and then experiment to test what you learned.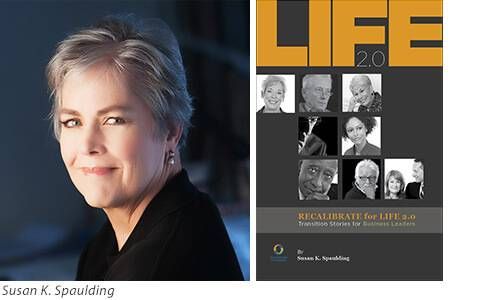 Step 1: Assessing With an Inventory
Now, you'll want to answer some more focused questions to constitute a capture of You, Current State.
The Facts
What are your assets, in terms of skills and expertise?
What makes you an authority in your area of expertise?
What have you done or achieved so far to earn that status?
The Positives
What is positive about where you have been?
What is positive about where you are going?
What is positive about who you are?
The Feelings
How do you feel right now?
How do you feel when you are at your best?
How do you want to feel?
What is your passion?
The Possibilities
What are some possibilities for what you do next?
What do you want to accomplish in the near term?
What do you want to discover or learn?
The Downsides
What might be the barriers or bottlenecks?
What is holding you back?
The insights you've captured to the Asset Inventory questions will lead you to the next powerful step: Building a story and a plan.
Step 2: Building a Story and a Plan
There are three important elements to your story, which you can draw from the inventory you have completed:
Purpose — what you do
Passion — why you do what you do
Personality — how you want people to experience who you are and what you do
By drafting your story, you are well on your way to creating your "brand" promise. Now it's time to design your plan of action by answering these five questions:
1. What do you intend to do?
2. What is the point of doing this?
3. How will you measure your success?
4. What resources will you need to do what you want to do?
5. When will you have completed what you want to do?
Now that you have a direction in mind, it is time to put it to the test.
Step 3: Exploring and Recalibrating
Here, I'm asking the question: What small-scale experiments can you try to pre-test your ideas and interests? Come up with a mini-experiment or two that will let you apply your newly honed knowledge about yourself to see how close your personal insights are to reality.
As you consider how to invest yourself for the next phase of your journey, experiments let you refine the insights you gained during a personal inventory. Then you can use experiments to refine the action plans you generated from that inventory.
In other words, you can use exploring and experimenting to recalibrate your pathway to the changes you are seeking.