4 Essential Style Tips for Retired Women
'Fear and Clothing' author Cintra Wilson says: Wear what you want
A woman's closet — whether organized by color, season or wearable sizes — is "a laboratory in which you may invent astonishingly powerful voodoo," writes Cintra Wilson in her book, Fear and Clothing: Unbuckling American Style.
"Style," Wilson says, "is one of the most remarkably fast, proactive and gratifying ways to change your mind, change your mood — and, as a surprising result — change your circumstances." Wilson, 48, is my new style guru. And I have new clothes fresh off the end-of-summer clearance racks to prove it, even if they aren't exactly what you would call high fashion.
Back when Jan and Dean sang in the mid-'60s about The Little Old Lady from Pasadena, women of a certain age dressed better than we do now. I think about this every morning now as I put on my jeans, choose a T-shirt (Star Wars? Tie-dye? San Francisco Giants?) and don a sweatshirt or fleece pullover.
The city I live in — San Francisco — repeatedly has been singled out for a lack of fashion sense. In 2010, an article in The New York Times called the Bay Area "the land that style forgot" and a year later, GQ named San Francisco "one of the worst-dressed cities in the nation." In March 2014, writing in New York magazine, Molly Young may have nailed the reason. "It's easy to imagine the city's residents, encountering beauty wherever they look, finding themselves utterly uncompelled to compete," she said.
But dressing down is not just a San Francisco thing. A former executive at a publishing house told me recently, "After I retired, I got rid of 50 pairs of high heels and tons of suits and grown-up lady dresses." When we spoke, she was wearing jeans and a T-shirt. Hear, hear!
Dressing for Retirement Success
Is this unwillingness to dress up some kind of retaliation for when we older boomers were forbidden to wear slacks — much less jeans — in high school and on college campuses? Is it the lure of comfort? Or is this just what retirement looks like today?
For special occasions, I put on a sweater and nice pants. I swore off pantyhose 25 years ago, but boast a drawer full of rowdy socks. I own no dresses, no skirts and no shoes with heels. Fussy doesn't cut it in my closet.
Speaking of cutting, last week I removed the superfluous lace trim from the bottom of an otherwise pretty tunic I bought on sale. My style guru would approve. Wilson also employs scissors to add (or in my case, subtract) in service to personal fashion statements.
Wilson contends that personal style is our birthright. She calls this "fashion determinism." She writes that if we are indeed what we eat, "we also become the character in the world whose costume we are wearing." This is so, she says, regardless of our age or shape and whether that "costume" cost $7 or $7,000.
Wilson would know. Fashionista named her one of the 50 Most Influential People in New York Fashion and she is the former writer for the Critical Shopper column in The New York Times.
The Rules Are There Are No Rules
Insightful, irreverent and often hilarious, Wilson's book is a mashup of fashion writing, sociology and cultural anthropology. She demythologizes high fashion and reports on her three-year fact-finding journey across the "belt regions" of America (Cotton, Rust, Bible, Sun, Frost, Corn and Gun) to see what people there wear.
Wilson offers the following shopping tips:
Forget any fashion rules anyone ever told you
Be the costume change you want to see
Don't censor yourself or doubt your taste
Know good fabric by its touch so you can "speed-scan the Salvation Army store rack by feel"
That last tip confirms that Wilson is all for paying less to get more of what you want. She freely admits to scouring thrift shops across the country and buying clothing on eBay, for both casual and dressy looks.
While reading her book, I rejoiced when Wilson wrote of buying a custom-fitted cowboy hat in Jackson, Wyo. I nodded in agreement when she noted that all of us own and wear "a whole slurry of clothing that doesn't reflect who we really are." And I empathized when she walked away from a $1,485 Narcisco Rodriguez dress because as much as she wanted it, the price tag made her feel as though her "bone marrow was being sucked out" through her checking account.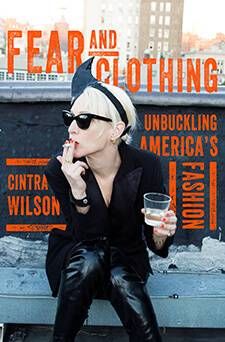 "The people who manufacture stuff also manufacture your desire for stuff," Wilson writes, but she adds that sometimes, buying something perfect, even if it breaks the budget, is important — "an investment in your own transformation into a better future self." After I read that paragraph twice, I went to my closet to reacquaint myself with my investment in transformation: an unstructured silk shibori jacket. (Shibori is a Japanese tie-dye technique.) I wore it to my son's wedding and a few other special events when more than a T-shirt was called for.
Mostly, we have to dress for the life we live now and not the life we used to live or someday might like to live. We also have to remember that mantra when we shop. Occasionally in stores, a feisty persona of mine that I call Trixie emerges, and this alter ego would have me dress quite differently.
Trixie once persuaded me to buy a suit, my first and last one. Suddenly certain that a suit was exactly what I needed (I didn't), I took it home and hung it in the closet, all tags intact, until a few days later when I imagined the suit itself was begging me to go back to the store. The two of us overruled Trixie, and I returned the suit.
Playing Dress Up
For someone so determined to dress down, I do enjoy watching others dress up. For instance, I am a big fan of the documentary Advanced Style.
In it, seven New York women, ages 62 to 95, display their eye-popping fashion choices and talk about how — and why — they put the looks together. The film is based on a blog (that later was a book) by photographer Ari Seth Cohen, who concentrates on "the fashion and wisdom of the senior set."
The eclectic women featured in the film look fantastic every time they step out the door. It's a tad overwhelming, and after watching, I had to forgive myself once again for not wanting to go to all the trouble looking that good entails.
That's OK, Wilson says.  As she puts it: "Nothing you put on your body that makes you feel like your most radiant, indestructible self can be a considered a fashion mistake."
Still, I was moved to up my fashion game in one small way: I bought an $18 lipstick, in a shade called "Stand Out."
Look out, everybody.
Patricia Corrigan
is a professional journalist, with decades of experience as a reporter and columnist at a metropolitan daily newspaper, and a book author. She now enjoys a lively freelance career, writing for numerous print and on-line publications. Read more from Patricia at latetothehaight.blogspot.com.
Read More