At Age 96, An Artistic Passion Revisited
Navajo Annette Bilagody's beadwork is an internet sensation
(This article was originally published on Indian Country Today. )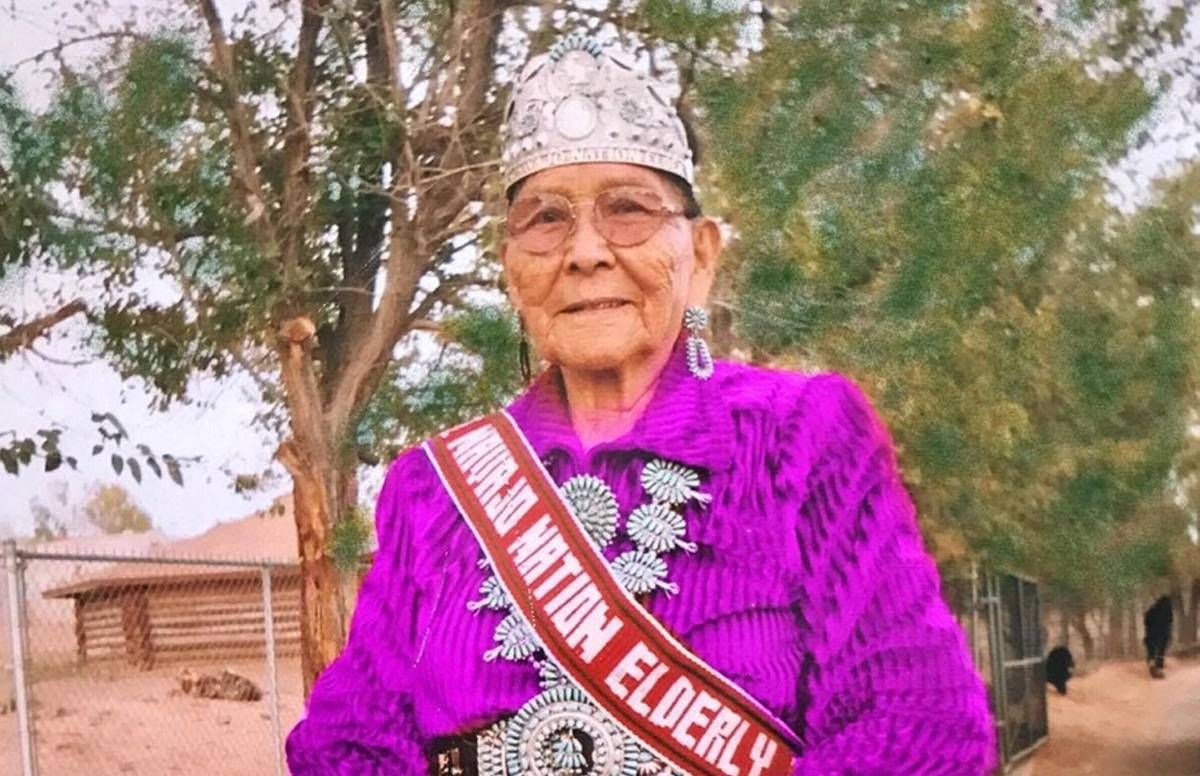 When Annette Bilagody was growing up in the 1930s on the Navajo Nation, her job in her family was to repair broken necklaces. This was her first introduction to beading.
She was born and raised in Preston Mesa, Ariz., near the Colorado border. In her adult years, Bilagody was a weaver. She would weave rugs with two grey-hills designs, a popular pattern that uses a central diamond shape. When she completed rugs, she traveled to Gallup, N.M., a commerce hub for Navajo art, to sell them at local stores. This is how she made a living for the majority of her life.
As Bilagody got older, she found that her loom became more difficult to use. So she decided to take up beading again.
When she lost her late husband, Jessie Bilagody, in 2008, she moved to Phoenix with her youngest daughter, Lucita Bennett, and her family.
One necklace here, another there. The 96-year-old Bilagody was working at her own pace when her granddaughter, Attiya Bennett, began to notice.
"She sold out within 30 minutes. There were at least 30 or 40 transactions."
"Every time I would visit my grandma, I saw she had bundles of necklaces piling up," Bennett said.
Bennett is a beader, too. She posts photos of her beaded earrings, medallions and barrettes on her Instagram account, where she has amassed more than 12,000 followers. In November, Bennett asked her grandmother if she would take some photos with her necklaces and earrings.
"On Instagram, you have to post a photo once a day to keep up with your followers," Bennett said. "On that particular day, I didn't have anything to post. So I thought, 'Let me post Grandma and see if people might be interested in her work.'"
They were.
The Most Money She's Ever Made
"She sold out within thirty minutes. There were at least thirty or forty transactions," Bennett said. "We created invoices for all of them and then hand-wrote every single address before shipping everything." New York, Canada, Florida, South Carolina, Texas. Those were just some of the locations where Bilagody's jewelry was shipped.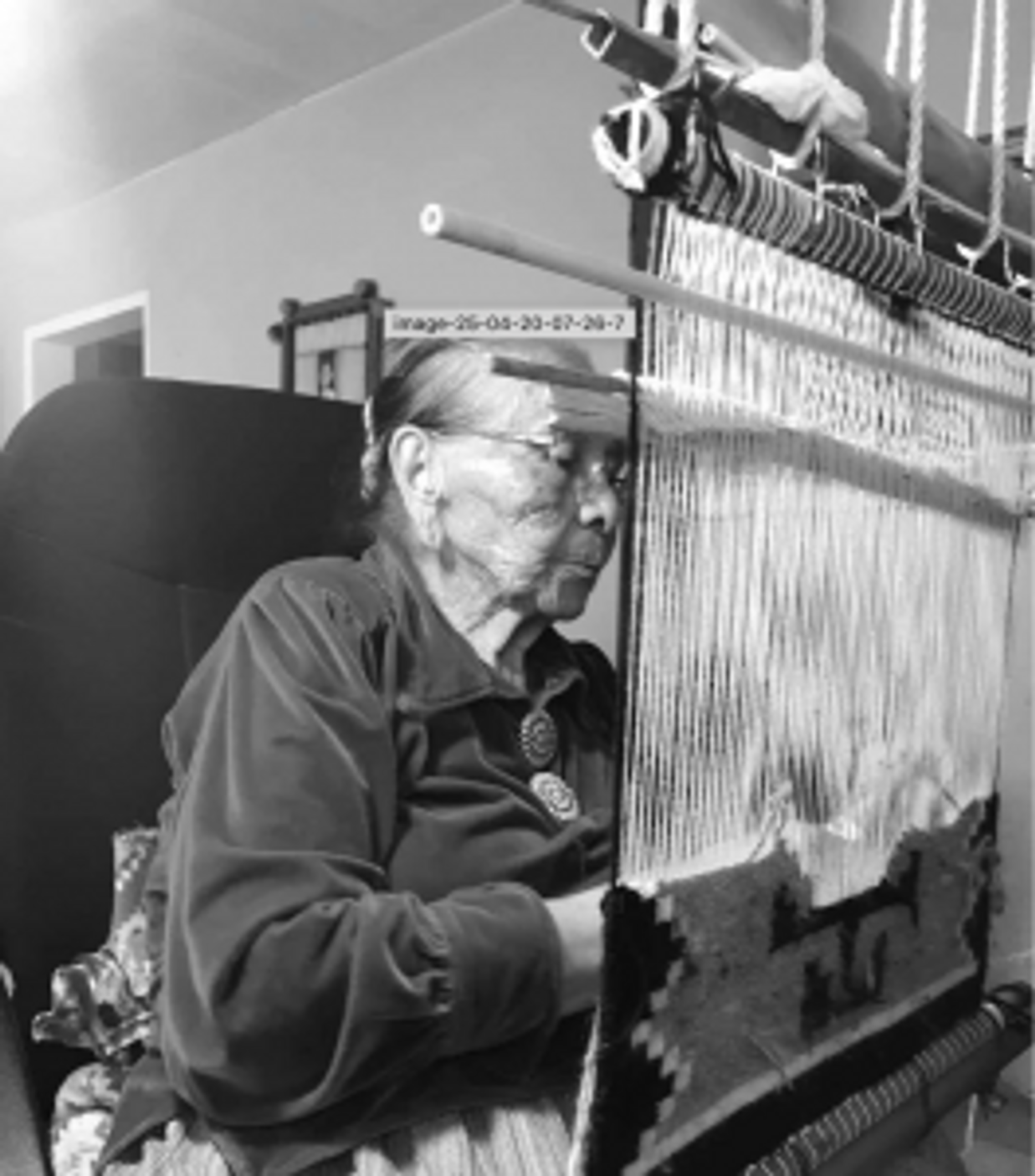 And on her second sale, Bilagody sold out again. This time, she made more than $1,000. It was the most she had ever made in her life, she said.
Bennett went to the ATM, withdrew the money and recorded Bilagody counting it. She posted the video to her Instagram and TikTok pages, and compliments poured in from around the world.
"Aww I love this. Let me know when she has more earrings," one user commented.
This was Bennett's second Instagram post: Grams 2nd sale! So happy&forever thankful that my IG followers & everyone were so supportive! I love these memories & sharing w/u ##native ##fyp ##grandma. 
On the social media app TikTok, Bilagody's video had more than 25,000 views.
"Usually I get a little bit of money from one sale here and another there," Bilagody said. "Thank you to whoever bought my jewelry, and may it make them strong."
Bilagody's family says the first thing she bought after her sale was a bucket of Kentucky Fried Chicken. The rest went to savings.
Online Sales Even More Important Amid Pandemic
Years ago, artists made money mainly by selling their work at trading posts or flea markets. Now, they're revolutionizing how to sell their products using the internet and social media.
Online sales have become even more important for crafters amid the coronavirus pandemic.
"E-commerce has definitely created new ways and opportunities for independent artists to showcase, share and sell their work and extend their reach worldwide," said Amanda Smith, president of the Native American Business Association.
Some ways to market online including posting in Facebook groups or setting up accounts on platforms like Etsy, eBay or Amazon, Smith said.
"It is great to see how the generations have come together to find a way to bridge the generational gap as well as connect art, history and culture through technology," she added.
'We Share Our Grams'
As demand increased from social media, Bilagody's family set up a website for her to continue her sales. One of the items is a piglet sticker, which sells for $11, and is especially meaningful to Bilagody.
The description on the site reads: "Grandma Annette loves drawing this little pig, because her late husband taught her how to do it. So she remembers him this way and to keep his memory alive. We love you Cheii."
Bennett says the loving nature of grandmothers has helped in marketing products.
"I see many comments on my posts because grandmas are important to all of us," Bennett said. "People also love that I speak Navajo with my grandma on my videos. She was the one who taught me how to speak."
Bennett says this project started as a way to post her grandmother's work for others to see. It has quickly turned into a small business for her grandmother. More items were scheduled to be restocked on May 30.
All of it is worth it, Bennett said.
"My favorite part is that we share our Grams with other people," Bennett said. "And we don't mind at all."