Americans' Estimates of Long-Term Care Costs Are Wildly Off
Surprising results from the Genworth 2016 Cost of Care study
Here's a stunner: The average American underestimates the cost of in-home long-term care by almost 50 percent. That's just one of the surprising, if frightening, findings in the Genworth 2016 Cost of Care Study released today.
What's more, Genworth found, four out of five adults underestimate the costs of home health care in general. Home health care happens to be the most popular long-term care option — compared to institutional nursing homes and assisted living facilities.
Nearly a third of Americans (30 percent) believe home health care expenses are under $417 a month, but according to Genworth's number-crunching, the national median rate is about nine times that: $3,861 per month for an in-home aide or $3,813 per month for homemaker care (that's hiring someone to handle household tasks such as cooking, cleaning and running errands). Genworth assumes 44 hours a week of home care in its calculations.
Why are so many of us so far off?
Reasons for Long-Term Care Underestimates
"There are two reasons," said Beth Ludden, Genworth's senior vice president of long-term care products. "One is that most people have had no previous experience using a home-care service and, as with many things one has no experience with, there is a tendency to underestimate the cost."
The other reason, according to Ludden: "There are so many articles about how underpaid home-care workers are that it drives the tendency to underestimate costs. Additionally, people don't understand the difference between different types of home-care services — it runs the gamut of skilled to companion care, so differentiating among those costs is difficult."

As Bob Rosenblatt wrote on Next Avenue, the average hourly pay for a home care worker is $9.61, according to the Paraprofessional Healthcare Institute (PHI), an advocacy group.
Women, Genworth also found, are more likely to underestimate the cost of long-term care than men. That surprised me, considering that women often tend to be in charge of making caregiving decisions for loved ones.
Ludden explained the finding by noting that women "typically have been in caregiving situations for their children, which while somewhat intense, are for a very short period of time. Therefore, they are generally of the belief that whatever care is required is something that they would be able to handle themselves."
By contrast, she said, "generally men recognize that they are unprepared to be a caregiver and are much more likely to ask for help or look for help," so they understand there will be a cost. "Women, on the other hand, believe that they will be able to shoulder most of the care themselves and won't require outside assistance."
Ludden told me she wasn't surprised to see how much people underestimate home-care costs. "Most people don't plan ahead for long-term care needs. Only when it becomes a crisis — Dad has broken his hip or Mom has had a stroke — do most people wake up to the reality that they must find and pay for long-term care," she said.
Why This Caregiving Advocate Wasn't Surprised
Caregiver advocate Ai-jen Poo, the co-director of Caring Across Generations and a 2015 Next Avenue Influencer In Aging, wasn't shocked by the public's lowballing, either.
"Caregiving work is generally undervalued and invisible in our economy," she said. "And until last year, the workers who provide it weren't even covered by the federal labor protections that nearly all other workers enjoy. As a society, we don't view care work as 'real work' or consider it a valuable contribution."
The new Genworth study found that nursing homes are far and away the most expensive form of long-term care. The national median annual cost for a private room in one, Genworth says, has climbed to $92,378, up 1.2 percent from a year ago; a semi-private room runs $82,125, which is 2.3 percent more than in 2015. By contrast, the national median cost of a home-health aide is $46,332 (up 1.25 percent) and hiring someone to provide homemaker services costs $45,760 (up 2.6 percent). The national median cost of assisted living: $43,539, which nudged up by 0.80 percent. Adult day care: $17,680, down 1.25 percent from last year.
Preferring In-Home Care to Nursing Homes
Cost isn't the only reason so many people prefer in-home care to nursing homes. "When a parent is discharged from a hospital, our choices often boil down to either bringing Mom home where she wants to be and footing the bill for home care entirely on our own or relegating Mom to a nursing home," said Poo. "At this point, few will accept the nursing home option. Nursing homes often mean giving up control of your life and your quality of life."
Poo hopes the vital workforce of home-care providers will get more pay and respect in the future. "It is time for a change in how we view caregiving, how we value the work and the people who provide it," she said.
Ludden's advice for dealing with long-term care costs: "Plan ahead. Start talking to your loved ones about how you, or they, want to be cared for in the event you, or they, need long-term care. Then educate yourself about the care options available, how much they cost and the options available for paying for them."
One good place to start researching, I think, is the Genworth Cost of Care site, which has new information about how much care costs in your state, across a spectrum of care settings, from home care to nursing home care.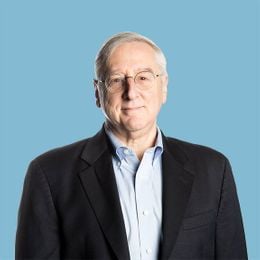 Richard Eisenberg
is the former Senior Web Editor of the Money & Security and Work & Purpose channels of Next Avenue and former Managing Editor for the site. He is the author of "How to Avoid a Mid-Life Financial Crisis" and has been a personal finance editor at Money, Yahoo, Good Housekeeping, and CBS MoneyWatch.
Read More