Are You Your Mother's Keeper?
More parents in need of long-term care are turning to their children for help
Editor's note: This is an installment of the "Retirement for the Rest of Us" series, a Next Avenue initiative.
When my birth mother found me at age 29, I had recently lost both of my adopted parents and couldn't help thinking that the universe didn't want me to be motherless just yet.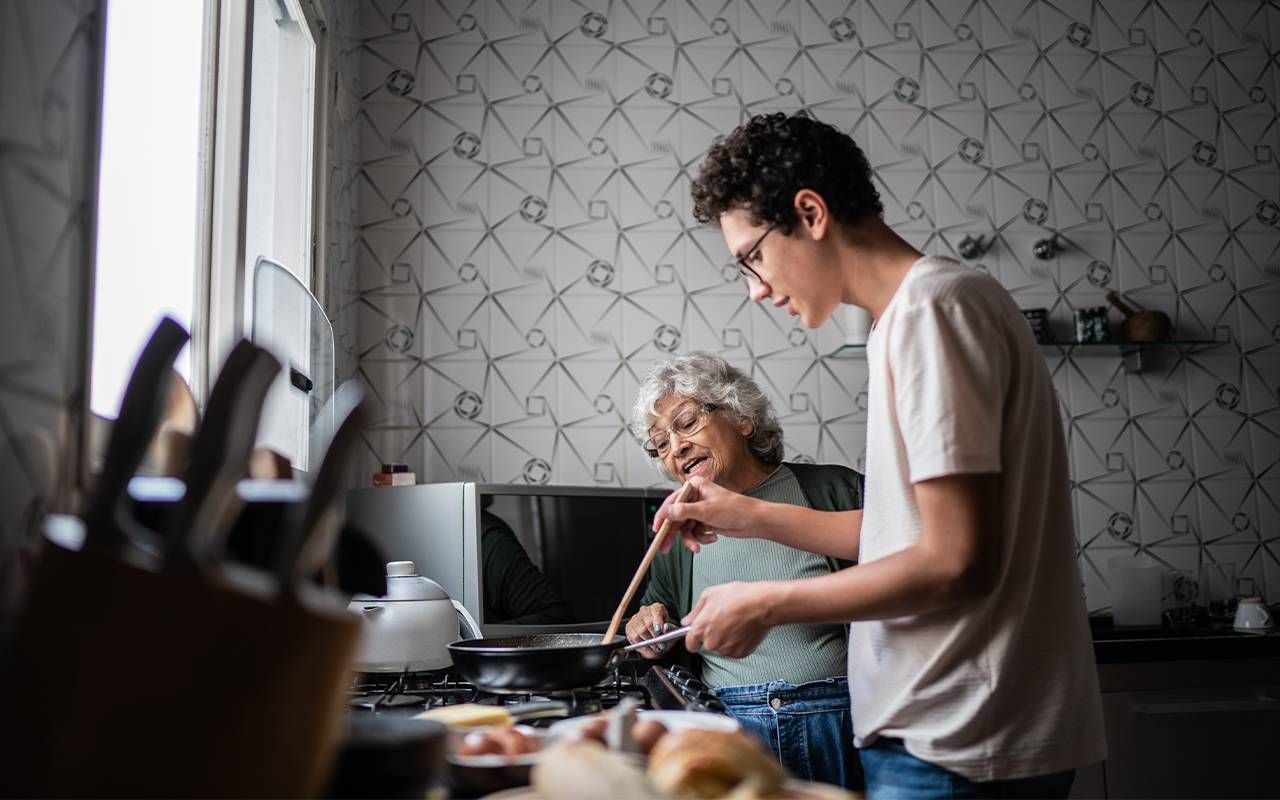 We began a rewarding relationship and had 28 years together before she developed dementia and I moved her to a nearby assisted-living facility so we could remain close.
In the six years since, she moved to the attached memory care unit and gone through essentially all of her savings. What she gets monthly in an annuity, pension and Social Security is less than half the cost of her care. I come up with the other half.
Millions Provide Unpaid Care
I'm hardly alone. About 48 million Americans provide unpaid care to an adult family member or friend, an increase of about 8 million from 2015 to 2020, according to AARP.
"The dedication of the 48 million Americans providing unpaid care for adult family members or close friends is nothing short of extraordinary."
The Department of Health and Human Service estimates that family members who cut back work hours or quit jobs to be caregivers lost a "staggering" $522 billion in wages in 2022. In addition to spending their time, caregivers report spending, on average, $7,242 out of their own pockets caring for loved ones.
The burden is greater on Black and Latino families, which have accumulated less wealth, and on younger caregivers, who have had less time to build up resources. In addition, there are extra considerations for the aging LGBTQ+ population who don't always have children to provide care, so they often rely on friends.
No surprise then that a recent study from the personal finance app for family caregivers, Givers, found that 45% of over 1,000 caregivers reported being financially strained, up dramatically from 18% in 2020.
A Daughter's Tale of Nonstop Care
Donna Lubrano, a Boston professor, understands the financial hardship too well. From 2002 to 2008, she cared for her mother, who had advancing Parkinson's disease. "I was single, working full-time, living in Boston, while she lived in Rhode Island. While I worked during the week, I had around-the-clock care for her in her home," says Lubrano.
"At that time, the care alone was $70,000 annually, which was offset by me caring for her from Friday to Sunday and contributing to her financial needs."
In Lubrano's case, her mother was a blue-collar worker with a small pension, and a reverse mortgage on her house paid for some of the expenses. "Between the equity in her home, my time and money and her small pension, I was able to keep her in her own home until she died in 2008," Lubrano explains.
Unfortunately, Lubrano ran through her own savings and her career took a hit. "While others were progressing," she recalls, "I had to change my life to have the flexibility to be available 24/7."
Lubrano adds: "When she died I was basically bankrupt."
Dealing with the Cost of Care
"Managing the financial aspects of caregiving can be an overwhelming task," says Angela Olea, RN, the Brand President of Assisted Living Locators and an industry expert in senior placement and referral. "I've seen firsthand the stress it can put on families.
"However," she adds, "the dedication of the 48 million Americans providing unpaid care for adult family members or close friends is nothing short of extraordinary."
One crucial step families can take to lessen the burden is to seek advice from a professional in the field, such as from a senior care advisor. Advisors can help families understand available care options and provide guidance on the costs associated with each one. "They are knowledgeable about resources such as Medicaid, long-term care insurance, veterans' benefits and more," says Olea.
Get Help to Draft Long-Term Plans
Senior care advisors can create a sustainable long-term plan that takes into account the care recipient's needs and the family's financial capabilities. They can also provide emotional support and connect families with other resources to help them holistically navigate the caregiving journey.
Seeking the advice of a financial planner may also be wise. I visited a financial advisor well-versed in long-term elder care before I moved my mom to the facility. The advisor scrutinized my mother's finances, and then advised me to sell her home, liquidate some stocks, and cash in a life insurance policy she no longer needed since she already had a pre-paid funeral plan.
Still, after computing the cost of care and accelerating inflation rate, I knew roughly when my mother's money would run out. As the advisor predicted, it did six years later. So now, I contribute more than $2,000 a month toward my mom's care costs (more than my mortgage), as well as her living expenses.
If you're paying for care for a loved one, figure in the extra expenses of that care, such as non-covered prescription drugs, co-pays and co-insurance, assistive technology, home adaptations and medical equipment. Caregivers' budgets may become strained as a result of these costs as well.
Caregiver, Care for Thyself
"More specifically, if they overlook it while concentrating on the care beneficiary, caregivers may incur higher medical expenses for themselves," says Carl Jenson, personal finance expert and founder of Compare Banks, a financial products and services comparison site.
"Educate yourself about long-term care costs. While it's not ideal to do this once you've become a caregiver, learning more sooner than later can prepare you for what comes next," says Arvette M. Reid, client services director of Lifecare Affordability Plan, services to help you plan and pay for long-term health care for a loved one.
Contact your local area agency on aging or an aging life care manager, or even plan a visit to nearby assisted living communities to get current pricing and an understanding of what's available.
While Olea says that the goal in caregiving is to provide the best care possible without compromising your financial health, it appears that most of the 48 million families undertaking some form of caring for a loved one, like myself and Lubrano before me, would say that becoming financially compromised to some degree is par for the course.
What You Can Do
If you're already caring for a loved one or considering the journey, there are steps to take to minimize your financial hardship depending on your situation. Options like long-term care insurance, veteran's benefits, and a reverse mortgage could help.
"Communicate openly and honestly with family members about sharing the financial responsibilities of caregiving."
Since caring for loved ones crosses party lines, policymakers should know that 80% of voters 50 or older supported the bipartisan Credit for Caring Act in an AARP survey, which would provide family caregivers with a tax credit of up to $5,000 for expenses incurred while caring for a loved one. While this won't solve families' financial challenges, a tax credit for caregivers would help.
Additionally, families should seek financial assistance from funding sources like Medicaid. In my case, my mom is at a pricey private facility, and I could at some point move her to a facility that accepts Medicaid, however that care in my area is often sub-par.
Caregivers should leverage technology like the Givers App, advises Max Mayblum, the founder and CEO of Givers and a certified senior advisor. The app helps family caregivers manage their money better, set financial goals, and track expenses and trends more efficiently.
Appreciate the Positives
Explore local community organizations, support groups, and nonprofit agencies that often have resources like financial counseling, assistance programs and respite care options.
"Communicate openly and honestly with family members about sharing the financial responsibilities of caregiving to alleviate some of the burdens," says Mayblum.
Finally, reframe the financial burden by focusing on positives. Tim Connon, 31, of Palmer, Tennessee, cares for his mother, who can't walk alone. "It costs me an extra $400 monthly for food and other expenses to take care of her," he says. "I have trained myself to look at it as giving back to her for all the time she spent caring for me.
"We have learned to enjoy each other's company."