Artist Wayne Thiebaud at 100
Still painting, his contributions to modern art are spotlighted in a centennial retrospective
Scott A. Shields, the chief curator of Sacramento's Crocker Museum, first encountered the work of artist Wayne Thiebaud as a student at the University of Kansas. It was at the Spencer Museum of Art there where he saw Thiebaud's "Around the Cake" (1962), a painting of a whole cake surrounded by pieces of cake.
"I remember thinking, 'This is amazing,'" Shields said. "Now twenty-five years later, I'm curating a show for his hundredth birthday. It's quite an honor."
The Crocker Museum recently hosted "Wayne Thiebaud 100: Painting, Prints, and Drawings," a retrospective of the Sacramento artist's work, which can be viewed online. Thiebaud's work is also on display at SFMOMA in San Francisco and the Museum of Modern Art in New York City.
Thiebaud has said he often feels that he is always starting over in his work.
The artist, who turned 100 in November, is probably best known for his paintings of desserts – cakes, ice cream sundaes, display cases full of pies. But in his decades-long career, he has also painted people, landscapes of the valley surrounding Sacramento, city scenes and numerous other subjects, including more recently, a series of clowns. 
Thiebaud has said he often feels that he is always starting over in his work. "Most good painters that I know always question their work," he told Hettie Judah in a May 2017 article for T: The New York Times Style Magazine. "It's a wonderful, enduring and lifelong challenge."
Making the Ordinary Seem Extraordinary
While getting ready for the Thiebaud retrospective, Shields said, the artist's connection to surrealism struck him.
"The things he paints are real, but not really real – it's a theme that runs through his still lifes, valley landscapes and city scenes," Shields said. "He makes ordinary things seem greater than they are."
John Berggruen, a collector of Thiebaud's art and a friend who has had several shows of the artist's work at his Berggruen Gallery in San Francisco, said Thiebaud has a great sense of drama.
He bought his first work by Thiebaud in the 70s –  a painting of a gumball machine, which he still has.
"His work is very magical," Berggruen said. "He can take something banal like a lunch counter or a display case, something you wouldn't look at twice, and make it engaging and compelling."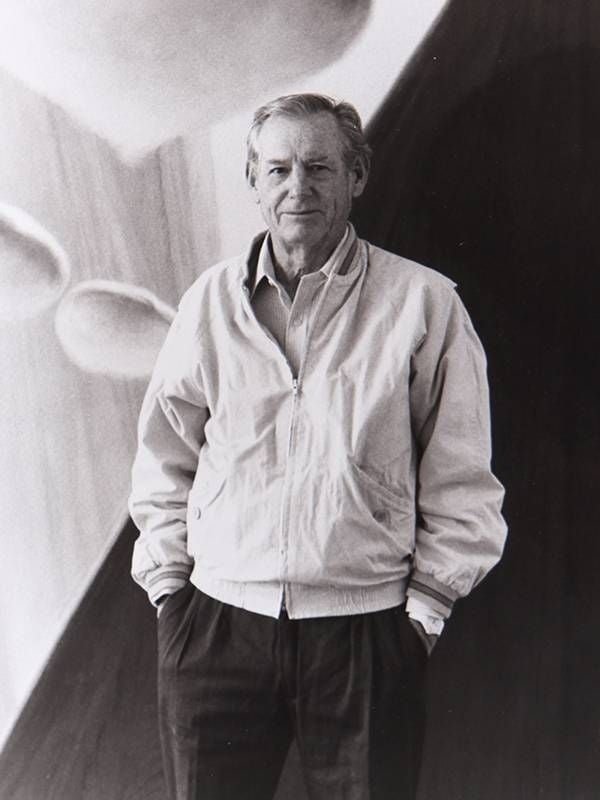 Thiebaud grew up in Long Beach, Calif., first coming to the Sacramento region in 1942 when he was stationed with the United States Army Air Force.While attending the state college there, he started teaching at the community college.
An Artist With a Sense of Humor
In a December online panel hosted by the Crocker Museum, art historian and writer Julia Friedman said that George Herriman's cartoon, "Krazy Kat," which ran in newspapers from 1913 to 1944, had a big influence on Thiebaud.
"Humor is a very important part of [Thiebaud's] work and personality," she said."His process began in cartooning and he worked as an animator for Walt Disney and in the Army, he drew cartoons and illustrations and worked for the motion picture unit."
Thiebaud's daughter, model Twinka Thiebaud, also on the panel, remembers posing for her father in his studio, a converted chicken coop, while he listened to classical music or the news, with soup heating on the stove which they would eat on their breaks.
"It was a privilege watching him work; he moved almost like a dancer," she said. "He had an effervescent sense of humor and a light and joyful personality. He was jokey and fun with us kids, and a premier joke teller. If you wanted to give my dad a gift, you could tell him a joke he could retell, but nothing too raunchy."
That's a quality Berggruen appreciates in his friend.
"He's the greatest joke teller," he said. "He tells these shaggy dog jokes that go on for ten minutes before he eventually gets to the punch line."
Berggruen also talked about Thiebaud's love of tennis and going out to eat and said the artist is one of the most interesting people he knows.
"He has great style and he's elegant and articulate. He's a great lecturer and a very warm human being," Berggruen said about Thiebaud, who taught at the University of California, Davis for decades. "One of the high points of my life is knowing him and having spent time with him."
"He has great style and he's elegant and articulate."
Twinka Thiebaud remembered how her father loved to take his kids out for ice cream, and his favorite song to sing to them while he played the guitar was "Big Rock Candy Mountain."
"What a perfect song for a painter of sweet things," she said.
Shields found those sweet things a little too tempting when, due to the pandemic, he was working on the catalogue for the show at home.
"You know how you get hungrier working from home?" he asked. "I was sitting there with all these ice cream cones and pies and cakes, and I thought, 'I'm going to put on the Thiebaud fifteen.'"
A More Complex Pop Artist
Shields admires the fact that Thiebaud has kept reinventing himself, pulling inspiration from many different artists, including fellow California painter Richard Diebenkorn; Joaquín Sorolla, known for his white light and glowing suns and Edward Hopper.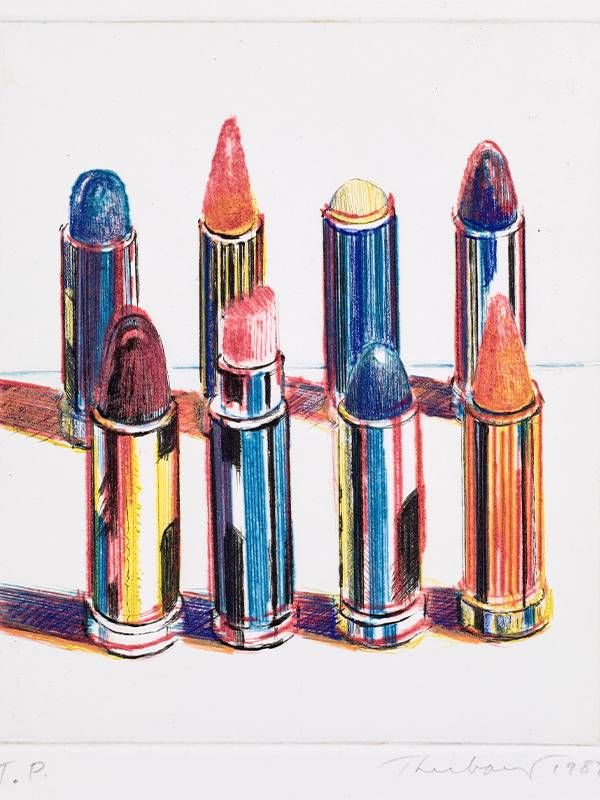 In an essay in the catalogue that accompanies the show, Shields writes about how although Thiebaud is affiliated with Pop Art, his approach differs from artists like Andy Warhol and Roy Lichtenstein. (In a YouTube presentation, Shields offers commentary on the entire exhibit.)
"Warhol and Lichtenstein's work had a mechanical look and was more impersonal, but Thiebaud was focused on the brushwork," he said in a phone interview. "It links back to the artist – he didn't want to link to soup cans or Coke bottles. Thiebaud's work is very personal."
On the panel, Friedman talked about, 2020's "100 Year Old Clown" that Thiebaud did as part of his clown series. She calls the painting complex, invoking both joy and sadness.
"When I visited his studio in Sacramento, it was still on the easel and it blew me away," she said. "It represents everything we love about Thiebaud, with the bluish white background and the thick brushstrokes and the red nose looking like a cherry on a cake. It's smudged and purposely sloppy. There's no perfection here."
Shields said he enjoyed working on the show, partly because Thiebaud is as beloved as his work. He attributes his longevity as a painter to his love of what he does and going to his studio almost every day – even at 100.
"It's so much a part of him, and he loves it so much," Shields said. "Someone asked him what he was going to do on his birthday, and he said he was going to paint."
Emily Wilson
lives in San Francisco. She writes for a number of outlets including Smithsonian.com, Daily Beast, 48 Hills, Hyperallergic, Latino USA, Women's Media Center, California Magazine, and San Francisco Classical Voice. For years she taught adults getting their high school diplomas at City College of San Francisco.
Read More