Arts, Culture and Natural Beauty Characterize Sitka, Alaska
Native Alaskan artisans and others honor the storied city's past and present
Attend a class in traditional grass basket weaving at the Sheldon Jackson Museum, walk among carved Tlingit and Haida totem poles in Sitka National Historical Park, sign up for a jewelry-making lesson taught by a Native Alaskan or craft a shiny, articulated metal salmon or halibut. All that and more is possible in Sitka, Alaska, which in 1867 was held by the Russians and known as ''the Paris of the Pacific."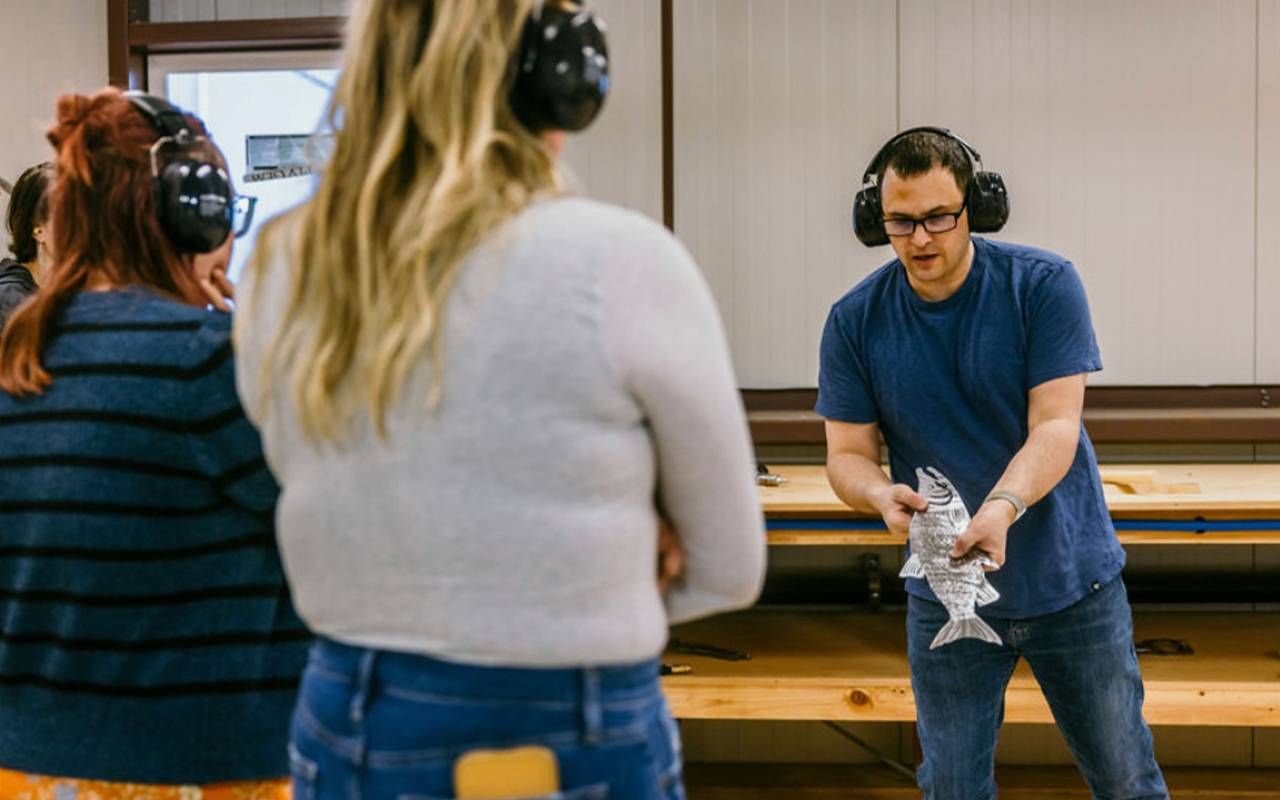 Situated on Baranof Island on the outer coast of Alaska's Inside Passage, sprawling Sitka boasts 85 mountains and sits in the Tongass National Forest, which at 16.7 million acres is said to be the largest temperate rain forest in the world. Home to about 9,000 people, Sitka is accessible only by plane, boat or the Alaska State Ferry, which travels the Alaska Marine Highway System.
"When you come here from out of state, art is a wonderful avenue for sharing cultures."
Cruise ships bring many people to Sitka, where they may exult in the extraordinary natural beauty of the area as they fish, visit the Alaska Raptor Center, hike, learn about Native Alaskan culture, go whale watching, explore St. Michael's Orthodox Cathedral (perhaps the most famous of 200 Russian Orthodox churches in the state), tour the Sitka Sound Science Center (an aquarium and hatchery) and inform themselves about the compelling history of the city in our 49th state.
Visitors also may stop in at galleries and seek out local artisans, some of whom lead workshops. "When you come here from out of state, art is a wonderful avenue for sharing cultures," says Mary Goddard, a Tlingit resident of Sitka. An artist and a film and video producer, Goddard also promotes "regenerative tourism," which she describes as a holistic shift from the Western viewpoint to one based in understanding Native cultures "to help provide meaningful and responsible visitor experiences."
'Each Piece of Jewelry Tells a Story'
A member of the American Indian Alaskan Native Tourism team, Goddard, 42, also gives talks on Native cultures at tourism conferences and to interested businesses. "Of the 574 American Indian tribes and Alaska Native entities recognized by the federal government, 228 are in Alaska," she said. "The Tlingit, Haida, Eyak and Tmishian peoples have lived here for thousands of years, and we have lots of stories to tell."
Goddard tells some of them through her contemporary native jewelry, and she also offers  beaded bracelet kits. "As a kid, I started out making beaded jewelry," she said. "My grandmother wore many silver and copper bracelets. Her jewelry didn't just sit in a box — it was meant to be worn."
"My grandmother wore many silver and copper bracelets. Her jewelry didn't just sit in a box — it was meant to be worn."
Years later, Goddard studied jewelry making with the late Dave Galanin, a Tlingit artist who had apprenticed at the Southeast Alaskan Indian Cultural Center under master silver carver and Tlingit elder Louis Menard, a designer for Tiffany & Co. Galanin taught Goddard how to carve in silver and copper, an unusual medium for women at the time.
"As we worked on the designs, Dave would teach me traditional Tlingit stories," she said. "I also learned that the indigenous way of thinking is that when you work on an art piece, especially something for someone to wear, you make sure you put all your good energy into it. Each piece of jewelry tells a story, and each piece calls out to a person — and that makes it really meditative work for me."
'Something About Teaching is Life-Giving'
Artist Cayla Pook McCutcheon, a Tlingit woman from Southeast Alaska, conducts jewelry-making workshops in Sitka through her company Woven in the Waves. McCutcheon, 30, also crafts hammered hoop earrings festooned with colorful micro macrame, and she offers a micro-macrame earring kit, complete with a tutorial.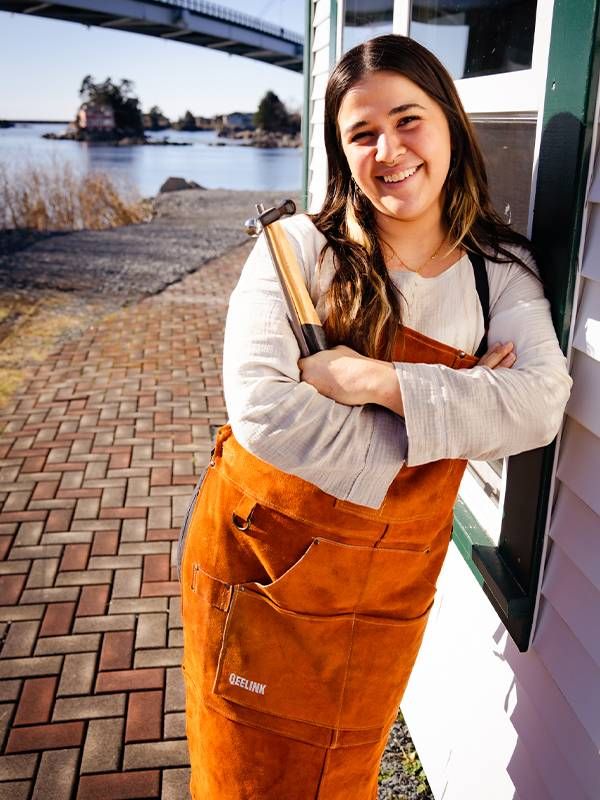 "I come from a family of artists," McCutcheon said. "My mother made earrings, too, and as with beading, you can get creative." Her interest in macrame started when she began making large wall hangings. "Then, on road trips with my husband, I made macrame keychains, and then smaller things, using micro-macrame designs that I've turned into my own thing."
Art, McCutcheon said, served as a companion in some darker moments in her life and also has played a significant role in her healing journey. "Now, it's an important element of what I do for myself, and I enjoy being able to create something out of nothing," she said. "Plus, women here wear earrings everywhere — even on hikes and camping trips — so the ones I make are lightweight."
In the past, McCutcheon taught jewelry making to Tlingit and Haida citizens. Currently she teaches classes primarily for locals, but is open to scheduling small group workshops for visitors. "I've learned there is something about teaching that's life-giving," she said. "My classes result in earrings for the students, of course, but the classes also connect people to each other, and that's super valuable."
'Mike's Workshop Was One of Our Favorite Things'
Mike Vieira's background as a third-generation shop teacher has been especially valuable  now that in summer, he teaches metal arts classes through his business The Salty Sitkan. In just 2.5 hours, Vieira's students craft one-of-a-kind fish sculptures, unusual souvenirs that  make alluring wall art.
"Slightly more of my students have been women, but recently I taught a father and his 12-year-old son," said Vieira, 45. "A lot of people have never used plasma cutters or grinders before, but everybody leaves the workshop with big smiles on their faces, walking out with their fish, so proud that they've done something new."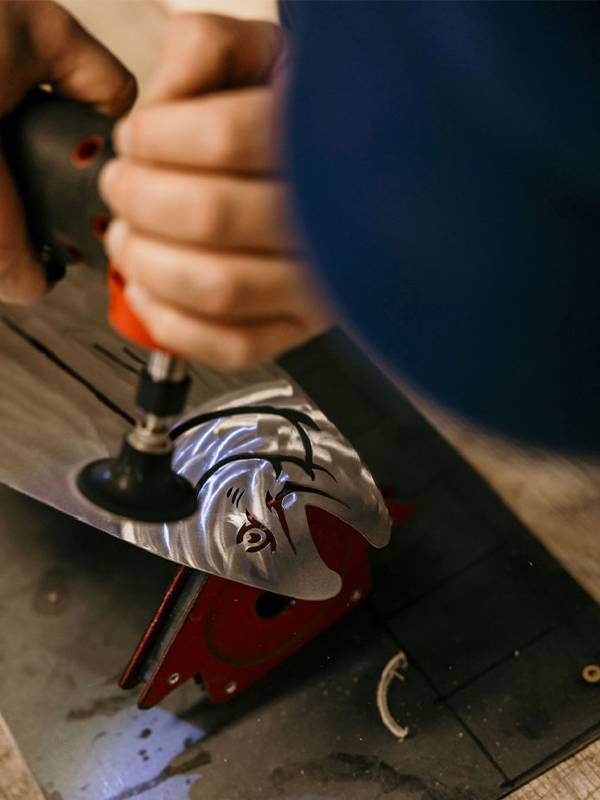 That was true for Jeanne Turner of St. Augustine, Florida, who took Vieira's class in June along with her husband, her mother, her sister, her son and a friend of his, all traveling together. "Mike's workshop was one of our favorite things on our entire trip," said Turner, 47. "We weren't searching specifically for a metal arts class — I'm kind of serial hobbyist, and nothing ever turns out all that well for me — but we wanted to do something different on our day in Sitka."
Turner made a halibut while her family members all made salmon. "You start with a flat piece of metal that has no color or shine," she said, "and when you're done, you have this really cool fish, and each one is different." Turner also praised Vieira for talking about life in Sitka as well as instructing them in the safe use of power tools. "It really couldn't have been more perfect, and I'd go back for another class."
Turner referred to Vieira as an artist, but he thinks of himself differently. "There are many amazing artists in Sitka, but I'm a maker of things, a fabricator," he said. "I've built houses. I've made lots of signs and cutting boards, charcuterie boards and cribbage boards. Eventually, I hope to offer adult or family classes in my main craft, which is woodworking."
Vieira often encourages his students to take their newly made fish to Harbor Mountain Brewing Co., just steps from the workshop, for a beer and a Camp Fire Pizza, made in a wood-fired oven. What Vieira doesn't tell them — you heard it here first — is that he made the tables in the brewery from live edge Sitka spruce.
Patricia Corrigan
is a professional journalist, with decades of experience as a reporter and columnist at a metropolitan daily newspaper, and also a book author. She has written for Next Avenue since February 2015. Read more from Patricia at latetothehaight.blogspot.com.
Read More