Back in the Kayak
Older kayakers with physical challenges are able to get back to the sport they love, thanks to adaptive paddling systems
Later in life, Jim Van Gompel, a retired mechanical engineer in California, took up recreational kayaking. Always an outdoorsman, his heart disease and asthma diminished his stamina while paddling. Van Gompel took matters into his own hands and developed a paddling system that made his paddling "more energy efficient so he could stay out on the water longer," says his daughter, Meg McCall.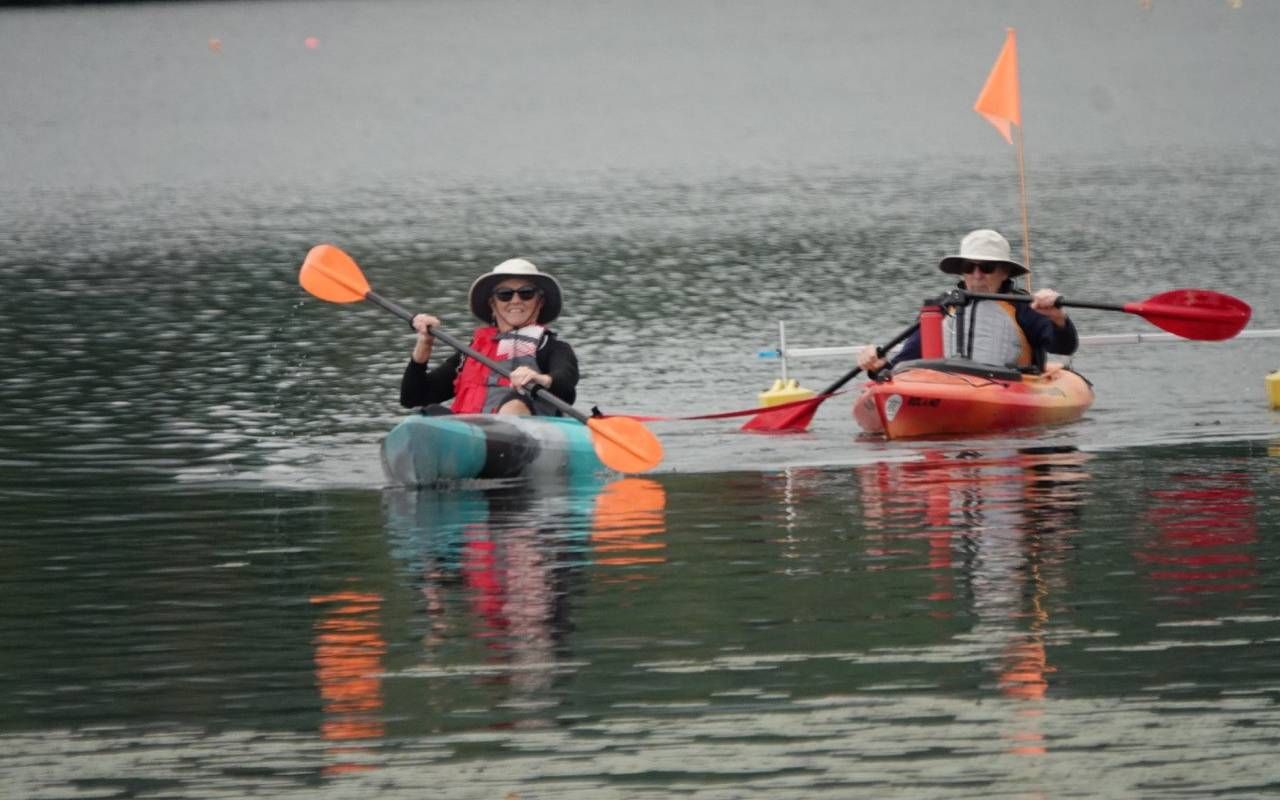 Although he died at age 89, in 2019, McCall went on to secure two patents, and oversaw the fabrication and distribution of his two inventions, the Versa Paddle and the Gamut Paddle Holder, at Angle Oar.
"Kayaking was the only exercise I was getting, so I missed it greatly when I couldn't get in and out of my kayak."
A big fan of the adapted paddles is seasoned physical therapist Cathy Webster, a level 2 American Canoe Association (ACA) kayak instructor with adaptive paddling certification. Her weekly kayaking program, previously offered at the Vermont Waterbury Center State Park, incorporates her therapy background and love of the sport.
Webster predominantly uses the Versa Paddles. Raising your arms above shoulder height, the Versa Paddle, when angled, allows the paddler to keep their arms well below that level. It also angles downward or straight because it's a hinged paddle.
An Improved Paddle
"People with bad shoulders can kayak further and longer with less pain and more pleasure using angled-versa paddles than a regular or straight paddle," Webster says, adding that a mount is required for both. "The mount for both systems removes the need for good core strength. Using either system depends on the kayaker's ability."
Betty Larose, 66, an eight-year kayaker, gave up the sport when her low back pain intensified. "Kayaking was the only exercise I was getting, so I missed it greatly when I couldn't get in and out of my kayak," she says.
While Larose owned a kayak with a narrow entrance, Webster recommended a larger cockpit for a more comfortable transfer. Larose liked the angled paddles because it took less effort to propel them; regular paddles exacerbated her sciatica pain. Now, following spinal fusion surgery, all pain has stopped, and she plans to return to the adaptive paddling program as a volunteer.
"I can help someone get in and out of their boat when they don't think they can," she says.
"I had pretty much given up on regular kayaking because I could not get a comfortable experience."
Terry Perkins, 72, diagnosed with slow-progression Parkinson's Disease in 2008, felt that the disease started interfering with kayaking a year ago.
"I had pretty much given up on regular kayaking because I could not get a comfortable experience. My knuckles scraped against the gunnels on the existing kayak," Perkins says. He also had difficulty steering. By using the angled paddles, Perkins's knuckles did not scrape the kayak's sides, and he could navigate straight ahead instead of going in circles.
Webster explains that Perkins has more control of the paddle because it is supported. "The paddles were a godsend," Perkins says.
Kaz Juvan, 92, learned about the adaptive paddling program from his daughter; her husband, who had multiple strokes, is a participant. "If he can do it, I can," he says.
Juvan has severe pain in his back, which spreads when he walks. "I don't have pain while sitting in the kayak … and I don't have much strength but don't need it since the split paddle is mounted," he explains.
Teaching Adaptive Paddling
Juvan likes the outriggers on the boat's sides that keep the kayak from tipping. Once in the boat, Juvan relaxes. "It is so nice and quiet. I feel safer in the kayak than on the ground."
John Lee is an assistive technology specialist, former occupational therapist, and co-instructor for the Kinesiology Lab's adaptive paddling program at California Polytechnic State.
"I focus on the adaptive side and the disability side of things," Lee explains. Each student is paired with a participant when they go out for their excursions in tandem kayaks on Morro Bay. The quarterly training program is open to adults with functional limitations, including older adults.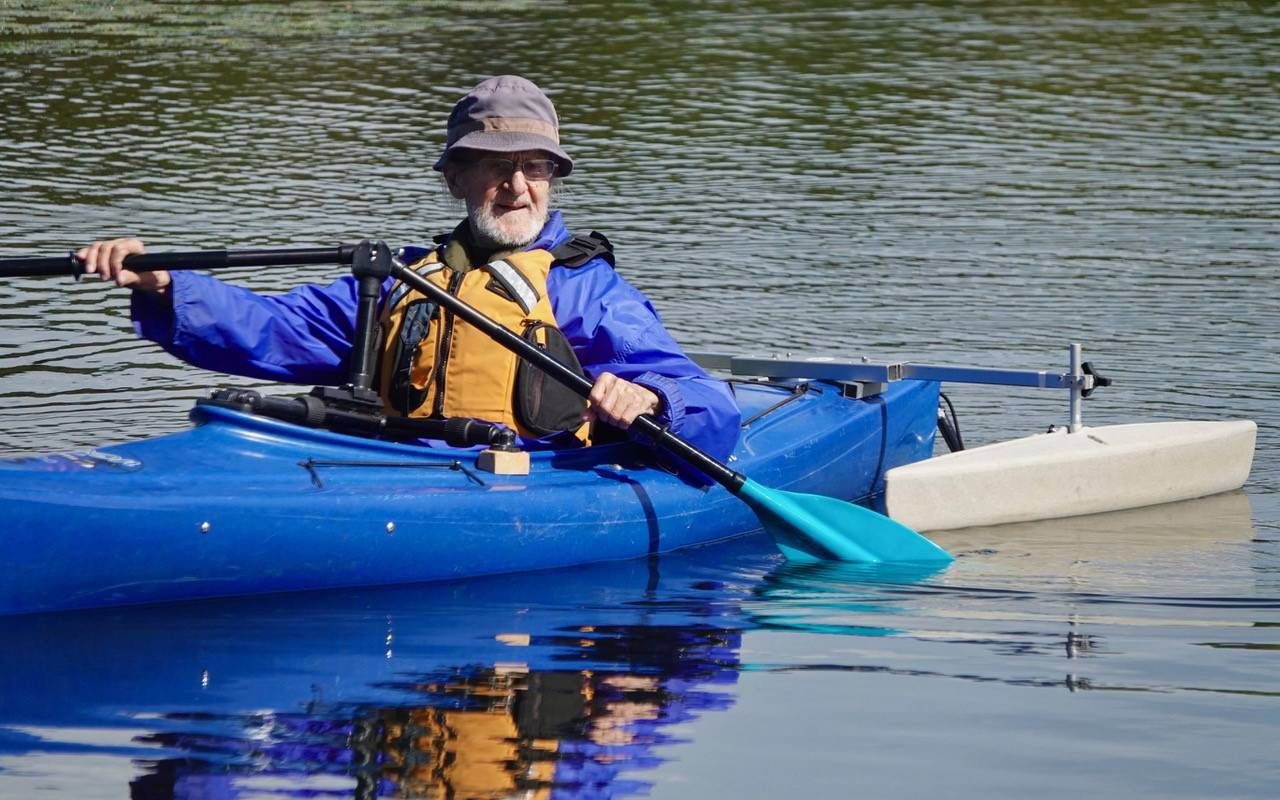 Lee, a wheelchair user, has a form of muscular dystrophy. "I have to always kayak with others because I cannot get in and out of the boat myself," he says. Instead, people lift and put him in and out of his single kayak via a sling carrier with handle holds.
Wheelchair users in the program are rare, according to Lee, however he says, "a wide range of individuals participate."
Lee has been part of the adaptive paddling program for twenty years. He teaches students to use low-tech materials to adapt the kayaks for participants, including using "different kinds of foam and bicycle tubing for padding for postural support, but also for building up the shaft of the paddles." He also uses bicycle tubing on the paddle shafts to create a soft restraint over hand for someone with a weak hand grip while enabling the participant to withdraw their hand should the boat tip over.

Lee has weak shoulder muscles. "I can do the paddle strokes, but my endurance is affected, and my ability to hold the paddle for an extended time is limited," he explains. For that reason, Lee has a Gamut Paddle Holder in his kayak, attached to a hinged mount. The type of mount needed depends on the kayak configuration, but all serve to mitigate the weight of the paddle making more efficient paddle strokes.
Back on the Water
The unique feature of the adaptive paddle is that you can use your regular paddle, which is able to pop in and out of the rotating head. As a result, Lee can propel his paddle with less arm and torso rotation and can pop out his paddle to do vertical draw strokes. The mount can flip open, helping with the transfer out of the kayak. "You can get out without feeling trapped," he says.
With a sit-on-top kayak, "I just had to be in a spot where I could swing both legs over the side and stand up," with little assistance.
There is one shared Gamut in Lee's program. Participants use lightweight paddles with a "carbon fiber shaft" with or without the Gamut. Lee thinks that "paddlers who have been kayaking for a while" would like the Gamut Holder because they can use their paddle and you can "really get going" on the water.
Cynthia Breen, 62, from Layton, Utah, was kayaking in 2014 when she had a brain bleed, resulting in left-sided weakness. After rehabilitation, she participated in adaptive paddling programs, beginning with National Ability Center at the Jordanelle Reservoir.
"Holding the paddle up without the support of an oar holder was too fatiguing for my affected shoulder," Breen explains. She did not like the hand grip device offered for her affected hand, nor the two-person lift she needed to get her to stand up and out of the sit-in kayaks.
With a sit-on-top kayak, "I just had to be in a spot where I could swing both legs over the side and stand up," with little assistance. Once she found the Gamut, she successfully can paddle one handed.
The low impact and high adaptability of kayaking makes it an attractive recreational sport for people over 50. To find statewide instructors with adaptive paddling endorsement, contact the American Canoe Association. The ACA has a list of instructors. You can also find a resource section. In addition, you may find adapted paddling programs in your state parks, recreation centers and senior communities.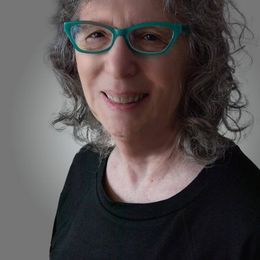 Laura Neikrug
is a longtime occupational therapist and recent founder of OT Day and Night, a series of instructional self-help videos for families, caregivers, and adults 21 and over with chronic disabilities. She lives in Wilmette, Ill.
Read More