Best Travel Deals and Destinations for 2015
Tourist tips from the experts at The New York Times Travel Show
(This article originally appeared in January 2015.)
Even if the Blizzard of 2015 turned out to be more of a Snor'easter than a Nor'easter (though not in New England), this time of year has many of us dreaming about soothing, intriguing places to travel.
With that in mind, let me share with you the best tips I heard at The New York Times Travel Show last weekend. The massive event that attracted 20,000 people and featured experts such as father-and-daughter tag team Arthur and Pauline Frommer; and The New York Times' Stephanie Rosenbloom (its Getaway columnist) and Dan Saltzstein (one of its travel editors).
First, I'll tell you 11 of the pros' money-saving ideas and then I'll note the Frommers' favorite destinations for 2015:
11 Ways to Save Money When Traveling
1. Try lesser-known hotel-booking sites. Ones like Hotelpower.com, Hipmunk.com and Booking.com can often get you less expensive rooms than the big boys — Expedia (which just bought Travelocity) and Orbitz — and turn up great mom-and-pop places to stay.
If you book a room at Tingo.com (owned by Tripadvisor) and the price drops, the site will refund the difference; Pauline Frommer says Tingo is best for luxury hotels. "They often don't have the best prices for budget properties," she said.
2. Sign up for hotel loyalty programs. They're free and can lead to pretty good bargains. "You'll get a lot out of them," said Pauline Frommer. "Free wifi and room upgrades sometimes. Some, like Starwood and Hilton, let you combine travel points with money, so you might be able to pay $50 to use your points and get a $300 room."
3. Use your smartphone or tablet to snag last-second deals while you're in a hotel. Increasingly, Pauline Frommer said, hotels will ping you about bargains that didn't exist minutes earlier.
"Say someone cancels a massage at a hotel spa at 3 pm and the hotel knows that the last time you were there you got a massage," she said. "Then, the hotel will send you a message saying 'You can get 50 percent off if you go at 3 pm.' They'd rather sell it to you for that than have the massage time go untaken." Similarly, she noted, if you pass a hotel bar that's empty, "they will ping and say: 'Come in for our 2-for-1 drinks now.'"
The downside? "If the hotel knows you have a tendency to order filet mignon for room service and not grilled cheese, they may give you prices on your table that are geared to your spending habit," she said.
4. Check out the Luxury Rentals From Homeaway site if you need fancy lodging for a big group. Rosenbloom thought it could be helpful if you're planning a family reunion or a trip with a bunch of friends who'd want to stay in a luxury villa. "You may be able to afford a big, beautiful home in another country, sometimes with housekeeping services," she said.
5. Planning to use Airbnb? Try negotiating the fee if the place is out of your price range. "They don't encourage it, but there are no rules against it," said Saltzstein. "It won't work for properties owned by management companies, but for others you might be able to knock off $50 a day or $200 for a week."
Keep in mind that some Airbnb hosts and rooms can be a little…unusual. Pauline Frommer said she stayed in a Cambridge, Mass. apartment of an acupuncturist and slept on an acupuncture table for $35 a night. "They put a sheet on it," she added.
6. Look into hostels — they're not (always) just big rooms filled with twentysomethings backpacking their way through Europe. "No one ever refers to them as youth hostels anymore," said Arthur Frommer. "The predominate clientele in the United States and in Europe are middle-aged people taking advantage of the new ones with private rooms, costing as little as $35 or $40 a day. There's an atmosphere of intellectual curiosity and joy. You're almost guaranteed a unique vacation experience — and a good one."
7. Know when and how far in advance to book flights. Pauline Frommer said that according to the Airlines Reporting Corp. (a service that travel agents use), you'll now get the lowest fares by booking them on Sundays (it used to be Tuesdays) and that the best deals go to people booking roughly two months (57 days) before they'll take domestic flights and 171 days (about six months) before international flights.
8. Sign up for money-saving flight alert emails from consumer sites. Rosenbloom likes AirfareWatchdog, which will notify you when it finds a sale on a route you've expressed interest in. Also, Yapta and Tripit will tell you if the site finds that the price of an airline ticket you've bought has fallen and you'd save by rebooking — even after paying the change fee.
9. Keep an eye out for falling international airfares. "There's some evidence those fares will drop a little this year because folks in other countries are having trouble affording coming to the U.S.," said Pauline Frommer.
10. Check airfares at Google Flights and at Hopper.com. Google Flights is "incredibly helpful if you're deciding between places to fly or multiple airlines and don't want to go crazy comparing results from 37 different sites," said Rosenbloom. She especially likes its bar-graph feature that lets you see which dates the flights would be least expensive for your route. But Google Flights doesn't include Southwest, because the airline doesn't let search engines include it.
Saltzstein's a fan of Hopper.com — whose motto is When to Fly and Buy. The site will tell you when the cheapest times of the week and time of day are to book the fare you want.
11. Before visiting a city, do an online search by typing in Google followed by the word "free." Said Saltzstein: "It works really well for major destinations. You get a quick sense of free activities in a city. My wife and I were going to Glasgow on our way somewhere and did this terrific free tour of a very famous art school given by a student. I don't know if I would have come across that in a guidebook or by asking the concierge at my hotel."
Where to Go in 2015
Wrestling with where to travel this year? The Frommers had a few suggestions:
Cuba Of course, Cuba is the big destination news for 2015, now that travel restrictions have been lifted and Americans will soon be able to visit there far more easily than during the past 50 years.
If you do go, he noted, you'll be able to use your U.S. credit cards and buy up to $100 worth of Cuban cigars or rum. "You'll be able to do almost anything other than lie on a beach. That's still prohibited — on paper, at least," Frommer said.
Although you could book a Cuban hotel, Frommer suggests considering a "casa particular" — that's the Cuban term for staying in a local's apartment or home, often for as little as $40 a night. That's a significant savings over a Havana hotel room.
Places Where Your Dollars Now Go Farther The strength of the dollar in recent months has made many destinations, if not bargains, then at least far cheaper than a few years ago.  "2015 is a marvelous time to travel for Americans possessing the U.S. dollar," Frommer said. Daughter Pauline added: "Now is the time to see the world. Who knows how long the strength of the dollar will last?"
Europe, for example, will now cost you about 30 percent less than a year ago, Arthur Frommer said. (The United Kingdom and a few other European countries such as Croatia, Denmark and Sweden aren't on the Euro, though.)
Japan has now become a "moderately-priced" destination due to the strong dollar, Arthur Frommer noted. "Japan used to be one of the most expensive countries to visit, when it was 76 yen to the dollar. Now it's 118 yen to the dollar," he said.
Other dollar-driven examples: South America (especially Argentina and Chile), Canada and Australia. Russia and Turkey are also bargains, Arthur Frommer said, but he wouldn't recommend visiting either now due to political instability.
Asheville, N.C. "If any place is hipper than Brooklyn, it's Asheville," said Pauline Frommer. "There's a burgeoning artist community that has revitalized once sketchy areas, there is great natural beauty and incredible historical sites. Not very far are some some great romantic b&bs; if you want a trip with your honey, go."
Belize "It's about to hit big," said Pauline Frommer. She says the Central American country has the natural beauty of Costa Rica plus "incredible Mayan temples and caves."
Malaga, Spain Pauline Frommer said that for years, tourists avoided Picasso's native city on the Costa Del Sol, but that Malaga has turned itself around. "There are beautiful promenades, 19 and 20 century paintings and this spring, for the first time, the Pompidou Museum of Paris will have a popup museum — here," she added.
Selous Game Reserve in Tanzania "I recommend this for a sad reason," said Pauline Frommer. "It's one of the most endangered places on earth. The numbers of elephants and rhinos there have plummeted and it's expected that in 10 years, there will be more rhino deaths than births. They're on the pathway to extinction. Perhaps tourism could save them."
South Dakota If you go in 2015, you'll beat the 2016 rush for the 100 anniversary of Mount Rushmore, noted Pauline Frommer, who added that August 2015 was the 75 anniversary of the famed Sturgis Motorcycle Rally and that September 2015 marks the 50 anniversary of the Custer State Park Buffalo Roundup.
Yellowstone National Park "It's much more comfortable than it's been for years," said Pauline Frommer, because the historic Yellowstone hotel has been rebuilt and because this summer, modular lodges have been moved into the park, "with moderate accommodations."
Happy trails!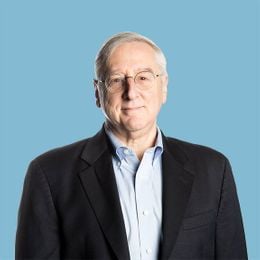 Richard Eisenberg
is the former Senior Web Editor of the Money & Security and Work & Purpose channels of Next Avenue and former Managing Editor for the site. He is the author of "How to Avoid a Mid-Life Financial Crisis" and has been a personal finance editor at Money, Yahoo, Good Housekeeping, and CBS MoneyWatch.
Read More