Carole King: Her Story
All about the brilliant singer-songwriter, just inducted into The Rock and Roll Hall of Fame
Editor's note: Next Avenue has updated this article to reflect the news that Carole King was inducted into The Rock and Roll Hall of Fame on May 12, 2021.
Carole King's music has been playing on our radios and stereos and in our heads since the late 1950s and she has just been inducted into The Rock and Roll Hall of Fame. Practically every pop singer on the planet — from Rod Stewart to Aretha Franklin to Amy Winehouse — has recorded her infectious, soft-rock songs. It was King's 1971 debut solo album, "Tapestry," which firmly established her as a singer-songwriter and sold 25 million copies. When "Tapestry" was released, critics hailed King's raw, imperfect voice for liberating female singers.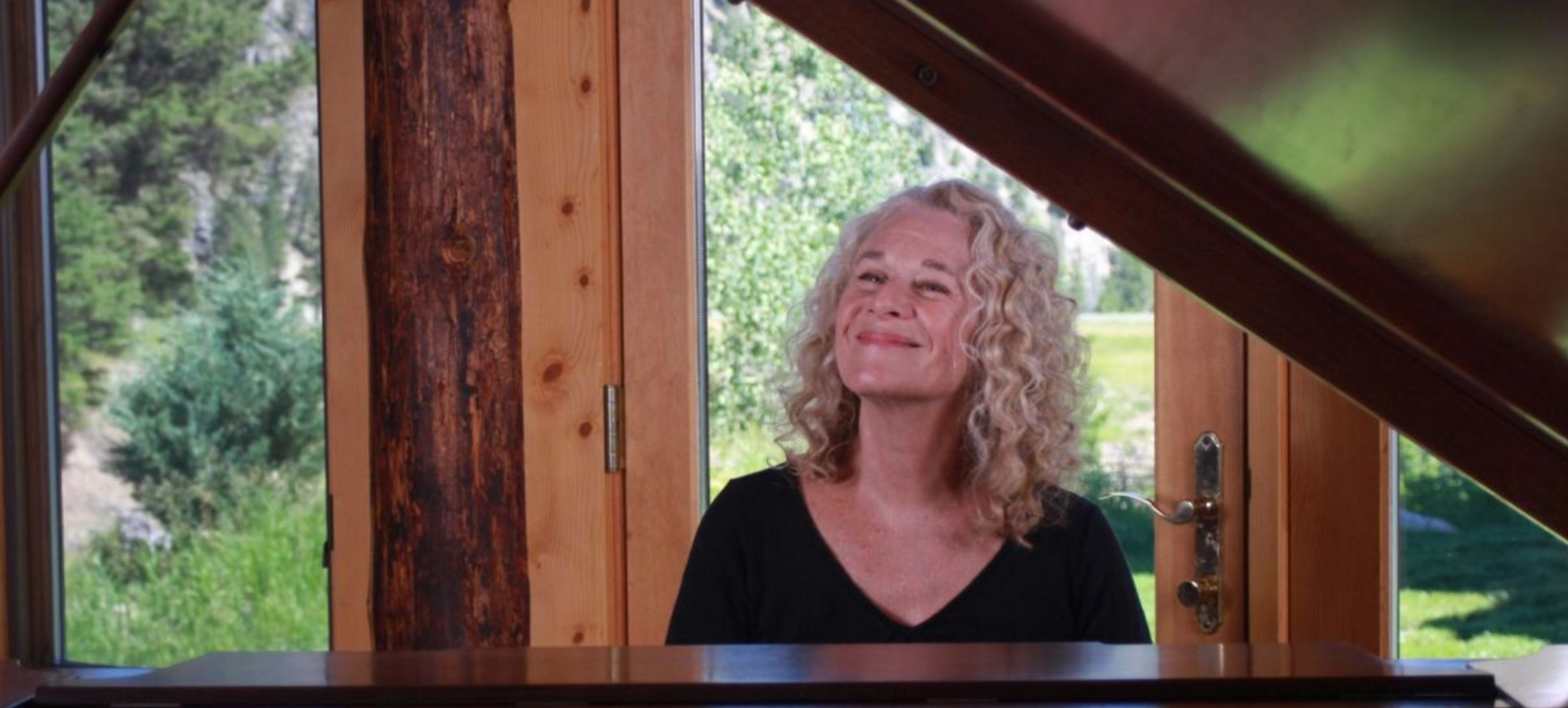 While we may know King's songs by heart, we've never really known her — until recently.
She never considered herself a great singer, like Barbra or Joni.
"Beautiful: The Carole King Musical" landed on Broadway; it told the story of her rise to stardom, first as a songwriter and ultimately as one of the most popular solo acts in modern music.
King also released a memoir at age 70. King says she wrote "A Natural Woman" by herself, without the help of a ghostwriter. The book is as spirited as her music.
She could have easily called the album "You've Got a Friend," one of the 12 pop classics on "Tapestry." King's informal, chatty style makes you feel as if she's an old friend — one who's sitting at your dinner table casually telling stories of her life over a bottle of wine. But just when things start to get too revealing or juicy, she suddenly excuses herself to use the bathroom. No celebrities were harmed in the making of this book.
 
"A Natural Woman" starts in the present day, with King about to go onstage to perform (she identifies neither the theater nor the city). From there, the narrative flashes back to her beginnings. She was born Carol Joan Klein in New York City, the granddaughter of Jewish immigrants from Poland. For the next 450 pages, King takes us on a tour of her life, which includes 180 pop hits on the Billboard Hot 100, four Grammys, four marriages and four children as well as incidents of domestic abuse and a 15-foot fall off a stage. The last chapter of the book picks up where Chapter 1 ends: King is now sitting down at the piano, about to entertain her fans. She says she's finally come to accept music as her normal.
King makes it clear early in the book that, though she was driven to succeed, she didn't want to be in the spotlight. She never considered herself a great singer, like Barbra or Joni. "They had the voices," she writes. Her original mission was to stay in the background by crafting good songs that others could sing.
The Journey Begins: Her First Hits
Success came early to King, thanks largely to her parents' support and encouragement. Her mother, Eugenia, was an actress who performed in amateur theater productions; her father, Sydney, a firefighter. While growing up in Brooklyn, King studied piano, listened constantly to pop songs played on the radio, and began writing her own melodies while still in grammar school. In 1957, at age 15, she had the confidence to walk unannounced, with her songbook under her arm, into the Times Square offices of ABC Paramount Records. She landed a contract, joining the label's other famous artists, among them Steve Lawrence, Eydie Gormé and Paul Anka.
She also got married early, at age 17, to a Queens College classmate named Gerry Goffin, an aspiring lyricist. Together, the couple had two daughters and, in the course of their eight-year marriage, wrote some 400 songs. By 18, King had already co-written a No. 1 hit: The Shirelles' "Will You Still Love Me Tomorrow." The King-Goffin collaboration went on to produce such pop classics as "Up on the Roof," "Take Care of My Baby," "The Loco-Motion" and "One Fine Day" as well as "A Natural Woman."
 
All of that changed, of course, with the release of "Tapestry," for which King wrote and sang all of the songs, including "I Feel the Earth Move" and "Beautiful." Her voice may not have been Aretha's, but it had an energetic warmth and earthy roughness that made every song on the album an emotion-packed ride.
Romance — Then Tragedy
Trying to keep track of King's husbands and relationships over the succeeding decades is a bit dizzying. But no, she was not romantically involved with her longtime friend and performing partner James Taylor, who she says gave her the confidence to sing and play in front of live audiences. (The pair reunited in 2010 for the Troubadour Reunion Tour.)
 
Maybe it's because most of King's husbands are still alive that she doesn't spend much time dissecting each parting of the ways. In Goffin's case, the wedge appears to have been his use of LSD. King leaves out his supposed affairs. As for why King divorced husband No. 2, bass player Charles Larkey, after two kids and six years of marriage, King simply shrugs it off as a result of "disparate schedules." 
 
It's Rick Evers, the struggling musician who became King's third husband, that she writes about most candidly. (No excusing herself from the dinner table here.) He died from an overdose of cocaine at a shooting gallery in Los Angeles in 1978, leaving King a widow at age 36.
 
Tall, with long blond hair, pristine blue eyes and a wheat-colored mustache, Evers was ruggedly handsome, King recalls. They met at a party at Don Henley's house near Malibu, and King fell instantly under Evers' spell, inviting him to her home that night. Having recently divorced, she confessed to him at the party that she wanted to take a breather from her hectic life. Soon they were in his van, driving to rural Idaho, a place she had never been — and as with Evers, it was love at first sight.
"I would never stay with an abuser. Until I did."
Through friends, the couple soon found the remote cabin that would be their home for the next three years. From then on, "Rick and I were joined at the hip," King writes. They had no electricity, running water, telephone or mail delivery, but in her book King never complains about the role of Mountain Mama, which involved milking goats, traveling on cross country skis in the winter, and home schooling two of her children. The experience, she writes, gave her a love of the land, and inspired her to become an avid environmental activist.
 
King was apparently slow to recognize the red flags in Evers' increasingly possessive, paranoid behavior. In what must have been her most difficult chapter to write, she reveals that in 1978, when they were married and back in L.A., living in Laurel Canyon, Evers slugged her in the jaw without any warning. This soon became a pattern: While she would be lying on the ground, he'd cry and apologize. "I had always been judgmental about women who stayed in abusive relationships," King writes. "I'd always thought, if I found myself with a man like that, the first time he struck me I'd be out of there in a New York minute. I would never stay with an abuser. Until I did."
 
Finally, King learned to say "no" to her cash-dependent husband, who constantly asked her for money to buy drugs. And drawing that boundary gave her the courage to leave him. In her book, King makes a plea for anyone in an abusive relationship to get immediate help, and provides phone numbers for the National Domestic Violence Hotline. 
 
Reflecting on her love life, King writes: "When I look back at my relationships with men, I see a pattern. As a child my strong will juxtaposed with wanting to please my father, and because my father had been so effective in making things happen, I grew to believe that it was easier to take strong steady action toward a goal with a man to help me get there." 
Are we missing any husbands? Oh, yes: No. 4, a carpenter from Idaho named Rick Sorensen, aka "Teepee Rick," to whom King was married from 1982 to 1987. Together, they bought a large ranch in central Idaho, which he managed. They split, according to King, because she wanted to spend more time in New York City, and he wanted her to stay at home with him. She'd been there, done that.
 
Despite the dark days, King seems to harbor no grudges. Expressing the hope that Evers has found peace, she mentions his love for animals, the elderly and children. She even forgives a rude remark that John Lennon made to her when they first met at a party, though she won't repeat it. (Years later, he made amends.) Throughout the book, King come across as sincere and compassionate, and in her later years, a sexy, Jewish earth mother. 
Despite the driving lyrics of her song, "A Natural Woman," they don't say what a natural woman is. In this book of the same title, we get some answers.