A CEO's Advice for the Third Chapter of Your Career
OgilvyOne's Brian Fetherstonhaugh says 'passing the torch' can be the most rewarding phase of your career
The passing of the torch from Jay Leno to Jimmy Fallon probably resonates with many people in their 50s and 60s.
Leno, 62, needed to make way for Fallon, 38, so a new generation could take The Tonight Show's reins. Now, Leno will begin planning his next chapter.
"Passing the torch" is what Brian Fetherstonhaugh, chairman and chief executive of OgilvyOne, calls the third and final chapter of a career.
The 55-year-old head of advertising giant Ogilvy & Mather's digital and direct marketing arm, who's been with his firm since 1983, thinks the "passing the torch" chapter may be the most important and fulfilling part of your career.
(MORE: How to Master Anything at Any Age)
Fetherstonhaugh doesn't mean "passing the torch" literally, though, as I learned when I recently sat down with him to talk about the three chapters of a career, each of which lasts about 15 years.
Here are the highlights of our talk:
What are the three chapters of a career?
Fetherstonhaugh In the early phase, you need rocket fuel — the meaningful skills and relationships that will propel you for this surprisingly long journey.
The middle chapter in your career is all about differentiating yourself, really tapping into what you're passionate about and excellent at and just going for it. This is the time to really make sure you're the best at something and different from other people on the career shelf.
And what's the "passing the torch" chapter of a career all about? You're not just talking about succession planning for business owners, right?
No. The passing the torch phase can be a really meaty and rewarding chapter of anyone's career. One of the most nourishing and satisfying things you can do as you're entering or going through it is to spend a lot of time teaching.
Are you talking about formal teaching? Mentoring? 
All forms of teaching. It can be lecturing at colleges or mentoring at work or having advisory roles on boards and not-for-profits.
Why is teaching so important in the third chapter of a career?
I think people lose gas when they don't feel they're contributing in meaningful ways; teaching gives you a sense of contribution. It's also deeply nourishing to see that what you do or know matters.
Almost every month I teach at places like MIT's Sloan School of Management, Columbia, Yale, McGill and NYU. It's fun and makes me sharper in crystallizing my thinking. And I absolutely get energy from the students, no question.
(MORE: Tips for Becoming a Teacher in your Second Career)
I'm also a personal mentor for a few people at Ogilvy; I was just assigned an incredibly sharp young guy last week.
Are there other ways to pass the torch at work beyond mentoring?
Within an organization there's a responsibility for passing on your knowledge — and sometimes your relationships — to make sure the place you move on from is in at least as good a shape as when you found it.
I don't have a date or a specific plan, but I'm aware that someday somebody else will run this company. So I periodically find ways to make sure I'm not the only one who knows about things, like my client relationships.
How should people work on boards either while they have full-time jobs or in retirement?
Lots of people use funny language when they talk about doing this, saying things like, "I'm going to sit on a few boards."
I say, "Sitting on a board, like you're just sitting there?" It sounds passive and unrewarding. And I tell them, "Why don't you find a way you can bring something to the party that nobody else can bring?"
Three weeks ago, I signed up for a new mission with Building for America's Bravest, which is a phenomenal organization that builds custom homes for severely disabled veterans. Ogilvy is now working with them to bring their message to the market.
You also say that learning is an important part of the third chapter of a career. What do you mean?
Yes, I think some people miss the learning side of this chapter. One guy I know started studying Russian at 60.
I took up guitar at the age of 40 when my wife gave me a birthday present of a Fender Telecaster. Now, virtually every Saturday morning, I take a guitar lesson with a fantastic teacher. We also play in a band, aptly called Plan B. We hope to be playing "Sympathy for the Devil" even after the Stones retire.
What should people in their 50s do to make their third chapter the best that it can be?
Think of your eBay factor. Say to yourself: "If at age 60, I was put up for auction on eBay, who would bid for me?" If neither a paying organization nor a not-for-profit would, go do something about it to make yourself more valuable.
There are a lot of talented boomers and every year a big chunk are hitting traditional retirement benchmarks. So you will be competing for positions.
Go back to school for new skills and make sure your subject matter expertise and relationships stay fresh. That's what people pay for.
And your LinkedIn profile should reflect this by showing your knowledge and that you have many connections, right?
Absolutely! I urge everyone to have a LinkedIn profile. If you don't have one yet, don't be embarrassed. You've got to start sometime. Include your volunteering activities on your profile, too; that can be helpful if you want a position on a board or a job at a not-for-profit.
(MORE: How to Use LinkedIn to Promote Your Personal Brand)
What's the biggest mistake people make moving from the second chapter of their career to the third?
A lot of people are in denial about their third chapter. I've heard people in their 50s say, "I'm done; I'm packing it in." And when I ask them what their plan is they don't really know.
It's gonna happen. There will be a chapter three. Whether it will be rewarding and nourishing or a bummer is up to you.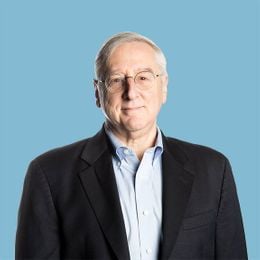 Richard Eisenberg
is the former Senior Web Editor of the Money & Security and Work & Purpose channels of Next Avenue and former Managing Editor for the site. He is the author of "How to Avoid a Mid-Life Financial Crisis" and has been a personal finance editor at Money, Yahoo, Good Housekeeping, and CBS MoneyWatch.
Read More