Quaker Minister Creating a Tiny House Village for Homeless Young Adults
Social justice has been a guiding force in Sally Hindman's life
Growing up in a wealthy family in a Chicago suburb, Sally Hindman was expected to be a debutante.
She nixed that idea in her junior year of high school.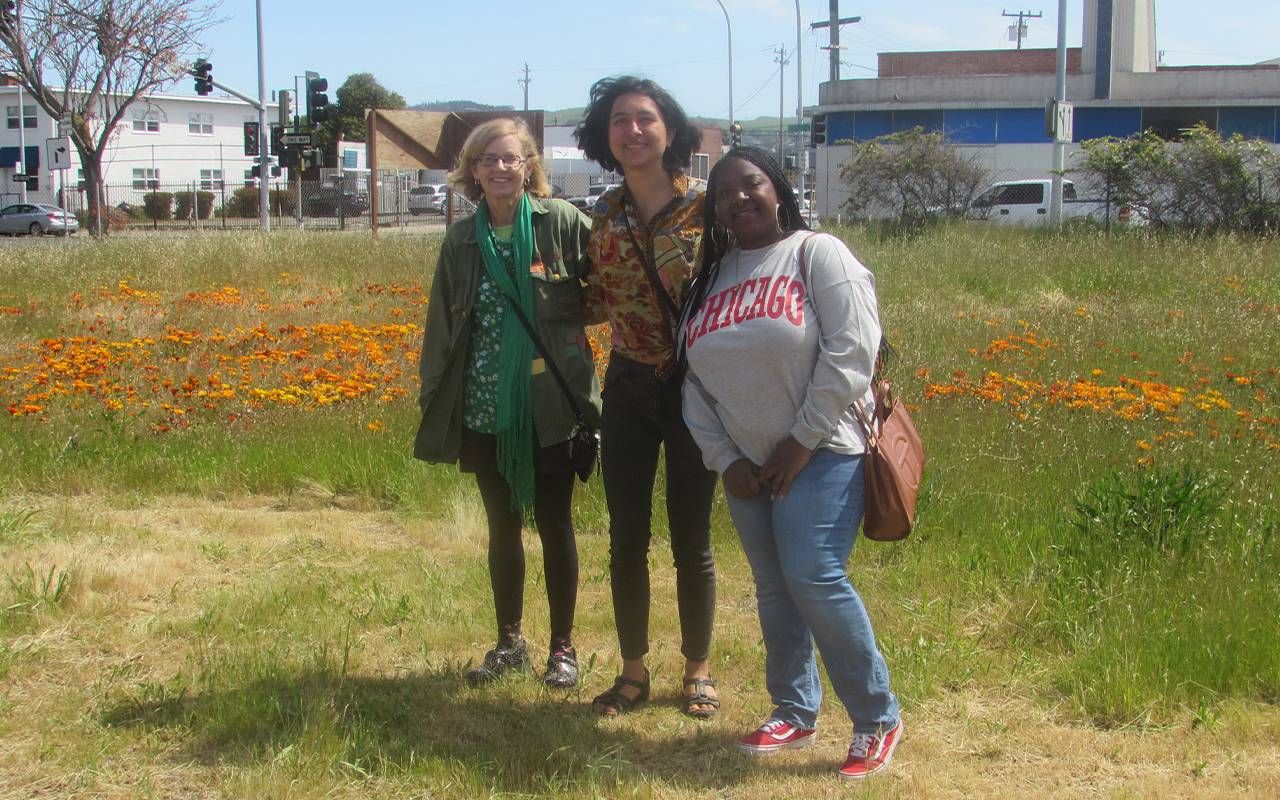 "I told my mother I didn't want to be presented to society," says 66-year-old Hindman, who recalls a life-changing moment that helped nudge her onto her path as a Quaker minister with a passion for social justice, using art as a transformative spark.
"I told my mother I didn't want to be presented to society."
"One of the cherished memories of my life was when I was six years old, in first grade," says Hindman. "I came home from school for lunch and our cleaning lady Ida said, 'You gotta watch this. This is going to change history.' She got me to watch Dr. King give his I Have a Dream speech." 
That day, a seed was planted.  
She began to be aware of the dramatic differences in people's lives. Ida's 13-year-old son had been shot by a gang member. Meanwhile, Hindman's mother took her shopping at Saks Fifth Avenue and the family was deciding whether to go to Jamaica for spring break.
Collaborating With Young People
The seeds of social justice, and compassion for the unhoused and disadvantaged communities, became the guiding force of Hindman's life for 34 years and counting.
That passion led to her current project, a tiny house village for homeless 18-to-24-year-olds that will rise on a vacant acre of land in Richmond, California, 20 miles northeast of San Francisco.
That's where I met Hindman, along with two young people she's mentoring so they can help guide the project. 
Hindman envisioned the imminent transformation of the lot bordered by BART trains, an auto repair shop and busy streets. It will become The Richmond Tiny House Village, Farm and Garden. Along with crops will come the option for culinary training.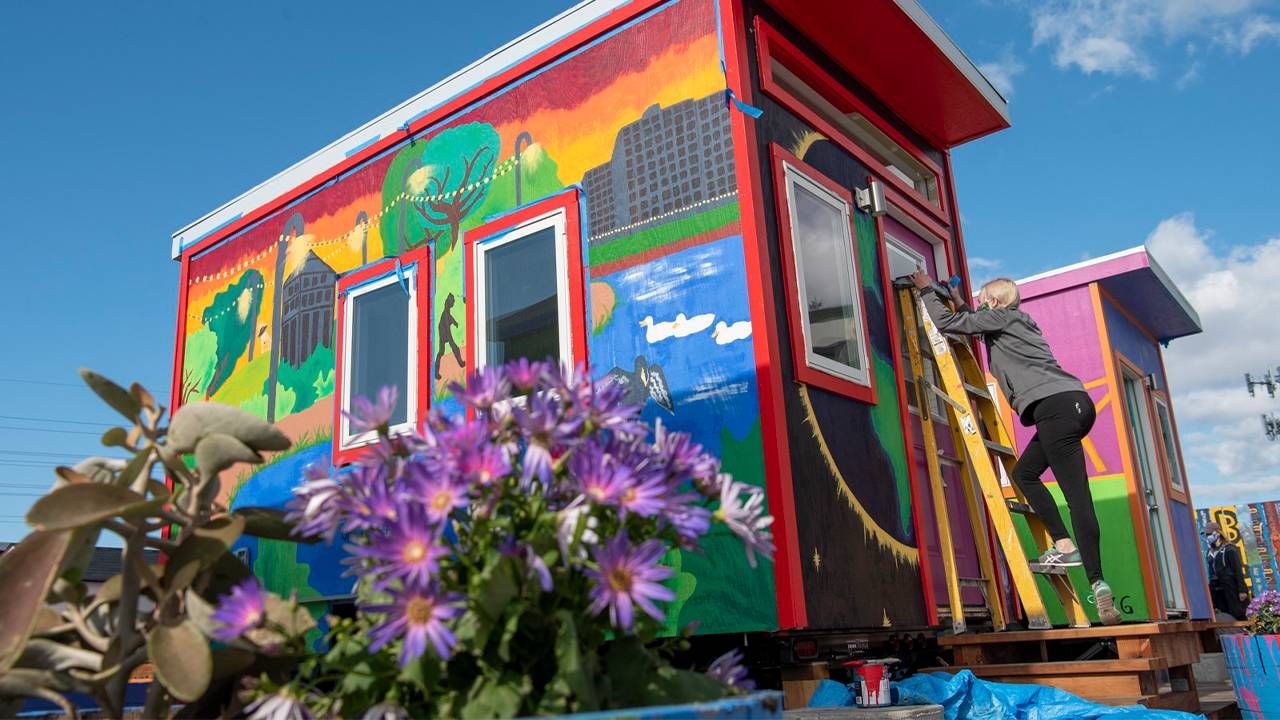 A few orange wildflowers poking through the weeds suggest the promise of this empty parcel.
It's the second tiny house village for young adults spearheaded by Hindman.
The Youth Spirit Artworks Tiny House Empowerment Village that opened in 2021 in Oakland was the first in the nation for homeless young adults ages 18-to-24. It was developed by Youth Spirit Artworks, the nonprofit Hindman founded in Berkeley in 2007. 
The vibrantly painted community provides two years of stability and job training for 22 young people from Oakland and Berkeley.
Gathering Community Support
It was built with the support of 45 organizations, including churches, synagogues, schools, businesses, community groups and more than 2,000 volunteers.
Now Hindman's organization, Tiny Village Spirit, is partnering with the Richmond Athletic League on the second project. It will house 10 homeless 18-to-24-year-olds from the community and one resident assistant. 
Hindman's knack for gathering support and volunteers, and mentoring youth, continues in high gear.
"Art showed me that a lot of different people from a lot of different backgrounds can come together to make something amazing." 
She's at the Richmond site with two young people she's encouraged since they showed up at Youth Spirit Artworks years ago as teenagers.
Toryanna Finley, 27, says, "Art showed me that a lot of different people from a lot of different backgrounds can come together to make something amazing." 
Inti Gonzales, who is 22, found her natural talent for art and design blossom at Youth Spirit Artworks. She became an important part of the two villages.
"I helped with the one-and-a-half-acre ground mural at the Oakland project," says Gonzales. "Now I'm helping with design and painting at the Richmond project." 
A group of 300 young volunteers from the Mormon Temple in Oakland recently began helping with construction of the Richmond village, which is expected to open in mid-2024.
'Getting to Know Others Breeds Compassion'
"Interfaith" is an essential element for Hindman, personally and professionally. 
Hindman grew up in a Methodist family, but her path led her to Pacific School of Religion to earn a Master of Arts and a Master of Divinity with a concentration in theology and art. Her husband is Jewish and a developer of affordable housing. Hindman is active in the synagogue, as well as the Quaker community. The couple has a 22-year-old adopted daughter who is Roma from Bulgaria.
Hindman is going full tilt as the Richmond village takes shape. Her passion for housing equity continues unabated through the decades. She says she cannot not sit by while some people have multiple homes and cars and others sleep in doorways or under bridges.
"With all deep respect for my family," says Hindman, growing up in the affluent suburb led her to understand many of the dynamics of power, privilege and wealth.
She saw that many wealthy people have no real interaction with disadvantaged communities.
Many people have physical or mental health challenges that just don't allow them to pull themselves up by their bootstraps and get "that great full-time job."
"Getting to know others breeds compassion," says Hindman. 
While she credits her parents for being very ambitious and working hard to earn their lifestyle, she says they were of a generation when it seemed easier to "pull yourself up by your bootstraps." 
Many people have physical or mental health challenges that just don't allow them to pull themselves up by their bootstraps and get "that great full-time job," says Hindman. "They do the best they can," she says, especially with the jaw dropping cost of housing in the San Francisco Bay area. 
She sees the tiny house village as model that can be done in communities across the nation to provide a path forward for young adults who may have been couch surfing or sleeping on cots in temporary shelters for years at a time.
In addition to offering residents stability that allows them to concentrate on making their lives better, the village offers another essential element. 
Hope.
"All the great religions of the world call on us, in one way or another, to focus on loving our neighbor as ourselves," says Hindman. "I think that message means that housing our neighbors is incredibly important."
Rhonda J. Miller
is a reporter and audio producer for WKU Public Radio in Bowling Green, Ky. She received a 2018 Journalists in Aging Fellowship, sponsored by the Gerontological Society of America and Journalists Network on the Generations to produce a public radio series on elder refugees in Kentucky. She was a 2019 Continuing Fellow in the program and produced stories on the difficulty of finding Kentucky businesses to hire older workers despite sponsorship by a federal program. Rhonda was Gulf Coast reporter for Mississippi Public Broadcasting, where she won Edward R. Murrow and Associated Press Awards for stories about dying sea turtles, illnesses of cleanup workers in the BP oil spill and homeless veterans. She has been a reporter for Rhode Island Public Radio, South Florida Sun-Sentinel and Pittsburgh Post-Gazette.
Read More