Dinner Parties Encourage Talk About Death
Saturday marks National Healthcare Decisions Day to discuss end-of-life care
Last month, I got a jarring reminder of our mortality. In the span of a few weeks, four former colleagues, all in their early-to-mid 60's, died. Two succumbed to cancer — three months and eights months respectively after they were diagnosed. The other two died suddenly, one from a pulmonary embolism and one from a rare condition known as amyloidosis that causes proteins to build up in your organs. It was such a steady stream of sadness that I became reluctant to open my Facebook feed, fearing more contemporaries would be taken before their time.
The cascade of loss reminded me of that old headline from the satirical website The Onion: "World Death Rate Holding Steady at 100 Percent." Ben Franklin got it right when he wrote that "nothing can be said to be certain except death and taxes."
But this year, death comes before taxes. Uncle Sam is giving most of us until Monday April 18 to file. Two days earlier, Saturday April 16 is National Healthcare Decisions Day, kicking off a week-long effort to encourage people to express their wishes for end-of-life care. One idea: hold a "Death Over Dinner" party (more on that shortly).
Have the Conversation
All of us can be lulled into believing we've got plenty of time, until we don't. Because many Americans are now living into their 90's and even past 100 — some with quality, not just quantity — we think we have an excuse to procrastinate making our end-of-life wishes known.
"It's always too soon until it's too late" is one of the slogans of The Conversation Project, a five-year-old nonprofit started by Pulitzer Prize-winning columnist Ellen Goodman, who regrets not having had the conversation with her mother before she began slipping into dementia. Goodman's group created a starter kit to help people of any age begin to sketch out how they'd like their final days to play out.
Signs of Progress
The taboo surrounding death has been stubborn, but eventually, taboos begin to melt away.
"To me, the biggest indication we're making progress is that we've gone from 'death panels' to writing an obituary for death panels," Goodman says. "There are so many things in the culture indicating people are ready to have these conversations. There's Atul Gawande's best-selling book Being Mortal. And who would have thought a movie, The Fault in Our Stars, about dying teenagers, would become a box office phenomenon?"
Another sign that death is creeping out of the shadows is that this year, for the first time, the Centers for Medicare and Medicaid Services began reimbursing doctors and other health professionals for conducting end-of-life conversations with their patients.
New Poll: Doctors Need Guidance
Virtually all doctors surveyed in a new national poll released today by the John A. Hartford Foundation say end-of-life and advance care planning conversations are important. But nearly half (46 percent) of the doctors surveyed who see Medicare patients say they frequently or sometimes feel unsure about how to discuss end-of-life and advance care planning. And less than a third (29 percent) of doctors report having had any formal training on talking with patients and their families about end-of-life care.
To get people comfortable with the notion of discussing death, perhaps even before a doctor's visit, The Conversation Project has joined forces with a kindred spirit nonprofit, deathoverdinner.org. The Death Over Dinner project was developed by Michael Hebb and Angel Grant to encourage something of a national dinner party the week of April 16, where loved ones lost will be honored at tables across America and Topic A will be wishes for end-of-life care.
Breaking Bread, Breaking Silence
Last week in Cambridge, Mass., I was invited to attend my first death dinner, led by Hebb. The eight others around the table, ranging from 33 to 64, were in some way connected to the health care space. They included Alexandra Drane, a co-founder of Engage with Grace, a pioneering organization to help people start the end-of-life conversation. Her TEDMED Talk on her 32-year-old sister-in-law's difficult end-of-life journey with a malignant brain tumor was part of the pre-dinner homework we were asked to complete. At the dinner, Drane said when her sister-in-law came home to die — despite the oncologist's strong recommendation to the family she stay at the hospital — "it was the greatest gift for her daughter, who to this day knows she was the last thing her mama looked at, and that she played an extraordinary role in her mama's passing."
There were toasts at the dinner to former family members, friends and even celebrities like David Bowie. There were also questions about what each of us would do if we found out we had 30 days to live. But there were also concerns about too often forgotten aspects of end-of-life care, such as the caregivers. Drane is worried that "caregivers who hold the hand of people through the end of life aren't supported enough" and that's shortening their lives. The dinner was far more thought-provoking than morbid — food for thought, as it were.
A Recipe for a Difficult Conversation
"Death is a shadow that follows us around from the day we are born," writes award-winning chef Jasper White, named best chef in the Northeast by the James Beard Foundation. "I don't know why we ignore it and are shocked by it when it happens." White is among 18 of the country's leading chefs, including Ina (Barefoot Contessa) Garten, Jose Andres, Jody Adams and Tom Colicchio, who've contributed recipes honoring someone close to them to The Endless Table: Recipes from Departed Loved Ones, an e-cookbook available for download. It is an effort to support the public engagement campaigns.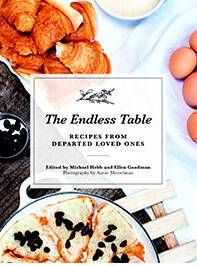 White chose to honor his paternal grandmother, Aida Padagrosi, who emigrated to this country from an Italian village between Rome and Naples in 1903. He offers her baccala (or salt cod) salad, a recipe White says is special to him and part of his repertoire at the restaurant.
"She lives on in this recipe," he writes. "She was such a fantastic cook. I spent my childhood eating her food and talking with her and she said to me, 'Someday, you're going to be a great chef.' Unfortunately, she lay dying as I prepared to open my first restaurant."
White says he signed on to this project, in part, because of his stepfather.
"His death was so excruciating and he was so dear to me. It took years to remember the man and not the man's death. I don't want to do that. I don't want to be remembered for my death, but for the man I was," says White. In that spirit, White has made it clear to his children and wife what his wishes are when the time comes.
From Columnist to Activist
Goodman has transitioned from being a nationally syndicated columnist covering social change to heading up an advocacy group trying to shape it. She says there's still a long way to go, but takes some pride that the phrase "Have you had the conversation yet?" is beginning to catch on.
In her introduction to The Endless Table cookbook she co-edited, Goodman invites readers to "break bread and taboos to talk about dying" around the dinner table to help counter the trend of too many people not dying the way they would choose, leaving too many survivors feeling guilty and depressed in their wake.
Goodman's contribution, "The Next Best Thing to a Recipe forJewish Penicillin," honors her grandmother's chicken soup, which she prepared, says Goodman, "like she did everything, with a kind of benign violence."
But in order to reproduce the soup, Goodman and her husband, former Boston Globe restaurant critic Bob Levey, went to great lengths to acquire a chicken with feet and eggs, trekking to an organic chicken farm in Maine, only to realize the freshly killed stew chicken hadn't been gutted. "So we bravely eviscerated the fowl...cooked the hell out of the chicken...and toasted Celia, the woman who taught her granddaughters that chicken feet were a treat."
Death 'Should Not Be Fearsome'
Michael Hebb developed the concept of "death over dinner" after two doctors shared the statistic that 70 percent of people say they want to die at home, but only 30 percent do. For him, there's satisfaction that some 100,000 death dinners have been held in 30 countries over the past four years. He's working with the Australian government, Jewish groups and health professionals on death dinners specifically tailored to their needs.
In The Endless Table cookbook he co-edited with Goodman, Hebb contributes a recipe for his late father's perfect whole grain blueberry pancakes. In the preface, he encourages readers to dare to dine and talk about death, a conversation that he says "should not be fearsome or morbid."
Hebb continues: "Whoever said that death was not proper dinner conversation? Let us remember our loved ones who have cooked for us — let us make their food and sing their praises and share. Let's all have the most difficult conversations we could ever imagine...and most importantly, let us live lives that people will celebrate after we have gone."
Richard Harris
is a freelance writer, consultant to the nonprofit iCivics, former producer of NPR's "All Things Considered" and former senior producer of "ABC News Nightline with Ted Koppel." Follow him on Twitter @redsox54.
Read More