Fear and Wisdom After a Fall
When her doctor was unhelpful, this author trusted her common sense
If you're going to do major damage to your foot, the least you can do is injure yourself in spectacular fashion. Fly off a mogul at top speed and crash. Jump out of an airplane and land wrong.
Me? While walking down a flight of stairs, I turned my head to inspect the paint touch-up my husband had done to a hall wall. Yes, I was literally staring at drying paint when my foot missed a stair and I landed in a heap on the foyer floor.
I'll bypass the choice expletives that attended my fall and cut to the chase: I broke my fifth metatarsal. At the emergency room, a hospital doctor explained that my break involved the long bone on the outside of the foot that connects to the little toe. He armed me with crutches, painkillers and some words of advice: "Stay off your feet for a month." Also, he said, make an appointment to see an orthopedic surgeon.
After I got home, I began to stew. In recent years, I've been attending Pilates classes four times a week. Now, this guy wanted me to idle on a couch for a month watching my love handles grow and my 59-year-old muscles deteriorate? No friggin' way
Thirty-six hours later, admittedly not in the best of moods, I was escorted into a doctor's office lined with laminated diplomas. By the time the orthopedist entered the room after keeping me waiting for 30 minutes, my temperature was on the rise. Who else but doctors display their diplomas on office walls? Who else insists on being addressed by a title? Who else routinely keep clients waiting? After a cursory greeting, the orthopod twisted my foot this way (Ouch!), and that (Ouch!). Then, he addressed me directly: "Well, young lady …"
That's when my blood began to boil. Over the next 20 minutes, he repeated the obnoxious phrase three more times. The dates on the diplomas indicated that we were roughly the same age. Did he think I found his absurd suggestion of youth charming? Was he too lazy to read my name off the chart? Was he trying to make me feel inferior? And why did he meet my every question with a smirk? Was it because my injury was so routine for him? Or, more irritating, had I arrived at that age I'd heard about, the one where doctors begin to talk down to you, certain that your mind has atrophied along with your body?
Still, I was there to learn. As the doctor spoke, I took notes, a habit I'd developed while caring for two loved ones during their respective treatments for cancer. Experience had taught me that medical information and instructions often don't penetrate or make sense in the moment. Notes are a useful reference and reminder. Yet, my notetaking bothered this guy. Twice he told me, "You don't need to write anything. I'll give you my notes at the end."
Good thing I ignored him. At the end of the appointment, he handed me his handwritten scratchings. You can imagine how useful those were.
What I learned during the consultation was that my recovery time would be twice what the ER doc had told me. I was to spend six weeks in a "boot" and on a cane, then two more using just the cane. When I asked about Pilates, the doctor dismissively likened it to Zumba (which is to say he hadn't a clue what it was) and said both were out. Instead, he said, try biking or swimming.
"I'll have my nurse show you the boot," he said. "You're not going to like this." He ducked out and the nurse entered, carrying a calf-high monstrosity that weighed a ton. (OK, my scale indicates it only weighs two pounds, but it feels like a ton.) As the nurse ushered me from the office, she reminded me to get a cane. "Which hand do I carry it in?" I asked. She looked confused, then gestured toward my injured side. "That one, I think."
The next day, when I purchased a cane and read the instructions, I discovered the nurse had it wrong. In need of advice I could trust, I phoned a physical therapist who'd helped me rehab prior injuries. Along with cane usage tips, he offered some instructions the doctor had neglected to share, chief among them how to navigate stairs properly. When I asked if he could design an exercise regimen for me, he said to come see him in a week.
Restless and stiff, I dug out my floor mat and dusty handweights. Drawing on decades of yoga and Pilates classes, I carefully began to stretch and work my upper body. My husband was not amused. He reminded me that at 13, I'd spiral-fractured my leg while skiing (another dismally unspectacular accident). Back then, I'd hobbled around on crutches in a leg-length cast for three months, unconcerned about the lack of activity. Why, he wanted to know, was I so impatient now?
When I considered his question, the answer was painfully obvious. At 13, it had never crossed my mind that I might not recover fully. Ah, youth. At 59, I am concerned that if I sit on my butt for eight weeks, I might never regain my pre-fall tone, strength and flexibility. Ah, age.
But if stubbornness (mine) and condescension (the doctor's) comes with age, so does knowledge. My favorite gem about aging bodies is one I learned in my early 30s from a yoga instructor, who was a human pretzel. He was also an octogenarian. "You don't get old and then stiff," he said, as he draped his leg over his shoulder. "You get stiff, and then you are old." I am determined not to let that happen.
Last week when I met with the physical therapist, he affirmed my concerns about coming back from an injury at 59. He approved my self-designed workout and added some leg exercises. (He also agreed it's pretty much impossible to ride a bike while wearing a boot and shared my concern about getting kicked by fellow swimmers in a public pool.) He corrected my stair-climbing technique and adjusted the height of my cane, too. All of this I digested without resistance. His explanations made sense. He spoke without condescension. In short, he treated me like an adult.
I am now a model patient. I exercise with great care. I restrict my walking to a bare minimum. I go nowhere — not even the dozen steps from my bed to the bathroom — without donning my boot.
When I next visit the orthopedist, I will be armed with a cane. That's for my foot. For my spirit, I will also be armed with three words: "Yes, young man?"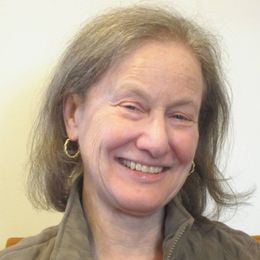 Jill Smolowe
is the author of "Four Funerals and a Wedding: Resilience in a Time of Grief." To learn more about her book and her grief and divorce coaching, visit jillsmolowe.com.
Read More