Fighting Isolation to Support Rural LGBTQ Elders
Potlucks and social networks help, as does training for health care staff
(Editor's note: This story is part of a special report for The John A. Hartford Foundation.)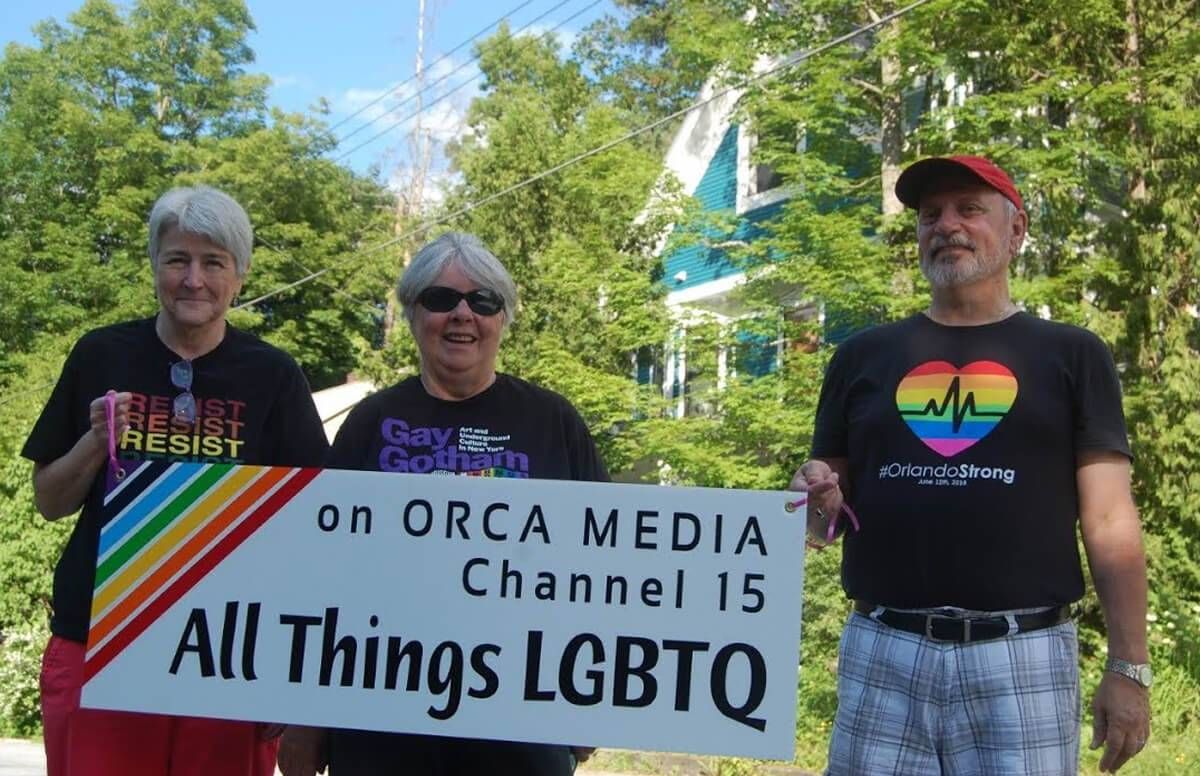 Potluck dinners may not solve the challenges faced by rural LGBTQ elders, but they are a frequent tool to fight the isolation faced by this vulnerable group.
They include a monthly discussion group organized by older lesbians in Montpelier, Vt. Dinners put on by the national group SAGE — which stands for Advocacy and Services for LGBT Elders — connecting older and younger members of the community are held each year.
Last year's events attracted more than 3,500 participants across the country. And in Northern California, a group of gay men initially formed to support others dying from AIDS in rural settings continues to meet 30 years later. They, too, hold potlucks and other gatherings to create a support network to help with new problems as they age.
"It's the community-building,'' said Linda Quinlan, a 71-year-old writer, poet and retired grant writer who participated in the Vermont women's group. "If you have everyone's phone number, then that woman who can't drive can call someone who can."
Rural Elders: Resilient, But at Risk
Rural elders who identify as lesbian, gay, bisexual or transgender or queer are a resilient group, and that will help them as they age, experts say. They chose to stay in a rural area and have learned to overcome or navigate around discrimination without the supportive political and social networks that are common in big cities.
Still, this group is at great risk for isolation and is an increasing focus for local, state and national efforts.
"They face additional obstacles in the aging process. Especially at times of need, they might not have the access to support,'' said Karen I. Fredriksen Goldsen, a University of Washington professor and lead researcher of the Aging with Pride: National Health, Aging and Sexuality/Gender Study, a federally funded investigation of the health issues of older LGBTQ adults. "But it's not an all-negative story. There are strengths there and we need to learn to build on those." (Fredriksen Goldsen was a 2015 Next Avenue Influencer in Aging.)
Less 'Out' Than Their Urban Counterparts
Among the barriers faced by rural LGBTQ elders is access to quality health care and housing. That is due in part to geography or the lack of mass transit. LGBTQ individuals are also more reluctant to come out to their health care providers — a significant obstacle to getting good care.
One of the few studies comparing LGBTQ elders in rural and urban areas showed rural members of the community were significantly less "out" than their urban counterparts. Housing is a significant issue and some moving into nursing homes or assisted living facilities have to consider if going back into the closet is a safer route in order to avoid harassment.
In addition, LGBTQ people are more likely to live alone and less likely to have children to care for them than straight people. Many LGBTQ people have extensive networks of friends that become families of choice, but those can leave you vulnerable as your friends and support network move from their 60s into their 70s and 80s.
Training Needed for Rural Hospitals, Nursing Homes
The number of LGBT Americans over 60 is estimated to be between 1.75 and 4 million. Research on the specific challenges of rural LGBTQ elders is limited.
What we do know is that all lesbian, gay, bisexual and queer older adults have higher rates of disability and mental distress than heterosexual elders. They are also less financially secure. The challenges for transgender older adults are even more daunting, with that group facing significantly higher risk of poor health, disability and stress, according to one study.
Solutions for these problems come in many forms. Telemedicine will help. The remote diagnosis and treatment of patients using telecommunications technology has been particularly beneficial for transgender patients in connecting with a health care provider familiar with the issues they face.
Another critical need is for increased training for those who work with older adults in nursing homes, hospitals and physicians' offices to make those places welcoming to LGBTQ people.
"Training is a huge piece,'' said Serena Worthington, director of national field initiatives for SAGE, which works with nursing homes and other facilities. "But you can't paint all of small town America with one brush.... You can get a receptive response from a place you least expect, or you can get a lot of resistance."
Building Social Networks Is Key
Improving social networks is one of the most important steps a community — rural or urban — can take to help LGBTQ older adults. This can come in many ways, and not just potlucks.
In the Albany, N.Y., area, the Pride Center of the Capital Region is developing a Friendly Neighbor Program to connect older members of the community with younger ones to decrease loneliness and to help out in other ways. The group also hosts a monthly potluck.
"Just asking people to take them to the grocery store or doctor's office can be very difficult," said Martha Harvey, the executive director for the Pride Center, which serves 10 upstate counties in New York.
In the 1980s, a group of gay men in rural Northern California responded to the HIV/AIDS crisis by forming the Billy Club, which provided support to men dying from the disease. As the group's social network grew, monthly potlucks and gatherings in rural settings became regular features of the club.
From AIDS to Aging
Eventually, members created a formal nonprofit organization with the mission to foster "community, intimacy, and personal exploration among gay, bi, and queer men through shared values and heart-centered brotherhood," according to its website. As time went on, the intensity of the HIV crisis eased, but the value of the friendships and gatherings grew.
"Aging is a big issue now," said Paul Mueller, 66, the group's president. "We feel the need to look out for each other."
In Montpelier, Vt., an older lesbian couple and a gay friend created a public access cable show to highlight LGBTQ issues in their small community. Using a talk show format, they've hosted discussions with gay lawmakers and transgender youth. The show's hosts are Quinlan, the poet; Anne Charles, 67, a retired lesbian scholar and Quinlan's partner of 35 years and Keith Goslant, 64, a Vermont native and mental health analyst for the state.
"I still get around. But you can't help but see what's down the road,'' Quinlan said. "It's always a concern."
The three enjoy living in Montpelier, which has a population of less than 8,000. Because it is the state capital, the city boasts a rich cultural life that outpaces its population, and the three say they prefer it to Boston or Burlington. The public access program, the woman's discussion group and other networking opportunities are a way to break down the isolation that can come from living in a rural area.
Networks Can Be Tenuous
But there are hurdles in rural areas for aging LGBTQ people, they said. One of them is the fear that despite the friends and connections you make, it might not be enough if bad times come.
"As we grow older, you realize those social networks become risky," Goslant said. "What happens if you are the last person standing?''
John Welsh
is a registered nurse at a Twin Cities hospital. He is board certified in gerontological nursing. Before becoming a nurse he worked more than 20 years as a reporter and editor at newspapers across the Midwest.
Read More

By

The John A. Hartford Foundation
The John A. Hartford Foundation is a private, nonpartisan, national philanthropy dedicated to improving the care of older adults. The leader in the field of aging and health, the Foundation has three priority areas: creating age-friendly health systems, supporting family caregivers, and improving serious illness and end-of-life care.