How to Find a Great Place to Live or Make Yours One
Homespun advice from the author of 'This Is Where You Belong'
I'm a sucker for lists, articles and books about "Best Places to Live" and given how popular they are, I suspect you are, too. Now, journalist Melody Warnick (who's moved six times in her adult life) has written a terrific book that could help you find yours — or help you make your current community a better place to live.
For her book, This Is Where You Belong: The Art and Science of Loving the Place You Live, Warnick did exhaustive professional and personal research to better understand what makes cities, towns and neighborhoods great places to live. Since I created and wrote the original Money magazine Best Places to Live in America story back in the '80s, I was particularly intrigued to see what Warnick, who has lived with her family in Blacksburg, Va. (home to Virginia Tech) for the past four years, turned up.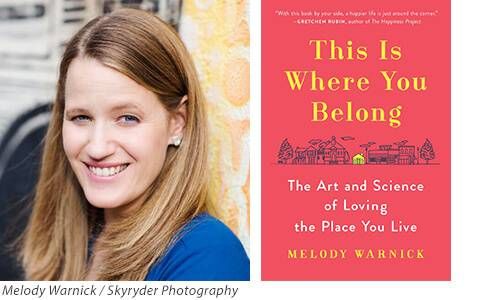 And I have to tell you, I found some of Warnick's conclusions truly surprising. I just spoke with her about them and to hear her advice for people who are either: planning to relocate for retirement, looking for more contentment elsewhere or eager to find ways to sculpt their current hometown more to their liking.  Incidentally, Warnick has grown to embrace Blacksburg (a town she didn't love initially), partly because of a few things she did after moving there. Highlights from our conversation:
Next Avenue: Why did you write this book?
Melody Warnick: It came about based on my personal experience moving around a lot. My husband and I found ourselves moving every three years, for jobs and for grad school. We moved to Austin thinking this was going to be the place we would stay; everyone raved about it. We figured, 'Great, we will put down roots.' But it just wasn't quite clicking in the way we expected.
My husband didn't like the weather or the commute to work, and then he found a job in Blacksburg.
I started thinking about why we were moving so much and what has to happen to make us want to stay, hoping the next town would be a magical Shangri-La.
Why does it matter whether we're happy in the town we live in?
People who feel connected where they live and have good relationships with their neighbors live longer. A Japanese study of men and women who felt good about their neighborhoods lived five years longer, on average, than those who didn't. When you're happy with your place, you feel more satisfied with everything going on.
When you started doing research, you learned about something called 'place attachment.' What's that?
When you feel place attached, you feel connected to the town; you feel rooted and satisfied and you want to stay. I thought: 'I need to get my hands on how to make that happen in my life.'
In some respects, place attachment is emotional. But it's also a product of certain behaviors and actions people do to make themselves place attached. In my book, I wanted to explore how that happens — how to make it happen for myself and provide a roadmap for other people. The things I learned made me dramatically feel better about where I live in Virginia.
Something called the Soul of the Community study looked into what makes people feel attached to where they live and they found there were three things: Aesthetics — feeling the place was beautiful; Social offerings — feeling like there were relationships and things to do and Openness — they wanted towns that felt welcoming to all kinds of people.
How is finding the right place to live in your fifties or sixties different than when you're younger?
Retirees can have more flexibility, but there are a few things retirees should know when they're considering a move. One is family; a Pew study says people are happiest if they live within an hour of six family members or relatives. So think about where your kids and parents live and how to get near them. That will make you happier.
A study from the Urban Land Institute says most boomers want to live in small towns or rural settings. It's wise to think about transportation and walkability there. If you can live in a place where you can walk, it's easier to age in place.
How can you figure out if the place is the right place before you move there?
It's like dating. You want to check each other out a little. To some extent, you can do it by traveling there and going to events in town. I believe the best way is to try it out for six months by renting a place. See how it feels.
Also, think about your 'one' thing that you value a lot about a community and can make it feel like home? For me, it's the library. I'm a huge library junkie and when I go to a community with a great library, I instantly feel it says something about what the community values and how I'd feel if I lived there.
What can people do to make the community they live in a place they'll be happier living in?
The number one thing to do when you're new to a place is get a sense of geography by walking or biking around. Then, make an effort to get to know your neighbors. When you're new, not knowing people is what's most likely to make you feel dissatisfied. I tell people the easiest and best thing you can do to feel at home is take cookies to your neighbors.
Volunteering is another thing I stress to feel engaged where you live — doing something positive for your community and meeting people who, like you. want to help out the town.
In your book, you write about Love Where You Live Experiments and you did one yourself in Blacksburg that made you like the town more. Tell me about one of them.
Getting involved in the running of your town can help you feel more engaged. That's something that works well for older adults who have a little more time. I didn't want to run for city council, but my town had a program to meet leaders of city departments. I did that and it allowed me to relate to the city better and appreciate it.
You also put up signs around town. Why?
That was based on the Walk Raleigh project; the idea is there are places that are sometimes walkable, but people refuse to walk to them because they think they're too far. Matt Tomasulo, The Walk Raleigh project creator, developed signs showing how far it was to certain places. He thought if people put up signs pointing to something interesting, people might walk there. And he created Walk Your City so anyone can create signs in their city.
I did it in Blacksburg, putting up five or six signs around downtown saying: This way to farm-fresh vegetables from the farmer's market or to the historic cemetery or to the duck pond, to get people to think about walking. For me, it was life-changing. I had never been to the cemetery, so I took my own advice and followed the sign. I not only had a good experience wandering around, but walking the street I had never walked on made me see it in a different way.
You also write about something called placemaking. What's that?
It's the best thing for older adults. The concept of placemaking is the idea of making your place better and it's something that retirees and near-retirees are uniquely positioned to do, once the kids are out of the house. It can mean something like helping create community gathering spaces, like public parks. Take the initiative to do something good for your town.
I wrote about an art professor in her fifties who had a second home in a town in upstate New York that was devastated after Superstorm Sandy. It demolished half the town. She got involved and heard there was a need for places to gather and said, 'I know something about that.' And she got a grant and created a community art center with a coffeehouse.
If you found the place where you want to live forever but you're not sure you can age in place there because it lacks amenities, now is time to start changing your city. In a lot of cases, you can make a difference.
What's your opinion about all those Best Places to Live lists?
They're mostly for people who already live in those places. The best thing about the lists is they make people who live in those cities proud of them. The lists might also tell you to give a place a look that you've never heard of.
Is there a perfect place to live?
No. I don't think people will be a hundred percent satisfied in their towns. In Blacksburg, the town where we live, there are some things that bug me. I get bored on the weekends sometimes and think: 'Wouldn't it be great if Disneyland was here, or a museum?' It can sometimes feel a little too small. It rains a lot.
There are always tradeoffs. You want to find the best fit you can find and learn to live with things that are not terrific.
We love Blacksburg now. We've been renting a house, and my husband and I just started working with a Realtor to buy a home as a sign of our desire to be here with our family for the long haul.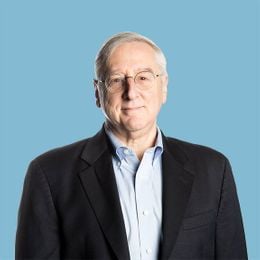 Richard Eisenberg
is the former Senior Web Editor of the Money & Security and Work & Purpose channels of Next Avenue and former Managing Editor for the site. He is the author of "How to Avoid a Mid-Life Financial Crisis" and has been a personal finance editor at Money, Yahoo, Good Housekeeping, and CBS MoneyWatch.
Read More