Gary Paulsen's Book 'Hatchet' Gave My Son Confidence
February is I Love to Read Month. A mother remembers the lasting impact of 'Hatchet' on her son, a reluctant reader.
Until my son began reading Gary Paulsen's books, reading remained a painful exercise. Paulsen, who passed away in 2021, wrote many great coming of age stories about the outdoors that captured the hearts of indifferent readers, but the one that saved my son was "Hatchet."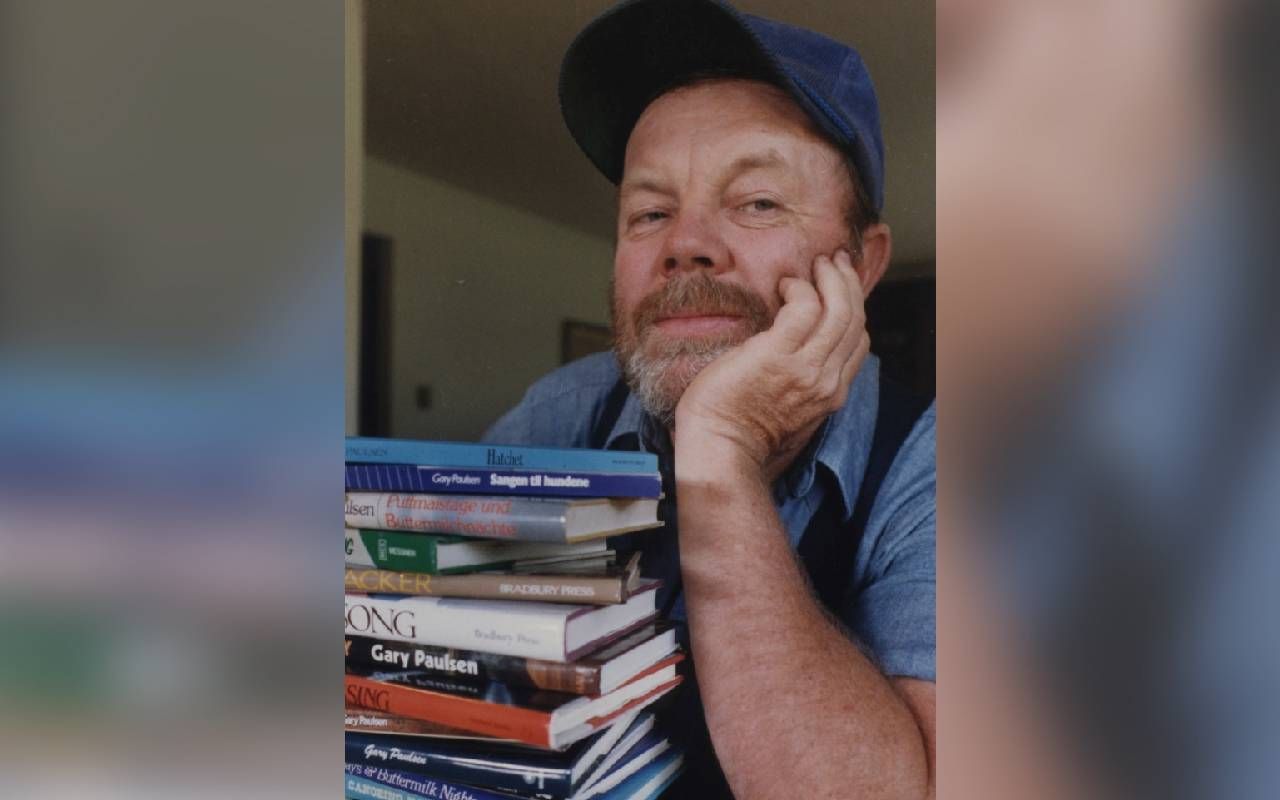 In the book, a thirteen-year-old boy named Brian flies from New York to Canada. When he crash lands in the Canadian wilderness, he must learn to survive on his own. Paulsen doesn't make it easy. We, as readers, are in Brian's mind as he figures out how to build a shelter, catch a fish, start a fire, forage for berries. Each step is filled with failure, despair, and trial and error until he succeeds.
"Please read, I'm filming." He would "film" the words he heard in his mind.
My son Martin first read "Hatchet" in fourth grade. With a language-based learning disability and ADHD, school was difficult. Nightly, he struggled with writing, spelling and math.
After his homework was done, too tired to read to himself, we often read aloud to Martin. He would turn his freckled cheeks towards the window, place a pillow around his head and say, "Please read, I'm filming." He would "film" the words he heard in his mind.
Reading on Repeat
Martin enjoyed listening to us read long chapter books, but when he was assigned "Hatchet" for school, he read it on his own. He read it once, and then immediately asked my husband to read it to him again.
At the end of that school year, I was taking my four children on a month-long road trip across the country, stopping halfway through for my sister's wedding in Montana.
Martin struggled to get to the end of that year. School was hard and frustrating. I motivated him by reminding him that like Brian in "Hatchet," he could sleep outside each night and fish his way across America. He had a rod and a tackle box, and that year for Christmas he received a lure-making kit and began to make and paint his own fishing lures.
Towards the end of the school year, he began re-reading "Hatchet" again.  
In preparation for our trip, I told my kids they could each bring a large shoe box of things to do in the car and two items for outdoors. Walkman, books, a journal, deck of cards, Etch A Sketch, a soccer ball. They each thought long about what few items to bring.
"Can a hatchet be one of the things I bring on the trip?"
In the opening of "Hatchet," the protagonist Brian is driving with his mom to the airport, and she hands him a gift:
"I got you something." Brian took the sack and opened the top. Inside there was a hatchet… "The man at the store said you could use it. You know. In the woods…"
Martin came out to the kitchen holding the blue paperback in his hands, "Can a hatchet be one of the things I bring on the trip?"  
His birthday was coming up at the end of April. Since our itinerary was mostly campgrounds and eating out of the back of our gray minivan, I did not mind Martin having a hatchet in the tent at night. Though my husband would meet us in sixteen days in Utah, we were on our own, so as we left Pennsylvania, Martin became our protector.
A Confident Protector
Near Lake Michigan, Martin used his hatchet to hammer the tent stakes into the ground. Some a bit too far. The next day it took us hours to dig them out in the heat of the morning sun. Eventually, he got the hang of hammering the stakes. He also used the hatchet to cut off branches for kindling or for roasting marshmallows.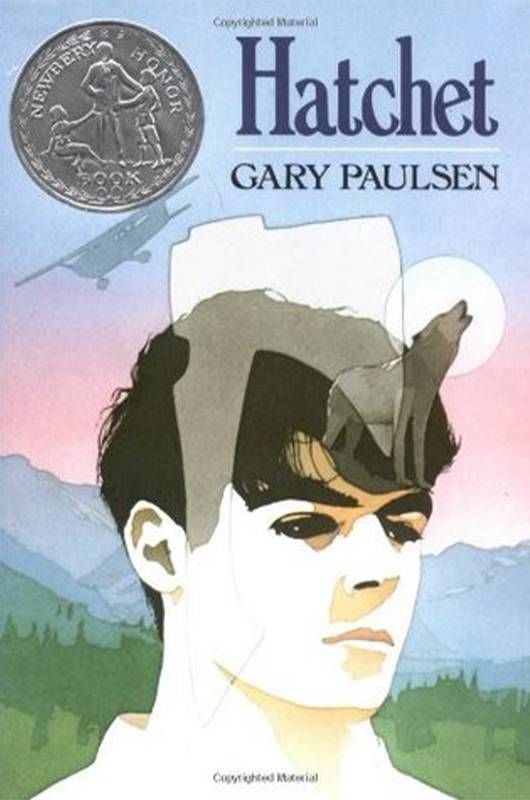 Before leaving home, we had gone to the library and told the librarian about our trip. She was so happy we were only listening to books on tape and not bringing videos that she told us we could (on the sly) take out as many books on tape as we wanted and just return them when we got back.
We took many "Little House on the Prairie" books, "Island of the Blue Dolphins" and some shorter ones for Martin's younger sisters. We also took "Hatchet." On the way to Iowa where Martin would drop his line in the water for the first time, we listened to the book.
One night in Nebraska after following the pioneer trail on the North Platte River and trying his hand at fishing again, Martin built us a fire while we set up camp in a state park. Before bedtime, we heard lots of guys shouting around us. I felt uneasy, but we all drifted off to sleep.
Around midnight, we both woke up to the sound of a voice and strong winds outside our tent. Martin, as a routine, slept with his hatchet under his pillow. He whipped it out as I unzipped the tent.
"Excuse me, ma'am." A park ranger looked in beyond Martin to see me. "We're fixin' to get a storm here and they're calling for 70 to 100 mile an hour winds and hail. Winds should stop around 3 a.m.  I suggest packing up and getting in the shower house in case it gets bad like others are."
With four children between the ages of three and twelve, I knew we did not want to wait in the rest room. Martin put down his hatchet and he and his older sister, Elizabeth, helped me pack up while their younger sisters slept, and then the park ranger directed us to a motel to stay.
Martin never had to use his hatchet to protect us on that trip, but it gave us all peace of mind that he had it with him.
Nature as a Comfort Zone
Like Martin, the author, Gary Paulsen, grew up using nature as his comfort zone. The outdoors healed him.
I then went and sat in his childhood bedroom. "Hatchet," one of few books, leaned on a wooden shelf.
Later, through his adventure stories, Paulsen demonstrated how nature can have therapeutic qualities as well as build independence and confidence. Like Paulsen's characters, as Martin grew older, he continued to transform and rage with confidence in natural settings, confidence that he did not have in school.
I knew how to fish, but he taught me to be better, and he took pride in organizing his tackle box, and teaching me to use various lures. He learned to hunt, track animals and he loved building forts in the ravine behind our house. He liked to hike and observe and identify birds. Each spring he helped me ready my garden and he stacked wood for our fires.
More than a year ago, when I came across Gary Paulsen's obituary, I immediately texted Martin. I then went and sat in his childhood bedroom. "Hatchet," one of few books, leaned on a wooden shelf. I paged through it. This book had turned him into a reader and a hatchet had turned both Brian, the main character, and my son into self-reliant young men.
Martin texted back, "So sad he died. I loved his books."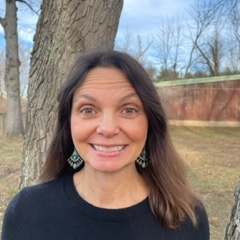 Robin Lentz Worgan
resides outside of Philadelphia. Her essays have been published in Literary Mama, The Philadelphia Inquirer, Brain, Child and ADDitude Magazines as well as other local publications. She teaches spiritual writing classes and is currently writing a YA novel.
Read More