Going Back to College After 50: The New Normal?
Champlain College just cut tuition 50 percent for its career-focused online degrees
Now that college commencement season 2018 is in the books, it's easy to picture an empty campus quad with  ivy-clad buildings awaiting a new batch of eager young learners this fall. But many of this year's graduates didn't fit this profile.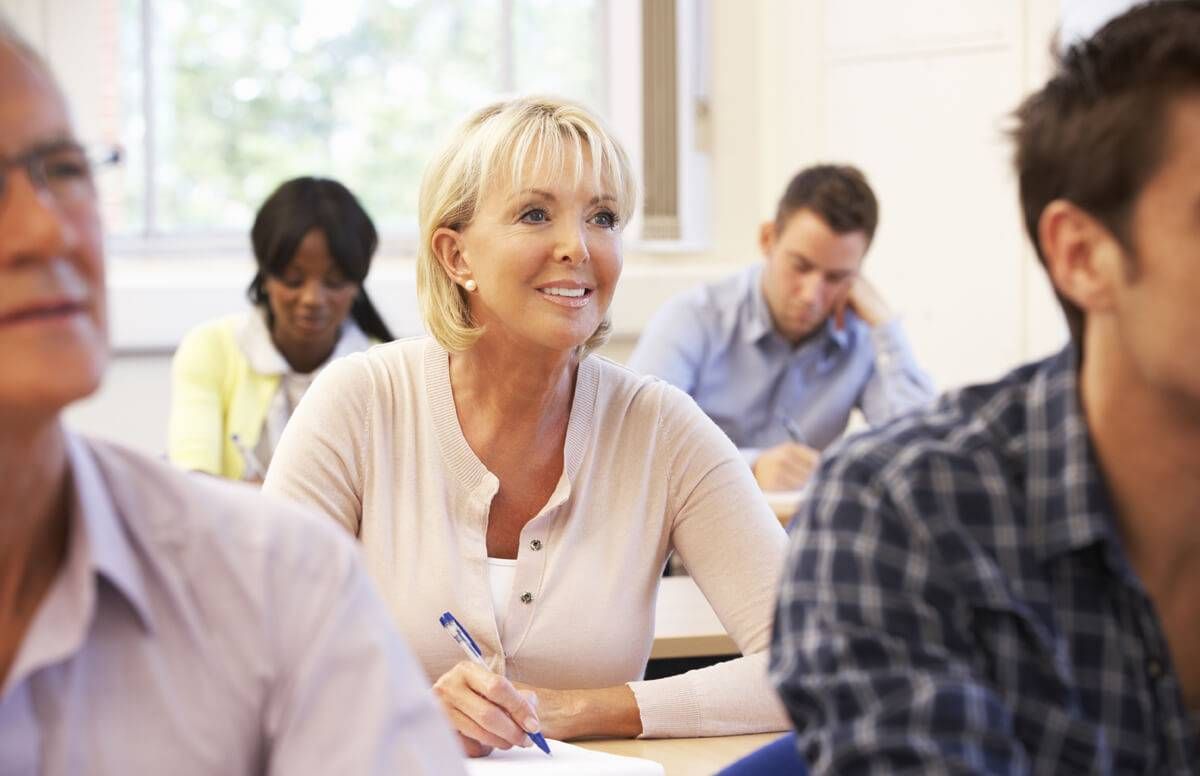 Take Mike, for example — a student at Champlain College (where I am provost and senior vice president for academics). He recently completed a bachelor's degree in integrated studies and is in his early 60s. Mike had a successful 30-year tech career, despite having earlier ended college at an associate degree. When his employer, a multinational telecommunications company, announced new technology initiatives and began encouraging its workforce to upskill in key areas like cybersecurity, Mike realized he needed to finally get his bachelor's degree to remain competitive. Taking advantage of his employer's partnership with our school's online curriculum, he enrolled in his first cybersecurity course; three years later, Mike graduated with a bachelor's and an in-demand, up-to-date technology skill set.
Adult Learners: The Majority of Degree Seekers
You may be surprised to learn that adult students like Mike are now the majority of degree seekers in the U.S.
Many adult online students are already high-achieving people earning a decent living. They may have served their country in the military and may have begun college years ago. Some started families whose needs had to come first or just found that "real life" took over and sidelined their education plans.
Sometimes the joy of learning itself motivates an adult to enroll in college, but often there's a practical payoff, too. Even in your 50s or 60s, there can be a significant economic upside to earning, or completing, that college degree.
The decision to go back to school as an adult with a host of competing priorities and responsibilities isn't an easy one, however, and some people may question the value of getting an education later in life. In fact, a recent national survey from Champlain College Online (known for its career-focused adult education) found that 60 percent of U.S. adults age 23 to 55 without a bachelor's degree have considered returning to school, but costs and student debt were deterrents.
While going back to school later in life isn't the right choice for everyone, it's becoming an increasingly attractive option, as more adults choose to delay retirement, the workforce becomes even more competitive and career shifts become more common.
4 Reasons People 50+ Are Going Back to School
Some of the main reasons older adults choose to pursue a degree include:
Searching for a Second-Chapter Career Many adults find themselves decades into their career paths and realize they'd like to spend the last of their working years doing something completely different. Others retire and discover they want to find a job. Still others find themselves out of work because their duties have been outsourced or rendered obsolete by new technologies. For adults looking to pursue a second-chapter career in a new field, a degree is often the best way to develop the necessary skills.
Staying Competitive in the Workforce In many fields, particularly those with a technology focus, it's easy for skill sets to become outdated. Many companies choose to bring on newer, younger talent rather than invest in upskilling and retraining their current workforces — and in those circumstances, it's older adults who are most often at a disadvantage. Going back to school (whether to finish a degree or complete a new one) is a great way to build on existing knowledge or develop expertise to stay competitive in the workforce.
Creating New Challenges and Learning New Things Even for adults who are happy and secure in their current organizations, the desire to keep learning may remain strong. Going back to school is often a way to create new challenges for yourself, learn new things and provide an opportunity for personal development.
Meeting a Long-Held Goal For many adults — particularly those who never completed a degree or who've made multiple attempts to go back to school, obtaining a degree is a lifelong goal. Whether for personal fulfillment, to inspire a child or grandchild or simply to be able to say "I did it," returning to college is a way of finishing what they started and fulfilling a long-held dream. And for many of these individuals, the journey may be significantly shorter than expected; many institutions now accept previously earned credits, will translate workplace competency into transfer credits or provide credit for on-the-job training.
Some colleges have longstanding experience serving working adults with high-quality online programs dedicated to ensuring that the decision to go back to school pays off. And many such schools are creating new pathways to make this a viable option for even more people, including the over-50 crowd.
My school, for example, recently made the decision to lower online undergraduate tuition by 50 percent, to $318 per credit. This was a result of witnessing firsthand the power of investing in adult learners and their success.
While tuition cuts like Champlain's are unusual in higher education, institutions are increasingly finding new ways to make it easier for adult learners to pursue a degree. And the number of schools offering fully online programs has expanded dramatically in the past few decades.
Adults who make the brave choice to go back to school to earn a degree later in life won't be alone. College classes are seeing increasing numbers of students like Mike, who, on the first day of class, are introducing themselves as career-changers, retirees and grandparents.
What was once the exception is now, more than ever, the norm.
Laurie Quinn
is provost and senior vice president for academics at Champlain College in Vermont. Her career in higher education has been focused on fostering access to quality college experiences online and on campus.
Read More