Honoring Memories in Public Green Spaces
Benches, plaques or stewardship are ways to remember someone special
Parks are the places where our memories are made, honored and stored; green spaces for all ages and all walks of life, from the impoverished to the wealthy. We can count on parks as welcoming places for anyone to enjoy nature, to reflect, to celebrate and to dedicate memories of people we have loved and honored. Park benches have a way of bringing the words and memories together in the perfect setting.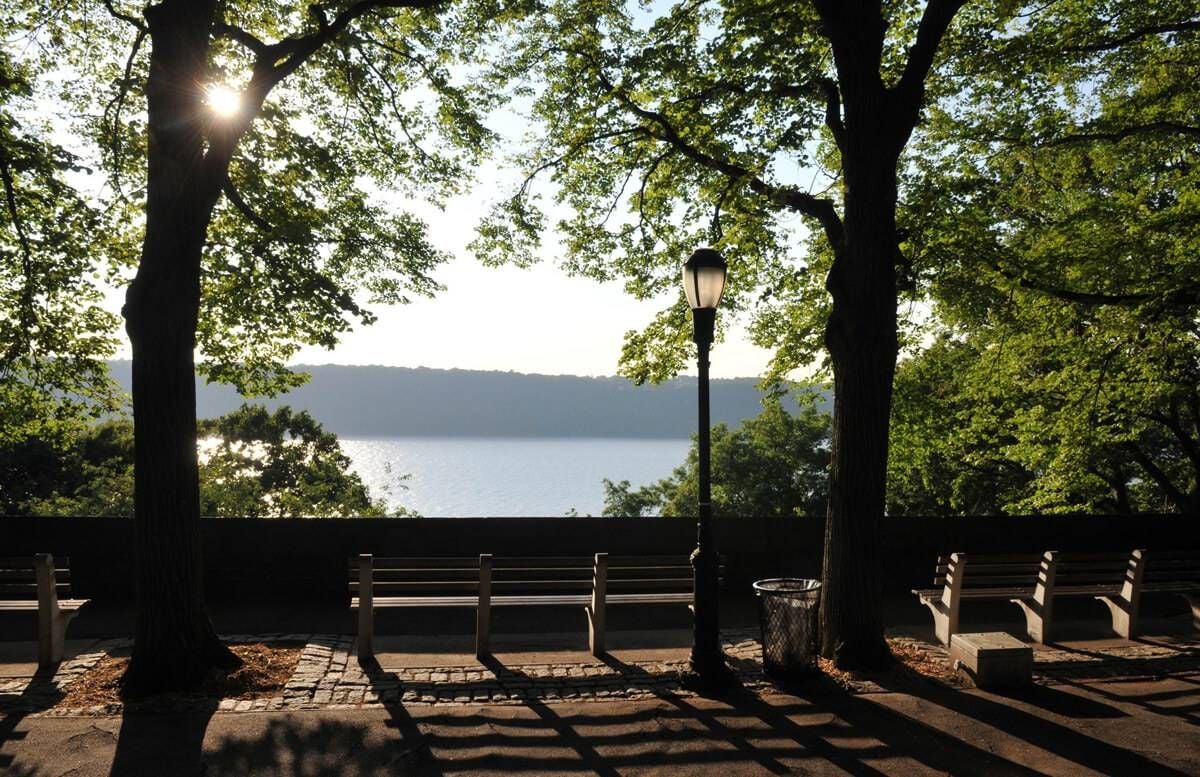 From the park benches in New York City to the benches on campus grounds in a small college town in Oklahoma, memories and stories are there for the viewing.
Remembering a Beloved Individual
Considering parks as centers for memories, New York City, which is home to more than 1,700 parks and recreation areas across its five boroughs, holds a mega-sized treasure trove of memories for people from all walks of life. The Adopt-A-Bench program is city-wide in New York, along with other options for dedications.
"We all have these relationships with our parks," said New York City Parks and Recreation Commissioner Mitchell J. Silver, a New York native who manages nearly 30,000 acres of parkland.
Silver, who ran in this year's New York City Marathon, found his own special way to combine his relationship with parks and love of running with loving memories of his late brother.
"He's been an inspiration to me, and I ran the New York City Marathon in his honor, and trained in many New York City parks, which connected me close to his spirit," said Silver.
A Bench in the City : Fort Tryon Park in New York City
Beyond New York's bustling Central Park, where the Marathon's finish line was located, and at the tip of northern Manhattan, is Fort Tryon Park. There, visitors can find a park bench with a plaque that reads: My Beloved Has Gone Down to His Garden; To The Beds of Spices; To Browse in the Gardens and to Pick Lilies. Song of Songs. In Loving Memory of Fred Westheimer.
This religious passage was chosen by Dr. Ruth Westheimer, the sex therapist best known as "Dr. Ruth," who adopted this bench to honor her late husband.
"Dr. Ruth Westheimer's plaque was one of the first to grace a park bench in Fort Tryon Park, and commemorates her love for her husband in a park that she loves," said Jennifer Hoppa, Fort Tryon Park Trust's executive director.
Silver told the story of how Dr. Ruth goes there "to spend time with her husband's spirit, and look at the view that he loved. That, to me, is why the Adopt-A-Bench program is so important. People want to memorialize somehow, and savor those memories of their loved ones in a public park."
Silver noted that there has been growth in the Adopt-A-Bench program year over year. "I think it's because it's such an endearing gift that offers a piece of your park, while contributing to the upkeep of the green space that you really value and use," he said.
Silver stressed that Adopt-A-Bench programs in other New York parks are considerably less expensive than the one for Central Park. For example, dedicated, plaqued benches in Fort Tryon Park and Flushing Meadows Corona Park cost $2,500. New York's Central Park charges a whopping $10,000 for a plaqued bench. However, Central Park Conservancy does provide donation options starting as low as $50 to have flowers planted in someone's honor (no plaque involved).
Commissioner Silver and Dr. Ruth have shared one common goal: honoring their loved ones and their love for parks, doing so in their own unique way through park programs.
"From stewardship to volunteer work, there are ways you can give back to the park or public space if you're unable to afford to adopt a bench or dedicate a tree," said Silver.
For example, in addition to Dr. Ruth's bench tribute, she is active in stewardship. "Dr. Ruth Westheimer has been a tireless champion of the 67-acre Scenic Landmark Fort Tryon Park for decades," said Hoppa. "Her passion for the park has been catalytic in attracting visibility and resources for its preservation."
A Bench in a Small College Town
Visitors entering Oklahoma State University's campus Welcome Plaza in Stillwater can find a bench with a plaque that reads: Jan Lehmer Jewell and Kirk Jewell, Married 1972, Oklahoma State University, Our story began here...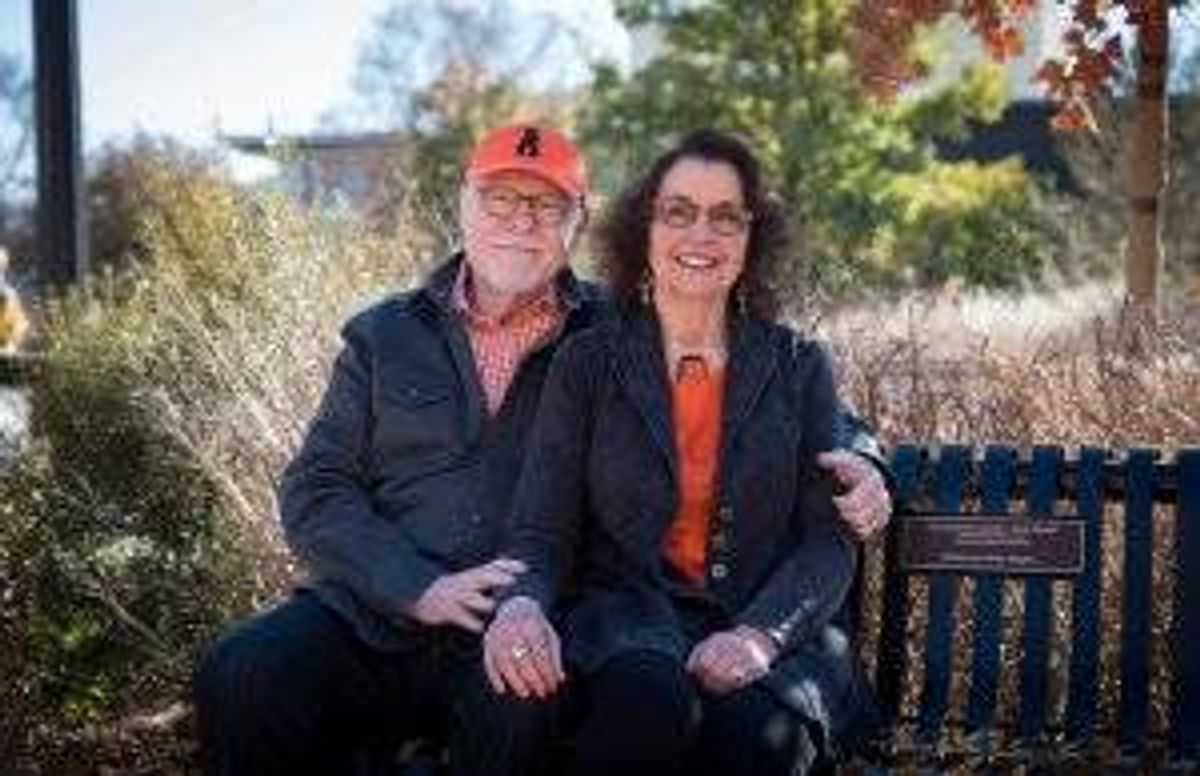 In December 2017, Oklahoma State University (OSU) Foundation's president, Kirk Jewell, surprised his wife, Jan, with a commemorative bench that was placed in this highly visible area. The two, who recently celebrated their 46th wedding anniversary, met in a sociology class at OSU.
"The bench was installed two days before Christmas. I took a picture of it and wrapped the picture in a couple of boxes so Jan had to open more than one box to get to the photo. When she finally got to the picture she asked, 'What is this?' When I told her, she started crying," Jewell said. "One of the best, most surprising, gifts I've given her."
Nearby in the Welcome Plaza, another couple dedicated a bench that reads: Sit awhile, rest and smile. A gift from Paul & Alice Richardson.
According to Heidi Griswold, senior director of development and team lead for Oklahoma State University Foundation, Alice had worked in the student union in administrative services, and Paul was a faculty member in botany for nearly 30 years. Their bench is located outside the student union where they would often meet for dinner together when Paul started teaching night school. They moved to Stillwater in 1968. Paul retired in 1992; Alice in 1997. They still reside there.
"Stillwater is a town of less than 50,000 people, so the campus makes up over 50 percent of the town," explained Jewell. "The university is the heartbeat of Stillwater. The campus is one of the most park-like spaces in the town."
According to Jewell, beautification is one of the priorities of the university's president, V. Burns Hargis. "The Welcome Plaza has been part of that effort," said Jewell.
Oklahoma State University Foundation offers tribute benches and other options across the campus comprised of lush landscaping, tree trails and campus icons Theta Pond and buildings. Options include commemorative benches with plaques ($3,500), decorative planters ($1,000 round; $2,000 rectangle), and a new project — commemorative lampposts ($3,500 apiece). Sponsored brick ($50, $75 or $100) is etched with a message and placed in the formal garden area on campus.
Cost Effective Ways to Celebrate Memories
Parks across the country that offer programs (not all do) usually include plaques or some form of dedication or recognition. Donations are all tax-deductible and offered at varying price points.
While the costs of these types of tributary gifts can be downright daunting to many, the financial challenge should not diminish the importance of your memories. There are ways to make such donations within reach. Ask the parks or conservancy contact about potential options, including payment plans, multi-year pledges or group donation arrangements.
Ask, too, about using an online platform to start your own crowdfunding campaign. If you do a search on the fundraising platform GoFundMe, you can find campaigns for tribute park benches, tree dedications and other commemorative options. These campaigns are filled with heartwarming stories, often including a photo of the loved one who passed.
"Parks are positive," said Silver. "Cherish the memories. Because it's those memories — they are photographs in our imagination that never go away. So, this is a celebration of memories, and not a celebration of death. And that's why I think these dedication programs are so popular, and why people feel so connected. It's the memories."