Honoring the Average G.I.
A new museum and memorial in Columbus, Ohio, recognizes and respects all of the men and women who have served the country
Standing in front of the giant photograph of a soldier in boot camp, memories come rushing back. The early morning wake-up to "Reveille." PT — physical training — before breakfast. Marching in formation everywhere. Learning to shoot a weapon ("it's not a gun," as recruits are often reminded). Committing to do whatever it takes to serve your nation.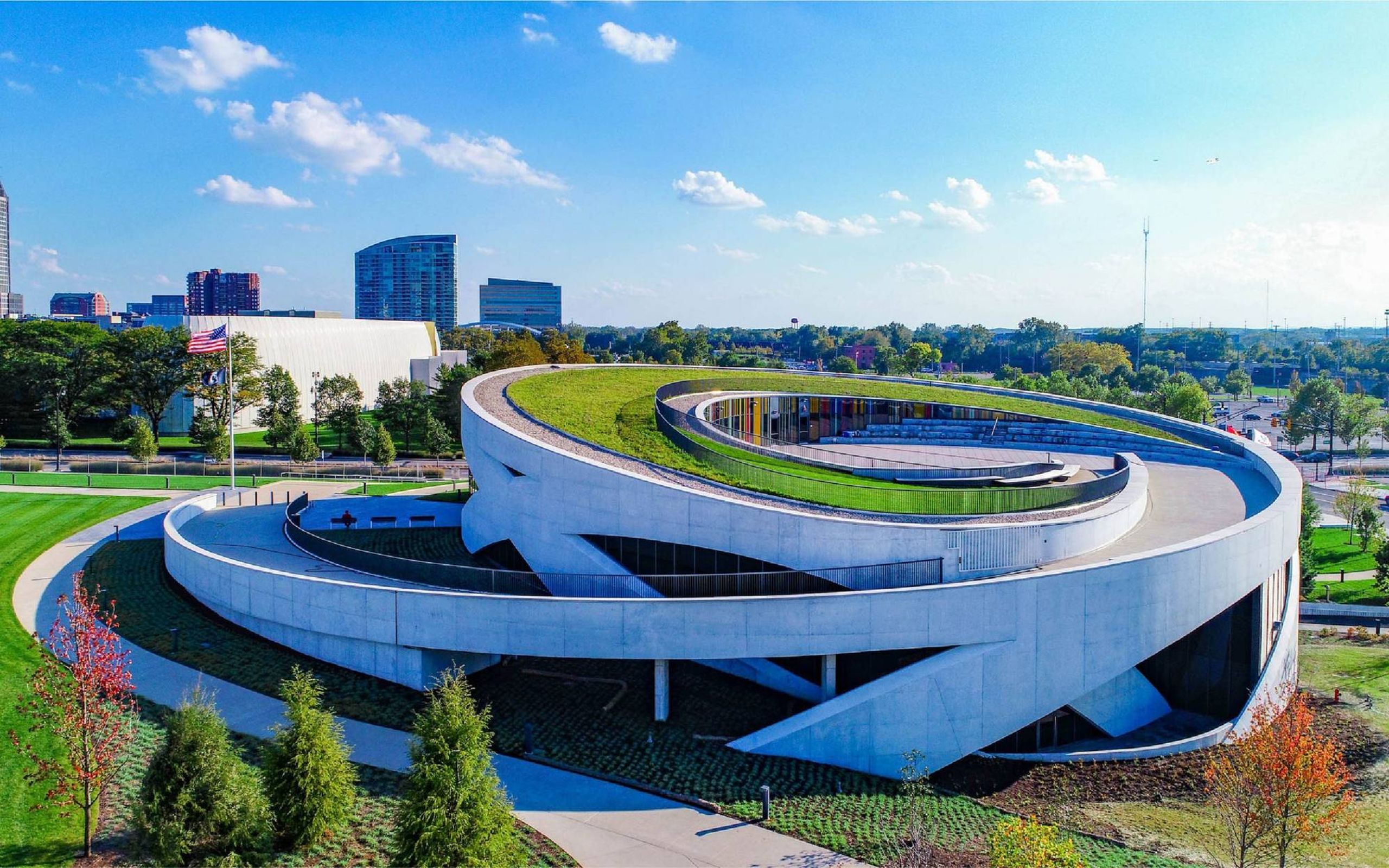 From the moment people enlist in the Marine Corps, Navy, Army, Air Force, Coast Guard or Merchant Marines, they becomes part of an organization they will cherish the rest of their lives — and one that few others truly understand. They are veterans of the United States and share a special bond.
That bond is explored and celebrated at the National Veterans Memorial and Museum in Columbus, Ohio. It is the only national museum dedicated to everyone who served in the military.
"It has stories, very personal, very relatable . . . It just draws you in."
Differing from military museums where war is often the central theme, the Veterans Museum shares photos and artifacts related to the routine of veterans' military service. Instead of weapons and battle scenes, visitors find items such as dog tags, Vietnam-era ace of spades cards and C-rations.
"I was expecting it to be a very artifact-heavy museum because most museums I've been to are like that, a lot of structure," said Dani Figueroa, a Marine Corps veteran and artist visiting from Arlington, Virginia. "I was pleasantly surprised it was not that at all. It has stories, very personal, very relatable. You can easily maneuver around it. It just draws you in."
53-Acre Riverfront Campus
Located along the Scioto River, which flows near downtown Columbus, the National Veterans Memorial and Museum features a concrete arch design depicting the strength of veterans.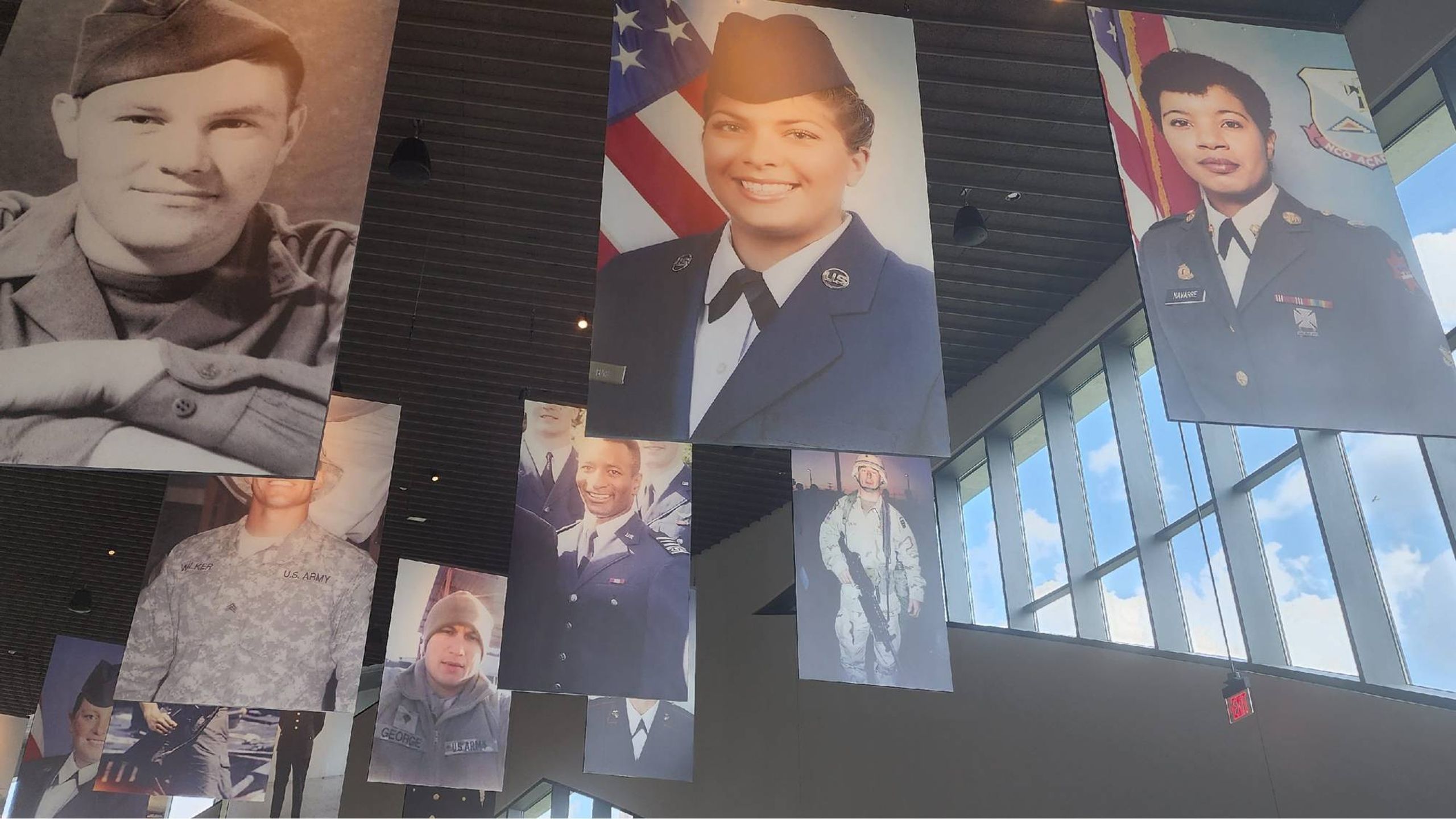 The museum's circular layout takes visitors from permanent exhibits on the main floor to an outdoor sanctuary on the upper floor. The lower floor is for special exhibits.
The National Veterans Memorial and Museum campus covers 53 acres, with the museum displaying exhibits in a 52,000-square-foot building. A 2.5-acre memorial grove is a short walk from the museum. The NVMM replaced the former Franklin County Veterans Memorial, which was built in 1955.
U.S. Senator John Glenn, an Ohio native, retired Marine Corps aviator and first American to orbit Earth, had the vision to remake the local memorial into one honoring all who served. The national memorial and museum's mission is to honor the lives of veterans and their families while also educating the public about the experiences and contributions of those who served in the military.
Real Stories of Real People
Veterans' stories are told through permanent exhibits found in alcoves along the main floor's curving wall. The exhibit chronicles service from enlistment and swearing-in ceremonies to basic training, as well as everyday life during duty assignments, including military roles, relationships and letters home.
The exhibits give the public an intimate look into the camaraderie of soldiers, sailors and airmen.
Beginning with the American Revolution through recent Middle East conflicts, the exhibits give the public an intimate look into the camaraderie of soldiers, sailors and airmen.
Photos and text remind veterans of the day they took an oath to serve the country and support the U.S. Constitution. Civilians can learn even more through interactive displays with each exhibit.
One exhibit shares the importance letters once played for men and women stationed overseas. While service members today communicate instantly via e-mail, video chat or texts, servicemen and women once looked forward to mail call and the letters and packages that arrived from home.
Heaven Is Hearing from Home
Boxes often contained treats — such as cookies and brownies — which were shared and quickly gobbled up. Letters told of events taking place back home and how people were faring, as well as reminders of how much the letter's recipient was missed. Letters home often mentioned stories about buddies and places the service member visited, as well as how much they looked forward to returning home.
A special display recognizes Prisoners of War and service members Missing in Action with a hat from each military branch, upturned glasses and a single red rose. Each item has a meaning, which is described in detail. For example, the inverted glasses symbolize the inability to share a toast with POW/MIAs.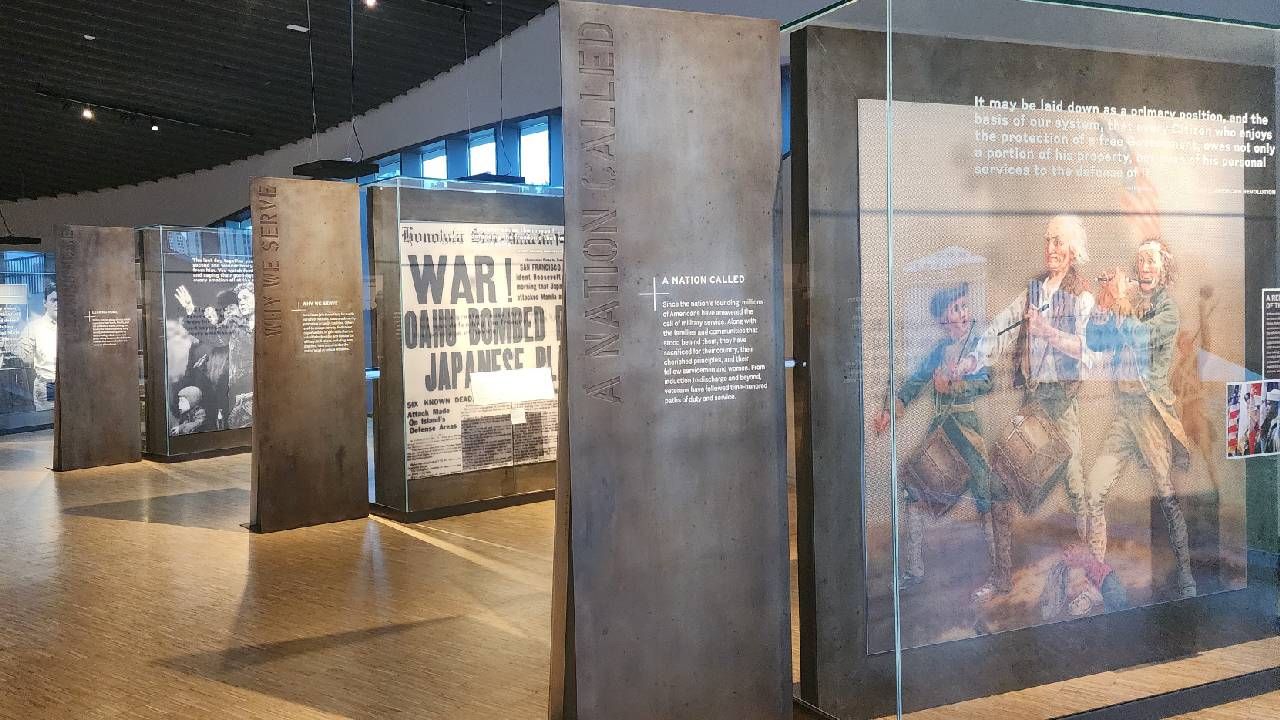 Veterans often learn a sense of duty during their military careers and carry it on in civilian life, whether it's government service, like Senators Glenn, John McCain and Tammy Duckworth, or philanthropic service like Veterans Home Renovation Project. That nonprofit's founders, John Gallina and Dale Beatty, were both severely injured in Iraq but after returning to the U.S. they made a commitment to find suitable homes for disabled veterans like themselves.
Veterans also are celebrated in a series of portraits hanging from the ceiling in the Great Hall. One side shows them in uniform during their tour of duty, and the reverse side shows a contemporary photo of them. Behind them, is a wall of flags, signifying veterans from across the United States and its territories.
"I can sit and listen to those people because I've talked to them in other capacities about some of the same stories."
The museum offers a respectful and emotional experience, said David Hyatt of Delaware, Ohio, about 30 miles north of Columbus. The Air Force veteran, who served 1971-76 and is a county veterans services commissioner, has visited the National Memorial and Museum about 10 times.
"One of the things that grips me when I go, and that's because a couple of the people that they have on the videos with the anecdotes and vignettes, I know them," Hyatt said. "I think that's what keeps drawing me in every time. I can sit and listen to those people because I've talked to them in other capacities about some of the same stories."
Space for Special Exhibits
The lower floor of the museum hosts special exhibits, such as paintings and photographs. For Figueroa, her visit to the National Veterans Memorial and Museum was personal. She had artwork on display in an exhibition titled, "IDENTITY: Exploring Veteran Narratives through Art and Music."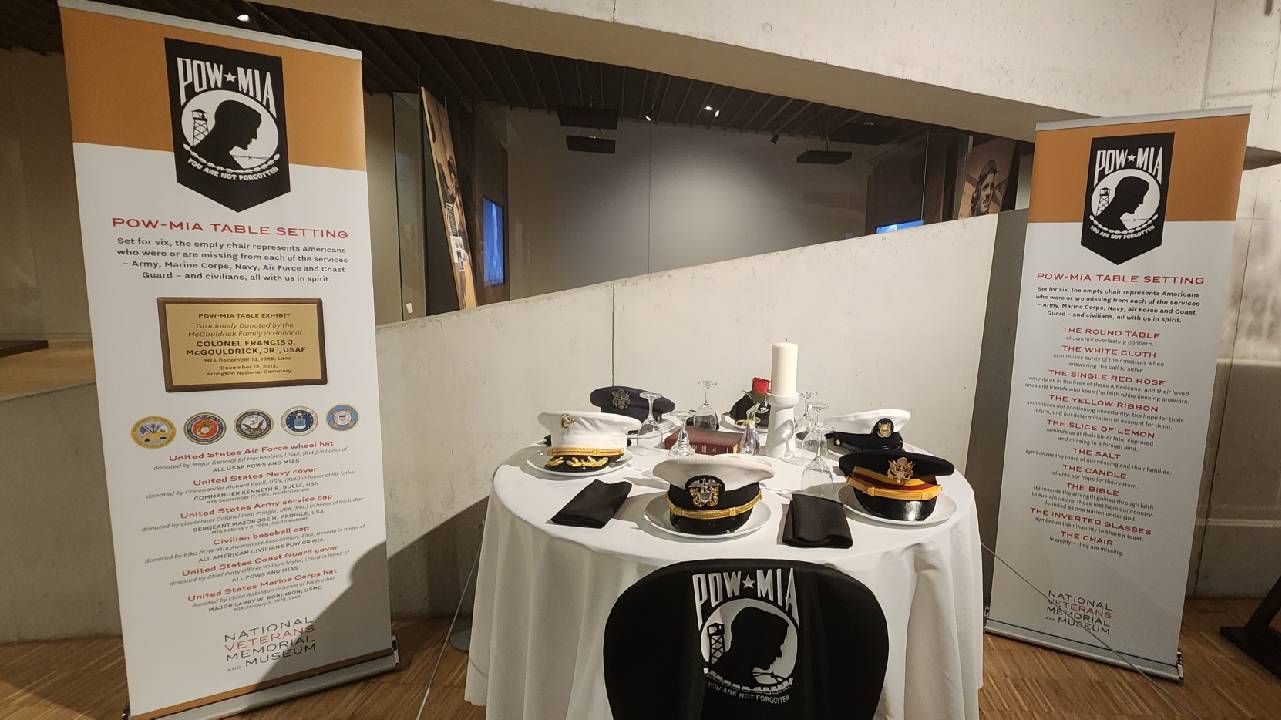 Figueroa was an aspiring soccer player when she enlisted in the Army Reserve following the September 11, 2001 terrorist attacks. After being discharged by the Army, she enlisted in the Marine Corps until she medically retired in 2014. She spent about a decade between the two branches.
Alongside her companion dog, a black lab named Valor, Figueroa turned her attention to creating art. She uses Valor as inspiration for "Creating with Valor."
A Somber Remembrance Gallery
The mezzanine houses the Remembrance Gallery, which is lit in part by floor-to-ceiling stained glass panels influenced by the colors of military campaign ribbons for each war in which the United States has participated.
The focus of the gallery is "Infinity Flag," a folded U.S. flag on a pedestal between parallel mirrors. It is a reminder of the more than 2 million Americans who have given their lives in service to the country.
A short walk from the museum is the Memorial Grove, a tree-lined park with a monument recognizing veterans. A stone wall with a waterfall and reflecting pool anchors the memorial. Benches allow visitors an opportunity to sit quietly and meditate if they choose.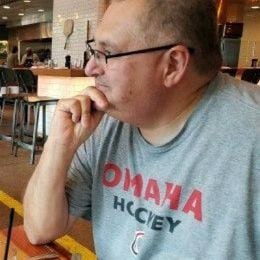 Tim Trudell
is a freelance writer and online content creator based in Omaha, Neb. He has written for Living Here, The Omaha World-Herald, Omaha Magazine, KMTV and elsewhere.
Read More