How Couples Can Solve Their Retirement Puzzle
Tips from author Dori Mintzer on how to create a shared vision
A question for married couples: Have you talked with each other about retirement? I mean really talked.
 
About when each of you expects to retire; about what "retirement" even means to each of you; about where you'll want to live; about where the money will come from…
 
Those conversations aren't easy, but they're vitally important, says Dori Mintzer, co-author (with life coach Roberta K. Taylor) of The Couple's Retirement Puzzle: Must-Have Conversations for Creating an Amazing New Life Together. The book is just out with a new edition, so I spoke with Mintzer to get her advice on how to have these talks and deal with sensitive issues that are likely to arise.
(MORE: Housework Creates Dustups for Retired Couples)
 
She and her husband, David, have been having these retirement puzzle conversations in their own lives.
 
David, a physician, is 13 years older than Dori, and has cut back his hours to three days a week. So he's in their Brookline, Mass. home more than before. Besides being a writer, Dori's a therapist, life coach and lecturer and founder of two virtual communities: the Boomers and Beyond Special Interest Group and the Revolutionize Your Retirement Interview with Experts Series. As you might expect, she's not even semi-retired yet.
 
Highlights from our conversation:
 
Next Avenue: Why do you call it a "retirement puzzle" for couples?
 
Mintzer: There are money, health and wellness, and lifestyle choices as well as the timing of retirement. You need to puzzle it out with your partner.
 
How are you and your husband puzzling it out?
 
We're an example of The New Retirement. A "traditional" retirement probably isn't in the cards for us, at least not for a long time.
 
My husband has phased out his job and will work as long as he is able to. He has broadened his interests and does more cooking more than I do at this point. And he's become a great travel planner.
 
We both have our bucket lists and we're doing more of those things now; that's really nice.
(MORE: Social Security for Couples: It's Complicated)
 
Are couples talking about their plans more than in the past?
 
I think they aren't talking as much as they ought to. Sometimes, they just don't know how to have the conversations. I still get calls from people saying: 'My spouse and I aren't on the same page; we need help.'
 
Why are couples afraid to talk to each other about retiring?
 
Thinking about it means thinking about getting older. A lot of people are in denial. It takes some courage to have some of these conversations.
 
What do you recommend to get couples to plan together?
 
It's like a dance. One partner can start with 'I' statements like: 'I've been thinking that I'll be turning 55 and I don't know what's next and I really want to talk with you about it.' Let it be a five- or 10-minute discussion at first. Then you can come back to it later.
 
It's less important what you're retiring from and more important what you're retiring to. Remember: you're not retiring from life.
 
In my case, I haven't done art or music in long time; that's what I want to retire to — more time for the creative parts.
(MORE: Hopeful Money News About Boomer Couples)
 
You say it can help for a couple to talk with financial advisers but not only about their investments and expenses. Why?
 
It's so important as you're beginning to think about your years ahead to sit down together with financial advisers and clarify your hopes and dreams and goals. That way, you can get on the same page as much as possible about how you want your money to work for you in retirement.
 
You also say that a retirement coach can be helpful if one partner doesn't want to talk about the topic or if there's disagreement.
 
A retirement coach can be like a neutral third person. A coach can work with you to explore alternatives and show you that you're not alone.
 
What's a difficult issue that couples face when they do talk about money and retirement?
 
The whole notion of what's enough. That's a hard conversation to have. For some spouses, no matter how much they have it feels like it's not enough.
 
You write that couples need to create a shared vision and say there are three steps to do it. What are they?
 
A shared vision takes into account what each spouse wants and needs in retirement.
 
The first step is for each of you to create your own Individual Vision List. It's a list of the goals you want to achieve and the dreams you want to fulfill and the experiences you want to have. Then, prioritize the ten most important ideas on your list.
 
The second step is sharing your vision lists and listening to each other. Try to appreciate what each other wants.
 
And the third step is creating a shared vision based on both lists. Maybe first it will be more of what 'I' want to do and then it will be more of what 'you' want to do. Figure out a flexible timeline.
 
When you were doing research for the book, you talked to people you call "wise elders" — ones who'd been retired for a while. What's a good piece of advice that they offered?
 
Don't overplan your retirement, because curveballs come along.
 
Should couples retire at the same time or at different times?
 
The jury's out on that. Some couples like retiring at the same time because they can be playmates for each other. A lot of others say they prefer do it separately, so one of them can deal with the transition and get their feet on ground. I've seen it work both ways.
 
You write that it's sometimes hard for David when you're working and he wants you around.
 
That can happen a lot in relationships. He has Friday through Tuesday off and on Friday and Monday, he'd like it if I was more available to play. Now we have a little routine that's been fun. We start our day together reading the paper and drinking coffee and we usually have dinner together.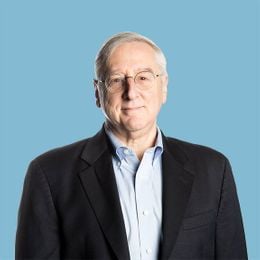 Richard Eisenberg
is the former Senior Web Editor of the Money & Security and Work & Purpose channels of Next Avenue and former Managing Editor for the site. He is the author of "How to Avoid a Mid-Life Financial Crisis" and has been a personal finance editor at Money, Yahoo, Good Housekeeping, and CBS MoneyWatch.
Read More