Inside the Career Shift of a Star Corporate Lawyer
Why she left a cushy job to start two businesses playing to her passions
Many people in their 50s and 60s fantasize about chucking their career and pursuing a passion. Self-described "Type Triple-A" lawyer Marla Persky, the Connecticut-based, just-retired general counsel for global pharmaceutical firm Boehringer Ingelheim, is actually doing it.
 
I'd like to tell you what Marla says she did right to prepare for this transition after 33 years as a lawyer — and what she candidly thinks she might have done differently. (Indulge me for using Marla's first name; we were college chums at Northwestern and are long-time friends. She's wickedly funny, as I think you will soon see.)
 
Pursing Two Passions at Once
Actually, Marla isn't just pursuing a passion; she's pursuing two by launching a pair of very different businesses with one thing in common: their missions are close to her heart.
(MORE: What Works for Women at Work Today)
 
In one, she'll share her love of travel, cultural exploration and cuisine by offering exotic tours through her new site, Epicureantravel.com.
 
The longtime advocate for women in the legal profession expects to spend most of her other hours birthing WOMN LLC, whose mission is to help female attorneys advance to top management positions at law firms and corporations.
 
Growing Restless
Despite her impressive success and talents as a corporate lawyer —  American Lawyer recently named her one of its "Top 50 Innovators" over the last five decades — a couple of years ago Marla grew restless.
 
"I started thinking that what I really wanted to do was test all the business stuff I've learned along the way and blend it with things that are really important to me or that I enjoy and see if I could make businesses out of them," she says.
 
At around that time, Epicureantravel.com was hatched from a conversation Marla had with a younger lawyer friend (and excellent cook) who said: "You know, if I had to do my life over, I would travel around the world tasting local food and experiencing places."
 
Marla responded: "'You know, I bet I could start that and when you're ready, you could join me.' So she went on with her life and I started thinking in earnest about how to do this. I thought: 'Wouldn't it be great if I could come up with travel for people just like me, who love food and don't want to get on a tour bus and are too vital for cruises and want to go a little off the beaten track?'"
(MORE: The Career Tip to Follow Your Passion: Is It Bunk?)
 
The Beta Trip to Turkey
Last April, Marla and her grown daughter Samantha acted as concierges for Epicureantravel's beta trip. It was an 11-day excursion to Turkey (cost: $5,600 per person, which covered all costs except airfare and some dinners) with eight friends and relatives plus Marla's husband, Craig Heberton, a retired lawyer-turned-author who served as photographer. (You can read Marla and Samantha's blog posts about it on the site.)
 
Two more Turkey trips are planned for this spring and fall. In February, Marla will suss out Guatemala as a destination for a seven-day trip. She's also considering Portugal.
 
Helping Women Lawyers Get Ahead
WOMN LLC sprang from frustration.
 
"More than 50 percent of law school grads and law-firm associates are women," Marla says. "But women are not making it to partner, and they're not becoming C-suite members of corporations, in numbers that would match their graduation from law school."
 
Often, Marla maintains, that's because the women don't see a way to get ahead. "So WOMN is dedicated to helping women succeed in the business of law — because law is a business." 
 
She plans to begin this fall with chapters in New York City and Chicago — the cities where Marla has worked and has the best contacts. Each will have up to 20 women who've been practicing law for seven to 20 years. (Younger ones are "still trying to figure out how to be a lawyer," she says.) They'll be matched up with mentors — women who are, say, general counsels of corporations.
(MORE: Why Women Need to Be Mentors — or Find Them)
 
In addition to one-on-ones and monthly sessions with three to five of the other mentees, once a quarter everyone will meet up at cocktail parties. "I'll bring in speakers on topics from 'How to create balanced portfolios so you don't have to work 'til you drop dead' to 'What are the 10 essential things I need to know to participate in conversations with men about sports?'"
 
The Business Model for WOMN
The annual fee: $6,500 per mentee. Marla expects the women's firms will pay two-thirds or three-quarters of that cost and the mentees will pay the rest. She wants to be sure the participants "have some skin in the game" and pay part of the cost to ensure they'll make a serious commitment to WOMN.
 
The mentors will advise pro bono and at the end of the year. WOMN will make a donation in honor of each to the organization of her choice.
 
If the WOMN business model works, Marla says, she could see franchising it to other locations or expanding it to other professions. "Will I make a million dollars a year? Absolutely not. That's not my goal. My goal is to run a successful business that makes a difference in women's careers," she says.
 
How She Planned Her Career Shift
I asked Marla what planning she did that allowed her to cut the corporate cord and begin this new life.
 
"I started planning both these businesses while I was working. That's important," she says.
 
More importantly, Marla adds, she and Craig did serious financial planning 30 years ago so both could retire at around age 55 and not run out of money if they live to 95. "Now a lot of this depends on the vicissitudes of the stock market, but that's why you keep a balanced portfolio," she says.
 
Her One Regret
What she would have like to have done differently: "I wish in 2013 I had spent more time doing the background work for WOMN, putting together lists of firms, mentors and speakers and doing more research. If I had done more of that, the first chapter might be starting in April, not September."
 
Marla figures that Epicureantravel.com will take about 20 percent of her work time and WOMN the other 80 percent. Some of her time, however, will be work-free.
 
"I didn't leave a nice, cushy corporate job to work 14 hours a day. Why the hell would I do that?" she asks. "I want to start taking piano lessons again and have dates with my husband at movie matinees. I want to pop up to Chicago to haunt my daughter whenever I feel like it. I don't want to feel guilty if I don't open my computer once during the day. I'm not there yet, by the way. But I want to be there."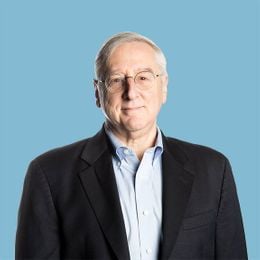 Richard Eisenberg
is the former Senior Web Editor of the Money & Security and Work & Purpose channels of Next Avenue and former Managing Editor for the site. He is the author of "How to Avoid a Mid-Life Financial Crisis" and has been a personal finance editor at Money, Yahoo, Good Housekeeping, and CBS MoneyWatch.
Read More