The Joys of Volunteering With Your Grandchild
Helping others together delivers benefits for both generations
Want to build character and avoid entitlement in a grandchild? Studies suggest volunteering together. Nudging a child positively can be just the beginning for both of you.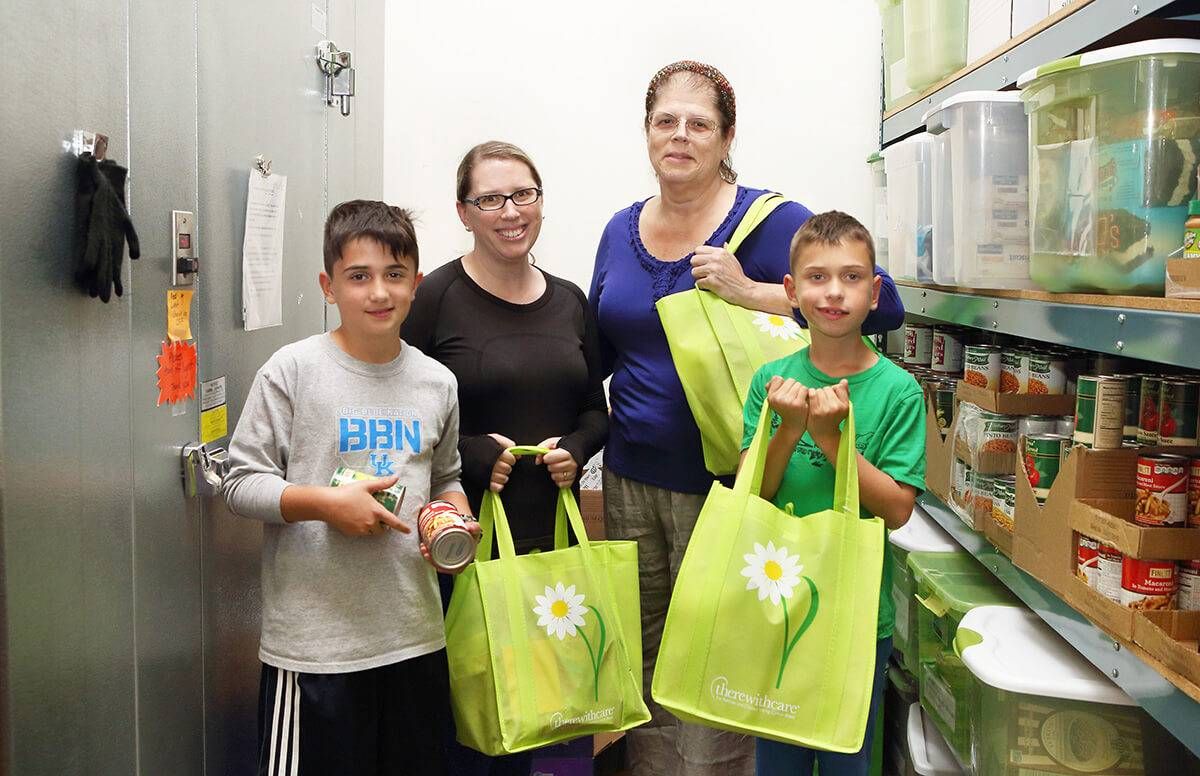 "Volunteering makes you healthier mentally and physically," said Jenny Friedman, executive director of the national nonprofit Doing Good Together, which promotes family volunteering and service. "It's a way to pass on the values that matter to people the most, a meaningful way to share time together — plus it's fun!"
What Grandchildren Get Out of Volunteering
Just ask Cheryl Falcone. She get lots of one-on-one time with her grandchildren when they bag groceries for needy families at the Arlington Food Assistance Center (AFAC) in Arlington, Va. They typically catch up first over dinner out, then talk about the evening's work on the way home to Fort Washington, Md.
Granddaughter TimMyiah, 10, has developed an urge to help others as a result of the bagging assistance. "She knows when we're volunteering with AFAC that it's going to somebody who needs it," said Falcone, who volunteers there through a church group.
Falcone's grandson Daymon, 15, looks forward to food-bagging night, too. There's good conversation, the adults treat him like a grownup, "and he gets to be the muscle. I think he likes that," said Falcone.
None of this would surprise researchers. Studies have shown that doing good for others gooses self-esteem, provides a social outlet and even boosts happiness. A sense of purpose is part of the reason. Volunteering also reduces stress levels and lowers blood pressure for people later in life.
But these aren't the only benefits for multigenerational volunteering.
The Benefits for Grandparents
Falcone has seen that just 90 minutes or so of volunteering every other month brings out teamwork in her grandchildren, as they pitch in with adults and other youth.
Speaking personally, she said, "it gives you a good feeling when you know kids are not going to go to bed out there on an empty stomach.
Across the country in Menlo Park, Calif., retired executive Maria Garcia started volunteering with grandsons Aleko and Kian four years ago when they were 5 and 3, along with Garcia's daughter and son-in-law.
They typically do it through There With Care, a nonprofit that supports families facing critical illnesses. Every two weeks or so, the organization asks them to gather food and often toys, clothing and books for a specific family and deliver it to a hospital or home. "We are trying to raise children who are not self-centered," Garcia stated.
Garcia is pleased to get a bit of exercise while spending time with her grandsons.
For the boys, payoffs include awareness, empathy and bonding with their mother and grandmother.
"They realize this is a family commitment," Garcia said. "We talk about it: 'There's a two-year-old boy; he's very sick…. We're helping them eat vegetables like you do.'"
The experiences of Falcone and Garcia back up the findings of a long-term, nationwide Harvard University Graduate School of Education study called The Children We Mean to Raise. "Protecting" children from the bad and the sad, the researchers found, can rob them of the chance to develop fundamental relationship skills for life. What does develop those skills: caring about others.
What Grandparents Need to Provide
To bring up youth who care about others, the adults in their lives need to provide a few important things, the report said. Among them:
Ongoing opportunities to practice caring and helpfulness
Encouragement to listen well and consider multiple perspectives
Strong moral role models for living values and practicing fairness and justice
"Grandparents can be so critical. They have a little more time when the parents feel overwhelmed," said Friedman. "And doing for others sparks more meaningful conversation with grandchildren than if you just went to the park together, which, as a result, makes you closer to them."
It's so important to explain to children why it's good to volunteer, Garcia said, "so they can feel it inside instead of just doing it because they're supposed to."
Garcia and her daughter introduced the boys to the concept of giving back by helping with coat-collecting drives at school and compiling "helpful bags" for families in need.
How to Find Volunteer Opportunities
So how do you find suitable volunteer opportunities?
Many nonprofits prefer the kids who volunteer for them be older teens — due to liability or safety reasons. Some, however, welcome supervised younger children.
With especially young or shy children, you might start at home. Try gathering donations or being creative. In this article, Doing Good Together suggests five great "kindness dates" to have with children or grandchildren, including making cards together for kid with illnesses through Sendkidstheworld.com.
No matter the grandchild's age, consider his or her interests, said Friedman. Does she love animals? Try a shelter or a pet-adoption league. Does he prefer being outdoors? Park and stream cleanups are popular, because kids see immediate results.
And to make children feel invested, "give them a choice of how to help," Friedman said.
Ask them, for instance: Would you rather help me make sandwiches at a shelter or do puzzles with residents of an assisted-living home or help me deliver Meals on Wheels?
If you're in Minneapolis/St. Paul, New York City, Baltimore, Boston, Seattle, or Silicon Valley, Doing Good Together can send you a monthly list of local family volunteer openings to consider. Nationwide, try VolunteerMatch.org for options.
One last tip: Before you and your grandchild start a regular volunteering gig, call ahead to the nonprofit, introduce yourself and ask for a tour of the facility. Then, talk with your grandchild about what you'll see and hear and what the two of you will do.
"The happiest time in your life is when you're giving back," said Garcia. Not to mention how beneficial it can be for the people, animals or planet you and your grandchild help support.
Ellen Ryan
is an award-winning writer and editor. She is the former managing editor of The Washingtonian.
Read More